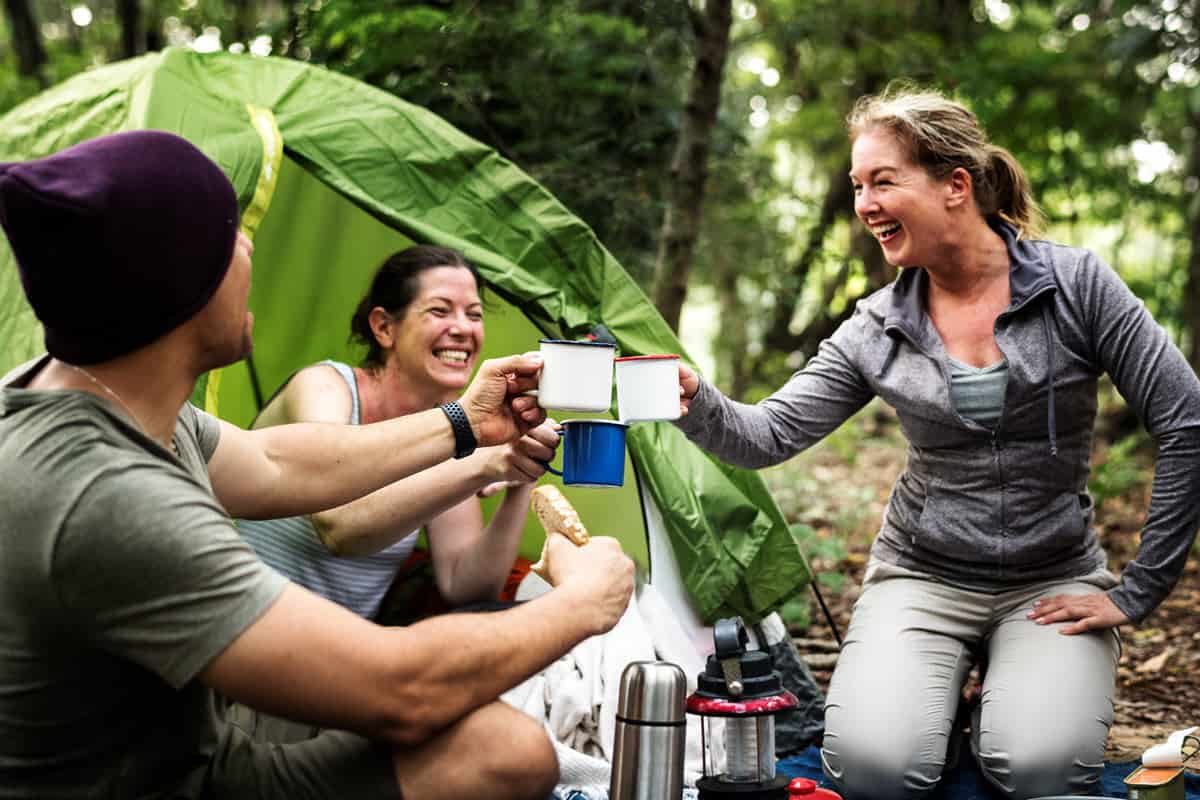 Embarking on a tent camping adventure is exhilarating to explore the great outdoors and connect with nature. However, packing the right gear for a memorable and hassle-free experience is essential.
With so many options available, knowing which items are must-haves can be overwhelming for beginners and seasoned outdoor enthusiasts alike.
That's why we've compiled this comprehensive tent camping must-haves guide that covers everything from essential gear to optional comfort items – along with tips on efficient packing – ensuring that your next camping trip is smooth sailing.
Key Takeaways
The essential gear for tent camping includes a sturdy tent, sleeping bags, cooking equipment and utensils, lighting sources, a first aid kit, and insect repellent.
Optional gear like camp chairs, portable fans or heaters, hammocks, and outdoor games can add comfort and convenience to your camping experience.
Packing efficiently with a checklist based on priority and weight is crucial. Compression bags or containers can help save space and keep gear organized.
Additional must-have accessories for safety include multi-functional tools, an emergency radio, a portable washing station, and waterproof matches. Always prioritize sun protection when spending time outdoors.
Tent Camping Must-Haves (Essential Gear)
For a successful camping trip, it is crucial to have the right gear, including a sturdy tent, sleeping bag, cooking equipment and utensils, lighting sources, insect repellent, a first aid kit, and a water bottle with a filtration system.
Tent And Sleeping Gear
Investing in high-quality tents and sleeping gear is crucial for a comfortable and enjoyable tent camping experience. A well-ventilated, durable, and weather-resistant tent provides shelter from the elements while ensuring a restful night's sleep.
Here's a post about the best 4 person tents for camping and another explaining What Is Hot Tent Camping?
Equally important are the sleeping bags and air mattresses you'll rest on during your outdoor adventure. Opt for sleeping bags designed for the expected temperature range at your campsite to prevent discomfort due to heat or cold. Here's a post about how to pick a sleeping bag that should help narrow down your choices.
In addition, an insulated air mattress or sleeping pad not only offers improved comfort but also serves as an effective barrier against ground coldness.
Cooking Equipment And Utensils
One of the best things about camping is cooking over an open fire or with a portable stove. Packaging the right equipment and utensils is essential to make meal prep easier.
A basic camp kitchen setup includes a stove, fuel, pots, pans, and utensils like spatulas and ladles. Remember items for food storage, like coolers or dry bags to keep perishables fresh.
An essential tip for cooking gear is to pack light but efficiently. Look for multi-functional utensils that can serve multiple purposes; for example, a spork can function as a spoon and fork while taking up less space than separate items.
Another helpful tip is to bring foods that are easy to prepare and don't require too many ingredients or cooking tools, such as pre-made pancake mixes or instant oatmeal packets.
Lighting Sources
Lighting is essential to camping gear, especially when it gets dark outside. A good lighting source will help you navigate the campsite and find things in your tent.
Several options, from headlamps to lanterns to flashlights, cater to different needs and preferences. For instance, if you plan on hiking at night or reading inside the tent, a headlamp is ideal as it allows for hands-free operation while directing light where needed.
Lanterns and bucket lights provide ambient lighting perfect for cooking or hanging out with friends at the campsite. Additionally, carrying extra batteries and ensuring all lighting equipment is fully charged before heading out into the wilderness is important.
First Aid Kit And Insect Repellent
No camping trip is complete without a first aid kit and insect repellent. When spending time in the great outdoors, it's essential to be prepared for any mishaps or bug encounters that might occur.
A basic first aid kit should include bandages, antiseptic wipes, gauze pads, and pain relievers.
In addition to first aid supplies, insect repellent is essential for protecting yourself from pesky bugs like mosquitoes and ticks. Look for products containing DEET or picaridin for the most effective protection.
Remember to reapply throughout the day as necessary.
Water Bottle And Filtration System
A water bottle and filtration system are essential for any camping trip. Instead of lugging around heavy bottled water, campers can bring a reusable water bottle that can be filled up from various sources such as lakes, rivers, or even taps at campsites.
However, it's crucial to have a filtration system to ensure the safety and cleanliness of the water.
Additionally, using a reusable filter eliminates waste created by single-use plastic bottles, which harms the environment in numerous ways; they take hundreds of years to degrade, release harmful chemicals into soil and groundwater when they do eventually break down, and contribute significantly towards landfills overflowing with trash.
Further reading: 6 simple ways to purify water in the wild and finding water sources in the wild.
Optional Gear For Comfort And Convenience
For added comfort and convenience, consider bringing camp chairs and tables, portable fans or heaters, hammocks, outdoor games, solar-powered chargers and power banks, and portable showers and toilets in your camping gear list.
Camp Chairs And Tables
Relaxing around the campfire or enjoying a meal after a long day of hiking is an essential part of any camping trip. Camp chairs and tables can make these experiences more comfortable and enjoyable.
Portable camp chairs come in various styles and sizes, including traditional foldable chairs, rocking chairs, and even hammock-style seating. Choose one that fits your needs and preferences, such as lightweight for backpackers or sturdy for car camping.
A small folding table can be just as useful to keep cooking equipment off the ground or provide extra space for playing games.
Did you know that some camp chairs also double as storage bags? These innovative designs help save space while providing somewhere to sit without sacrificing other essentials on your packing list.
It's always nice to have a place to relax after an active day outside, whether reading under the stars or sharing stories with friends around the fire pit.
Portable Fans Or Heaters
When camping, it's important to have the appropriate gear to combat potential weather conditions. Portable fans or heaters can provide relief from hot summer days or chilly nights in the wilderness.
Fans can help circulate air and keep tents cool during hot afternoons, while heaters can make cold evenings more comfortable.
It's worth noting that some campsites may not allow certain types of portable heating devices due to fire risk concerns, so always check before packing your gear. Additionally, bring extra fuel if necessary and follow all manufacturer instructions for safe use.
Quick Tip: check out our article What Kind of Generator for Camping?
Hammocks And Outdoor Games
For campers who want to relax and have some fun, hammocks and outdoor games are essential items to consider packing. A sturdy hammock can provide a comfortable spot for reading, napping, or just lounging while enjoying the scenic view of nature.
Outdoor games like cornhole, frisbee, or card games can bring people together and create memorable moments on camping trips. In addition to providing entertainment, these items take up little space in your backpack or car trunk but significantly impact the overall experience of your trip.
Solar-Powered Chargers And Power Banks
One optional gear that can come in handy during camping trips is a solar-powered charger or power bank. With electronic devices such as phones and cameras, one might need to charge them while on the go.
Solar-powered chargers are environmentally friendly and can save you from running out of battery outdoors.
Portable power banks are also helpful for charging smaller devices such as phones or headphones. They come in different capacities, so it's important to choose the right one based on your needs.
Having additional power sources during camping trips can make all the difference, especially if you're planning longer hikes or spending several days outdoors without access to an electrical outlet.
Portable Showers And Toilets
Portable showers and toilets are a game-changer for those who prefer a little more comfort while camping. These devices provide the convenience of indoor plumbing without sacrificing outdoor adventure.
Portable showers come in different varieties, from simple gravity-fed models to solar-powered ones that heat water using the sun's energy. They typically include an attached showerhead and can hold up to 5 gallons of water for multiple uses.
Portable toilets resemble small chairs with removable compartments that can be emptied after use.
Tips For Efficient Packing
Make a checklist of all the essentials and optional gear for the camping trip. Pack based on priority and weight, ensuring that heavier items are at the bottom of the backpack.
Utilize compression bags or containers to save space and keep gear organized.
Make A Checklist
Making a checklist is one of the most important things to do before embarking on a camping trip. A well-organized and comprehensive list can help ensure everything is remembered and facilitate efficient packing.
A good checklist should include everything from essentials like a tent, sleeping bags, cooking gear, and lighting sources to optional accessories like portable fans or solar-powered chargers.
Packing based on priority and weight is also important, making sure heavier items are packed at the bottom of the backpack or vehicle trunk. Checking weather forecasts beforehand can also help determine what items will be needed for different scenarios.
A printed copy of the list may be helpful during the trip to make sure all necessary gear has been collected when breaking camp in preparation for returning home.
One tip seasoned campers offer is that packing extra supplies such as batteries or trash bags just in case they're needed is always advisable since unexpected situations may arise while out there communing with nature.
A good example could be found from avid camper Cathy who shared her experience about making checklists when going camping:
"Camping checklists are critical because you never know what surprises Mother Nature will throw your way," she notes." I once left my rain pants at home because I didn't think it'd rain – but guess what? It did! Since then, even if I don't expect severe weather conditions during my trips, I still pack protection against them anyway."
Overall making preparations ahead of time by creating a thorough camping checklist makes all the difference between having an enjoyable outdoor experience versus being ill-prepared & uncomfortable scrambling around trying frantically to gather necessities amidst rough terrain.
Camping with your family? Then you should also read our post about the best camping gear for families.
Pack Based On Priority And Weight
When packing for a camping trip, it's crucial to prioritize and pack based on weight. Start with the essentials, such as your tent, sleeping bag, and cooking equipment. These items should be at the top of your list since they are crucial for survival.
Next in priority are supplies like first aid kits, water filtration systems, and insect repellent.
Once you have packed all the necessary gear, you can consider optional items such as camp chairs or portable fans. These items are optional but can add comfort and convenience to your camping experience.
Using compression bags or containers can help save space while keeping things organized. Always check the weather forecast before packing so you don't bring unnecessary clothing or gear for unexpected weather changes.
Utilize Compression Bags And Containers
Compression bags and containers can be a game-changer when packing for a camping trip. These handy tools allow you to compress bulky items such as sleeping bags, clothing, and towels into smaller sizes, making them easier to transport and store in your backpack or car trunk.
In addition, using compression bags and containers makes it easier to prioritize what gear is essential versus optional. Packing the most important items and compressing them down can leave more room for non-essential equipment like camp chairs or games.
Labeling each bag or container with its contents is also helpful so you can quickly access what you need without rummaging through your entire pack.
Check Weather Forecast
Before heading out for a camping trip, it's essential to check the weather forecast. The weather can be unpredictable and change quickly, so being prepared is crucial. Checking the local forecast for your campsite location can help you plan accordingly and pack appropriate clothing and gear.
In addition to checking the forecast before leaving home, it's also important to stay updated on any changes in weather during your trip. Some websites or smartphone apps offer real-time updates on current conditions that can come in handy throughout your adventure.
Must-Have Tent Camping Accessories
Include multi-functional tools, an emergency radio, a foldable shovel, a portable washing station, and waterproof matches to your camping gear checklist for the ultimate outdoor experience.
Multi-Functional Tools
Multi-functional tools are a lifesaver when packing for a camping trip. These versatile and compact items serve various purposes, saving space in your backpack. A Swiss Army Knife is a classic example of this type of tool, featuring multiple blades, scissors, and screwdrivers all in one foldable design.
Another popular multi-purpose tool is the spork – a combination of spoon and fork that eliminates the need to pack separate utensils.
When it comes to camping gear, functionality, and versatility are key.
Emergency Radio
Having an emergency radio on hand during your camping trip is always a good idea. Not only can it provide you with updates on the weather forecast, but it also serves as a means of communication in emergencies.
Look for durable and portable radios, making them easy to carry around the campsite or when hiking. One example is the Eton Emergency Radio, which includes features such as solar charging, USB ports for device charging, and even a built-in flashlight.
Additionally, it's important to remember other safety items such as navigating the wilderness tools like a compass, maps or GPS devices. You never know what might happen while out in nature, so being prepared with the necessary supplies can make all the difference.
Foldable Shovel
A foldable shovel is one optional gear that can come in handy during tent camping. This compact tool is easy to pack and carry yet durable enough for digging fire pits or clearing areas for the tent.
It can also be used for leveling the ground, burying waste, or chopping wood if needed. A foldable shovel with a serrated edge can double as a saw, making it an even more versatile tool for campers.
Portable Washing Station
One of the most challenging aspects of camping is staying clean and hygienic. That's where a portable washing station comes in handy. This essential accessory can make your life much easier, especially when you don't have access to running water or sinks.
When choosing a portable washing station, consider its size, weight, and ease of use. Look for compact and lightweight options so that they won't take up too much space in your car or backpack.
Some models even have built-in water heaters if you want hot water for cooking or cleaning.
Waterproof Matches
Waterproof matches are an essential tool to have during camping. Whether you're starting a fire for warmth, cooking food on the campfire, or just enjoying the ambiance of a nighttime fire, waterproof matches are crucial for getting it started.
These matches are specially designed to work even if they get wet because regular ones won't work when wet.
It's also important to note that while waterproof matches can be handy and convenient, they should always be used responsibly and kept out of reach from children.
Additionally, it's best practice to store them in a secure container like a sturdy plastic bag or metal case along with other fire-starting materials like kindling or dryer lint so you'll always be prepared in an emergency.
Final Thoughts
Packing essential must-have camping gear such as a tent, sleeping bags, cooking equipment and utensils, lighting sources, first aid kit, and insect repellent is important.
However, packing optional gear like camp chairs and tables can add comfort to your stay.
Remember to bring must-have accessories such as multi-functional tools, an emergency radio, a portable washing station, and waterproof matches.
Whether you're experienced with off-grid camping or just a beginner looking for an adventure in nature with friends or family members during your holiday season, remember that preparation is key to enjoying any outdoor activity without much stress.
So plan so that you can enjoy all the fun that comes with camping while minimizing potential headaches associated with needing more time to be ready for what may happen out there!
Sale
Bestseller No. 1
Coleman 2-Person Sundome Tent, Navy
Dome tent with a sturdy frame that withstands 35+ mph winds
Easy setup in only 10 minutes. Good for backpacking
Weathertec system with patented welded floors and inverted seams to keep you dry
Large windows and a ground vent for superior ventilation
Measures 7 x 5 feet with 4-foot center height
Sale
Bestseller No. 2
Coleman 4-Person Cabin Tent with Instant Setup | Cabin Tent for Camping Sets Up in 60 Seconds
Instant tent sets up in just 1 minute. Fits 1 queen-size air bed.5 Tent Windows with 1 door.Built in Lights : No, Vestibule Area : No.
WeatherTec system with patented welded floors and inverted seams to keep you dry
Rugged Polyguard 2X double-thick fabric for reliable, long-lasting use
Integrated vented rainfly improves airflow without any extra assembly needed
Measures 8 x 7 feet with 4-foot 11-inch center height
Sale
Bestseller No. 3
Coleman Pop-Up Camping Tent with Instant Setup, for 2/4 People
Near-instant setup: 10-second setup with pre-assembled poles
Flat folding: Making it easy to store and carry
Proactive weather defense: Adjustable rainfly helps protect against wind and rain while also providing ventilation
Dry interior: Taped floor seams help keep you dry
Organized storage: Gear pockets keep small items stored away and orderly
Sale
Bestseller No. 4
2-3person Camping Tent, 4-5people Tents for Camping with Shelter, Family Dome Tent with Removable Rainfly, Lightweight Tent for Camping, Traveling, Hiking, Outdoor (2-3person Set up)
【Windproof & Sun Protection】Polyurethane-coated polyester material has 66D 210T sun protection (UV50) index, the detachable rainfly and double-seamed waterproof strip keep the tent safe from light rainwater penetration. Automatic fiberglass poles and 6 ground steel stakes add to the wind resistance.
【Easy Set-Up】2 people could set up the tent easily in 3-5 min. The camping tent features well-made poles, a removable rain fly, ventilation, and an interior storage pocket to keep your contents neat and organized.
【Multifunctional and Breathable】: 2 mesh doors and roof promote air circulation inside the tent in hot summer, and the inner pocket can be used to store small items.
【Durable Construction】Our camping tent constructed out of high-quality 100% polyester fabric for long-lasting and waterproof performance,and offers UV protection of 50+. The bottom is made of 210D Oxford fabric to keep the inside durable.
【All-in-One Set】The tents for camping are suitable for 2 -3 people (2 adults + 1 kid). With the unfolding size of 7*7* 4.26ft. This camping tent weighs just 4.19lb,which makes it very convenient to carry and you can have a comfortable and beautiful journey.
FAQs
What essential items should I bring when tent camping?
Tent camping essentials include a well-constructed and weatherproof tent, sleeping bags, comfortable bedding, a portable stove or grill for cooking meals, flashlights or lanterns with extra batteries, and other necessary personal hygiene items.
Can I bring electronic devices on a camping trip?
Yes, can bring electronic devices on a camping trip. However, using these devices in moderation is important as they can quickly drain the car battery if left plugged in overnight. Investing in solar-powered chargers for phones or portable DVD players may be helpful instead of relying on traditional outlets or portable generators.
Do I need to pack food for my entire trip?
It depends on how long you plan to stay and what facilities are available nearby. Consider bringing an assortment of non-perishable snacks, such as granola bars, trail mix, and dried fruits, along with pre-made meals that can be easily heated up over your campfire or stove.
Is it ok to purchase camping gear from secondhand stores?
Camping gear purchased from thrift shops or consignment stores can sometimes be less expensive than buying new equipment online or at specialty sporting goods outlets. However, it's essential to check all used products before purchasing them since tents could have minor defects which make them unusable during severe weather conditions (i.e., rips/tears/damaged poles).
What should be on my camping checklist?
Your camping checklist should include items for shelter (tent, stakes, guy lines), bedding (sleeping bag, sleeping pad), cooking (stove, fuel, cooking utensils), food and drinks, clothing and footwear appropriate for the weather and environment, a first aid kit, and any necessary permits or maps for the area you will be camping in.
What camping gear do I need?
The camping gear you need depends on the type of camping you plan to do. At a minimum, you will need a tent, sleeping bag, sleeping pad, and a way to start a fire. Other helpful gear includes a camp stove, cooking utensils, a cooler, and a lantern.
What kind of sleeping bag should I get?
The type of sleeping bag you should get depends on the climate and temperatures you will be camping in. Look for a bag with a temperature rating appropriate for the lowest nighttime temperatures you expect to encounter. Also, consider the size and weight of the bag for easy packing and transport. Check out this post for more information how to pick a sleeping bag.
What is a camper?
A camper is a recreational vehicle (RV) that provides living space and sleeping accommodations for camping and travel. Camper styles include truck campers, towable campers, and motorhomes.
What kind of cooler should I bring camping?
The type of cooler you should bring camping depends on the length of your trip and the amount of food and beverages you plan to store. Look for a cooler with sturdy construction and good insulation to keep ice and perishables cold for longer. Consider size and weight for easy transport and storage in your campsite.
What is a campsite?
A campsite is a designated area for camping that is typically set up with a fire pit or grill, a picnic table, and sometimes access to facilities such as restrooms or showers. Campsites can be reserved at campgrounds or may be dispersed camping areas in some national forests or public land.
What is a camp pillow?
A camp pillow is a smaller-sized pillow designed for camping and backpacking. They are often compressible for easy packing and transport but still provide comfortable support for sleeping.
What is a backpacking sleeping pad?
A backpacking sleeping pad is a lightweight and packable pad designed to provide insulation and cushioning for sleeping on the ground while backpacking. They are typically inflatable or self-inflating and range in size and thickness to accommodate different preferences and conditions.