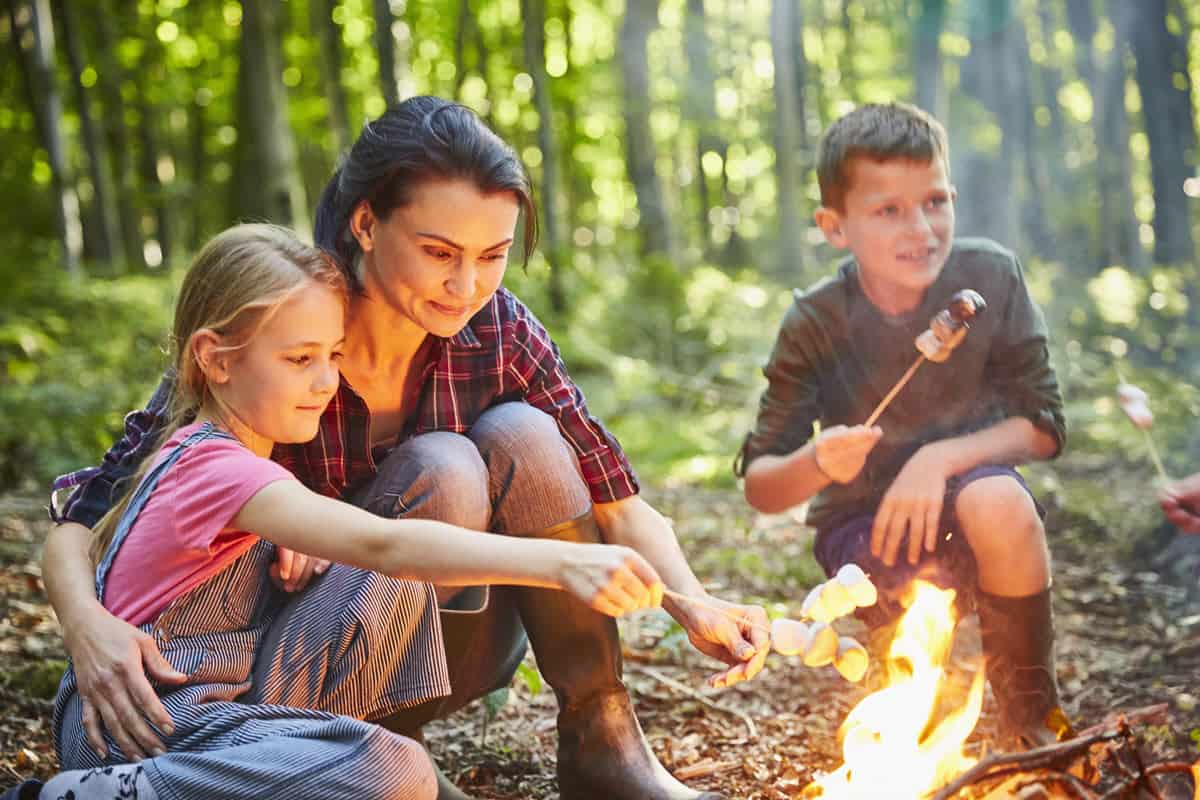 Camping trips offer the perfect opportunity for families to bond and create lasting memories under the stars. To ensure that your outdoor adventure is both enjoyable and comfortable, it's essential to have the best camping gear tailored specifically for families.
From family-sized tents and cozy sleeping bags to fun activities and safety essentials, this blog post will provide a comprehensive guide on choosing the best camping gear for families so you can have an unforgettable camping experience.
Key Takeaways
Key Takeaways:
A high-quality family-sized tent is essential for a comfortable camping experience with enough space and privacy for everyone.
Sleeping bags, air mattresses, cooking gear, portable chairs and tables, and lighting are necessary items to bring along.
Outdoor games and activities, portable electronics like speakers or gaming devices, reading materials, and board games can provide entertainment during downtime.
Safety should always be a priority – a well-stocked first aid kit and bug repellent are must-haves. Bring campfire tools such as fire pits or rings, roasting sticks, gloves for handling hot coals or logs.
Essential Family Camping Gear
Family-sized tents, sleeping bags and air mattresses, cooking gear and utensils, portable chairs and tables, and portable lighting are all essential for a comfortable family camping experience.
Family-sized Tents
Investing in a high-quality family-sized tent is essential when planning the perfect outdoor adventure with your loved ones. These larger tents provide enough space and privacy for everyone to sleep comfortably and create a cozy shelter where families can bond and spend time together away from the elements.
For example, the Coleman WeatherMaster 6-Person Tent comes highly recommended due to its spacious layout, which includes two separate sleeping areas along with an additional screen room for lounging without pesky bugs intruding.
Additionally, it boasts strong weather protection features like waterproof floors and reliable zippers to ensure your trip remains enjoyable despite unexpected changes in climate conditions.
If you are camping in a tent, then you should also read our posts titled tent camping must-haves and What Is Hot Tent Camping?
And here's a post about the best 4 person tents for camping.
Sleeping Bags And Air Mattresses
One of the most important pieces of camping gear for families is sleeping bags and air mattresses. A good-quality sleeping bag can make all the difference when it comes to keeping everyone cozy and comfortable at night.
Look for options that are rated for the temperature range you'll be camping in, as well as ones that fit your family's size and needs. Air mattresses are also a great option for those who prefer a softer surface to sleep on or need additional support.
It's worth investing in high-quality sleeping bags and air mattresses since they can last for years with proper care. Plus, having warm and comfortable bedding will ensure everyone gets a good night's rest and wakes up ready for another day of outdoor adventures.
Don't forget to bring along extra blankets or thermal layers if there's a chance temperatures might drop unexpectedly during your trip.
Here are two posts that will help you choose the right bag: how to pick a sleeping bag and 9 tips for choosing a double sleeping bag.
Or, if you and your partner or a couple of your kids like to snuggle together at night, then be sure to check out our reviews of the Coleman Tandemn Double Sleeping Bag, the Big Agnes Double Sleeping Bag, and The North Face Dolomite One Sleeping Bag.
Cooking Gear And Utensils
Cooking gear and utensils are essential for any family camping trip. You'll want to ensure you have all the necessary equipment to cook delicious meals outdoors. Portable stoves or grills can be a great addition, as well as cast-iron pans and pots.
Don't forget to bring basic cooking utensils like spatulas, tongs, and serving spoons and a percolator for coffee over the campfire.
Tips: Here's how to use a percolator camping and the best coffee percolators for camping.
Consider bringing a cooler with ice or ice packs to keep your food fresh throughout your trip.
When it comes down to it, having the right cooking gear can make all the difference in how enjoyable your family camping experience is – so take stock of what you need before heading out into nature!
You should also review our Camping Food List for some great ideas on the types of food to bring camping.
Portable Chairs And Tables
Camping with the family can be an enjoyable experience, but sitting on the ground is not always comfortable. Portable chairs and tables are essential camping gear for families wanting to add comfort to their outdoor adventure.
Foldable tables and chairs come in a variety of sizes, making them perfect for any size family. They are lightweight and easy to transport, making setting up camp a breeze.
When looking for portable camping chairs and tables, look for durability and sturdiness. You don't want your chair or table collapsing under the weight of your food or drink! It's also important to consider foldability when choosing a camping chair or table to store it easily until next time.
Portable Lighting
Another essential item to include in your family camping gear is portable lighting. Having a reliable light source is important, especially when camping with kids. Flashlights, headlamps, and lanterns are good options for illuminating your campsite.
It's also smart to bring extra batteries or rechargeable sources to ensure your lights don't run out of power. Some lanterns even have USB ports that allow you to charge your phone or other electronic devices, such as tablets.
Entertainment Necessities For Family Camping
Bring outdoor games and activities, portable electronic devices for entertainment, reading materials, and board games to keep the whole family busy during downtime.
Outdoor Games And Activities
Looking for fun ways to keep the family entertained during your camping trip? Here are some outdoor games and activities that are perfect for campers and outdoor enthusiasts:
Cornhole – This classic game is easy to set up and fun for all ages.
Frisbee – A simple frisbee can provide hours of entertainment, especially if you have a dog to play fetch with.
Hiking – Take a hike along a scenic trail and enjoy the beauty of nature while getting a great workout.
Fishing – Whether you're an experienced angler or just trying it out for the first time, fishing is a relaxing and enjoyable activity that can be done in many bodies of water.
Kayaking/Canoeing – Renting or bringing your own kayak or canoe is a great way to explore nearby lakes, rivers, and streams.
Scavenger hunt – Create a scavenger hunt with items found around your campsite or nearby trails.
Geocaching – Use GPS coordinates to locate hidden "caches" around your camping location.
Nature photography – Take advantage of the beautiful scenery around you by taking photographs of plants, animals, landscapes, etc.
Stargazing – Enjoy the beauty of the night sky by stargazing with the naked eye or using binoculars or telescopes.
Storytelling around the campfire – End each day by sharing stories around the campfire, roasting marshmallows, and enjoying quality family time together under the stars.
Remember to pack any necessary equipment for these activities and always practice safety measures such as wearing life jackets during water-related activities and keeping a safe distance from wildlife when hiking or exploring nature.
Portable Electronic Devices For Entertainment
While many families prefer to unplug during their camping trips, plenty of portable electronic devices can enhance the outdoor experience for both kids and adults.
Portable speakers are a great way to enjoy music while sitting around the campfire or cooking dinner, and some even come with built-in lights for added ambiance.
For those who want to capture memories from their trip, action cameras like GoPro or drones equipped with cameras can help create stunning videos and photos of your family's adventures in nature.
However, it's important to remember that these devices should be used responsibly, respecting other campers' privacy and adhering to park regulations regarding flying drones.
Reading Materials And Board Games
When camping with the family, it's important to have some downtime activities for when you're not exploring the great outdoors. Bringing along reading materials and board games can provide fun entertainment for everyone.
Consider bringing books on nature or wildlife that can be enjoyed by both kids and adults alike.
Planning ahead's always a good idea before deciding which reading materials and board games to bring along. Check out camping forums or ask friends who enjoy camping for their suggestions.
Safety And Comfort Items For Family Camping
Pack a first aid kit and bug repellent to ensure your family's safety during the camping trip.
First Aid Kit And Bug Repellent
Another important aspect of family camping is ensuring everyone stays healthy and comfortable. A well-stocked first aid kit is a must-have for any trip, as accidents can happen anytime.
The kit should include essentials like band-aids, antiseptic wipes, gauze, and tweezers to remove splinters or ticks. Additionally, bug repellent is essential for keeping pesky mosquitoes and other insects at bay.
While many natural options are available, like citronella candles or essential oils, it's also a good idea to have some DEET-based spray on hand for added protection in areas with high mosquito activity.
Keywords: First Aid Kit, Bug Repellent, Family Camping Essentials
Campfire Tools And Equipment
Having a campfire is an essential part of any family camping trip. Still, having the right tools and equipment is important to keep everyone safe. One of the most crucial items for a campfire is a fire pit or ring, which helps contain the flames and prevents them from spreading.
You'll also want to bring heat-resistant gloves for handling hot coals or logs. And don't forget about kindling! Bringing along some newspaper or dry wood shavings can help get your campfire started quickly and efficiently.
Lastly, it's always best to check with local regulations before starting a fire at your campsite. Some areas may prohibit fires during certain times of the year due to the high risk of wildfire.
Portable Toilet And Hygiene Products
Another important aspect of family camping gear is portable toilets and hygiene products. When spending time in the great outdoors, it's essential to have a system in place for handling waste and staying clean. One approach is covered in our article "How to Make a Toilet for Camping"
Packaging plenty of hygiene products such as hand sanitizer, wet wipes, toilet paper, soap, and toothbrushes/toothpaste is also important. These items will help keep everyone feeling fresh and clean throughout the trip.
REI Co-op recommends packing disposable bags (like doggy bags) for solid human waste that can be double-bagged for disposal. Additionally, some campgrounds may require visitors to use certain types of portable toilets or facilities if available on-site.
Clothing And Footwear
Choosing the right clothing and footwear is essential for a comfortable and safe camping experience, especially when it comes to families. Make sure everyone has appropriate and weather-appropriate clothing such as layers, rain jackets, hats, and gloves.
Good quality hiking boots or shoes are also important to protect feet from rough terrain.
Packing extra clothes for kids who may get dirty or wet while playing outside is also important. Clothing that is easy to move around in will allow them to enjoy all the outdoor activities without any restrictions.
Additionally, packing a separate set of sleepwear can help ensure everyone stays warm through cooler temperatures at night.
Have a family member with sleep apnea? Check out How To Use CPAP While Camping.
Factors To Consider When Choosing Camping Gear For Families
Consider the size and capacity of gear, its durability, ease of use, affordability, and the climate and terrain you'll be camping in – read on for a more in-depth discussion on choosing the best gear for your family's next adventure.
Size And Capacity
Choosing the right size and capacity of camping gear is crucial when planning a family camping trip. It's important to consider the number of people joining and their sizes and needs.
For tents, it's recommended to up-size from what you think you need to ensure everyone has enough space for sleeping bags, gear, and movement. Sleeping bags also come in different sizes and temperature ratings, so you need to consider the climate of your camping destination.
Additionally, considering each member's comfort level is important since not having enough space or being too cramped together could lead to an uncomfortable experience.
Durability
One crucial factor to consider when choosing camping gear for families is durability. Your camping equipment should be able to withstand various outdoor elements, including harsh weather conditions and rough handling.
When selecting a tent, look for durable waterproof and tear-resistant fabrics. The same goes for sleeping bags, air mattresses, and chairs – choose items made with sturdy materials that won't easily wear out or puncture.
Remember that durability doesn't always equate to expensive gear. There are many wallet-friendly options available without sacrificing quality and performance. Conduct thorough research before purchasing and read product reviews from other campers who have tested the gear.
Ease Of Use
When choosing camping gear for your family, ease of use is an important factor to consider. No one wants to spend hours struggling with complicated equipment while camping.
For example, portable chairs and tables should be lightweight and have simple folding mechanisms. Sleeping bags should be easy to zip up and have compression sacks for easy storage.
Another way to ensure ease of use is by testing the gear before your trip.
Remember that camping should be a fun experience for the whole family, so don't let complicated gear get in the way of enjoying the outdoors together.
Affordability
Regarding family camping gear, the cost can add up quickly. However, there are plenty of wallet-friendly options available that still provide quality. Look for deals on items such as sleeping bags and tents during off-seasons, or consider borrowing from friends or renting equipment if you're not sure how often you'll be using it.
Another way to save money on family camping gear is by keeping an eye out for sales or discounts online and in-store. Shopping around can help you find the best deals on name-brand products or more budget-friendly alternatives that meet your needs.
Remember that affordability doesn't necessarily mean sacrificing quality when it comes to family camping gear.
Climate And Terrain
Choosing the right camping gear for families involves considering factors such as climate and terrain. It's important to research the weather conditions of your camping location before heading out and pack accordingly.
For instance, if you're camping in a hot and sunny area, bring sunscreen, hats, sunglasses, and hydration packs to keep everyone cool and hydrated.
Additionally, when planning for family camping trips involving hiking or rough terrains such as mountains or rocky landscapes, consider investing in durable backpacks with comfortable straps that evenly distribute weight across your shoulders.
You may also consider bringing trekking poles or walking sticks for added support while navigating tough terrain.
Be sure to check out our posts about Spring Camping Tips, Summer Camping Essentials, When is Camping Season, and Winter Camping Tips.
Final Thoughts on The Best Camping Gear For Families
In conclusion, going on a family camping trip can be one of your best experiences. With the right set of camping gear, you can ensure that everyone stays safe and comfortable throughout the trip.
From spacious tents to warm blankets and portable chairs, plenty of options are available to suit your needs. Don't forget to pack some fun games and activities for entertainment! To ensure a successful trip, make sure you consider size capacity, durability, ease of use and affordability when choosing your gear.
Looking for a great place for family camping… here's how to find free dispersed camping in national forests.
Bestseller No. 1
FLY2SKY Tent Lamp 4 Packs Portable LED Tent Light Clip Hook Hurricane Emergency Lights LED Camping Light Bulb Camping Tent Lantern Bulb Camping Equipment for Camping Hiking Backpacking Fishing Outage
★COMPACT & LONG LIGHTING — Palm-sized(5.7 X 2.1 inch) portable led tent light, takes up very little room, easy to carry and grip for kids. Powered by 3 x AAA alkaline batteries (Not Included), lighting time up to 10-15 hours in high-light mode, avoid frequent battery changes, protable led camping lantern for outdoor adventure aficionados.
★150 LUMENS OFFERS MAXIMUM BRIGHTNESS — Each battery operated camping lights built-in 3 LED tent lamps beads, camp night light easily illuminate the whole campsite, super bright protable LED camping light whatever you do like long talks, playing games, reading or walks at night. Four colors mark different teams. Bring millions of practical uses!
★3 LIGHT MODES SUPPORT MULTI-APPLICATION –The LED tent light bulbs comes with 3 light modes: HIGH / LOW / Strobe. Use protable LED lantern to illuminate a large area, as emergency lights, or create a flashing party atmosphere. Perfect camping gear fits different needs.
★DURABLE & WATER-RESISTANT –IPX8 water-resistant & crafted from super-durable ABS plastic. With anti falling carabiner stroller hook design, camp lanterns can be fasten to tree, the stable, rope, backpack or tent, free worry about dropping and free your hands. Great for emergency hurricane, support all activities such as camping, hiking, hunting, fishing, sos lights and etc.
★ONE LIGHT, ENDLESS USES! –Our camp tent lights also used as decorative indoor lights, night lights, battery operated lights, as a useful handy aid while you're working, studying, or reading a book just before you go to sleep! Perfect gift for the people you love.
Sale
Bestseller No. 2
Membrane Solutions Straw Water Filter, Survival Filtration Portable Gear, Emergency Preparedness, Supply for Drinking Hiking Camping Travel Hunting Fishing Team Family Outing – 6 Pack
✅Survival Gear for Outdoor Water Needs – SGS certificated, Test Report NBF21-004693-01. If you want to obtain clean drinking water simply and quickly, you can use this survival gear. The portable and lightweight filtering system is ideal for recreation, hiking, camping. It's also your good companion for scouting, domestic and international travel, and emergency preparedness.
✅Portable & Long Life-Span – This straw filtration at only 7.1" long and 1″ in diameter fits any 28mm threaded bottle, cup, or glass. It weighs just 2 ounces and fits in the palm of your hand, pocket, gym bag, backpack, survival pack or purse. Both ends of the Upgrade water filter straw are removable for cleaning to extend Longer Lifespan ensuring it provides up to 1,320 gallons (5,000 liters) of drinking water. Don't miss this opportunity to drink clean water conveniently wherever you go.
✅5-Stage Filtration – Our Upgrade 5-Stage Filtration System includes a coarse filter screen, double layer pp cotton fiber, coconut shell activated carbon and hollow fiber ultrafiltration membranes. which can remove 99.99999% of harmful substances (pollution, odor, chlorine and organic chemicals, etc.) and improve the taste. Ensuring the safest water in the worst environments.
✅Smaller Pore Size – We all know that the smaller the pore size, the higher the filtering accuracy, our pore size is 0.1microns which can filter out 99.99999% of the harmful particles. Compared to the 0.2-micron water purifier straw on the market, Membrane Solutions 0.1 microns pore size water purifier straw maintains the optimum flow rate (16.9 fl oz/min / 500ml/min) and a high filtration accuracy at the same time.
✅High-Quality Materials & Versatile Filtering Modes – Made of durable food-grade plastics, manufactured with BPA-Free ABS, ensuring safe and quality drinking water. Compared to the big filter straw on the market, Membrane Solutions water filters have a smaller frame, more convenient to use and more filtered modes, ideal for connecting with a soft water pouch or disposable water bottle to squeeze, even as a replacement gravity filter to get pure water for family & group.
Sale
Bestseller No. 3
Coleman 24-Piece Enamel Dinnerware Set, Red
Classic outdoor dinnerware set ideal for camping and picnics
Durable, double-fired enamelware with a timeless red speckled design
Includes 4 dinner plates, 4 coffee mugs, and 4 bowls
Silverware kit includes 4 plastic-handled forks, spoons, and knives in a roll-up pouch
Dishwasher safe
Sale
Bestseller No. 4
GearLight 2Pack LED Headlamp – Outdoor Camping Headlamps with Adjustable Headband – Leightweight Headlight with 7 Modes and Pivotable Head – Stocking Stuffer Gifts for Men
SUPER BRIGHT – Experience powerful hands-free LED camping lights that generate a brilliant, long-lasting beam with daylight color and definition, boasting a runtime of up to 10+ hours on the low setting making it the perfect work headlamp.
ADJUSTABLE COMFORT – The removable, washable, and adjustable headband on this LED headlamp ensures a comfortable fit for both adults and children. Weighing only 3 oz with batteries, it's the perfect headlight for outdoor adventurers.
VERSATILE DESIGN – Our premium headlamps feature a 45-degree adjustable head to direct light precisely where you need it. Choose from 7 different lighting modes, ranging from white strobe to red beam for safety
WEATHER RESISTANT – With water resistance and shockproof capabilities, the S500 headlamp flashlight is suitable for use in rain or snow, indoors or outdoors and the perfect Father's Day Gift for Dad. A must-have addition to your running, hiking, and camping accessories list!
VALUE PACK – Each order includes 2 S500 GearLight headlamps (AAA batteries not included). Keep one in your car and another at home for convenience making this the idea gifts for men
Sale
Bestseller No. 5
KITWLEMEN Camping Fan with LED Lantern, 20000mAh Rechargeable Battery Operated Outdoor Tent Fan with Light & Hanging Hook, 4 Speeds, Personal USB Desk Fan for Camping, Power Outage, Hurricane, Jobsite
【20000mAh RECHARGEABLE BATTERY】 Powered by 20000mAh rechargeable battery, it can be fully charged in 8-9 hours with 5V3A input via the including type-C cord, and provide 8-100hours duration. Built-in 5V/3A type-C input/output port and a 5V/2A USB output port for charging the fan conveniently, or use it as a power bank to power other devices, a good helper for camping trip, power outage, hurricane, etc.
【SUPER BRIGHT LED LIGHT】 Compose of 16 LED light beads with 3 brightness settings, and provides the ideal light source for nighttime outdoor activities, like barbecue, picnic, hiking, fishing, etc.
【DOUBLE TRIBLADE & 270° PIVOT】 The camping fan with double triblade design to put on more powerful airflow than the ordinary others. Plus 4 different speeds to meet your different demands. A 270° pivoting head enables to cool you down instantly in whichever direction you like.
【EASY TO USE】 The fan and LED light are controlled separately. 4 speed indicators and 4 battery indicators show you current fan speed setting and the remaining battery capacity. Press the sleep mode button to turn off the indicators when you sleep and don't want it on. A 360° rota-table and fold-able hook at the bottom for hanging the tent fan anywhere you want to.
【STURDY & ANTI-DROP】 Made of sturdy and durable ABS material for anti-drop and anti-collision use, and the ultra-stable base keeps fan firmly in place even when working on the highest speed, perfect use for different outdoor occasions. It is also suitable for indoor use as a desk fan when studying, working, reading, etc.
Bestseller No. 6
Venture Pal 35L Ultralight Lightweight Packable Foldable Travel Camping Hiking Outdoor Sports Backpack Daypack
DURABLE. Made with high quality material, ultra-light, tear and water resistant .The extra strength provided by double-layer bottom piece, enhanced by bar-tacks at major stress points makes it very convenient to carry more load on your journeys.
COMFORTABLE. Breathable mesh shoulder straps with plentiful sponge padding help relieve the stress from your shoulder. The length of the shoulder straps is adjustable. The chest strap with a whistle buckle help you lock your backpack in place.
MULTI COMPARTMENTS. One main zipped compartment including two separators help you further organize things. Two zipped front pockets are good for holding small accessories. Two side pockets are good for holding water bottles and umbrellas.
LIGHTWEIGHT(0.7LB) and ROOMY(35Liters). Fold the backpack into its own pocket and unfold it when you reach your destination. To avoid overweight charge, simply unfold from your checked bags and use it as a carry on for your excess baggage.
LIFETIME WARRANTY: Our Promise-lifetime warranty-Exchange, return, whatever it takes.
Sale
Bestseller No. 7
Marshmallow Roasting Sticks kit-Telescoping Stainless Steel Cookware Set Forks for Smores & Best Camping Accessories for Kids Over Campfire & Hot Dog Fire Pit Cooking
WE WANT TO MAKE YOUR KIDS SMILE! The best gifts in the world are not in the material objects one can buy, but in the memories we make with the people WE LOVE. Let us bring Joy and Color in your life thru our marshmello roasting stick which is a great smores maker & a camping equipment, camping accessories for bonfire & camping trips, roasting outdoors or in any roasting experience.
ASK OTHERS: See how people feel about using our marshmellows roasting stick. They write things like: "Happy grandkids", "We loved the Recipe Ebook included.", camping skewers extendable sticks "Great idea for camping!", "My kids love these", "best lake house gifts!" And the best part? For easy storage, and travel, this marshmallow roaster collapse from 34″ to just 10″! Also best for cookware gifts, holiday gift baskets & stocking stuffers.
LIFETIME MANUFACTURER WARRANTY: ARRES's primary goal is to put a smile on your faces. WE ARE OBSESSED ABOUT CUSTOMER SERVICE, so, if for whatever reason, you don't absolutely love our wiener roasting sticks or smores kit as a camping cooking gear just return it, & we'll refund every penny (replace it, if there's a problem). This warranty only applies to items purchased directly from the manufacturer & does not apply to our campfire roasting sticks purchased through non-authorized re-sellers.
SMART DESIGN: We've taken great care in making our roast em telescoping marshmallow roasting sticks for fire pit Perfect! Our hot dog roasting sticks for campfire or marshmallow sticks are extendable to 34" and roast your goodies from a distance. Fast and Easily. Even more, every roasting sticks for camp fire comes with safety pins to make the campfire sticks safe for storage and handling around children..
AMAZING RECIPES: "15 Easy Roasting Recipes" E-book will be included in our set of smores sticks for fire pits that comes with a beautiful orange canvas bag for storage and thanks to the portable size you can also take them with you at camping or an outdoor BBQ. What's more? Check the pictures and the E-book for more ideas on how to use them.
Sale
Bestseller No. 8
2 Pack Collapsible Sink with 2.25 Gal / 8.5L Each Wash Basin for Washing Dishes, Camping, Hiking and Home
BPA Free and Great Value: Our collapsible sink is in thermoplastic rubber (TPR) construction that is BPA free and dishwasher safe. You only need to pay 1 but get two. Great value. With different color, you can distinguish which one is which easily. Imagine you are camping, you can use one to wash dishes, the other is to put clean dishes.
Versatility: This collapsible bin is perfect for indoor or outdoor use. It can be used as a wash basin for dishes or hands, ice bucket for drinks, storage container for your items for camping, hiking, boating, and more!
Durable: Sturdy, plastic rim and base provide for additional stability. Dual carrying handles make it easy to move when filled.
Foldable and Space-Saving: This unique portable pop-up design is suitable to to keep in your home, garage, or packed in the car with your camping gear. Dimensions: 15.2" L x 11.4" W x 5.9" H, Collapsed: 2" H. 8.5 L capacity.
Lifetime Guarantee: We are so confident in the quality of our collapsible sink that we offer you a lifetime guarantee. Reach out to us if there's ever anything you need; we are dedicated to your satisfaction.
Sale
Bestseller No. 9
Unniweei Solar Portable Shower Bag, 5 Gal/20L Solar Heating Camping Shower Bag with Removable Hose&On-Off Switchable Shower Head, Compact Camping Shower for Camping, Hiking, Traveling, Beach Swimming
【Larger Capacity But Compact and lightweight Camping Shower Bag】 With a larger water capacity of 5 gallons/20L, the solar shower bag is enough for about 3 showers. The water flow is fine and gentle to let you enjoy a better and refreshing shower anywhere, bringing you a better shower experience! Besides, our camping shower is so compact and lightweight that you can carry it in your backpack conveniently. The shower bag is only 0.98 Lbs and just 13x6x2 inches in package.
【Heat Absorbing Design and Durable Material】 The camping shower heats water to 113°F (45°C) in 3 hours with direct sunlight.No need for gas or electricity to enjoy a warm shower outdoors! The solar shower bag uses a sturdy handle belt and a reinforced plastic tube, and is made of durable PVC material, which is non-toxic and environmentally friendly, durable and not easily deformed.It heats water to 113°F (45°C) in 3 hours with direct sunlight.
【More Convenient and Easier to Use and Carry】 The portable shower is designed with an on/off adjustable switch to control the water flow. It supplied with a hose, a shower head and a water tap. The hanging hook sling can be easily hung on a tree or shower tent to wash your body, your face, hands, or wash dishes, food, cars, etc.The shower bag is such compact that just only 0.98 Lbs and just 13x6x2 inches in package, which makes you easily carry it in your trip.
【Widely Use】 The camping shower can be used for outdoor camping, traveling, climbing, hiking, backpacking, self-driving, fishing or hunting, beach swimming, which allows you to enjoy a refreshing and pleasant shower outdoors. You can also take it to the beach in summer and wash off the salt and sand after swimming.This solar shower bag is the best gift for Men, Husband, Parents, Mother's and Father's Day.The shower bag is the perfect camping accessory for the outdoor enthusiasts.
【Refund/Replacement Warranty】 Our camping shower is the great Fathers gifts for Dad Men Husband. The perfect camping accessory for him. Any question, please feel free to contact us. Our professional customer service is therefore here to do whatever it takes to promise your satisfaction. That's why your purchase comes backed with our incredible warranty; anytime, any reason, no questions asked!
Bestseller No. 10
MEREZA Double Sleeping Bag for Adults Mens with Pillow, XL Queen Size Two Person Sleeping Bag for All Season Camping Hiking Backpacking for Cold Weather & Warm Black
☀MULTIPLE USE SLEEPING BAG : Our double sleeping bag with 2 pillows can be separated into two individual sleeping bags or 2 queen size blankets thanks to the wraparound zippers. No matter how you use it, whether you go outdoor or use it indoor, this adult sleeping bag will warm your tour and give you a good night sleep experience
☀LARGER THAN QUEEN SIZE : Roomy, rectangular shape provides maximum comfort and easily fits 2 people up to 7 FEET, so lofty and wide even for two big and tall persons to have plenty of room to stretch out. The separated bottom zipper lets you ventilate the foot section for better temperature control
☀GOOD FOR EXTREME WEATHER : Our 2 person sleeping bag aims to help you stay warm and cozy even in cold weather condition. Double layer construction of 400 GSM innovation fiber filling is engineered for maximum warmth and a soft feel, which will give you enough padding and comfort to make you feel like sleep in the cloud
☀SLEEP COMFORTLY WITH PILLOW : A 220 G plush filling camping pillow is included for an at-home sleep experience in the outdoors. Contoured 3D hood construction with drawstrings allows internal adjustment to avoid heat loss while providing space for the pillow; Reversible locking antisnag zipper and draft tubes backing it work together to keep body heat in
☀REVOLUTIONARY STORAGE BAG : The large opening design of the compression sack facilitates the storage of the subzero sleeping bag without tearing, the cover on the top strengthens watertightness. In addition, the portable handle on the sack makes it convenient to carry along for any outdoor adventures, camping trip, backpacking, hiking, or car tour
FAQ
What are some essential camping gear for families?
Some essential camping gear for families includes a spacious tent, sleeping bags, portable stove, cookware and utensils, cooler with ice, lantern or flashlight, and comfortable chairs.
Can I bring a regular size tent for my family while camping?
It depends on the number of people in your family and the size of the tent you have. Choosing a tent that provides enough space for everyone to sleep comfortably without feeling cramped is recommended.
How do I choose the right sleeping bags for my family?
When choosing sleeping bags, consider factors such as temperature rating (the lowest temperature they can handle), insulation type (down or synthetic), shape and size (regular or extra-wide). Sleeping bags should fit snugly around each person's body to keep them warm in colder temperatures.
Is it necessary to have a portable stove while camping with my family?
Having a portable stove enables families to prepare their own meals easily rather than relying on campfire cooking alone, which can be time-consuming, especially when there are many mouths to feed. A reliable stove also allows flexibility with meal timing, enabling easier planning of activities throughout the day without worrying about missing mealtimes due to slow campfire cooking methods.
What should I look for when selecting a family camping tent?
Some important factors to consider when selecting a family camping tent include size, durability, ease of setup, and ventilation. Look for a roomy tent to accommodate everyone in your family, has a sturdy frame and durable materials that can withstand the elements, is easy to set up, and has good ventilation to help keep airflow moving throughout the tent.
What is the best sleeping bag for camping with kids?
What should I bring for a camping trip with a baby or toddler?
When camping with a baby or toddler, you'll want to make sure you have plenty of diapers, wipes, and other essential baby gear. You'll also want to bring a baby carrier or backpack to help you carry your little one around the campsite and a portable crib or playpen to provide a safe and secure sleeping space. Don't forget to pack plenty of snacks and toys to keep your little one entertained!
What should I include in my camp kitchen gear?
Some essential camp kitchen gear items include a portable stove, cookware and utensils, a cooler or ice chest, a folding table and chairs, and a water filtration system. You may also want to bring a campfire grill or Dutch oven for cooking over an open flame and a portable sink or wash basin to facilitate cleanup.
What should be on my camping gear list for a family trip?
Your camping gear list for a family trip may vary depending on your needs and preferences. Some essential items may include a family tent, sleeping bags and pads, camp kitchen gear, and a portable stove or grill. You'll also want to pack plenty of layers and warm clothing, sunscreen, bug spray, and a first-aid kit.
What kind of mattress is best for camping?
The best mattress for camping is lightweight, easy to pack and carry, and comfortable to sleep on. Options include self-inflating sleeping pads, air mattresses, and foam pads with varying levels of support and insulation. Look for a mattress designed specifically for camping, with durable materials and a compact size that makes it easy to transport.
What are some fun activities for kids to do while camping?
There are plenty of fun activities for kids to do while camping, including hiking, fishing, playing games like Frisbee or capture the flag, making s'mores around the campfire, and stargazing. You can also bring outdoor toys like balls or kites or encourage kids to explore the natural surroundings and look for wildlife.
What should I bring to make my campsite feel more comfortable?
To make your campsite feel more comfortable, consider bringing items like a hammock, string lights or lanterns, a portable speaker for music, and comfortable camp chairs or a picnic table. You can also bring plush blankets or pillows or create a cozy seating area around the fire pit.
What are some tips for camping with younger kids?
When camping with younger kids, it's important to make sure they feel safe, secure, and entertained. You can involve them in setting up the campsite, teach them basic outdoor skills like fire safety or knot-tying, and encourage them to explore the natural surroundings. You may also want to bring familiar items like favorite toys or stuffed animals and plan activities catering to their interests and abilities.
What should I bring on my first camping trip with my family?
On your first camping trip with your family, bring along all the essentials like a family tent, sleeping bags and sleeping pads, cooking gear and utensils, and plenty of layers for warmth. You may also want to bring extra items like bug spray, sunscreen, and a first-aid kit, and consider planning activities that are fun and accessible for everyone, like easy hikes or nature walks.