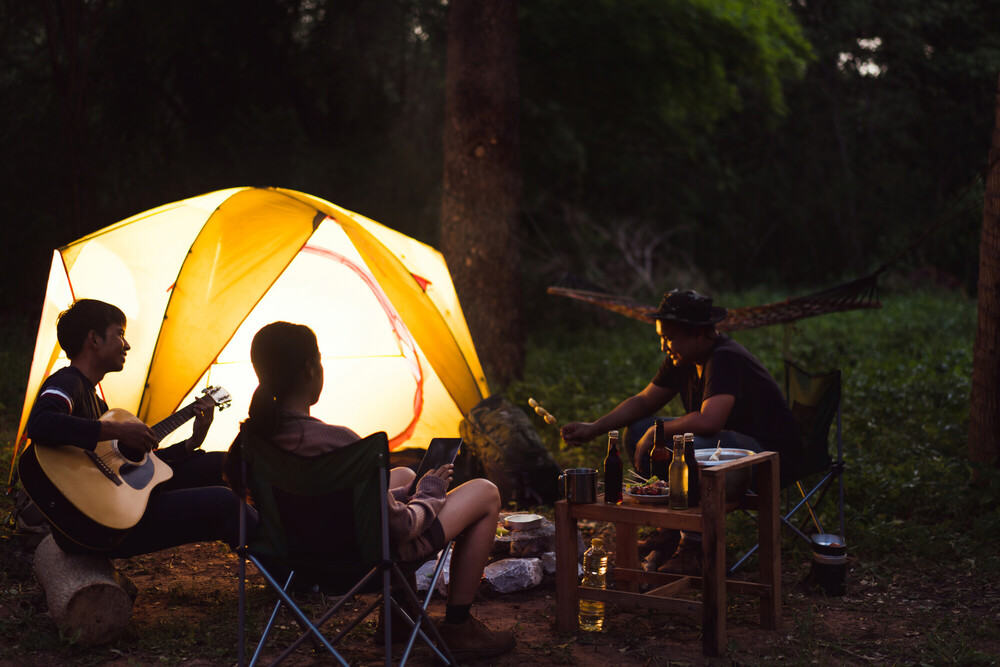 Camping in the dark can be a magical experience, but eventually, you'll need a little light!
If you've ever had to lug around a heavy lantern plus your other camping gear, you know that double-duty items can be super helpful. Did you know you can make a portable light using just a bucket?
Not only is this light inexpensive and easy to make, but you can also use it for storage when it's not in use. Today, we're sharing how to make a camping bucket light so you'll always have one on hand.
Key Takeaways:
DIY Camping Light Solution: The article provides a creative and practical guide on making a lightweight and portable camping bucket light, which also doubles as a storage container.
Materials and Assembly: The essential materials include a white, food-grade, five-gallon bucket with a lid, a battery-operated LED light (or a submersible light if adding water), batteries, and double-sided tape. The assembly is straightforward: affix the LED light to the underside of the bucket lid with tape or Velcro for a detachable option.
Versatility and Customization: The bucket light can be used with the light attached to either the bottom or the lid, depending on the user's preference. For added personality and visibility, custom vinyl decals can be applied to the bucket, which will be illuminated when the light is on.
Practical Tips: It's recommended to use an unwired lighting option for ease and safety unless one has electrical experience. Also, bringing extra batteries is advised to ensure the light remains functional throughout the camping trip.
Enhanced Camping Experience: This DIY project not only offers a functional piece of camping equipment but also allows for creative expression through customizable designs, enhancing the overall camping experience.
Step 1: Gather Your Supplies
First, make sure you have everything you need. For this project, you have two lighting options: wired or unwired. We suggest sticking with unwired unless you have electrical experience.
Here are the supplies you need:
White, food-grade, five-gallon bucket with a lid
Battery-operated LED light (or a submersible light)
Batteries
Double-sided tape
You can find all of these items at your local hardware store. It's smart to bring extra batteries along so you can make sure you always have them close by!
Add the Light
To make your bucket light, all you have to do is place the battery-operated LED light onto the underside of the bucket lid using double-sided tape. You can also use Velcro strips if you want your light to be detachable.
Then, turn it on and you're ready to go! Make sure the light has batteries in it before you set out.
If you use a standard LED light, you'll need to keep your bucket empty and dry. To add more weight to their bucket and keep it from blowing away, some people prefer to fill theirs with water. If you do, make sure to use submersible lights.
You can add your light to the bottom of your bucket or the lid depending on your preference. If you use custom designed decals, you may prefer to illuminate them from underneath.
Add Optional Decals
Many campers enjoy adding vinyl decals to their bucket lights! This way, when the light shines, you can see the custom design on the front of the bucket. You can make your own if you have the right software, or find a designer online who can create one for you.
Once you have your design, keep the transfer tape on the vinyl and align it between the bucket handles. When you find the right position, remove the tape and attach it.
Know How to Make a Camping Bucket Light
When you know how to make a camping bucket light, you're never too far from an efficient, illuminated campsite. These quick and easy tools are fun to make and you can get as creative as you'd like to with your vinyl design!
Looking for more tips and advice as you set off on your next great adventure? We're here to help you feel well-equipped, no matter where or when you explore. Check out our recent post on the best time to go camping and start scheduling your next trek!
Bestseller No. 1
Camping Light Telescopic and Collapsible Night Light Mobile Lighting 10000mAh Battery Built-in Magnetic Road Light & Flash Light for Adventure, Hiking, Camping, Live Streaming (Dark Grey)
Telescopic & Collapsible – The collapsible design allows the camping light easy storage, portability. The telescopic feature enables the user to extend the length of the light, making it ideal for hard-to-reach areas . The lightweight and durable construction ensure that the light is both sturdy and easy to handle. Overall, this feature-rich light is an excellent choice for those seeking a high-quality and adaptable lighting solution.
6 built-in Neodymium magnetic – It provides a secure and reliable attachment to metal surfaces, allowing users to work hands-free with ease in dimly lit environments. The sturdy construction and bright LED lights make it suitable for use in various settings, such as car maintenance, home renovation, and outdoor activities.
Wide Applications – The camping light can be used both indoors and outdoors. It can be used as an ambient light for indoor use, and as a camping light, a flashlight, a road light or an SOS light for outdoor use, making it perfect for exploring the wilderness. From the wilderness to the dining table, Light up wherever you at.
Adjustable Brightness&Color – This adjustable night light offers 3 different brightness levels and switchable between cool and warm light, allowing users to customize their lighting experience to suit their individual needs. Whether for use in the home, office, or studio, this versatile light provides consistent, high-quality illumination that adjusts to the user's preferences.
Long-lasting Battery – The camping light features a 10000mAh battery, which not only provides long-lasting light but can also be used to charge your phone, ensuring you are never left without power during your camping trip. The battery life ranges from 9 to 20 hours, depending on the brightness level of the light being adjusted.
Sale
Bestseller No. 2
LED Camping Lantern, Rechargeable & Portable Tent Light, 300LM,3 Light Modes,1800mAh Power Bank,with Magnet Base,Electric Lantern Flashlight for Camping/Hiking/Fishing/Hurricane/Emergency
【4 LIGHT MODES】:This camping lamp has 4 light modes: Strong light – weak light – fast flash-slow flash. Strong light(300lm), weak light(150lm), built in 5 LED lights can provide sufficient bright light, perfect for camping,hiking,fishing,emergency.
【SUPER BRIGHT & LONG LASTING】:Light can last about 8 hours under weak light mode and 4 hours under strong light mode.Green light flashes while charging and stop flashing when fully charged.
【INPUT & OUTPUT】:Built-in battery, light is rechargeable with the USB cable; Light can also be used as a power bank to charge your phone in emergency.
【PORTABLE & CONVENIENT】:This camping lantern with mini size only weights 4.4 ounce,it's portable when go out.There is a hook on the top that can hang the tent light upside down to get better light.With it's magnet base feature, light can also be adsorbed on some metal surface to simplify the installation.
【WIDE APPLICATIONS】:This camping lantern is with IP45 waterproof rate, can be used both indoors and outdoors.Perfect for Camping,Hiking, Fishing,Car Repairing, Emergency and other Outdoor Activities.
Sale
Bestseller No. 3
Etekcity Camping Lantern Gear Accessories Supplies, Battery Powered LED Tent for Power Outages, Emergency Light for Hurricane Supplies Survival Kits, Operated Lamp, 2 Pack,Black
Bright & Dimmable:Equipped with 30 bright LED bulbs, this lantern can get as bright as 140 lumens with a 360° lighting effect to dispel the darkness during emergencies like storms, power outages, etc.
Long Lasting: Powered by 3 well-charged AA batteries, this lantern can be used as a emergency light which provides up to 50 hours of bright light
Compact & Lightweight: With its collapsible design, the lantern is portable like a smartphone which makes it an ideal camping supply and it's lightweight; Easily pack it in your backpack while camping or hiking
Durable & Water Resistant: This LED lantern is constructed with military-grade ABS material which provides it the capability to survive from dropping and getting wet; This lantern is FCC certified and RoHS compliant as well.
Extra Storage: Store keys, change, or spare batteries in the convenient storage compartment at the top of the lantern
Sale
Bestseller No. 4
2 Pack Camping Lanterns Camping Accessories USB Rechargeable and Battery Powered 2-in-1 LED Lanterns, Hurricane Lights with Flashlight and Magnet Base for Camping, Hiking, Emergency, Outage
Super Bright & Large Area Brightness. The latest COB bulbs offer ultra-bright lights.360 degree coverage lighting provide high visibility to meet large area brightness. 4 lighting modes.Collapsible COB LED Lantern.Flashlight. Red Warning Light(Strobe & SOS light). LED camping lantern is a vital filed survival tool and camping accessories.
Rechargeable & Long-lasting. It is a rechargeable camping lantern and also powered by battery. There is a built-in battery , so you can recharge the lantern via USB charging cable. You can also place 3*AA batteries (not included) to use it. By using these two ways of battery supplying, never let you be left in a sudden darkness.
Durable & Water-resistant. Compact lamp body prevents it being damaged from collision. The rechargeable lantern is water-resistant due to its ABS military material and COB bulb. The Camping lamp can adapt to all kinds of severe hurricane and rainstorm weather. Perfect camping light for your indoor or outdoor activities.
Novel Design & Lightweight. Collapsible design (by pushing and pulling the handle) can turn on or close the lantern. Metal portable lantern can be used as a flashlight , vertical lift as a lantern and can be hang it on tree or others. 3 Strong magnets on the base can be adsorbed on any metal surface to free your hands.
What You Get. 2 pack lantern, 2 USB charging cable. 24-Month full support. If you encounter any quality or other issues at all, just let us know and it will be properly handled on your want!
FAQs
What is a camping bucket light and why is it beneficial for campers?
A camping bucket light is a portable, multi-functional light source made from a standard five-gallon bucket. It's beneficial because it's not only lightweight and easy to create but also serves as a storage container, making it a space-saving solution for campers.
Can you describe the basic materials needed to create a camping bucket light?
To create a camping bucket light, you'll need a white, food-grade, five-gallon bucket with a lid, a battery-operated LED light or a submersible light for water-filled buckets, batteries, and double-sided tape or Velcro strips for attaching the light.
How do you assemble a camping bucket light?
Assemble your camping bucket light by attaching the battery-operated LED light to the underside of the bucket lid using double-sided tape or Velcro. If you're using a submersible light and filling the bucket with water, place the light at the bottom of the bucket.
Is it necessary to have electrical experience to make a camping bucket light?
No, electrical experience is not necessary if you opt for the unwired lighting option, which is the recommended choice for ease and safety.
What are some tips for ensuring the camping bucket light is effective?
Ensure the light has fresh batteries before setting out, and consider bringing extra batteries. If you're using a standard LED light, keep the bucket dry, or if you're filling it with water, use a submersible light to prevent damage.
Can you personalize a camping bucket light?
Yes, you can personalize your camping bucket light by adding vinyl decals. These decals can be custom-designed and are applied to the bucket, becoming illuminated when the light is on, adding a unique touch to your camping gear.
What should you do if you want to use your camping bucket light in windy conditions?
To prevent the bucket light from blowing away in windy conditions, you can add weight by filling it with water, ensuring you use a submersible light. Or, if you're using a standard LED light, you can place heavy objects like rocks or sand in the bucket.
How does creating your own camping bucket light align with sustainable camping practices?
Creating a camping bucket light is a sustainable practice as it encourages the reuse of materials and reduces the need for multiple single-use items, aligning with eco-friendly camping principles.