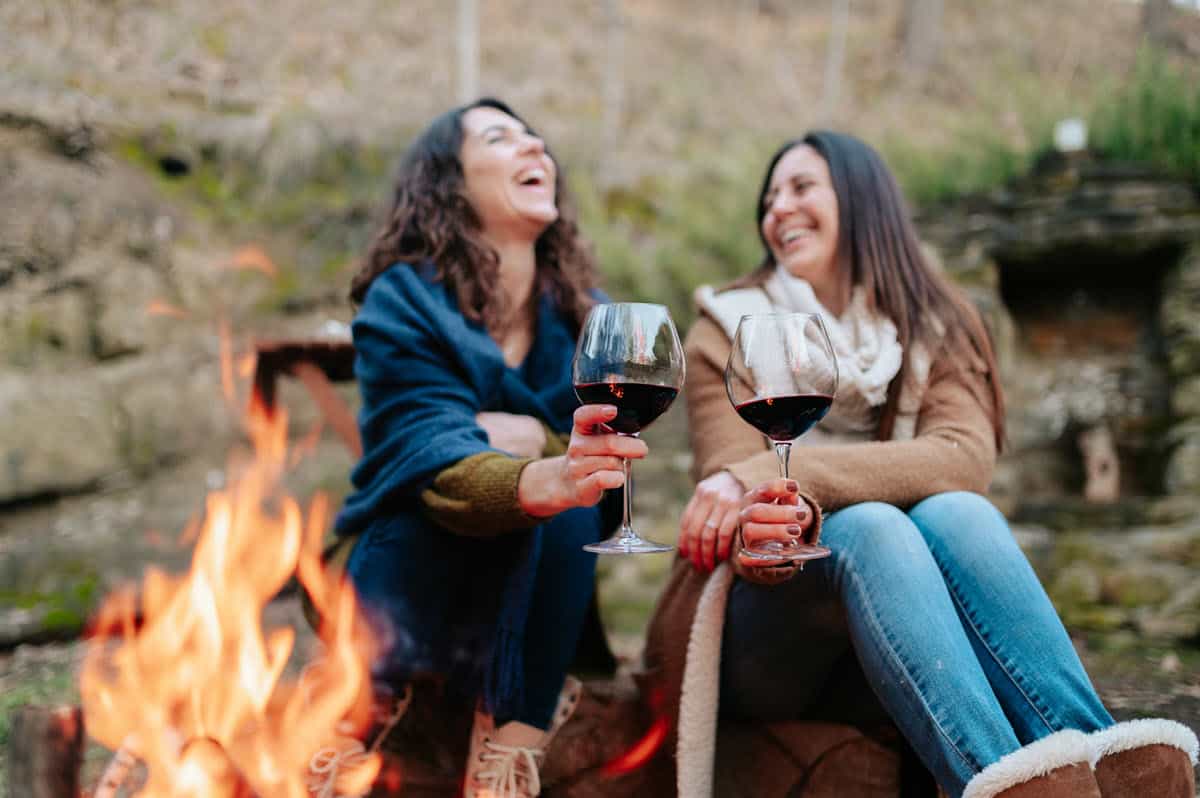 This comprehensive guide to camping essentials for women covers everything from efficient tents to female-specific outdoor gear, personal hygiene products, clothing, footwear, and helpful planning tips.
Whether you're a seasoned camper or just beginning your journey into the great outdoors, this blog post will equip you with the essential knowledge to make your experience unforgettable.
Key Takeaways
A lightweight and easy-to-carry tent, comfortable sleeping gear suitable for the temperature, compact cookware, hands-free lighting, and a portable power bank are essential camping gear for women.
Sturdy and comfortable hiking boots or shoes that provide support and traction, quick-drying layers for warmth and weather protection, sunglasses with UVA/UVB protection, insect repellent containing at least 20% DEET, or natural options like citronella oil are necessary clothing items.
Biodegradable soap and shampoo are environmentally friendly personal care items. Other must-have hygiene products include feminine hygiene products, a first aid kit, hand sanitizer, and wet wipes to ensure good hygiene while camping.
Sunscreen with at least SPF 30 should be applied every two hours to prevent sunburn during outdoor activities.
Camping Gear Essentials For Women Camping
For a successful camping trip, women should consider including gear essentials such as a lightweight and easy-to-carry tent, a comfortable sleeping bag and pad suitable for the temperature, compact and portable cookware, a hands-free headlamp or a flashlight for lighting, and a portable power bank for charging devices.
Tent: Lightweight And Easy To Carry
A lightweight and easy-to-carry tent is an essential piece of camping gear for women who want to enjoy the great outdoors without being weighed down. These tents provide shelter, privacy, and a comfortable space to rest after a day of adventuring.
There are various options available on the market that cater specifically to female campers.
When selecting your perfect tent, prioritize quality materials and excellent ventilation features, ensuring optimal comfort in different weather conditions. Additionally, consider choosing a quick-setup tent model, which will allow you more time enjoying nature instead of fussing with complicated instructions or fumbling with multiple poles – especially if you're camping solo!
Here's a post that recommends our top choices for the best 4 person tents for camping.
Remember that purchasing a reliable, lightweight tent is about convenience and safety during unexpected weather changes while exploring the wilderness.
Sleeping Bag And Pad: Comfortable And Temperature-appropriate
Your sleeping gear is crucial when it comes to a comfortable camping experience. Be sure to choose a sleeping bag and pad appropriate for the temperature you'll be facing.
Look for bags with lower temperature ratings and added insulation for colder weather.
In addition to your sleeping bag, a good sleep pad will ensure you have the necessary support throughout the night. Look for pads specifically designed for women as they cater more towards our body contours and offer extra warmth around our core areas, where we lose heat faster than men.
Check out our post about how to pick a sleeping bag for more info.
Camp Stove And Cookware: Compact And Portable
One of the most important aspects of camping is having access to warm meals and beverages, even when in the great outdoors. A compact and portable camp stove allows you to cook your meals on-site without sacrificing flavor or convenience.
When selecting a camping stove, consider factors such as fuel type, weight, and kitchen setup. Propane stoves are easy to use and portable. Opt for lightweight pots and pans that stack together for easy packing for cooking utensils.
Additionally, choose multi-purpose tools that can be used as tongs, spatulas, or knives to save space in your backpack.
Tip: Check out our how to use a percolator camping and the best coffee percolators for camping posts.
Headlamp Or Flashlight: Hands-free Lighting
A headlamp or flashlight is one of the most essential items to pack for camping. It provides hands-free lighting, allowing you to navigate and perform tasks in low-light conditions.
When choosing a headlamp or flashlight, consider its weight, brightness level, and battery life. A good option is a lightweight headlamp with multiple brightness settings and rechargeable batteries or standard batteries that are easy to replace.
Make sure your headlamp or flashlight has comfortable straps that fit securely around your head without causing any discomfort. If you plan on doing any nighttime hiking or exploring during your camping trip, having reliable lighting will be essential for safety and enjoyment.
You might also want a make a bucket light.
Portable Power Station: For Charging Devices
A portable power station is a must-have item for any camper or outdoor enthusiast. It allows you to charge your phone and other devices, such as your camera or tablet, while on the go. When selecting a power bank, look for one with a high capacity and multiple charging ports so that you can charge more than one device simultaneously.
And if someone in your group uses a CPAP machine while sleeping, then you'll need a significantly larger power station.
With smartphones being an essential part of our daily lives, having a portable power bank during camping trips can be very helpful. Instead of worrying about running out of battery life when taking pictures or using navigation tools, you can stay connected with family and friends without interruptions.
Clothing And Footwear Essentials For Women Camping
Women camping should pack layers for warmth and weather protection that are quick-drying and moisture-wicking, along with sturdy and comfortable hiking boots or shoes that provide support and traction.
Layers For Warmth And Weather Protection: Quick-drying And Moisture-wicking
When packing clothing for a camping trip, it's essential to consider the weather conditions you may encounter during your stay. Layers are essential to any outdoor enthusiast's wardrobe, particularly for warmth and weather protection.
Sturdy hiking boots or shoes can also provide support and traction while on the trails. Socks made from wool or synthetic materials can help prevent blisters by wicking away moisture, while hats offer added sun protection.
Sturdy And Comfortable Hiking Boots Or Shoes: Provide Support And Traction
One of the most important considerations for women camping is having sturdy and comfortable hiking boots or shoes. A camping trip can quickly become miserable without proper footwear, as blisters and sore feet make it difficult to enjoy the outdoors.
Look for boots or shoes that provide good support and traction, with a flexible sole that allows for natural movement on uneven terrain. It's also essential to make sure they fit properly – try them on with socks you plan to wear while camping and give yourself plenty of time to break them in before your trip.
In addition to suitable footwear, packing extra socks can help prevent blisters from forming, especially if your boots get wet during rainy weather. Another tip is wearing gaiters over your boots or shoes. These lightweight accessories protect your ankles from debris like rocks and sand while providing an added layer of water resistance during wet conditions.
Sun Protection: Sunscreen, Sunglasses, And Hats
Protecting your skin and eyes from the harsh UV rays when spending time outdoors, especially during camping trips, is essential. Sunscreen with at least SPF 30 should be applied every two hours, even on cloudy days.
Sunglasses with UVA/UVB protection can prevent eye damage caused by sun exposure. At the same time, hats offer additional coverage for your face and neck.
Sunscreen is essential to prevent sunburn during outdoor activities. Suggested clothing items include a hat and socks to protect against the sun and chafing.
Protecting yourself from the sun's harmful effects prevents painful burns and reduces the risk of developing skin cancer later in life.
Insect Repellent: To Protect Against Bugs
Insect repellent is crucial for women who want to protect themselves against pesky bugs, including mosquitoes and ticks. These insects can cause itchy bites and carry diseases like Lyme disease and West Nile virus.
It's essential to choose an insect repellent that contains at least 20% DEET to provide adequate protection in areas with high bug activity. Alternatively, natural options like citronella or lemon eucalyptus oil can also offer some degree of protection.
Additionally, wearing long sleeves and pants can help reduce exposed skin for insects to land on.
Hygiene And Personal Care Essentials For Women Camping
Include biodegradable soap and shampoo, feminine hygiene products, a first aid kit, hand sanitizer, and wet wipes in your camping essentials shopping list. These items will help ensure that you maintain good hygiene even when outdoors.
Biodegradable Soap And Shampoo: Environmentally Friendly
When camping, it's essential to consider the environment and leave no trace behind. That's why using biodegradable soap and shampoo is essential for any responsible camper.
These products are specifically designed to break down naturally, reducing the amount of harmful chemicals that can enter water sources and harm wildlife.
Not only do these products benefit the environment, but they also benefit campers who may be sensitive to harsh chemicals found in traditional soaps and shampoos. Biodegradable options are typically gentler on skin and hair, making them an excellent choice for those seeking all-natural alternatives while spending time outdoors.
Menstrual Products: For Menstrual Hygiene
For female campers, it is essential to pack menstrual products for hygiene and comfort during their period. Along with the obvious choice of pads or tampons, reusable menstrual cups are also a great option.
It's important to pack enough supplies for the duration of the trip, as well as extra in case of an emergency.
You should also bring leak-proof bags or containers to dispose of used products properly and discreetly. For those who prefer natural options, organic and biodegradable menstrual products are available.
Hand Sanitizer And Wet Wipes: To Maintain Hygiene
Proper hygiene is crucial when camping to prevent the spread of germs and stay healthy. Hand sanitizer and wet wipes are essential for maintaining cleanliness outdoors.
When there is no access to running water, hand sanitizer comes in handy as it kills germs on your hands quickly. Wet wipes can also be used to clean down surfaces and spills.
Remembering hygiene essentials will make you feel more comfortable wherever you are camped out – whether hiking along a trail or setting up camp at your favorite spot by the riverbank.
Using unscented products such as shampoo, soap, and deodorant can significantly reduce odors while preventing harm to wildlife around campsites.
First Aid Kit: For Emergencies
Accidents can happen anytime, anywhere, and it's crucial to be prepared for them when camping. A first aid kit is an essential item that should always be packed on any camping trip.
It's also important to include a manual on basic first aid procedures in case of emergencies. In addition to these items, campers with specific health concerns such as allergies or asthma must remember their prescribed medications.
Feminine Urination Device: For Added Convenience
Female campers often have to deal with the inconvenience and discomfort of finding a suitable spot to relieve themselves in the great outdoors. This is where feminine urination devices (FUD) come in handy.
FUDs are small, lightweight, and easily transportable devices that allow women to stand up and pee just like their male counterparts.
Female campers need to add FUDs to their packing list when planning a trip, as they make life easier while providing added comfort and privacy during outdoor activities.
Planning And Preparation Tips
Before embarking on your camping trip, research and choose a suitable campsite, check the weather forecast, plan meals, and pack efficiently – read more for additional tips on how to prepare for an unforgettable camping experience!
Research And Choose A Suitable Campsite
Choosing a suitable campsite can make or break your camping experience. To begin with, you should research potential sites and carefully read reviews from other campers to determine the most appropriate location for your needs.
Look for a location that offers adequate amenities such as potable water, restroom facilities, and garbage disposal options.
Here's a post about the best National Parks for camping in the U.S.A.
It's also important to consider weather conditions when planning a trip. Checking local forecasts can help you avoid surprises during your stay. Finally, be mindful of any regulations at potential campsites and ensure that you are adhering to them accordingly – this could mean booking reservations well in advance or refraining from bringing certain types of equipment along with you on your trip.
Check The Weather Forecast And Pack Accordingly
It's essential to prepare for the weather when planning a camping trip. Checking the weather forecast beforehand can help you determine what items to pack, such as rain gear or extra layers of clothing.
For example, if there's a chance of rain, bring waterproof jackets and pants or a tarp for your tent. On the other hand, if it is sunny and hot, pack lightweight and breathable clothing and plenty of sunscreen to avoid sunburns.
It's always better to be over-prepared than under-prepared for outdoor activities like camping.
Make A Checklist And Pack Efficiently
Before embarking on a camping trip, making a checklist and packing is crucial. Start by researching the campsite and determining what gear you'll need for the environment.
Check the weather forecast and pack accordingly, including items like rain gear or sunscreen if necessary.
Consider packing multi-use items such as a bandana that can serve as a towel or kitchen rag. Packing lightweight and compact gear will also help save space in your backpack.
Planning meals can ensure you have enough food without overpacking unnecessary items. Remembering to bring navigation tools like maps or compasses is essential for safety.
Plan And Prepare Meals Ahead Of Time
Planning and preparing meals ahead of time is an essential part of any camping trip, especially for women who want to avoid the added stress of cooking in the wilderness.
It's essential to consider the length of your trip and pack accordingly by bringing a variety of non-perishable snacks, such as trail mix, nuts, and jerky.
Tip: Here's a Free Camping Food List PDF.
Bringing a compact and portable stove with pots and pans is also crucial for cooking hot meals while camping. This allows you to cook up more substantial meals like pasta or rice dishes, keeping you feeling satiated throughout your outdoor adventure.
Additionally, packing lightweight cutlery sets, including utensils like spoons, forks, knives, etc., and dishware such as plates, bowls, and cups are ideal for serving food when dining outside on picnic tables or at campsites.
And don't forget the wine!
Consider The Length And Intensity Of The Trip
It is crucial to consider the duration and difficulty of your camping trip when packing. For instance, a long weekend trip may require fewer supplies than a week-long excursion.
One way to gauge the intensity of your trip is by checking the weather forecast and researching the elevation changes and distance covered along your adventure route. This will help you plan accordingly and ensure you have adequate gear for any possible scenarios, such as sudden rainstorms or steep inclines.
Wrapping It Up
In conclusion, when it comes to camping essentials for women, it is crucial to stay prepared and pack efficiently. From comfortable sleeping gear and sturdy hiking boots to personal hygiene items and a portable stove, these essentials will make your trip more enjoyable and convenient.
Remember to plan and take the necessary precautions for safety in the great outdoors. With these tips, female campers can have an unforgettable experience while exploring nature's beauty.
Sale
Bestseller No. 1
Pitch and Trek Female Urination Device, Silicone Standing Pee Funnel w/Discreet Carry Bag, for Travel, Road Trip, Festival, Camping & Hiking Gear Essentials for Women, Pink
PEE FREE: When you gotta go, you gotta go! This leak-free, reusable female urinal makes doing your business a breeze. Perfect for any situation – from pregnancy to post-op.
EASY CLEAN: Made with high-quality silicone, our female pee funnel can be washed with water and soap and shaken dry for hassle-free cleaning.
COMPACT: Lightweight and convenient, our portable pee funnel for women can easily be folded and thrown into your car's glove compartment, your backpack, or even your purse!
CONVENIENT: From porta potties to public bathrooms, our womens urinal funnel has you covered. Say hello to your new favorite camping companion and enjoy urinating mess and stress-free from anywhere.
CAMPING GIFTS FOR WOMEN: If you're looking for a thoughtful stocking stuffer or white elephant present for the outdoorsy woman in your life, look no further! This travel urinal for women makes for a great Christmas gift they'll actually use."
Bestseller No. 2
Camping Women Plush Crew Socks 4 Pair RV Tent Campfire Bear Patterns Mid-calf Length Winter Thick Stockings Teacher Women Girls Ladies Funny Camp Socks Holiday Festival Gift for Wife Daughter Friend
Camping Plush Socks Set – This package contains 4 pairs of camping theme women plush crew socks which are full of camping RV, campfire, tent, and s'mores patterns catering to your camping tour and enhancing the jolly atmosphere.
Soft & Cozy – Camping women socks are made of 85% plush, 10% polyester and 5% spandex, which making these socks soft, durable and warm. Because of their material, the socks are cozy and stretchy.
Sock Size – These socks are 8.7" in foot length while 9.5" in ankle length. They fit men's shoe of 5-10 that can meet most women and teens' need.
Gift Idea – Our product owns 4 pairs of women crew socks that are sewn with different patterns and funny slogans. They are abundant to the replacement stocking of camping tour or just daily wearing. Besides, it is a nice gift for the camping lovers.
Satisfied Service – If you have any questions about our camping women plush crew socks set, please feel free to contact us. We strive to provide you with the best quality product and the best service.
Bestseller No. 4
THE NORTH FACE Women's Thermoball Insulated Traction Mule V Shoe, TNF Black/TNF Black, 9
FORM MEETS FUNCTION. This winter shoe combines ThermoBall Eco insulation with a high-traction rubber outsole to make a slip-on that's ideal for base camp, après ski or shuffling out to grab the morning paper.
WATER-RESISTANT DURABILITY. Made with a recycled ripstop upper and coated with a Durable Water Repellent (DWR) finish, these highly durable winter shoes are water-resistant and warm.
RECYCLED INSULATION. Take on the cold with superior warmth and recycled materials. Thermoball Eco uses small, round synthetic fiber clusters that closely mimic the way down insulates: trapping heat within small air pockets for warmth retention.
SUPERIOR TRACTION. Move around confidently and with a clear conscience thanks to a partly recycled rubber outsole with supreme traction. From base camp to peak, you'll love the ability to stay grounded and maintain traction.
TAKE ON THE DAY. An essential closet staple, these winter shoes are a go-to classic for outdoor exploration. Start living your outdoor lifestyle while proudly wearing the badge of exploration with The North Face.
FAQ
What are some important items to include in a women's camping essentials kit?
Some key items to include in a women's camping essentials kit may include a reliable tent, sleeping bag and pad, appropriate clothing and footwear, sunscreen and bug spray, cooking supplies, a first aid kit, navigation tools, and a water filtration system.
Can I use the same gear for camping as men do?
Yes, you may use the same gear as men do. While there may be differences in sizes or preferences between individuals of different genders when selecting specific pieces of equipment, such as backpacks or sleeping bags, most gear should work equally well for both men and women.
What are the most important camping essentials for women?
Women have unique needs when it comes to camping gear. The most important camping essentials for women include a camping backpack, sleeping bag, urination device, portable power source, inflatable pillow, hoodie, and a towel designed with women in mind.
What should I pack for a camping trip as a woman?
The items you should pack for a camping trip as a woman include a camping backpack, sleeping bag, tent, portable power source, urination device, quick-dry towel, toilet paper, bulky-free apparel, proper footwear, and a first-aid kit.
What is the best camping gear for women?
The best camping gear for women is specifically designed with women's bodies in mind. Camper accessories for women include an anti-theft purse, tent stakes with reflective guylines, a quick-dry towel, feminine hygiene products, an inflatable pillow, and an antimicrobial sleeping bag.
Why do people go camping?
People go camping for various reasons, including to escape the hustle and bustle of city life, spend time in nature, bond with family and friends, and have an adventure.
What are the benefits of camping?
There are many benefits of camping, including stress relief, physical exercise, improved mood, exposure to the outdoors, and an opportunity to learn new skills.
How do I backpack comfortably as a woman?
To backpack comfortably as a woman, invest in a backpack designed with women in mind, adjust the suspension system to correctly fit your torso length, pack your backpack according to weight distribution guidelines, and adjust the load lifters and hip belt as needed.
How do I keep my hair clean on a camping trip?
To keep your hair clean on a camping trip, try using a dry shampoo or baby powder and wearing your hair in braids or a bun. You can also rinse your hair in a nearby stream or invest in a camping shower.
What is the best attire to wear while camping as a woman?
The best attire to wear while camping as a woman is quick-drying, moisture-wicking, and comfortable. Opt for pants and shorts with pockets, a durable hiking shirt, and a warm hoodie for inclement weather.
What are some tips for going to the bathroom while camping as a woman?
To go to the bathroom while camping as a woman, choose a spot at least 200 feet from any water source or campsite, use a urination device if possible, squat low to the ground, bury your waste in a cat hole, and pack out used toilet paper in a sealed bag.