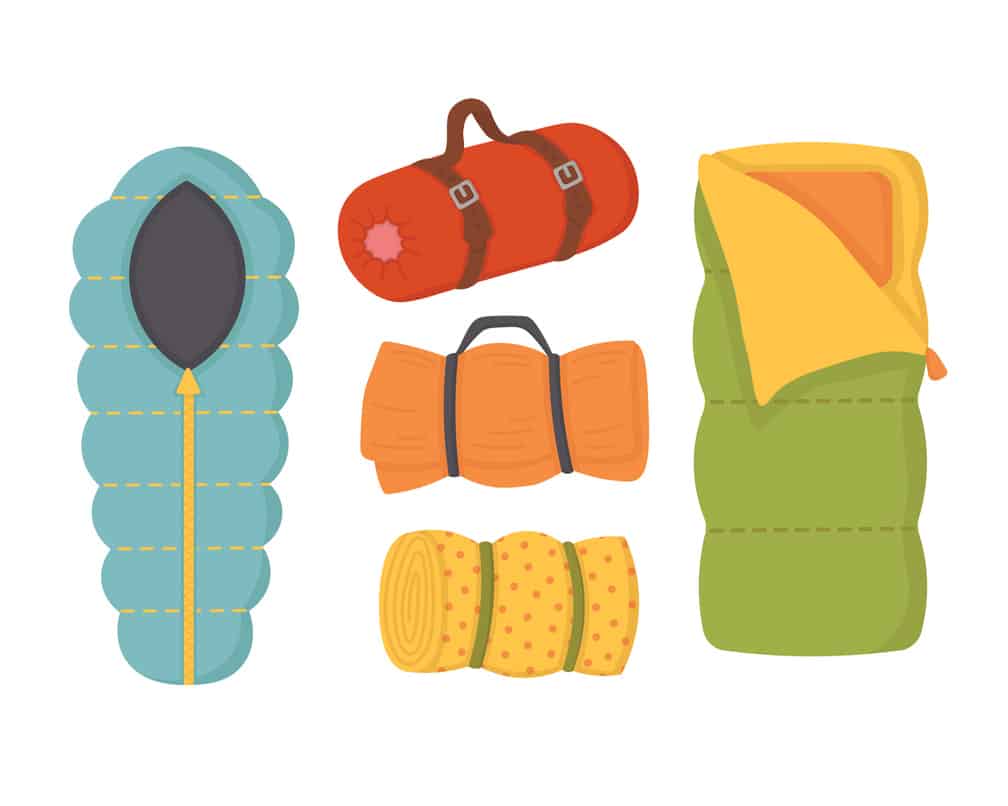 When it comes to picking a sleeping bag, there is a lot to consider:
Transport size (rolled up or stuffed in a sack) and weight
Material
Temperature ratings
Shape
The intended use of the bag (sleeping bags for camping, backpacking, sleepovers, etc.)
…the choices can be overwhelming! Luckily, with a bit of research and knowledge, it doesn't have to be. Knowing what features you should look for in a sleeping bag and understanding the differences between them will help narrow down your options so you can make an informed decision on which one is best for you.
Key Takeaways
Choosing the right sleeping bag depends on personal preferences, camping conditions, and the weather.
Consider the temperature rating of the sleeping bag to ensure it is suitable for the camping environment.
Decide on the right shape of the sleeping bag, such as a mummy shape, rectangular shape, or modified mummy shape, based on personal preference and comfort.
Insulation type is a crucial factor; popular options include down, synthetic, and water-resistant down insulations.
Consider weight, portability, and compactness when selecting a sleeping bag, especially for backpacking trips.
Sleeping bags with additional features, such as hoods, draft collars, and stash pockets, can provide extra comfort and convenience.
It is important to take care of your sleeping bag by storing it properly, washing it according to the manufacturer's instructions, and using a sleeping pad for a more comfortable sleep.
Always try out a sleeping bag, if possible, to ensure it is comfortable and suitable for your needs before purchasing.
Read the rest of this post for more great info about how to pick a sleeping bag…
Size and Weight
For those who are backpacking, the weight and rolled-up size of a sleeping bag is an incredibly important factor. The lighter the sleeping bag and the smaller it rolls up, the easier it is to carry on long hikes without adding too much additional weight or taking up too much space in your pack.
Car campers can also benefit from having a lightweight and compact sleeping bag that's easy to transport and store when setting up camp. And having a small sleeping bag will free up valuable space in your vehicle for other items. Still, size and weight are less important here, and you may want to prioritize other things like price (bigger and heavier is usually cheaper) or the comfort of a roomier bag.
Temperature Ratings
Temperature ratings on sleeping bags indicate the coldest temperatures at which they can adequately keep their typical user warm. Keep in mind that these ratings are based on the assumption that you are sleeping on a sleeping pad and wearing long underwear.
The temperature rating helps make broad performance comparisons between bags. However, there are many other elements that affect your body temperature while you sleep, including
hydration level
amount of food eaten
degree of exhaustion
atmospheric humidity
level of the dampness of you and your equipment
Ideally, you should select a sleeping bag with a temperature rating a few degrees lower than the coldest temperature you anticipate encountering during your camping trip. If you end up feeling hot while sleeping, you can always unzip your sleeping bag to let some cool air in. Keep in mind that the higher the elevation that you camp at, the colder it will be.
Tip: A sleeping bag liner can give you more flexibility when choosing a sleeping bag based on temperature rating alone.
Sleeping Bag Shapes
Several forms are available for sleeping bags, including rectangle, barrel, mummy, and quilt options. Some are more open and comfortable, while others are more like being wrapped in a warm burrito.
One of the ways a sleeping bag maintains a comfortable temperature in cool or cold weather while you sleep is by trapping warm air close to your body. So the cut and shape of your bag will affect heat retention.
Rectangular Sleeping Bags
The boxy design resembles your bed at home in being comfy. You can use it without the zipper as a blanket during the warmer months. Rectangular sleeping bags are affordable, less thermally effective, relatively heavy and so more suitable for front-country (or "car") camping, and summer-friendly.
Barrel Sleeping Bags
Since these are cut a little closer than rectangular bags, they are a bit better at keeping you warm. A hood may be included on some of them for added warmth. Barrel sleeping bags are spacious, reasonably priced, slimmer than rectangular bags, and are suited for use during the summer or all seasons.
Mummy Sleeping Bags
Mummy sleeping bags are typically better for cold weather than rectangular sleeping bags because their shape helps to retain heat more efficiently. The tapered shape reduces the amount of air space inside the bag, which keeps warm air close to your body, helping you stay warmer in colder temperatures. Additionally, mummy sleeping bags usually come with an insulated hood that provides extra warmth around your head and shoulders.
They have less area to move around in; so they may be uncomfortable for those of us who frequently shift positions while sleeping.
But the key advantage of mummy bags is that they are relatively small and lightweight — making them the first choice of most backpackers.
Camping Quilts
A camping quilt is an alternative to a sleeping bag, offering many of the same benefits in a slightly more lightweight and versatile package. Camping quilts are filled with either down feathers or synthetic insulation, providing warmth and comfort for nighttime temperatures. The lack of a hood and zipper allows for increased freedom of movement, making them especially popular with side-sleepers who are looking for maximum comfort while they sleep. Additionally, they can often be used as a blanket during the day – another reason why they're becoming increasingly popular among campers.
Personal Fit
It's all about settling on a bag that works for you. Bags vary in shape and size. Sleeping bags with extra space are ideal for folks who don't like feeling confined. If you don't fill up a bag with your body mass, air will circulate between you and the bag, making it harder to feel warm.
In addition to the standard "one man" sleeping bags, there are a few other different types available:
Women's Sleeping Bags
They are usually shorter. Woman-shaped purses have narrower shoulders and wider hips than unisex bags. They may also have additional insulation in the torso and foot box, where women tend to feel cold the most.
You may also want to read our camping essentials for women post for more female inspired camping gear.
Kids' Sleeping Bags
Kids' sleeping bags are smaller and narrower. To cut costs and increase durability, they frequently use less technical textiles and insulation.
Double Sleeping Bags
A double sleeping bag like the Coleman Tandem is ideal for snuggling couples. Roomy rectangular bags are perfect for drive-up car camping, and there are even ultralight mummy-style double bags for hikers.
Sleeping Bag Insulation
Sleeping bags use down or synthetic insulation (or both) to trap warm air in your bag as you sleep. Down is a great choice for adventurers who need lightweight and packable equipment. It has an excellent loft, meaning that a given quantity of it (by weight) will keep you warmer than synthetic insulation. However, down can also lose its insulating properties when it gets wet, making it unsuitable for cold, wet conditions. Synthetic insulation, on the other hand, can be much better at maintaining its shape and performance in damp conditions. Additionally, synthetics are usually more affordable than down options – but this comes with the sacrifice of being heavier and more difficult to compress into a small space.
Down Fill
Down insulation is made of thousands of geese or duck feather plumules. Down "fill power" is a good quality indicator, and higher fill power delivers more warmth for the same weight.
Despite being relatively expensive, the superior performance of a down sleeping bag makes it a good long-term investment if you use it often enough. But remember that down creates clumps and loses insulating ability when wet. So it's not a good choice for wet conditions.
Synthetic Fill
Synthetic insulation is made of a mix of polyester filaments and threads of different lengths and thicknesses that are spun together. Thicker strands add loft and longevity, while thinner threads fill empty spaces and trap warm air.
Synthetic-fill sleeping bags wear out faster than down-filled bags because the fibers compress and lose fluffiness. Synthetic sleeping bags are cheaper, easier to maintain, and warmer when wet than down bags, making them a fantastic choice for damp areas and budget campers.
Regardless of which type of sleeping bag you choose, you'll need to learn how to wash a sleeping bag and how to store a sleeping bag to help it last a lifetime.
Recommended Sleeping Bags