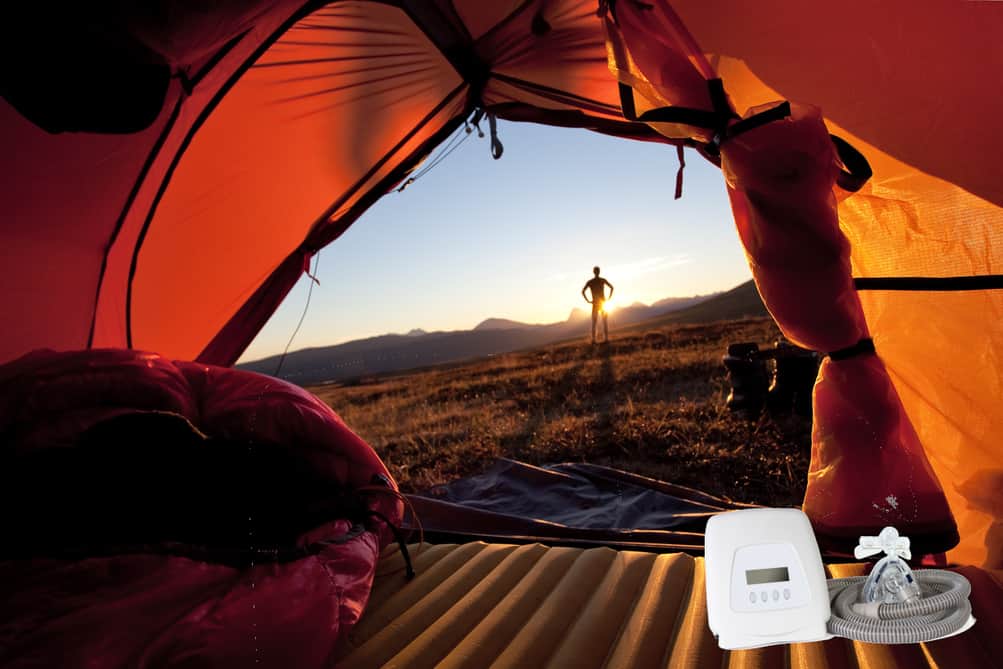 Embarking on a camping adventure while managing sleep apnea may seem daunting, but with the right tools and preparation, it can be a seamless experience.
Today we'll explore practical ways to power your CPAP machine and provide essential tips for using it in an outdoor setting.
Key Takeaways
Use a DC adapter cable, vehicle battery adapter, or solar-powered battery charger to power your CPAP machine while camping off the grid.
Pack essential equipment and supplies like spare filters, tubing, and a mask cushion to avoid inconveniences while camping with your CPAP machine. Keep it clean and dry by storing it in an airtight container when not in use.
Adjust the settings of your CPAP machine accordingly to the environment you are camping at. Consider using an insulating cover for your tubing if you're sleeping in colder temperatures or adjusting pressure settings at higher altitudes.
Powering Your CPAP While Camping
DC Adapter Cable
A DC adapter cable is essential for powering your CPAP machine while camping off the grid. The cable connects the device to a power source, enabling you to use your CPAP without access to conventional AC power.
For example, if you plan to spend several days away from civilization and its electrical amenities, invest in a high-quality DC adapter cable compatible with your specific CPAP machine.
This will allow you to maintain consistent therapy throughout your camping trip without compromising sleep apnea treatment. Just ensure that the chosen power source has enough capacity to last throughout your stay, and always carry spare fuses in case something goes wrong.
Vehicle Battery Adaptor
A vehicle battery adapter is ideal for powering your CPAP machine while camping, especially if you plan to be off the grid. These adapters are designed to connect directly to your car or RV's 12-volt battery, providing a steady and reliable power source for sleep apnea therapy during overnight stays in the wilderness.
Connect a vehicle battery adapter to the CPAP device and your car battery using the provided cables. It's important to ensure there's enough charge left in the battery before going to bed since running a CPAP machine may deplete a significant portion of its energy reserves.
Having backup batteries on hand would also prove beneficial, offering peace of mind for those extended outdoor adventures without access to AC power sources.
Solar-Powered Battery Charger
A solar-powered battery charger offers a clean, eco-friendly solution for powering your CPAP machine during a camping trip. As long as the sun shines, this renewable energy source allows you to charge your CPAP batteries without relying on traditional AC power sources or noisy generators.
For instance, some campers prefer foldable solar panels that can be easily stowed away in their backpacks when not in use. While engaging in daytime activities like hiking or fishing, you can leave the solar panel under direct sunlight and let it collect energy throughout the day.
Once nighttime arrives and it's time to use your CPAP machine, connect it to the fully charged battery pack for uninterrupted sleep therapy. It's vital to plan ahead by researching which type of charger works best with your device and considering backup options in cloudy weather conditions.
Tips For Using Your CPAP While Camping
Pack essential equipment and supplies such as spare filters, tubing, and a mask cushion to avoid inconveniences while camping with your CPAP machine. Keep your CPAP clean and dry by storing it in an airtight container or bag when not in use to prevent dust, dirt, or moisture from getting into the device.
Don't forget to put your CPAP and any needed supplies on your camping shopping list.
Pack Essential Equipment And Supplies
Packaging essential equipment and supplies while camping with a CPAP machine is crucial. This includes extra batteries, an extension cord, water-resistant covers for the machine, and cleaning supplies.
A portable power station is also helpful to keep your CPAP running for several nights without access to electricity. Consider packing a battery-powered fan to improve air circulation in your tent or camper.
Keep CPAP Clean And Dry
Keeping your CPAP machine clean and dry while camping is crucial for its proper functioning. Dirt, dust, and moisture can damage the device's components or cause infection or irritation to your respiratory tract.
Also, use a waterproof cover over the machine if you expect damp weather conditions. Moisture can collect in the tubing when not in use or during use due to condensation caused by temperature changes.
Consider using a humidifier to prevent dryness; however, ensure that you have enough distilled water on hand, as most campgrounds do not provide it.
Adjusting CPAP Settings For Camping Environment
Adjusting your CPAP settings while camping is essential for a good night's sleep. One factor to consider is the altitude of your campsite. At higher altitudes, air pressure drops, and it becomes harder to breathe consistently.
Another consideration is temperature changes that can occur. When camping in colder temperatures, condensation can form inside the CPAP tubing, making it uncomfortable and difficult to use.
To prevent this issue, try using an insulating cover for your tubing or placing it inside a sock before going to bed.
Conclusion
In conclusion, camping with a CPAP machine doesn't have to be challenging or uncomfortable. With the right equipment and planning, you can enjoy your next camping trip while sleeping well.
Remember to pack essential supplies, keep your CPAP clean and dry, and choose a power source that works best for you. Whether using a DC adapter cable, solar-powered battery charger, or a portable generator plenty of options are available to ensure uninterrupted sleep therapy while enjoying the great outdoors.
Sale
Bestseller No. 1
GOLABS R300 Portable Power Station, 299Wh LiFePO4 Battery Backup with 300W Pure Sine Wave AC Peak 500W, Car Outlets, PD 60W Quick in/out Solar Generator for Outdoor Camping Emergency CPAP Orange
【UPGRADED LIFEPO4 BATTERY POWER SUPPLY】 One important advantage of LiFePO4 batteries over other types of batteries is thermal and chemical stability, which improves battery safety. It offers GOLABS portable power station 2000 cycles and more than 10 years using time.
【60W PD QUICK CHARGE & VERSATILE OUTPUTS】 GOLABS portable power station build in 1* 60W PD (Input/ output);1* 30W PD Type-C (Output); 2* 110V 300W AC pure sine wave outlets (Frequency 60Hz); 2* DC outputs (12V/10A); 2* QC 3.0 USB outputs (5V/3A, 9V/2A, 12V/1.5A); 1* cigarette lighter output (12V/10A)
【300W PURE SINE WAVE AC OUTLET】 For some sensitive devices, like CPAP, laptops, this GOLABS portable power generator will protect those devices by producing clean and stable electricity with the pure sine wave. Continuous 300W AC outlet and it can reach 500W peak power to start more electrical devices
【ECO-FRIENDLY CLEAN OUTDOOR POWER】 GOLABS power supply works without bothering noise, no fuel or gasoline, it can safeguard you and your devices by over-voltage protection, over-current and over-temperature protection. Battery Management System (BMS) can continue to escort you. You can use with confidence
【WHAT YOU GET】 You will receive 1* Golabs R300 Power Station; 1* AC Wall Charger; 1* Car Port Cable; 1* MC4 Solar Charging Cable; 1* User Manual. Buy GOLABS power station with Confidence: 24-hour prompt customer service, 30-day money back guarantee, 1 year warranty. Any questions, please feel free to contact us
Sale
Bestseller No. 2
MARBERO 88Wh Portable Power Station 24000mAh Camping Solar Generator(Solar Panel Not Included) Lithium Battery Power 110V/80W AC, DC, USB QC3.0, LED Flashlight for CPAP Home Camping Emergency Backup
🧳PORTABLE & COMPACT: Super slim size (6.5 x 4.6 x 3.1 inches) and light weight (2.4 lbs). Portable power station with compact handle design is not only for emergency power at home, but also for camping or wherever you need power when on the go. Perfect for school students to charge phone, laptop, iPad, PSP, camera, wireless headphones, etc.
🔌MULTI-OUTPUT: The portable power station equipped with 88Wh (24000mAh, 3.7V) capacity, 2*QC 3.0 USB ports (18W max), 2*USB ports (5V 2.4A), 1*USB C port (PD2. 0.18W max). 1*DC port(12-16.8V / 10A, 13A max), 1*2 pole and 1* 3 pole output socket (80W running, 120W peak). Powers cell phone, iPad, tablet, camera, radio, USB powered night light, mini fan and camping scanners under 80W.
💡EMERGENCY LIGHTS: This portable generator is built with a 3-level brightness LED flashlight, which could emit 2 lighting modes (steady light and flashing light, SOS mode) to meet your different needs. Press the LED flashlight switch to change the brightness and SOS mode. When you go out camping or experience power outages, this power supply can always help you out.
🔋TWO RECHARGING MODES: 88Wh portable rechargeable power station with two methods to charge the portable power station. On the wall, you can fully charge the power supply via AC outlet (adapter included) with 5 hours. Or it can be charged under the sun with a MARBERO solar panel(15V-24V, 1.2A)(not included).
🛡️SECURED & ASSURED: The Battery Management System (BMS) allows for voltage control, temperature control and more advanced safety operations. Designed with the cooling vents on the back to help this portable power supply keep the temperature constant, its internal electrical elements will not be damaged by high temperatures. When it comes to short circuit or overload, it automatically shuts off the power to protect itself and the powered devices.
Sale
Bestseller No. 3
EASYLONGER CPAP Battery Backup ES720 (Runtime 2-3 Nights), 72000mAh PD 60W Power Bank for CPAP Laptop Tablet iPhone, etc. 266.4Wh CPAP Power Supply for Outdoor Camping(CPAP Cable Not Included)
🔋【Off-Grid Power Supply for CPAP】This high-capacity 72000mAh backup battery is compatible with most CPAP machines on the market, such as ResMed S9/ AirSense 10/ AirCurve 10/AirMini/ AirSense 11/ Philips Dreamstation, etc. When you encounter power outages or go camping, this battery pack can still provide your CPAP or other devices with power for several nights. (✅PLEASE NOTE: The package does not include any CPAP model-specific cables; please purchase the correct CPAP cables separately.✅)
🔋【Versatile Power Hub for Your Devices】Experience the convenience of an all-in-one power solution. Features a car socket(180W max ), adjustable DC power (12V/16.5V/20V/24V), 2 high-speed USB-C PD ports (60W Max), and 1 QC USB-A port. The USB-C1 60W fast charging capability caters to all your PD devices, reviving your MacBook Pro in just 2 hours – a time-saving boon. From CPAP to laptops, cell phones, drones, cameras, and consoles like the Steam Deck and Switch, this power pack has you covered.
🔋【Simultaneous Charging for Multiple Devices】Embrace the luxury of simultaneous charging with this portable powerhouse. Boasting 5 output ports and a robust power management system, it's designed to provide optimal power distribution to multiple devices. The added bonus of 10W wireless charging for cell phones makes life even more convenient. (Note: Not TSA-approved for airplane travel)
🔋【Rapid Recharging Options】Efficiency meets flexibility with three quick recharging methods: (1) Utilize a PD charger with the USB-C port (max 60W input) for a full recharge in just 4.5-5.5 hours; (2) Embrace the sun's power with a 100W solar panel, achieving a full recharge in 4-5 hours of sunshine; (3) Opt for the included 72W AC adapter for a swift full recharge in 4-5 hours.
🔋【Built-in LED Light with SOS Feature】Navigate darkness with confidence, thanks to the powerful built-in LED flashlight offering both steady light and SOS modes. (Double Tap to Turn On/Off White Light, and Long Press to Activate/Deactivate Red Light.) This feature not only enhances your outdoor experience but also serves as a valuable tool in emergency situations.
Sale
Bestseller No. 4
AIMTOM 42000mAh 155Wh Power Station, Emergency Backup Power Supply with Flashlights (Solar Panel Optional), for Camping, Home, CPAP, Travel, Outdoor (110V/ 100W AC Outlet, 3X 12V DC, 3X USB Output)
▲ GIGANTIC 42000mAh BATTERY WILL COVER ALL YOUR NEEDS: The AIMTOM SPS-155 Portable Generator, which has an IMMENSE 42000mAh 155Wh power capacity, is ideal for powering appliances at a campsite, a tailgate party, home improvement projects or can even double as a flashlight for emergencies.
▲ ONE POWER GENERATOR FOR ALL YOUR DEVICES: Power up your laptop, stereo or any other home appliances via the 110V/100W AC outlet. Use the 3 x 5V USB outputs to charge your mobile phone, iPhone, iPad, GPS or action cameras while the 3 x 12V DC outputs are perfect for car refrigerators, fans and more.
▲ TAKE YOUR POWER SUPPLY WITH YOU ANYWHERE: Even though our power station features a HUGE 42000mAh lithium battery, it weighs ONLY 3.48lbs. Plus, the comfortable and ergonomic handle will make carrying your outdoor emergency power sources a breeze. Just slip it in your car trunk and embark on your next adventure.
▲ SO QUIET, EFFICIENT POWER: Rest assured that your portable battery will not disturb you or your loved ones, since it utilizes a built-in power inverter and runs quietly. It can be recharged via supported solar panels (Not included), car port, or AC wall outlets. Its built in MPPT controller automatically optimizes charging process and maximizes power extraction from solar panels under all conditions.
▲ ADVANCED BATTERY MANAGEMENT SYSTEM: The built-in BMS protects you against overcurrent, overvoltage, and over-temperature, ensuring the safety of you and your devices and prolonging battery life. It also features a built-in cooling fan to avoid overheating when charging.
Using a CPAP While Camping – FAQ
How can I use my CPAP machine while camping?
To use a CPAP machine while camping, you will need a portable CPAP, a compatible power source (battery or solar panel), and a way to keep the machine clean and functional in an outdoor environment.
What are some helpful tips for using a CPAP while camping?
Some helpful tips include testing your machine and power source beforehand, using a humidifier to prevent dryness in the airways, utilizing a portable cleaner for your device, and adjusting your sleep position to ensure maximum comfort.
Can I take my regular CPAP machine camping?
Yes, you can take your regular CPAP machine camping if you have a reliable power source or adapter to use with your machine. Alternatively, you can invest in a travel-friendly CPAP machine designed for outdoor use.
What is the battery life of a CPAP machine while camping?
The battery life of a CPAP machine while camping depends on several factors, including the type of machine, the pressure setting, and the battery's capacity. Generally, most CPAP machines can last 8-12 hours on a full battery charge.
How do I power my CPAP machine while camping?
You can power your CPAP machine while camping using a portable battery, solar panel, or a DC-to-AC power inverter that can be connected to a car battery or other power source. Check your specific CPAP machine's voltage and amperage requirements before selecting a power source.
What are some helpful tips for cleaning my CPAP machine while camping?
Some helpful tips include bringing a portable disinfectant spray, using distilled water to fill the humidifier, and keeping all components dry and debris-free. It's also recommended to clean your machine regularly when camping to prevent the buildup of bacteria and allergens.
How can I ensure maximum comfort while using a CPAP machine while camping?
To ensure maximum comfort while using a CPAP machine while camping, you can adjust your sleeping position, use a humidifier, and invest in a comfortable camping pillow. Consider using a portable fan to keep cool during warmer nights.
Are there specific CPAP machines designed for camping?
Yes, there are specific CPAP machines designed for camping and outdoor use. These machines are typically more lightweight and have additional features such as multiple power options, ramp settings, and compact design for easy portability.