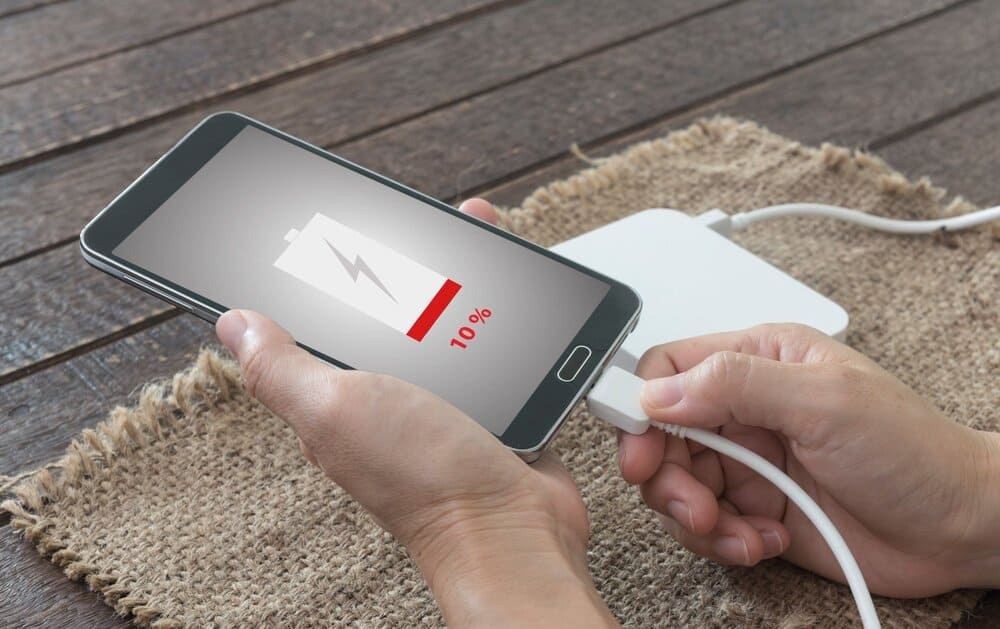 Spending time without your phone is a great way to detach from social media and embrace nature without your tether to technology.
You won't be caught in a loop of looking at your phone screen all day long. But what do you do if you run into an emergency while camping and need to make a call?
Here's your guide on how to charge your phone while camping with limited access to electricity.
Key Takeaways:
Embrace Nature, Stay Prepared: While disconnecting from technology is part of the camping charm, having a charged phone is crucial for emergencies.
Campsites with Amenities: Seek out campsites that offer electricity hookups for an easy solution to keep your devices charged, though this may come with a trade-off in terms of crowd and authenticity of the outdoor experience.
Portable Power Banks: Charge your devices with portable power banks. They are a versatile option, ensuring you have enough power for your phone regardless of the campsite's amenities.
Solar Charging Solutions: Solar phone chargers and solar generators offer a renewable energy solution, allowing you to recharge the power bank using sunlight, albeit at a slower rate compared to traditional charging.
Utilize Your Vehicle: If you're camping near your vehicle, use it as a charging station for your phone to avoid draining power banks, but be cautious not to deplete the car's battery with heavier power demands.
Expert Handling of Limited Electricity: Understanding the limitations and solutions for charging devices while camping can enhance your safety and convenience without compromising the outdoor experience.
Find a Campsite With an Electricity Hookup
Your first option if you want to bring your phone to your campsite is to find a location with an electricity hookup. There are plenty of accessible campsites that have places to charge your electronics.
You can also find out online which national parks have various amenities and accessibility options such as wheelchair-friendly paths.
Keep in mind that campsites with lots of amenities are often more crowded than others, so you may not get the true "outdoors experience".
Convert Fire Into Electricity (BioLite Campstove 2+)
The BioLite Campstove 2+ is a cooking stove that has the added benefit of generating electricity to charge devices like phones while camping. It's a convenient and portable option for staying connected in the wilderness.
The stove uses wood as fuel, and through its innovative design, it converts heat into electricity. This generated electricity can charge your phone or other small devices via a USB port.
With the BioLite Stove, you can enjoy cooking meals while also keeping your devices powered up during your camping adventures.
Bring a Power Bank With Plenty of Ports
A more practical option that works with any camping location is to bring a portable charger. This improves your camping safety by providing a reliable source of power for your phone battery.
Charge at least one or two power banks before you leave, and you could have enough electricity to power up your phone to full at least a couple of times.
Invest in a Solar Phone Charger
The biggest problem with a portable power bank is that they have a finite amount of energy. Once you've used up all the stored electricity, they're as useless as bricks. However, this problem does not occur with solar phone chargers.
A solar-powered power bank or even a solar generator self-charges using exposure to sunlight. All you have to do is leave it out in the sun for a few hours to make use of it.
Keep in mind that this specific type of power bank may not recharge as quickly as when plugged into a wall.
See "What Kind of Generator for Camping?" for more information about campsite electricity.
Plug Into Your Vehicle
If your vehicle happens to be close to your campsite, then you always have the option to plug your phone into your car. Your mobile device's energy drain is negligible compared to what it takes to power your car.
However, the same doesn't apply to more powerful accessories like kettles or entertainment systems. This is important to keep in mind if you plan to go car camping and want to run multiple electronic devices. You don't want to end up stranded because you killed your car battery.
Hand Crank Phone Charger
Hand-crank phone chargers are not the best option for charging your phone while camping. They require a lot of time and effort to generate enough power for your device. It can be tiring and inefficient to crank the charger to charge your phone continuously.
There are other methods, like portable power banks or solar chargers, that are easier and more convenient to use while camping. So, it's better to explore those options instead of relying on a crank-powered charger.
Gas Generator
Gas generators are a reliable and convenient option for charging your phone while camping. They provide a consistent power source in the wilderness, allowing you to charge multiple devices simultaneously.
However, it's important to note that gas generators can be noisy and may impact the environment. So, if you use a gas generator, be mindful of your surroundings and considerate towards other campers.
Be sure to check out our What Size Generator For Camping for help with choosing the best gas generator for camping.
Scavenging for a Power Source
While camping, finding a power source can be challenging. However, there are some ways to scavenge for electricity. Look for campsites with electrical hook-ups or ask neighboring campers if you can pay to use their power supply.
Local establishments like coffee shops or restaurants may also have outlets available for charging devices. Additionally, you can use your surroundings creatively – like tapping into the power supply at mountain huts or guesthouses if available.
Effective Ways to Prolong Your Phone's Battery Life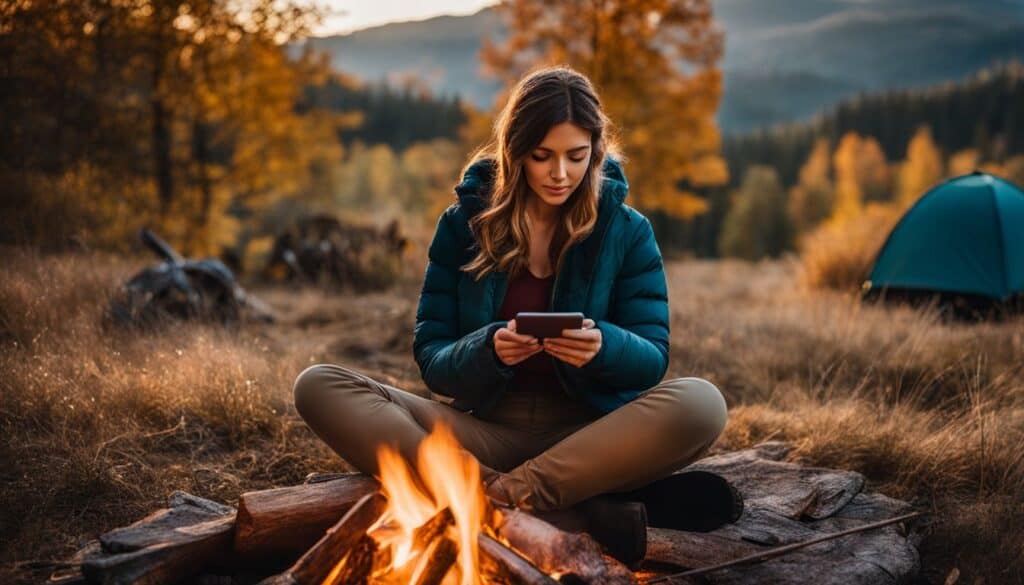 To prolong your phone's battery life while camping, reduce the screen brightness, turn on airplane mode when not in use, and keep your phone warm.
Reducing Screen Brightness
Reducing screen brightness is an effective way to conserve battery life while camping. Here are some tips:
Lower the brightness level on your phone or device.
Adjust the screen timeout to turn off the display quicker when not in use.
Use dark mode or night mode on your device, which can help reduce battery usage.
Avoid using unnecessary features that require a lot of power, such as animated wallpapers or live widgets.
Close any unused apps running in the background, as they can drain battery life.
Turn off push notifications for non-essential apps to minimize the screen waking up and draining the battery.
Use black backgrounds for apps and websites whenever possible, as it uses less power on devices with OLED or AMOLED screens.
Turning On Airplane Mode
Activate airplane mode on your phone to save battery power while camping. This feature turns off wireless connections and helps conserve battery life. Here are some benefits of turning on airplane mode:
Prevents battery drain in areas with limited phone signal.
Extends the battery life of your phone when the signal is weak.
Reduces battery usage significantly in outdoor settings.
Preserves battery power for emergencies or important calls.
Ensures you have a functioning phone even without network coverage.
Keeping Your Phone Warm
To ensure your phone's battery doesn't drain quickly in cold weather, try these tips:
Keep your phone in an insulated case or pouch.
Put your phone close to your body, like in a pocket or inside your jacket.
Use hand warmers or heated blankets to keep you and your phone warm.
Avoid leaving your phone outside or in the car overnight.
If you're camping in extreme cold, consider using a portable power bank with built-in heating capabilities.
Handle Camping With Limited Electricity Like an Expert
Camping with electricity limits is challenging in the modern age, where so many of your daily appliances use energy. This is especially true for your mobile device, which is your primary source of both communication and entertainment. It's a good thing there are a variety of ways to charge them, from solar power banks to your own car battery.
Sale
Bestseller No. 1
JEJILL Portable Charger for iPhone, 20W PD Fast Charging – 6000mAh Small Power Bank with LCD Display, Mini Cute Portable Battery Phone Charger for iPhone 14/14 Pro Max/13/12/XR/8/7/6 – White
Travel Essentials – Travel must-haves! The small portable phone charger is as compact as lipstick that easily slips into your pocket, purse, or bag to be ready to accompany you on your travel escapades. The ultra-campact profile even accommodates phones with 0.09-inch thick slim cases.
Fast Charging – Prepare to be amazed by the blazing-fast 20W charging power bank! Reaching a stunning 50% charge for iPhone with JEJILL mini power bank in just half an hour, leaving other charging banks in the dust. Enjoy an impressive 400% faster charging speed than ordinary charging banks, ensuring you're always ahead of the curve.
Unmatched Compatibility – JEJILL portable battery charger designed exclusively for iPhone charging, this mini charging bank features an original MFI-certified chip, it shields your phone, safeguarding both its integrity and battery health. Count on multiple layers of protection that make every charge safe and worry-free. (JEJILL battery pack charger widely compatible for iPhone 14/14 Pro/14 Pro Max, for iPhone 13/12/11/XR/XS/8/7/6, for AirPods)
Upgraded Capacity & LCD Display – With 6000 mah upgraded battery capacity, JEJILL mini portable charger is always ready for iPhone! Keeping your phone alive at all times on the go! The LCD digital display allows you to keep track of how much power is left in your charger bank at any time so that you can plan and effectively manage your charging needs.
Built to Last, Enduring Durability – Say goodbye to flimsy portable charger power banks! This travel cell phone charger is engineered to withstand the test of time. Its silicone dust cover adds an extra layer of protection, shielding the plug from damage and ensuring long-lasting performance.
Sale
Bestseller No. 2
INIU Portable Charger, Slimmest 10000mAh 5V/3A Power Bank, USB C in&out High-Speed Charging Battery Pack, External Phone Powerbank Compatible with iPhone 15 14 13 12 11 Samsung S22 S21 Google iPad etc
✅【From INIU–the SAFE Fast Charge Pro】Experience the safest charging with over 38 million global users. At INIU, we use only the highest-grade materials, so we do have the confidence to provide an industry-leading 3 years warranty.
✅【Market's Thinnest 10000mAh】 The market's one and only 0.5-inch power bank that breaks the limit of 10000mAh, easily slipped into any travel lover's pockets or bag. Enjoy the days' worth of charging capacity, enough to top up iPhone 8 3.6 times, Samsung S22 1.7 times, or AirPods Pro 13.2 times.
✅【Only 5% Got USB-C IN&OUT】INIU is the only 5% of power banks got a USB-C IN&OUT port. Unlike others only recharge via USB-C port, INIU can charge all devices with your USB-C cables directly.
✅【3A High-Speed Charging】3A fast charging fuels iPhone up to 78% in just one hour. INIU's AutoFit identifies and meets your device's ideal speed, charging double than 2.1A chargers.
✅【15-Layer SAFE Charging】INIU's unique 15-Layer SmartProtect system shrugs off any unusual charging at the start. Take overheating risk and battery damage away from your devices.
Sale
Bestseller No. 3
CFIAI Portable Charger Power Bank – 15000mAh Fast Charging Portable Phone Charger with Built in USB-C(22.5W) and iOS(20W) Output Cable, LED Display Battery Pack for iPhone Android Samsung etc(1 Pack)
[Portable Phone Charger with Built in Cables]: Multifunctional power bank with built-in iOS cable and Type-C cable, which supports charge almost all smart devices. Widely compatible with iPhone 15/14/13/12/11 series, iPad series, Samsung S23,S22,S21,S20 series and other cell phones, tablets or electronic devices. All in one portable charger, no need to carry various cables or adapter any more!
[High Quality Built in Charging Cables]: The integrated cables with grooves are convenient for storage without the hassle of cluttered wires, more than 10,000 bending tests prove its durability, tear-resistant, bend-resistant. We offer you the best products with the best quality and the most professional technology.
[4 Outputs and 2 Inputs]: This Portable phone charger is designed with 4 outputs: 1*USB C charging cable input/outputs, 1*iOS charging cable output, 1*USB A output and 1*micro USB input. It supports 4 devices charging max simultaneously, no more cluttered charging adapters or cables on your desk now. A best portable charger for all people!
[2 Ways of Charging or Recharging ]: The power bank comes with 2 built-in cables and 3 ports. You can charge your device with the built-in cable, or you can connect the charging cable to the charging port to charge your device. In addition, you can recharge the power bank by connecting the charging cable through the micro charging port or the TYPE C port (do not use 2 input ports to recharge together).
[Fast Charging Portable Charger]: High speed 22.5W portable charger has 15000mAh capacity, which allows you to charge your devices multiple times. Equipped with lithium polymer cells with higher energy density and better safety features, which makes the power bank more compact but with higher capacity. Ensures you have enough power to enjoy your trip. (Airline-approved)
Bestseller No. 4
Portable Charger with Built in Cables, Portable Charger with Cords Wires Slim 10000mAh Travel Battery Pack 6 Outputs 3 Inputs 3A Fast Charging Power Bank for Samsung Google Pixel LG Moto iPhone iPad
🔋【Portable charger with built in cables】Slim portable charger built-in 4 cables included 3 output cables and 1 input cable. Total 3 output cables can charge almost for all types port devices. Such as for iPhone, iPad, for Samsung, for other USB C port phones, tablets, and also for Micro devices. All in one portable charger, you would not need to carry various cables or adapter any more!!!
🔋【6 Outputs and 3 Inputs】Portable charger has 6 outputs and 3 inputs, you may charge 6 devices max at the same time, recharge battery pack with 3 options easily. Portable charger builts in 3 output cables and another 3 outputs (Total 6 outputs), great for multi electronics users who has iPhone, android or micro devices. It also builts in 3 inputs (1 built-in recharging cord/cable, 1 usb c input, 1 micro input), which you can use any one of them to recharge battery pack conveniently.
🔋【Super Slim, Accurate Percentage of Remaining Juice】 Slim 10000 power bank, its dimmension is 5.68"x2.63"x0.69", and weigh only 0.53lb, portability just like a lighter cell phone, easily take it anywhere on the go. With digital led display feature, no more hassle of guessing the remaining battery and you can recharge battery pack in time conveniently. A best portable charger for all people.
🔋【Universal compatible with All popular devices】As portable phone charger builts in all ports, multi cables, it is widely compatible with all popular cellphones or tablets. Widely compatible with iPhone 13 12 11 8 7 Series, XR, XS Max, Samsung S22, S21, S20, A52, A32, Z fold series, Z flip series, and Google Pixel series, OnePlus series, Realme series, Oppo series, Xiaomi, Redmi, Vivo, LG, Motorola, and other andorid USB C or Micro USB phones, tablets, etc…
🔋【What will you get】1 x power bank, 1 x use manual, 1 x pouch etc. 18 Month's warranty and lifetime technical support.
FAQ
How can I ensure my phone stays charged while enjoying the outdoors?
To keep your phone charged during your camping trips, consider using portable power banks with multiple ports, which can be pre-charged and used multiple times. Alternatively, solar phone chargers are an eco-friendly option that harnesses sunlight to recharge.
Are there campsites with options to charge electronic devices?
Yes, many campsites now offer electricity hookups. It's recommended to research beforehand to find campsites with these amenities, although they may be more crowded and offer a different kind of outdoor experience.
What are the benefits of using a solar charger while camping?
Solar chargers provide a sustainable charging solution by converting sunlight into electrical energy, allowing for continuous recharging during daylight hours. This method is particularly useful for extended camping trips where traditional power sources are unavailable.
Can I use my vehicle to charge my phone while camping?
Certainly, if your campsite is near your vehicle, you can use it to charge your phone. However, be mindful not to drain your car's battery, especially if you're using it for other power-intensive accessories.
What should I consider when using a gas generator to charge my phone?
While gas generators are a reliable power source, they can be noisy and have an environmental impact. If you choose to use one, be considerate of other campers and the natural surroundings.
Is it possible to find alternative power sources while camping?
Yes, you can sometimes scavenge for power sources at campsites with electrical hook-ups or nearby local establishments. Some campers may also share their power supply for a fee.
How can I prolong my phone's battery life while camping?
To extend your phone's battery life, lower the screen brightness, enable airplane mode when not in use, and keep your phone warm, especially in colder environments.
What are some tips for reducing my phone's screen brightness effectively?
Adjust the brightness level to the lowest comfortable setting, set a shorter screen timeout, use dark mode, close background apps, and turn off non-essential notifications.
Why should I keep my phone warm while camping, and how can I do it?
Keeping your phone warm helps prevent battery drain in cold conditions. Store your phone in an insulated case, keep it close to your body, or use hand warmers to maintain a warm temperature.