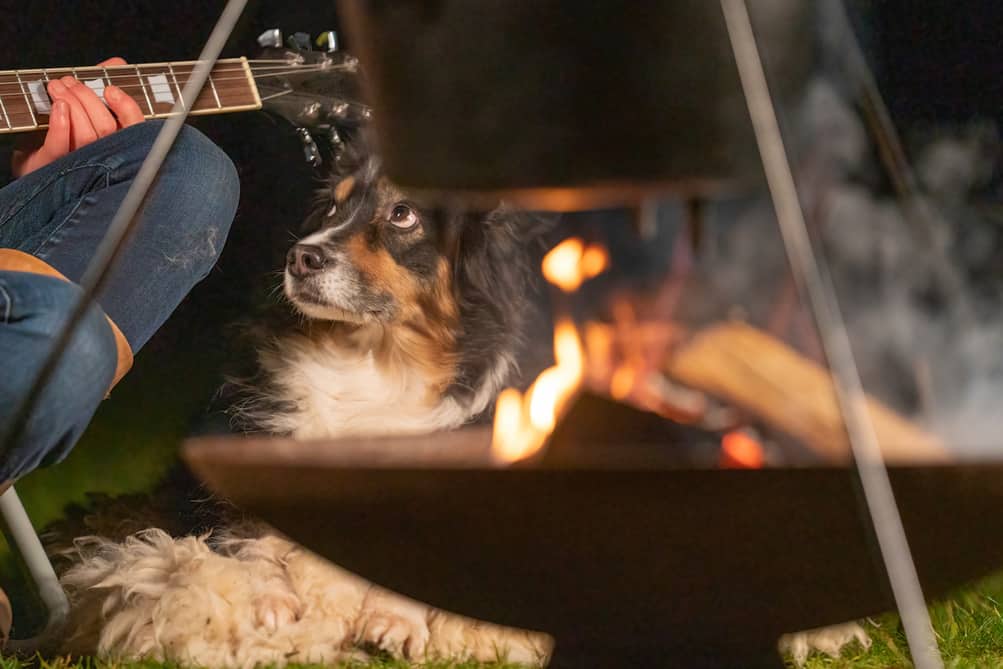 Learning about Campfire safety with dogs will help protect your pet, prevent potential injuries, and minimizes environmental damage.
Here's what you need to know about campfire safety for dogs…
The Importance of Campfire Safety with Dogs
Protecting the Dog's Health
Implementing campfire safety is pivotal to safeguarding your dog's health. Exposure to intense heat, smoke, and hazardous materials can pose significant health risks to your pet. According to the National Fire Protection Association, pets are vulnerable to injuries from unattended fires yearly. The good news is that simple precautions and planning can reduce the risk of harm.
Preventing Injuries to Humans and Other Animals
Fire safety protects your dog, humans, and other animals nearby. A startled or curious dog might knock over a candle or stove knob, which could start a fire. Ensuring your dog is well-behaved around the fire prevents such scenarios and keeps everyone safe.
Avoiding Damage to the Environment
Lastly, adhering to campfire safety rules helps prevent wildfires. The National Fire Protection Association and the ASPCA endorse leash laws to keep pets, particularly dogs, from unintentionally starting fires.
Learn more about tent camping with dogs to ensure your outdoor adventure is a safe and rewarding experience for both you and your pet.
Preparing for Safe Campfires with Dogs
Choosing a Safe Campfire Location
Choosing an appropriate campfire location is paramount to safety. Ensure the area is free from dry leaves or grass and away from your tent or any flammable materials. Following these steps can prevent a fire from spreading and causing damage.
Setting Boundaries for the Dog
Setting boundaries for your dog around the campfire area is crucial. Establishing bounds could involve using a leash or crate or ensuring your dog is under constant supervision. These steps will discourage your pet from getting too close to the fire or knocking over any equipment.
Using a Fire Pit or Ring
A fire pit or ring is an effective barrier, deterring dogs from approaching the fire. Ensure it's sturdy and large enough to prevent accidental breaches by an excited or curious dog.
Having a Fire Extinguisher and Plenty of Water Ready
Always keep a fire extinguisher and plenty of water handy to douse any fire. It's crucial to act quickly in case of a mishap; these tools will aid in swiftly controlling a situation.
Using Pet-Friendly Bug Repellent
Outdoor adventures often come with pesky bugs. When choosing a bug repellent for your campsite, opt for pet-friendly versions. Some regular bug repellents can harm dogs, causing irritation or health issues.
Campfire Safety Precautions for Dogs
Keeping Dogs Away from the Fire Pit
Teach your dog to maintain a safe distance from the fire pit. This will help prevent burns and potential smoke inhalation. Use a leash or create a physical barrier to ensure your pet's safety.
Teaching Dogs to Stay Away from the Fire
Training is vital for fire safety. Gradually teach your dog to stay away from the fire and respect the boundaries you've set. Find valuable tips on how to train your dog for camping.
Creating a Safe Space for Dogs to Rest
Create a designated safe space for your dog away from the fire. This will give your pet a comfortable area to relax without the danger of getting too close to the campfire, or even to just cool off.
Monitoring Your Dog's Behavior Around the Fire
Keep a watchful eye on your dog around the fire. Monitoring your pet's behavior can help you intervene before any potential mishap occurs. If you notice discomfort or curiosity, redirect your pet's attention immediately.
Using a Pet Fire Safety Plan
Develop a pet fire safety plan and rehearse it before you go camping. This plan could include an evacuation route, emergency supplies, and knowing how to administer canine first-aid. Learn more about canine first-aid for camping trips to prepare for any emergencies.
General Pet Fire Safety Tips
Effects of Campfire Smoke on Dogs
Just like us, dogs can suffer from smoke inhalation. Prolonged exposure to campfire smoke can cause respiratory distress or other health problems in dogs. Monitoring your dog for signs of discomfort and keeping them at a safe distance from the fire can minimize these risks.
Minimizing Exposure to Smoke
One way to minimize your dog's exposure to smoke is by placing them upwind of the campfire. Additionally, always ensure your dog has a fresh air supply to breathe and isn't confined to a smoky environment. The key point here is to pay attention to where your dog is in relation to the fire and the smoke it produces.
Signs of Smoke Inhalation in Dogs
Smoke inhalation can be dangerous for your dog. Signs include coughing, difficulty breathing, watery eyes, or unusual behavior. If you notice these signs, immediately remove your dog from the smoke-filled area and consult a veterinarian.
Keeping Pets Away from Cooking Equipment
Dogs can be attracted to the scent of food, leading them to venture near cooking equipment, which poses a risk of burns or a fire starting. Keeping cooking equipment out of your dog's reach is vital to prevent any accidents.
Installing Monitored Smoke Detectors
Even when camping, it's crucial to have a smoke detector. This device will alert you to any unexpected fires, allowing you to take action before it's too late. Consider using monitored smoke detectors that can send alerts to emergency responders.
Having an Emergency Plan in Case of a Fire
An emergency plan is essential for every camping trip, especially when bringing your dog. This plan should include a safe evacuation route, emergency contact numbers, and a first-aid kit. Preparation is vital to ensuring the safety of everyone involved.
Conclusion
Campfire safety with dogs is crucial for enjoying your camping adventures. It safeguards your pet's health, prevents injuries to others, and reduces potential damage to the environment. From setting boundaries to training your dog to avoid the fire, these precautions contribute to a safe and enjoyable camping experience.
Remember, the success of a camping or hiking trip depends as much on preparation as on the adventure itself. So before you set out with your pet, make sure you've checked all the boxes of your essential camping gear for dogs and are ready to keep them safe around the campfire. Enjoy your journey into the great outdoors with your best friend!
FAQ
What is Campfire Safety For Dogs?
Campfire Safety for Dogs is a set of guidelines and precautions that pet parents should follow to keep their pets safe during campfires and other outdoor activities.
Can dogs be around a campfire?
Yes, dogs can be around a campfire, but it's important to ensure their safety. Keep them at a safe distance to prevent them from getting too close and potentially getting burned. Never leave your dog unattended near a campfire. Also, make sure they don't have access to any food that's being cooked over the fire, as some foods can be harmful to dogs.
Can campfire smoke affect dogs?
Yes, campfire smoke can affect dogs. Just like humans, dogs can experience discomfort and respiratory issues from inhaling smoke. Prolonged exposure to smoke can lead to coughing, difficulty breathing, and other health problems. If your dog shows signs of distress or discomfort around smoke, it's best to remove them from the area.
What is the importance of Campfire Safety For Dogs?
Campfires can be a dangerous time for pets, as they may unknowingly get too close to the fire and get burned. It is important to follow fire safety plans and keep your pets safe during such activities to prevent any potential harm.
Can dogs get sick from smoke inhalation?
Yes, dogs can get sick from smoke inhalation. Symptoms can include coughing, wheezing, difficulty breathing, increased salivation, fatigue, and in severe cases, loss of consciousness. Smoke inhalation can also lead to more serious conditions such as pneumonia. If your dog has been exposed to smoke and is showing any of these symptoms, take them to a vet immediately.
What should I do if my pet is injured in a fire?
If your pet is injured in a fire, you should seek veterinary attention immediately. Provide first aid if necessary and ensure that your pet is safe and comfortable as you transport them to the vet clinic.
What is National Pet Fire Safety Day?
National Pet Fire Safety Day is observed on July 15th each year and is a day to raise awareness and educate pet parents on how to keep their pets safe during house fires and other emergencies.