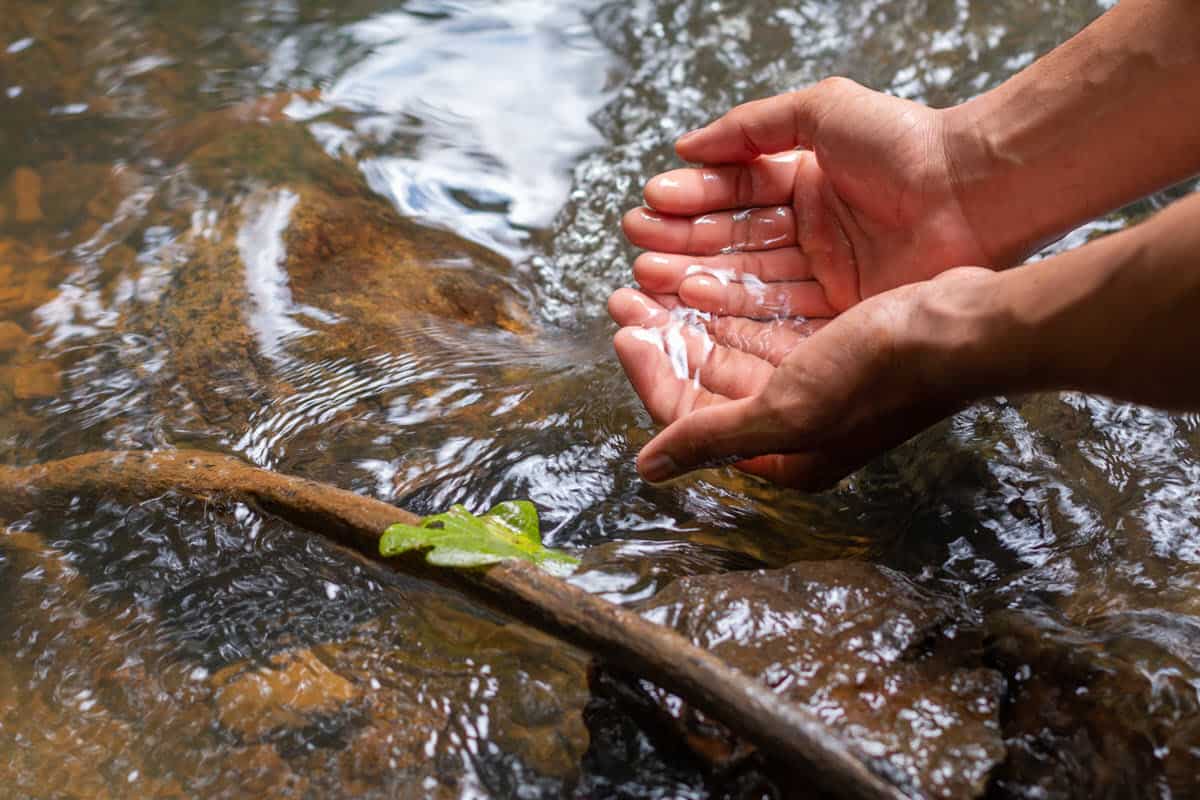 Heading into the wild for an adventure? Whether you're a seasoned survivalist, a die-hard camper, or a casual outdoor enthusiast, knowing how to purify water in the wild is crucial.
Access to clean drinking water is vital for your health and well-being, but finding pure water in nature can be challenging.
In this blog post, we'll answer the question of "How do you purify water in the wild?" by walking you through essential tips and methods for purifying water in the great outdoors. From boiling to filtering and even using sunlight, learn various ways of turning contaminated water into safe-to-drink H2O.
Key Takeaways
Consuming untreated water in the wild can lead to serious health risks from bacteria, viruses, and protozoa that can cause illnesses such as gastroenteritis or traveler's diarrhea.
Proper water purification techniques are essential for survivalists seeking hydration in nature. Filtration removes larger particulates, while purification targets invisible contaminants like bacteria, protozoa, viruses, and various chemicals.
Boiling water is the most effective and safest method of purifying water when out in the wild; using chemical treatment or filtering through a cloth/coffee filter also works but requires careful planning ahead before consumption. SODIS (solar disinfection) exposes clear plastic bottles filled with untreated water to sunlight for 6 hours on a sunny day up to two days if cloudy; UV purification uses ultraviolet light to kill organisms quickly without leaving an aftertaste but needs proper storage away from visible light.
Understanding Water Purification
Consuming untreated water in the wild can lead to serious health risks, as natural sources of water may contain contaminants such as protozoa, viruses, and bacteria that can cause illnesses; therefore, understanding the various methods of water purification is vital for survivalists and outdoor enthusiasts.
Risks Of Consuming Untreated Water
Embarking on adventures in the great outdoors often means coming across various water sources, such as creeks, rivers, and lakes. While these water bodies may appear crystal-clear and tempting to drink from, they can pose significant health risks if consumed untreated.
These pathogens found in contaminated water can cause a range of unpleasant symptoms, including diarrhea, vomiting, stomach cramps, and fever – commonly associated with conditions such as gastroenteritis or traveler's diarrhea.
For instance, during an overnight camping trip along a riverbank deep in the wilderness, attempting to quench your thirst directly from the flowing stream could expose you to harmful microorganisms that have been swept up by animal waste nearby or infected droplets from rainwater runoff.
Contaminants Found In The Wilderness
Natural water sources, though often perceived as pristine, are rarely free from contaminants. As outdoor enthusiasts seeking hydration in the wild, it's crucial to be aware of potential impurities lurking in these waters.
Contaminants commonly found in natural waters include bacteria such as E. coli and salmonella; protozoa like giardia and cryptosporidium; viruses like hepatitis A and norovirus; chemicals such as pesticides, fertilizers or heavy metals like lead and mercury.
In particular wildfire-stricken areas (mentioned among "important facts"), flooding following a fire could further deteriorate water quality by introducing high levels of sediment or nutrients from burned vegetation.
To exemplify this issue further: imagine stumbling upon a crystal-clear mountain stream on a trek through the backcountry – undoubtedly tempting to drink but possibly harboring invisible dangers! Even if you don't see dead animals upstream or notice an unpleasant odor around the area which may indicate contamination (both red flags), you should always treat any collected water before drinking it because unseen pathogens might still lie beneath the surface that pose serious risks to your health.
Bringing water with you is also an option, see How Much Water to Bring Camping.
Filtration Vs. Purification
Filtration and purification are two critical processes in ensuring the safety of drinking water, each playing a unique role in eliminating different types of contaminants.
Filtration typically refers to the physical process of removing solid particles like dirt, debris, and sediment from water by passing it through materials such as cloth or coffee filters, sand, or even specialized devices like portable water filtration systems.
Purification takes it a step further by targeting invisible contaminants that are potentially harmful to your health but unable to be filtered out — including bacteria, viruses, protozoa (think Giardia), and various chemicals.
In summary: Filtration is important for removing larger particulates, while purification ensures those sneaky concealed hazards lurking on a microscopic scale won't taint your precious hydration source.
How To Purify Water In The Wild
Boiling water is one of the most effective and simplest methods to purify water in the wild.
Boiling Water
Boiling water is the most effective and safest method to treat the water when you are out in the wild. Whether you are camping, hiking, or facing an emergency situation, boiling water is a natural way to kill harmful bacteria and viruses that may be present in lakes, ponds, rivers, or streams.
To properly boil your water, bring it to a rolling boil for at least one minute.
One key advantage of boiling over other methods of purification is that it requires minimal equipment – all you need is a heat source and a container large enough to hold your drinking quantity.
Compared to filters or chemical treatments, which can get damaged or used up over time, boiling remains consistent with no expiry date.
Using Chemical Treatment
Another method to purify water in the wild is chemical treatment. This involves adding chemicals such as iodine or chlorine to disinfect the water, which kills the bacteria and viruses and makes it safe for drinking.
While using household bleach is another way to treat water with chlorine, it's important to use non-scented varieties without any additives.
However, chemical treatment does have its drawbacks. It can leave an unpleasant taste in the water that can be off-putting for some people. It also requires a waiting period after adding the chemicals before you can drink it, which means planning ahead for your hydration needs is essential when relying on this method of purification.
Filter With A Cloth Or Coffee Filter
A simple and effective method of water filtration in the wild is to use a cloth or coffee filter. While it may not completely purify the water, it can remove physical threats such as sediment, dirt, and larger particles.
To do this, place your cloth or filter over a clean container and pour the water through it slowly.
This filtration method is easy to carry out with readily available materials like t-shirts or bandanas that can effectively be used as filters while camping in the wilderness.
It's worth noting that while filtering removes large contaminants from water, you still need to boil or treat filtered water for complete purification before drinking because some pathogens might pass through this process unremoved.
Solar Water Disinfection
Another effective method of water purification in the wild is solar disinfection (SODIS), which has gained popularity among survivalists and outdoor enthusiasts. This technique uses the power of sunlight to kill microbes present in biologically-contaminated water.
Basically, SODIS involves filling clear plastic bottles with untreated water and exposing them to direct sunlight for 6 hours on a bright sunny day or up to two days if it's cloudy.
The UV rays from the sun penetrate through the bottle and destroy harmful microorganisms that can cause illness or disease when ingested.
It's important to note that not all types of plastic bottles are suitable for SODIS since some plastics contain toxins that could leach into your drinking water under constant exposure to sunlight.
So always choose PET (polyethylene terephthalate) plastic bottles as they're food-grade safe, environmentally friendly, lightweight, and durable enough to withstand extreme temperatures.
Solar disinfection is also most effective on clear waters with low turbidity levels because dirt particles can absorb some UV rays before they reach the bacteria in your drinking water.
UV Purification
UV purification is a natural water treatment method that uses ultraviolet light to kill living organisms such as bacteria, viruses, and protozoans in the wild. This low-cost solution is an excellent option for survivalists and outdoor enthusiasts who need to purify large quantities of water quickly and efficiently.
UV-treated water must not be exposed to visible light after treatment since it can cause the formation of free radicals that render UV disinfection less effective or even ineffective.
Therefore, storing the treated water in opaque containers or wrapping them with blankets will help preserve their quality until consumption.
Water Filtration Systems
When it comes to water purification in the wild, filtration is an essential step. Water filtration systems are designed to remove harmful bacteria and pathogens from untreated water, making them safe for consumption.
One popular option among outdoor enthusiasts is the squeeze water filter system. These portable devices utilize hollow fiber membranes that trap contaminants as they pass through the filter.
They're lightweight, easy to use, and highly effective at purifying even heavily contaminated water. Additionally, natural filtration methods can be used with pebbles, sand, or crushed charcoal but should not be relied upon solely for complete purification.
And a water filter qualifies as one of the key Stockpiling Essentials, for emergency use at home.
Choosing The Right Water Purification Method
Evaluate the level of contamination and identify the source of the water before choosing a method to make it safe to drink in the wild – read on for practical tips and best practices.
Identifying The Water Source
To purify water in the wild, it's crucial to identify a safe source of relatively clean water. Look for running water instead of stagnant pools, as it is less likely to be contaminated by wildlife and bacteria.
Choose clear water if possible, as murky or cloudy water may harbor microbial growth and other contaminants that are difficult to remove. Take time to evaluate the quality of the available water source before deciding on a purification method.
Evaluating The Level Of Contamination
When purifying water in the wild, it's crucial to evaluate the level of contamination before choosing a purification method. This is because different methods work better for different types and levels of contaminants.
One way to evaluate the level of contamination is by observing the appearance, odor, and taste of the water. Water that looks cloudy or has an unusual smell or taste may indicate high levels of contaminants such as algae or organic matter.
It's also important to consider external factors that may affect water quality, such as nearby livestock grazing areas or human waste disposal sites. In general, it's always safer to err on the side of caution when evaluating water sources in survival situations.
Considering Available Resources
When in the wild, it's important to consider what resources you have available before choosing a water purification method. For example, if you don't have access to a campfire or a stove, boiling water may not be an option.
It's also important to consider how much water you need to purify and how long each method takes. If you're with a group of people and need to purify large quantities of water quickly, a filtration system might be the best choice.
On the other hand, if you're traveling solo and only need small amounts of purified water at a time, using chemical tablets or drops could be sufficient.
Best Practices For Safe Water Collection And Purification
When collecting and purifying water in the wilderness, it is important to avoid stagnant sources, use clean containers, handle chemicals with care, identify signs of wildlife contamination, and know when to re-purify water.
Avoiding Stagnant Water Sources
Stagnant water is a breeding ground for bacteria and parasites that can cause serious health issues when consumed. When collecting water in the wild, it's important to avoid stagnant sources such as pools of standing water or slow-moving streams with little current.
It's also essential to choose your collection point wisely. For example, avoid collecting near animal carcasses or areas where wildlife frequently congregate, as this may increase the risk of contamination from fecal matter or other pollutants.
Remember that while boiling your water can kill most bacteria and viruses present in stagnant waters, it won't necessarily remove chemical pollutants or other toxins that may be harmful to human health.
Proper Use Of Clean Containers
One of the most critical aspects of water collection and purification in the wild is the proper use of clean containers. It's essential to ensure that any container used to collect water is thoroughly cleaned before use.
Containers that have been lying around for a while can harbor bacteria, dirt, and other contaminants that can compromise your water supply.
To ensure you have safe drinking water, consider carrying a dedicated container specifically for storing treated or purified water. This will help prevent recontamination during storage and transportation.
Always remember to handle your containers with care, especially when dealing with chemical treatments.
Handling Of Chemicals With Care
It is important to handle any chemicals used for water purification with care to ensure that they do not cause harm. When using chemical treatments, it's crucial to follow the instructions and use the recommended amount.
Incorrect usage can lead to chemical contamination of the water or even sickness.
In wilderness situations where chemicals may be used for water disinfection, it's vital to take steps and prevent contact between skin and eyes and any chemical solutions while handling them.
Identifying Signs Of Wildlife Contamination
When collecting water in the wild, it is important to be aware of signs of wildlife contamination. One way to identify this is by observing animal tracks and scat along the banks, shorelines, etc.
Another sign to look out for is an unusual smell or color in the water. This can suggest that there are decaying plants or dead animals nearby, which could contaminate the water with harmful bacteria.
In order to ensure safe drinking water while in the wilderness, it's important to properly purify any collected water through methods such as boiling, chemical treatment, or filtration systems.
Knowing When To Re-purify Water
It's important to know when to re-purify water in the wild to ensure you're consuming safe, potable water. If you let treated water sit for too long or expose it to potential contaminants, it may become unsafe to drink again.
Signs that water needs to be re-purified include a change in color, taste, or smell. Additionally, if there is any doubt about the safety of the source or quality of the treated water, it's always better to err on the side of caution and treat it again before drinking.
Remember that untreated water can contain harmful bacteria and pathogens that can cause serious illness.
Final Thoughts On Purifying Water in the Wild
In the wild, finding clean drinking water is crucial for survival. Therefore, it's essential to know how to clean water to make it safe in various ways. You can boil water, use chemical treatment, or a filtration system.
Choosing the right method depends on identifying the source of the water and evaluating its level of contamination.
Remember: Drinking contaminated water has severe health consequences, such as diarrhea, dysentery, amoeba infections, and hepatitis A, so if you're not sure about the cleanliness of your water… purify it just to be safe.
And be sure to check out our post about Finding Water Sources in the Wild.