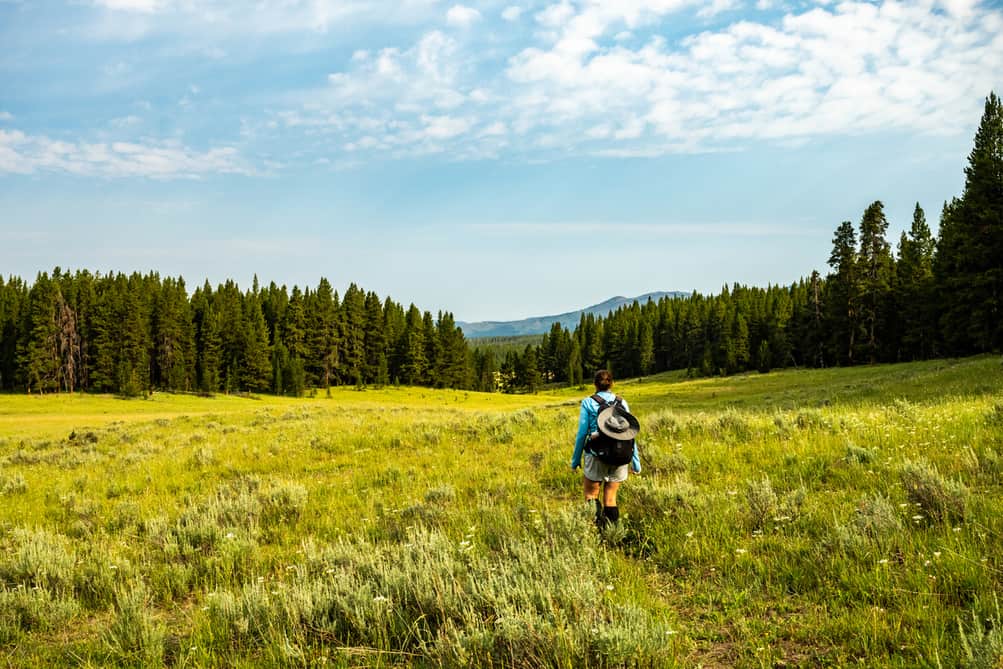 In this guide, we will provide valuable backpacking tips for beginners. You'll discover everything you need to know about backpacking gear, trip planning, safety precautions, and more. This comprehensive guide to backpacking for beginners promises to enhance your backpacking experience by offering actionable tips and addressing common questions. So let's dive in!
Key Takeaways
Invest in the right backpacking gear.
Plan your backpacking trip considering hike difficulty, weather, and water sources.
Know basic backpacking skills, such as setting up a tent and using a water filter.
Prepare light, high-energy meals and plan for water sources.
Practice Leave No Trace principles to respect and preserve the environment.
Prioritize your safety and let someone know your plans.
Only pack what you need, prioritizing lightweight items.
Understanding Backpacking for Beginners
Backpacking is an adventurous endeavor that is about so much more than simply taking a hike. It's about immersing yourself in the backcountry, carrying all your life's necessities on your back, and enjoying the serenity of nature. As a beginner backpacker, it's normal to feel overwhelmed by the prospect of heading into the wilderness but don't let those feelings deter you. Remember, even the most experienced backpackers started somewhere.
As a beginner, it's important to understand what backpacking means. It is a form of low-cost, independent travel that allows you to explore the great outdoors for a few days or even weeks at a time. Unlike day hiking, backpacking usually involves overnight stays in remote areas, which means you must carry everything you need to survive, including food, shelter, and clothing, in your backpack. It's a step beyond the average camping trip and a chance to connect with nature.
Backpacking for beginners does not have to be a daunting task. Start small and gradually build up your skills and confidence. Consider shorter trips initially, perhaps involving just one or two nights in the wilderness. This approach allows you to get used to carrying your backpack, setting up your tent, and cooking meals outdoors without straying too far from home. You can then progress to more challenging trips as you feel more comfortable.
A significant part of backpacking is learning from each trip. Each backpacking experience will equip you with new knowledge and insight, from understanding how to pack efficiently to figuring out the best meals to prepare. You'll learn how to take care of your feet during long hikes, navigate using a map and compass, and choose the perfect camping spot. Every trip is an opportunity to grow as a backpacker, so even when things don't go as planned, remember to take it as a lesson for next time.
Ultimately, backpacking is about enjoying the journey as much as the destination. It's about taking in the beauty of the natural world, from the tiny wildflowers along the trail to the expansive starry skies at night. It's about overcoming challenges and achieving something extraordinary. So buckle up your new backpack, hit the trail, and embark on an adventure of a lifetime.
Choosing the Right Backpacking Gear
Before you embark on your first backpacking trip, investing in the right gear is essential. It's a common mistake that beginner backpackers make, not understanding the importance of quality, lightweight equipment. This includes a backpack, a sleeping bag, a sleeping pad, a tent, and a stove, among others.
When choosing your backpacking pack, there are several factors to consider. First, it must be the right size, not just in terms of volume but also of fit. A poorly fitting backpack can lead to discomfort and even injury on the trail. Visiting an outdoor store and getting properly fitted for a backpack is a good idea. Also, when buying your first backpacking gear, think about the weight. Backpacking is hard; the lighter your load, the more enjoyable your hike will be.
Your sleeping system, including your sleeping bag and pad, is equally important. A good sleeping bag should keep you warm even in the coldest conditions you anticipate on your trips. Ensure the sleeping bag's temperature rating suits the climate you'll be hiking. Your sleeping pad should offer comfort and insulation from the cold ground.
A good tent is another must-have. It should be easy to set up, lightweight, durable, and able to withstand the elements. Some backpackers prefer freestanding tents, while others opt for trekking-pole tents to save weight.
Investing in a lightweight backpacking stove will also make your backpacking experience more enjoyable. It will provide a convenient way to boil water and cook meals. Pair it with a simple, lightweight cook set, and you can prepare hot meals even in the backcountry.
Another essential piece of gear is a water filter or purifier, which will ensure you have a safe water source wherever you go. Water in the backcountry can contain bacteria and parasites, so a reliable water filter is crucial for your health and safety.
Lastly, consider your footwear. Good-quality hiking boots can make all the difference on a challenging hike, so it's worth investing in a pair that fits well and provides good support and traction. Don't forget a few pairs of socks, as dry socks when backpacking can help prevent blisters and keep your feet comfortable.
Gear can make or break your backpacking trip, so consider each purchase carefully. While some items may seem costly, remember they are an investment in comfort and safety. For more ideas on the gear you need, check out this list of best camping gear for families – even though it's aimed at families, many of the items are the same for solo backpackers. With the right gear, you're one step closer to a successful first-time backpacking experience.
Planning Your Backpacking Trip
Planning a backpacking trip can be exciting yet daunting when first starting. With some careful planning, you can ensure a fun and successful adventure. The first things to consider are your backpacking route's location, duration, and difficulty.
Start by choosing a location. Consider national parks, state parks, or local trails that allow overnight camping. Remember to check if you need a permit for camping or parking. This guide on how to find free dispersed camping in national forests could be a helpful resource.
Next, consider the duration of your hike. For your first trip, plan for a shorter trip—perhaps one or two nights—to get a feel for what backpacking is like. You can gradually increase the length of your trips as you gain more experience and confidence.
When selecting a trail, consider the difficulty level, which can be influenced by the distance and elevation gain. As a beginner, look for a trail that is relatively flat and not too long. A round trip of 3-10 miles is usually a good starting point. Also, remember to check the weather for the dates of your trip and pack accordingly.
Once you have selected your trail, research it thoroughly. Note the locations of water sources, potential camping spots, and any trail junctions or landmarks. Knowing this information beforehand can help you plan your daily mileage and ensure you don't run out of water.
Create a detailed trip itinerary, including your expected departure and return times, and leave a copy with someone back home. This way, someone will know where to find you if anything goes wrong.
Pack your backpack several days before your trip, except for perishables. This gives you time to double-check that you have everything you need and make any last-minute adjustments.
Remember, feeling a bit nervous before your first backpacking trip is normal. But with proper planning and preparation, you'll be able to manage any obstacles that come your way and have a great time in the wilderness. Happy planning, and enjoy your backpacking adventure!
Nailing the Essential Backpacking Skills
When you're backpacking for the first time, you'll need to know a variety of skills. Preparing with basic backpacking knowledge can help ensure a smooth and enjoyable trip.
First, you must learn how to pack your backpack properly. Balancing weight distribution, accessibility of items, and keeping the load as light as possible is a skill in itself. Start by packing items you won't need until you set up camp (like your sleeping bag and tent) at the bottom of your pack. For better balance, keep heavier items close to your back and center of gravity. Items you'll need frequently during the hike (like water, snacks, and navigation tools) should be easily accessible.
Secondly, navigation skills are crucial. In the backcountry, you can't rely on cell service or GPS. Instead, you'll need to know how to use a map and compass to find your way. This might seem daunting at first, but you'll get the hang of it with some practice. Don't wait until you're on the trail to start learning. Practice at home, and consider taking a navigation course or workshop. For more on navigation, check out this article on different types of compasses.
Thirdly, another essential skill is learning to set up your tent quickly and efficiently. Practice setting up your tent at home a few times before you head out on your first trip. You'll be glad you did when you're trying to set up camp as the sun is setting, or worse, in the rain.
Next, you need to know how to prepare meals in the backcountry. This includes knowing how to use your backpacking stove and planning simple, nutritious meals. Remember, you'll be burning a lot of calories, so high-energy foods are crucial. Dehydrated meals are a popular choice due to their lightweight and easy preparation. However, you might also like to bring some fresh food for the first day or two.
An often overlooked but important hiking and backpacking skill is learning how to properly store your food to protect your food from wildlife. You might need a bear canister or other secure food storage, depending on where you're hiking. Always hang your food at least 200 feet from your campsite to keep potential critters away from your sleeping area.
Lastly, always plan your backpacking trip with safety in mind. Check the weather before you head out and be prepared for changes, especially in the mountains, where the weather can shift rapidly. Also, let someone know your itinerary and when you plan to return so someone will notice if you're overdue.
While there are many skills involved in backpacking, don't be overwhelmed. Take it one step at a time and learn as you go. Each trip will build on your previous experience, strengthening your backpacking skills and confidence.
Preparing Backpacking Food and Water
Fueling your body with the right foods and ensuring access to clean water are two of the most critical aspects of a successful backpacking trip. After all, you'll be burning a lot of calories on the trail, and you'll need to stay properly hydrated.
When it comes to food, aim for meals and snacks that are lightweight, easy to prepare, and high in calories. Examples include freeze-dried meals, instant oatmeal, trail mix, energy bars, and dried fruit. You'll also need a lightweight backpacking stove to boil water for your meals and morning coffee. Many beginner backpackers find the convenience of freeze-dried meals a good starting point. Still, there's no limit to the delicious meals you can prepare with a little pre-trip preparation.
Packing the right amount of food can be a guessing game at first. A common rule of thumb is to pack about 1.5 to 2.5 lbs of food per day, depending on your body weight, the difficulty of the hike, and your eating habits. Remember, having a little extra food is better than not enough, especially on your first few trips.
For water, you'll need to locate water sources along your backpacking route. Natural sources include rivers, streams, and lakes, but remember, you'll need to treat this water before drinking it. Bring a water filter or purification tablets, and know how to use them. Always plan for where your next water refill will come from, and carry enough water to get you there.
Hydration is crucial when backpacking, especially in the mountains, where altitude sickness can be a concern. Aim to drink about 3-4 liters of water daily, and more if the weather is hot or you're hiking strenuous trails.
Check out this camping shopping list article for ideas on what food and gear to bring on your trip.
Practicing Leave No Trace Principles
The "Leave No Trace" principle is paramount when you go backpacking. It's not just a backpacking tip; it's a guideline that every backpacker, beginner, or experienced, should follow to preserve our natural spaces.
The Leave No Trace principle is pretty straightforward: leaving the area you visited exactly as you found it, if not better. This means not leaving behind any trash, not disturbing wildlife or plants, and not creating new campsites or trails. By adhering to these principles, we ensure that these beautiful outdoor spaces remain untouched for future generations of hikers and backpackers.
Carrying out all your trash is one of the most fundamental aspects of Leave No Trace. This includes all food scraps, wrappers, toilet paper, and even biodegradable items like apple cores or banana peels. It might seem like small pieces of fruit would naturally decompose, but they can still take a long time to break down and can attract wildlife in the meantime.
Speaking of toilet paper, it's important to bury your waste properly when nature calls in the backcountry. Dig a cathole about 6-8 inches deep and at least 200 feet away from water sources, trails, and camping spots. Once you're done, cover the hole with the dirt you dug out. And remember, all used toilet paper should be packed out in a sealable bag, not left behind.
Additionally, respect wildlife by observing from a distance. Do not feed animals, as this can disrupt their natural behaviors and diet. If you're camping in bear country, it's essential to store your food correctly, usually in a bear canister or using a bear hang, to keep both you and the bears safe.
Finally, while taking a souvenir from your trip may be tempting, like a pretty rock or a wildflower, resist the urge. Leave rocks, plants, and other natural objects as you find them for others to enjoy.
By adhering to the Leave No Trace principles, we can all do our part to keep our wilderness areas pristine and beautiful. For more detailed information on outdoor ethics, look at this guide on camping etiquette. Remember, when you're backpacking, you're a guest in nature – treat it respectfully.
Ensuring Safety on Your First Time Backpacking
Safety is paramount when backpacking, especially when you're just getting started. Here are some fundamental safety measures you should always keep in mind:
Firstly, never travel alone. Hiking with a partner or a group provides companionship and ensures there's someone to help if you get injured or lost.
Secondly, let someone know your itinerary. This person should know where you're going, the route you're taking, when you're leaving, and when you're expected to return. They can alert the authorities if you don't check in by your expected return time.
Thirdly, always carry a map and compass and know how to use them. Even well-marked trails can become confusing, and electronic devices can fail.
Fourthly, check the weather forecast before you go, and be prepared for sudden weather changes. Storms can roll in quickly, especially in the mountains.
Fifthly, dress properly. Wear layers to adjust to changing temperatures, and choose moisture-wicking fabrics to keep sweat off your skin. Don't forget to take care of your feet—comfortable, well-fitted hiking boots and moisture-wicking socks are a must.
Lastly, learn basic first aid. You should know how to treat blisters, cuts, sprains, and other common hiking injuries. Also, familiarize yourself with heat stroke, hypothermia, and altitude sickness symptoms.
Remember, no trip is worth risking your safety. If the conditions aren't right or you're not feeling well, there's no shame in turning back. The mountains will always be there for another day.
Packing for Your Backpacking Trip
Packing for your first backpacking trip can seem daunting. You need to carry everything you need for survival on your back, yet you also want to keep your pack as light as possible.
Create a backpacking packing list to ensure you don't forget anything important. This list should include your backpack, sleeping bag and sleeping pad, tent, food and water supplies, cooking gear, clothing, and essential items like a first-aid kit, map and compass, headlamp, and multi-tool.
When packing your backpack, balance is key. Heavier items like food and water should be packed near the middle of your backpack and close to your back to maintain your center of gravity. Your backpacking tent and sleeping pad can be strapped to the outside of your pack, and lighter items should be packed toward the top.
One mistake that beginner backpackers often make is bringing too much stuff. Remember, every extra item adds weight to your pack, making hiking more difficult and less enjoyable. Stick to the essentials, and remember that you'll probably be fine without that extra pair of jeans or third book.
Check out this video with tips on how to pack your backpack efficiently:
Finally, before you hit the trail, do a few test hikes with your fully loaded backpack. This will give you a feel for what it's like to hike with a heavy pack and will give you a chance to adjust your gear before your big trip. Remember, comfort is key. If something doesn't feel right during your test hikes, it will not feel any better on the trail.
Here's a comprehensive car camping checklist to help guide your packing, though car camping and backpacking are a bit different.
Conclusion
The only way to get better at backpacking is to go backpacking. Your first backpacking trips should be day hikes, then overnight trips, and gradually work your way up to multi-day adventures. You'll learn more about what works for you and what doesn't with each trip you take.
Be aware that every hiker you meet on the trail has something to teach you, from backpacking tips for beginners to sharing experiences that help you avoid common mistakes beginner backpackers make. And talking to people you meet is not just a chance to learn something: socializing with your fellow hikers can enhance the whole backpacking experience.
Embarking on your first backpacking adventure can be exciting and a little intimidating. With these backpacking tips for beginners, you are now better prepared for the journey ahead. Happy trails!
Bestseller No. 1
NACETURE Ultralight Backpacking Trowel Aluminum Shovel Small Potty Multitool with Longer Handle Design Essential for Hiking, Camping and Survival Bags (Orange 1 Pack)
𝗕𝘂𝘆𝟮𝗼𝗿𝗠𝗼𝗿𝗲, 𝗔𝘂𝘁𝗼𝗦𝗮𝘃𝗲𝟱%✅A MUST HAVE ULTRALIGHT BACKPACKING GEAR – Having a quality trowel on hand when you need it the most is a MUST. And guess what?We have just the right ultralight trowelmade out of high-quality aluminumdesigned to be resistant to rust and corrosion as well as breakageeven in wet conditions and will last a lifetime.
✅DIG A HOLE QUICKLY AND EFFECTIVELY – Made specifically for ultralight backpackers, this compact and lightweight ultralight multitool gear will be able to easily dig a hole into hard ground, through roots, and even through rocky soil without leaving any trace behind, which makes it perfect for most hikers and outdoor enthusiasts as well.
✅PERFECT SURVIVAL SHOVEL -The sharp edges slice through tough ground and roots where other tools can't and get the job done as quickly as possible, while letting you get on with the rest of your day and enjoy it.
✅DURABLE AND FUNCTIONAL – It comes with an ergonomic, longer easy-grip handle, making it easy to maneuver and comfortable to hold and use. The scoop is large enough to quickly remove dirt, but still portable and small enough that is not going to take up much space when it is in your backpack
✅THE GO-TO POTTY TROWEL FOR EVERY CAMPER – There is no excuse to not have a trowel. Now you can scoop a cathole anytime nature calls with this lightweight shovel that is going to be able to perform exactly as you want. Use at the campsite to clean up debris, bury pet or human waste, and more.
Sale
Bestseller No. 2
Hikenture Camping Pillow with Removable Cover – Ultralight Inflatable Pillow for Neck Lumber Support – Upgrade Backpacking Pillow – Washable Travel Air Pillows for Camping, Hiking, Backpacking (Green)
🔒 𝗨𝗣𝗚𝗥𝗔𝗗𝗘 𝗙𝗢𝗥 𝗕𝗘𝗦𝗧 𝗗𝗨𝗥𝗔𝗕𝗜𝗟𝗜𝗧𝗬 – No more air leaks with our upgraded camping pillow! Unlike most inflatable pillows with only a thin TPU layer under the fabric, our air pillow comes with a separate bladder made from thickened TPU material and prevents air leaks effectively. We have performed nearly 1,000 quality checks before shipment and assure you a 100% SATISFACTION GUARANTEE once our pillow does not live up to your expectations.
😴 𝗨𝗣𝗚𝗥𝗔𝗗𝗘 𝘄𝗶𝘁𝗵 𝗥𝗘𝗠𝗢𝗩𝗔𝗕𝗟𝗘, 𝗪𝗔𝗦𝗛𝗔𝗕𝗟𝗘 𝗖𝗢𝗩𝗘𝗥 – More comfortable and more hygienic with cover. The skin-friendly outer surface is made of breathable cotton and ensures a super soft touch, while the inner woven polyester layer adds extra comfort to your sweet dreams and reduces annoying noise while turning over. The pillow case could be simply removed and washed for easy care.
😊 𝗨𝗣𝗚𝗥𝗔𝗗𝗘 𝗙𝗢𝗥 𝗬𝗢𝗨𝗥 𝗠𝗔𝗫𝗜𝗠𝗜𝗭𝗘𝗗 𝗖𝗢𝗠𝗙𝗢𝗥𝗧 – Our blow-up pillow ensures your ultimate comfort. For either back or side sleeping, you are offered sufficient neck support thanks to the enhanced pillow height and unique ergonomic design that perfectly fits your neck. Pillow firmness through valve adjustable to fit your preferences. Our ergonomic pillow also serves as a lumbar pillow and helps alleviate back pain due to long travel or work time.
✨ 𝗗𝗘𝗧𝗔𝗜𝗟𝗦 𝗗𝗘𝗦𝗜𝗚𝗡𝗘𝗗 𝗙𝗢𝗥 𝗬𝗢𝗨𝗥 𝗖𝗢𝗡𝗩𝗘𝗡𝗜𝗘𝗡𝗖𝗘 – With unique ONE-CLICK VALVE, our travel pillow is fully inflated in only a few breaths. Simply click the button and the valve lets air in, without losing air when you take another breath. Click the button again and the hiking pillow deflates just in seconds. Enjoy your sound sleep through night thanks to the DETACHABLE ELASTIC STRAP on the back of pillow which keeps your backpacking pillow in place on e.g. sleeping pads.
🎒 𝗦𝗜𝗠𝗣𝗟𝗜𝗙𝗬 𝗬𝗢𝗨𝗥 𝗣𝗔𝗖𝗞𝗔𝗚𝗘 𝗜𝗡 𝗦𝗣𝗔𝗖𝗘 𝗔𝗡𝗗 𝗪𝗘𝗜𝗚𝗛𝗧 – Simplify your package while traveling, camping or on your business trips with our ultralight portable neck pillow. Thanks to the lightweight and compact design, our neck cushion packs down to just the size of a soda can and is easy to bring with.
Sale
Bestseller No. 3
Frelaxy Dry Bag 3-Pack/5-Pack, Ultralight Dry Sack, Outdoor Bags Keep Gear Dry for Hiking, Backpacking, Kayaking, Camping, Swimming, Boating
Keep Your Gear Organized:A set of 5 ultralight Dry Sacks in Five Different Colors and Sizes (3L,5L,10L,15L,20L), so you can easily recognize the contents. Best design for food, clothes, hats, all of the outdoor gear.
Stay Dry on your Adventure:Pro-grade WATERPROOF Polyester with fully taped seam, combine with a Solid roll-top closure system provides a secure watertight seal. (Avoid full submersion)
ULTRALIGHT & DURABLE:Made of 210T high-quality Tear Resistant Polyester Material, Effectively balances LIGHTWEIGHT ( 3L-35g,5L-40g,10L-45g,15L-55g,20L-60g), and DURABILITY, keep your belongings dry and clean as barely adding any weight.
Considerate Design:1.The base of the sack is rectangular for space-efficient packing, and the black base is dirty resistant. 2. D-ring easy to clip to your backpack.
ULTIMATE VERSATILITY: Ideal for backpacking, hiking, kayaking, boating, camping, cycle touring, travel, and more. WORRY-FREE 12-MONTH WARRANTY & LIFETIME CUSTOMER SERVICE.
Sale
Bestseller No. 4
POWERLIX Ultralight Sleeping Pad for Camping with Inflating Bag, Carry Bag, Repair Kit – Compact Lightweight Camping Mat, Outdoor Backpacking Hiking Traveling Camping Air Mattress Airpad
REJUVENATE YOUR BODY: Powerlix camping pad has revolutionary hexagon design made with body mapping technology. The hexagon air cells ergonomically support all of your pressure points, giving you superior support and comfort all night long, no matter how you sleep! The sleeping mat is also a camping gear must haves luxury, being comfortable yet lightweight. It rolls up small, making it effortless to carry around. The cot comes in a variety of color choices, sure to match anyone's personality.
LIVE YOUR LIFE TO THE FULLEST: It's time to plan a trip! Our camping sleeping pads cannot be easier to inflate than with our inflating bag. It has a dual action, non-leak air valve to inflate and deflate the mattress. First store air in the bag and push it in like a pump. Light & small when packed, it won't cause backaches from its weight and fits easily in your backpack. Being insulated, it's perfect for the best night of sleep during adventure, hiking, camping, backpacking, in any weather!
UNIQUE LONGLASTING DURABILITY: It's the mat of all mats! The self inflating sleeping pad is made of durable, outdoor grade materials. It includes thermal insulation, to keep your body warm from the cold winter ground. Our camping sleeping mat is 100% waterproof, making it perfect for any outdoor activities. You can say goodbye to sore backs and other discomforts normally left by bumps and rocks underneath the floor of your tent!
EVERYTHING YOU NEED FOR OUTDOORS: This exclusive camping sleeping pad also comes with storage bag, 2 repair kits, and a multipurpose inflating bag. A patch kit is also included, stitched into the top of the storage bag. The inflating bag was designed with you in mind, for all of your needs. In addition to inflating the mattress, this backpacking sleeping pad can be used for several different things, such as a pillow, a waterproof laundry bag, or a large waterproof airtight storage bag!
AFTER SERVICE WARRANTY: PowerLix guarantees to have your back! Our US-based customer service means that you can trust that if you're not satisfied for any reason, you can get a hassle-free refund or replacement. Don't hesitant to reach out if you have any questions. We want you to be nothing but happy with your new, top of the line, camping bed! We are confident of our camping pads for sleeping and know you will like it. That's why your purchase comes backed with our incredible warranty.
Sale
Bestseller No. 5