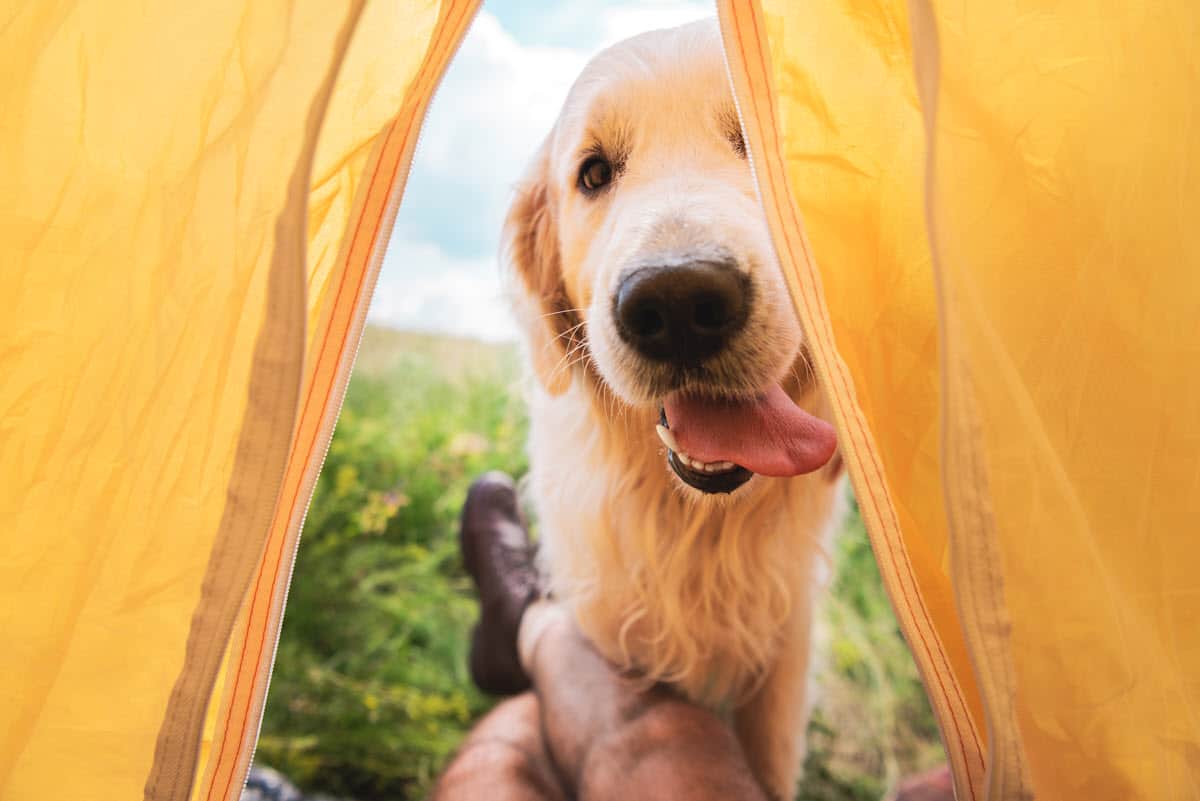 The Benefits of Camping With Dogs
Camping with dogs can be an incredibly rewarding experience. Not only does it strengthen the bond between you and your furry friend, but it also provides numerous physical and mental health benefits. Camping together allows you both to enjoy the great outdoors, engage in physical activities, and relieve stress.
Preparing for Your Dog-Friendly Camping Adventure
Essential Gear for Camping with Your Dog
Before heading out on your camping trip, make sure you understand canine camping etiquette and have all the necessary gear to ensure your dog's comfort and safety. Some essential items include:
A sturdy leash and harness or tie-out cable
A comfortable dog bed or sleeping pad
Dog food and treats
Waste bags for picking up after your dog
Dog Toys and games to keep your dog entertained
Tip: Be sure to check out our Guide to Car Camping for tips on what to pack for yourself.
Getting Your Dog Used To Camping
To help your dog adjust to the camping experience, consider taking them on several day trips to outdoor areas before embarking on a full camping trip. This will give your dog the opportunity to become familiar with the sights, smells, and sounds of the great outdoors.
You should also set up your tent at home, allowing your dog to explore and become familiar with it. This will help them feel more comfortable when it's time to sleep inside the tent during your camping trip.
Selecting the Perfect Dog-Friendly Campsite
To ensure a successful camping trip, it's essential to choose a campsite that is dog-friendly and meets your needs. Consider the following factors when selecting a campsite:
Look for campsites with designated dog-friendly areas and trails.
Check the campsite's leash policy and abide by their rules.
Research nearby attractions and activities that are dog-friendly.
Opt for campsites with ample shade, so your dog can keep cool, and access to fresh water.
Start by searching for campsites that explicitly allow dogs. Many national parks, state parks, and private campgrounds have designated dog-friendly areas. Check the park or campground website for information on pet policies and restrictions. Some helpful resources for finding dog-friendly campsites include:
BringFido: A comprehensive database of dog-friendly accommodations, including campsites and RV parks.
PetFriendlyTravel: Provides listings of pet-friendly campgrounds, beaches, and parks across the United States.
Tip: These are also great resources if you also enjoy camping with cats.
Best Tents for Camping with Dogs
Selecting the right tent for camping with your dog is an essential factor in ensuring a successful and enjoyable trip. When choosing the best tents for camping with dogs, consider the following features:
Size and Space: Your tent should have enough room for you, your dog, and your gear. Look for a tent with extra space to accommodate your dog's bed or pad, allowing them to sleep comfortably without feeling cramped.
Durability and Material: Opt for a tent made of durable, tear-resistant materials that can withstand your dog's claws and potential accidents. This is especially important for the tent floor, where your dog will likely spend most of their time.
Ventilation: Proper ventilation is crucial to keep your dog cool and comfortable during summer camping trips. Look for tents with mesh windows and doors to allow for airflow while keeping bugs out.
Easy Setup: A tent that is easy to set up will make your camping experience more enjoyable and reduce the time you spend on setting up camp.
Weather Resistance: Choose a tent with adequate weather resistance, such as a rainfly and sturdy zippers, to protect you and your dog from the elements.
Some popular tent options for camping with dogs include the Coleman Sundome (We've owned a Sundome for years and my kids still haven't been able to tear it to pieces, which is saying something about its durability), MSR Hubba Hubba NX, and the Coleman Evanston Dome Tent (with screened porch for your pooch). These tents have spacious interiors, durable materials, and excellent ventilation, making them suitable for camping with your furry friend. By selecting the right tent, you can ensure a comfortable and safe camping experience for both you and your dog.
Tip: Be sure to read our Tent Camping With Dogs Guide for more great ideas.
Keeping Your Dog Safe and Comfortable While Camping
Essential Items for a Dog First Aid Kit
Having a well-stocked dog first aid kit is crucial for ensuring your dog's safety and well-being during your camping trip. Some essential items to include in a dog-specific first aid kit are:
Gauze Pads and Rolls: These are useful for dressing wounds, controlling bleeding, and providing support for injured limbs.
Adhesive Tape and Bandages: Veterinary adhesive tape and self-adhesive bandages are essential for securing gauze and dressings without sticking to your dog's fur.
Antiseptic Wipes and Solution: These are important for cleaning and disinfecting wounds to prevent infection.
Tweezers and Tick Remover: These tools are essential for removing splinters, thorns, and ticks safely and effectively.
Digital Thermometer: A thermometer designed specifically for dogs will help you monitor your dog's temperature in case of fever or illness.
Scissors: Blunt-tip scissors are useful for cutting gauze, tape, and trimming fur around wounds.
Disposable Gloves: Non-latex gloves are necessary for protecting your hands and maintaining a sterile environment while treating your dog's injuries.
Hydrogen Peroxide: This can be used to induce vomiting if your dog ingests something toxic, but only under the guidance of a veterinarian.
Eyewash Solution: A saline eyewash solution will help flush out debris and soothe irritated eyes.
Emergency Blanket: A compact emergency blanket can be used to keep your dog warm in case of shock or hypothermia.
A Pet First Aid Guide: A guide specifically designed for pet first aid will provide you with step-by-step instructions on how to treat various injuries and illnesses.
Important Contact Information: Keep a list of emergency phone numbers, such as your veterinarian, an animal poison control hotline, and the nearest emergency vet clinic.
By having a comprehensive dog first aid kit on hand during your camping trip, you can be better prepared to handle any unexpected injuries or illnesses that may arise, ensuring your dog's safety and well-being while enjoying the great outdoors.
Protecting Your Dog from Wildlife and Insects
To keep your dog safe from wildlife and insects, take the following precautions:
Keep your dog on a leash at all times to prevent them from chasing or disturbing wildlife.
Apply a dog-safe insect repellent to protect against fleas, ticks, and mosquitoes.
Be aware of the local wildlife and any potential hazards, such as poisonous plants or venomous snakes.
How To Check Your Dog For Ticks
Watch this short video to learn how to properly check your dog for ticks.
Maintaining Your Dog's Health and Hygiene
During your camping trip, it's essential to monitor your dog's health and hygiene. Follow these tips to ensure your dog stays happy and healthy:
Regularly check your dog for ticks, and remove them promptly (watch the video above).
Keep your dog's sleeping area clean and free of debris.
Bring a doggy first-aid kit and familiarize yourself with common canine health issues.
Provide fresh water for your dog at all times.
Fun Activities to Enjoy with Your Dog While Camping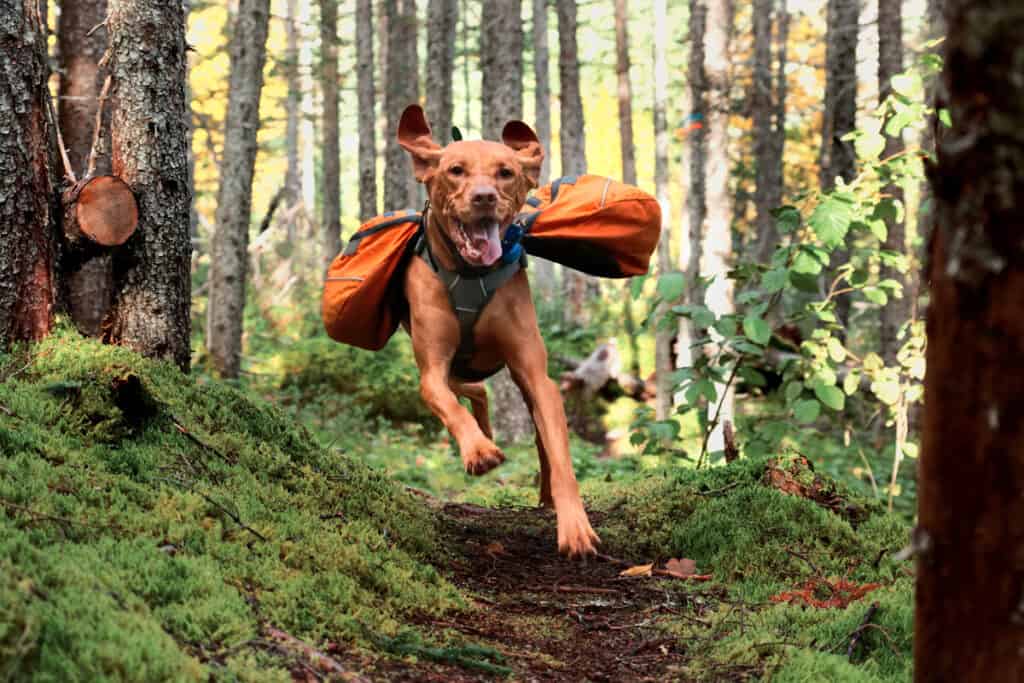 Camping provides numerous opportunities for bonding and having fun with your dog. Some activities to consider include:
Hiking on dog-friendly trails.
Playing fetch or other games in open areas.
Swimming in dog-friendly bodies of water.
Exploring local dog parks or off-leash areas.
Leaving No Trace: Responsible Camping with Your Dog
As a responsible dog owner, it's important to minimize your impact on the environment and respect other campers. Here are some guidelines to follow:
Always pick up after your dog and dispose of waste properly.
Keep your dog on a leash when required by campsite rules or in the presence of wildlife.
Do not allow your dog to disturb other campers or wildlife.
Practice responsible food storage to avoid attracting wildlife to your campsite.
Final Thoughts on Camping With Dogs
Camping with your dog is an excellent way to strengthen your bond, explore the beauty of nature, and create lasting memories together. By taking the time to prepare, research dog-friendly campsites, and ensure the safety and comfort of your canine companion, you will undoubtedly enjoy a successful and unforgettable outdoor adventure.
So go ahead, pack your camping gear, and embark on a thrilling journey with your furry friend by your side, as you both savor the great outdoors and the joys of camping.
And don't forget to check out our Spring Camping Tips and Winter Camping Tips articles for more ideas on how to have a safe and enjoyable camping trip with your dog, no matter what the weather.