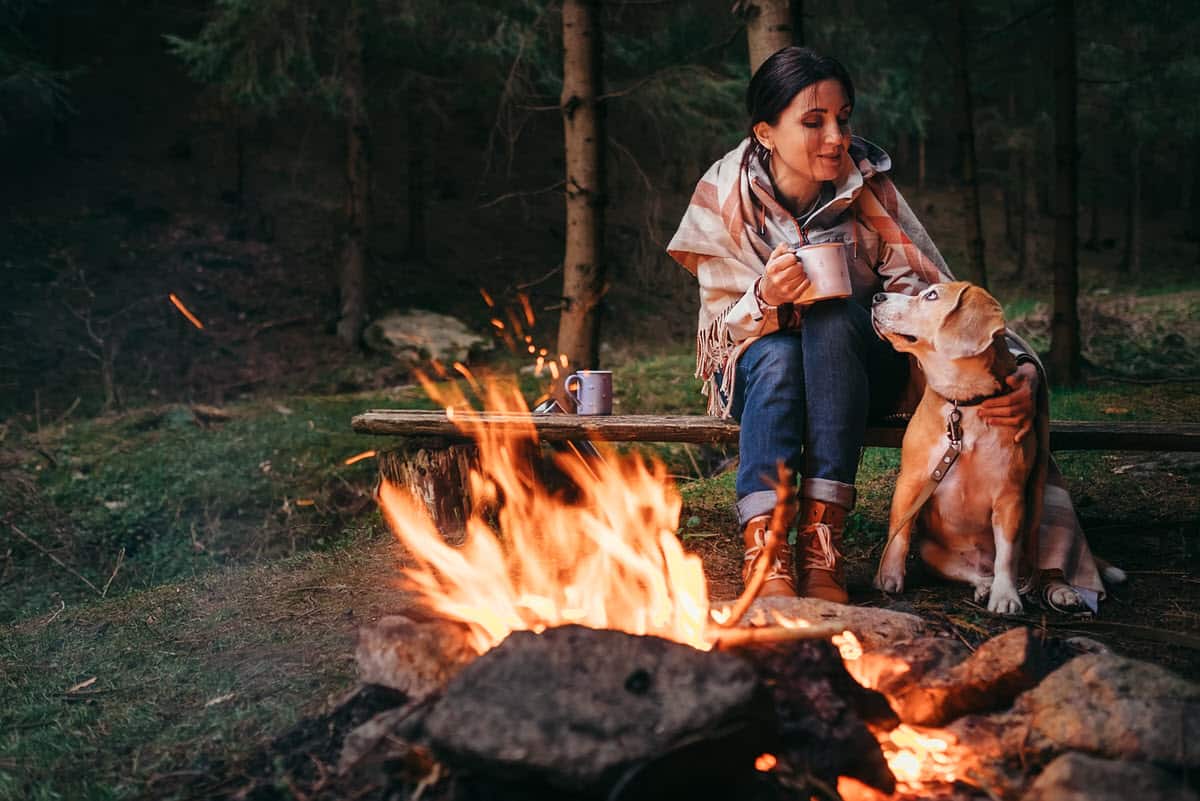 Tent camping with dogs is an increasingly popular summer activity among dog owners who love the great outdoors.
This guide will help you navigate everything there is to know about bringing your dog camping on a fun-filled and hassle-free adventure. From choosing an ideal tent to ensuring everyone's safety, we have got you covered.
Preparing For A Successful Trip
To ensure a successful camping trip with your furry best friend, it's crucial to research dog-friendly campgrounds, pack necessary supplies such as food and water bowls, and train your dog for camping.
Research Dog-friendly Campgrounds
When planning a tent camping trip with your furry friend, it is crucial to research dog-friendly campgrounds beforehand. Here are some tips to help you find the perfect spot for you and your pooch:
1. Check online: Look up dog-friendly campgrounds in the area you plan to visit. Read reviews and check out photos of the campsites before making a reservation.
Here's a list of websites that offer searchable databases of dog-friendly campsites. These websites can help you find the perfect campsite for you and your furry friend:
Tip: These are also great resources for finding cat-friendly campsites, just in case you're also into camping with cats.
2. Call ahead: Once you have found a campground that seems suitable, always call ahead to double-check the pet policies of each campground, as they may change or have specific rules and restrictions.
3. Consider fees: Some campgrounds may charge an extra fee for bringing your dog, so be sure to factor that into your budget.
4. Check leash requirements: Most pet-friendly campgrounds require dogs to be on a maximum 6-foot leash at all times. Make sure you have a sturdy leash and collar or harness for your pup.
5. National parks: National parks can be great camping destinations, but not all of them allow pets or have specific regulations regarding dogs. Be sure to check park rules before planning your trip.
Pack Necessary Supplies For Your Dog
Being prepared with the right supplies is essential for a successful camping trip with your dog. Here are some must-have items to pack:
1. ID tags/contact information: Make sure your dog wears identification tags with your current contact information in case they wander off.
2. Dog First Aid kit: Bring along a first-aid kit for dogs that includes bandages, antiseptic wipes, tweezers, and other items to treat minor injuries or illnesses.
3. Leash, collar, and harness: Keep your dog leashed or harnessed at all times to prevent them from wandering off or getting into trouble. A dog tie-out cable for camping will also give your dog plenty of space to run while keeping them close to the campsite.
4. Poop bags or shovel: Follow Leave No Trace principles by properly disposing of your dog's waste.
5. Food and water bowls: Bring collapsible bowls for meals and hydration on the go.
6. Favorite items from home: Pack familiar blankets or toys to help your dog feel more comfortable in their new surroundings.
7. Dog backpacks: Consider a backpack that you can carry your dog in, just in case the terrain gets too rough or he (or she) gets too tired and needs a rest.
8. Dog-friendly insect spray to help keeps the fleas and ticks away.
Remember to also check with the campground beforehand to see if they have any specific requirements or restrictions for camping with dogs.
Human Camping Essentials
Don't forget to pack the essentials for yourself as well:
1. Tent and stakes
2. Sleeping bag and pad
3. Cooking gear and utensils
4. Food and water
5. Season-appropriate clothing
6. First aid kit
7. Map, compass, and/or GPS
8. Headlamp or flashlight
9. Multi-tool or knife
10. Firestarter and matches
Train Your Dog For Camping
To ensure a successful camping trip with your furry friend, it's important to train your dog for the experience. Here are some tips:
1. Let your dog explore the tent: Before going on the trip, set up the tent and let your dog sniff around and get comfortable with their new surroundings.
2. Create a sleeping space for them: Set up a designated area inside the tent for your dog to sleep. You can use a comfortable dog bed or even bring a sleeping bag specifically made for dogs.
3. Practice being outdoors: Take your dog on outdoor adventures beforehand, such as hikes or walks in nature, to help them become accustomed to being outside.
4. Consider mat/relaxation training: Teaching your dog relaxation techniques, such as lying on a mat or settling down when asked, can help them stay calm and cool during the camping trip.
5. Train basic commands: Make sure your dog knows basic commands such as sit, stay, come, and leave it. This can be helpful when encountering wildlife or other potential hazards.
6. Use positive reinforcement: Reward good behavior with treats and praise to encourage your dog to continue to observe canine camping etiquette.
Remember that every dog is different and may require varying amounts of training before going camping. It's important to take into consideration their individual needs and abilities to ensure they have an enjoyable experience in nature with you.
Choosing The Right Tent And Gear
When it comes to camping with a dog in a tent, choosing the right tent and gear can make all the difference – from selecting a spacious tent for both you and your dog(s) to packing essential safety and comfort items like a portable dog fence or tie-out cable.
Dog-Friendly Tents
Choosing the right tent is crucial for a comfortable and enjoyable camping experience with your furry friend. When selecting a tent, make sure it's spacious enough to accommodate you and your dog(s), allowing for comfort, movement, and relaxation.
Consider tents that offer screened porches or additional space where your dog can lie down or store its gear. Some of the best tents for camping with dogs include:
1. Coleman Skydome Camping Tent: This versatile tent is spacious enough for you and your dog(s) to move around comfortably. It features mesh windows and doors for proper ventilation and easy access, as well as a rainfly to protect against harsh weather conditions.
2. Eureka Copper Canyon LX8: With its cabin-style design, this tent offers plenty of headroom and space for larger dogs or multiple dogs. It also includes large windows for optimal ventilation and visibility, as well as a zippered divider to separate sleeping areas.
3. Big Agnes Copper Spur HV UL Tent: Although it's designed for backpacking, this lightweight tent can still accommodate small- to medium-sized dogs. Its durable materials provide protection against the elements, while its mesh panels offer excellent ventilation.
4. Coleman Evanston Dome Screened: Featuring a screens porch that's perfect for letting your little buddy have their own space and lots of fresh air.
5. Wenzel 8-Person Klondike: Another dog-friendly tent with a huge screened porch and lots of interior room for everyone.
Remember that when selecting a tent, you should consider factors like size, ventilation, durability, and ease of access. By choosing the right tent and gear, you'll help ensure a fun and safe camping trip with your furry friend!
Bring A Portable Dog Fence Or Dog Run (tie-out Cable)
When you're camping with your furry friend, it's important to ensure their safety and security. A portable dog fence or dog run (tie-out cable) is a must-have item for tent camping with dogs.
This gear provides your pup with an enclosed space where they can enjoy the outdoors without wandering off or getting lost.
One popular option for dog aerial runs for camping is the XiaZ Dog Tie Out Cable, which allows dogs to move around more freely while still securely tied up. Traditional tie-out cables can tangle easily and restrict a dog's movement, making them uncomfortable and potentially unsafe.
Preparing A Dog Sleeping Bag For Colder Weather
Planning ahead for colder weather when camping with your dog is essential. A good quality sleeping bag will help keep your furry friend warm and comfortable throughout the night.
To ensure maximum comfort, make sure the sleeping bag is appropriately sized for your dog. If you're planning on backpacking, look into lightweight options.
Dog Safety
Ensure your dog's safety by keeping them leashed or contained, being aware of potential wildlife or hazards, and checking for ticks; read on to learn more about how to safely bring your furry friend along on your next camping trip.
Keeping Dogs Leashed Or Contained
One of the most important things to keep in mind when camping with dogs is their safety. Many campgrounds require that dogs be leashed at all times for safety reasons, and it's a good idea even if it's not compulsory.
A long leash allows your dog to explore around the campsite without straying too far but still keeps them close in case an emergency arises or they encounter wildlife.
Dogs should also never be left unattended in a hot tent or car as temperatures can rise quickly, which causes severe health problems such as heatstroke. Keeping your furry friend contained inside the tent would be more appropriate during summer camping.
Remember: keeping your dog safe is just as important as enjoying nature together on a camping trip!
Beware Of Wildlife And Other Hazards
When camping with your dog, it's important to be aware of potential hazards in the surrounding wildlife. Depending on where you camp, wildlife such as bears, snakes, and coyotes can pose a threat to both you and your furry companion.
Keep your dog close by and always supervise them during outdoor activities.
Aside from wildlife dangers, there are other potential hazards when camping with dogs. Poisonous plants like poison ivy or oak could harm your pet if they come into contact with them.
Insect bites or ticks could also cause health problems for dogs if not addressed immediately.
Overall, respect the environment around you and take necessary precautions to keep both yourself AND your furry friend safe from any potential dangers that may arise while camping together in nature.
Checking For Ticks And Other Safety Measures
Ticks can be a big concern when camping with dogs, as they can transmit diseases such as Lyme disease. Here are some steps you can take to keep your dog tick-free:
1. Check your dog regularly for ticks, especially after hikes or walks in wooded areas.
Here's a video that shows you how to check your dog for ticks:
2. Use tick-prevention medication or products such as flea and tick collars or topical treatments.
3. Avoid letting your dog run through tall grass or brush, where ticks may be hiding.
4. Bring a tick removal tool and know how to use it properly in case you find a tick on your dog.
Here's a video that shows you how to remove ticks from your dog:
5. Keep your campsite clean and free of debris, which can attract ticks and other pests.
6. Consider using a dog-friendly insect repellent or bug spray that is safe for dogs to further protect them from ticks and other insects.
Remember, prevention is key when it comes to keeping your dog safe from ticks while camping. Be sure to take the necessary precautions and regularly check your furry friend for any signs of ticks or other health concerns.
Fun Activities For Dog Camping
Enjoy quality time with your furry friend by exploring the great outdoors, hiking through beautiful trails, taking a dip in the lake together, and playing games like fetch or frisbee.
Hiking And Exploring Nature
One of the best parts about camping with your dog is being able to hike and explore nature together. Many campgrounds have nearby trails that are perfect for a day trip, allowing you both to soak in the beauty of nature around you.
Remember to pack plenty of water and snacks for both you and your furry friend, as well as proper footwear for hiking. Additionally, it's important to be aware of any potential wildlife dangers such as snakes or bears in the area and take necessary precautions.
For example, some U.S national parks offer great trails where dogs are allowed under certain conditions such as being leashed while on these hikes.
Swimming And Water Activities
Swimming and water activities can add extra excitement to your camping trip with your furry friend. Dogs love to play in the water, whether it's a lake, river, or even a nearby stream.
Introducing them to new water games such as fetch or wading in shallow water can be enjoyable for both dogs and owners. Swimming not only provides an enjoyable pastime but also an excellent opportunity for exercise.
It is essential to keep safety top of mind while enjoying water activities with your dog. Make sure that they stay within reach at all times while near any body of water, especially moving currents like rivers or waves on beaches.
Additionally, follow park rules regarding off-leash areas and do not let your dog disturb any wildlife surrounding bodies of water like lakes or streams.
Playing Games And Exercising
Camping with your furry friend provides ample opportunity for exercise and fun games. Hiking is a classic activity that pet owners can enjoy with their dogs, allowing for exploration of the great outdoors while getting some cardio in.
Floating toys are also a fantastic option to engage in water fetch, especially when camping near lakes or other bodies of water. Scent games are another favorite among campers and their pets, as owners can test out their dog's nose by hiding treats or toys around the campsite.
Hide and seek is a game that both humans and dogs love, making it an ideal activity to play together while enjoying nature.
Camping Etiquette For Dogs And Owners
Respecting your fellow campers is paramount when you take your dog with you, so make sure to properly dispose of any waste and follow all campground rules regarding pets.
Respecting Other Campers
It's important to remember that not everyone may be comfortable around dogs or appreciate their presence while camping. Therefore, it's essential to practice proper camping etiquette and respect other campers' space and boundaries.
Always keep your dog leashed or contained, clean up after them promptly, and follow quiet hours to avoid disturbing others. Additionally, some campgrounds may have specific rules and regulations regarding pets, so it's crucial to research these beforehand and adhere to them during your stay.
Properly Disposing Of Dog Waste
When camping with your dog, it's important to be responsible and respectful backcountry users by properly disposing of both human and pet waste. This means avoiding polluting water sources and minimizing your camping footprint.
Campgrounds will have specific guidelines for disposing of trash and storing food, which should be followed by campers.
One helpful tip is to bring a portable dog poop bag holder or carry plastic bags on walks to dispose of any waste immediately. Additionally, make sure you know where designated pet areas are located at the campground so you can easily clean up after your pup without causing any disruption to other campers' experiences.
Remember that developed campgrounds are for people, not animals – so don't bring more pets than allowed and always keep them leashed and supervised at all times.
Following Campground Rules And Regulations
It is important to follow the rules and regulations of campgrounds when camping with your dog. Most campgrounds have a maximum leash length for pets, which is usually six feet.
It's also important to walk your dog away from other campsites and allow them to relieve themselves away from people's belongings. National forests also have specific rules for camping with pets, including keeping them on a leash no longer than six feet.
By adhering to these rules and regulations, not only will you be respecting other campers' space and property but also ensuring the safety of your dog while allowing everyone else to enjoy their camping experience as well.
Health And Wellness For Dogs While Camping
Ensure your dog's health and well-being while camping by keeping vaccinations up-to-date, bringing a first aid kit, providing proper nutrition and hydration, allowing for relaxation and rest breaks, and protecting them from ticks and other hazards.
Keeping Vaccinations And Flea/tick Prevention Up-to-date
One of the most important things to keep in mind when planning a camping trip with your dog is keeping their vaccinations and flea/tick prevention up-to-date. This is crucial for your dog's health and wellness while camping, as they will likely be exposed to various insects and wildlife that could carry diseases.
In addition to vaccinations, it's also important to ensure that your dog is current on their flea and tick prevention medications. Not only can these pests cause discomfort for dogs, but they can also transmit a number of dangerous diseases.
Bringing A First Aid Kit
It's essential to bring a first aid kit for your furry companion while camping, especially when tent camping with a dog. A dog's hiking first aid kit should include specific items such as bandages, antiseptic wipes, and tweezers for removing ticks or thorns.
You can easily make a DIY dog first aid kit using a small Ziploc bag to ensure that it's lightweight and portable.
Remember that the dog first aid kit should contain medical essentials specifically designed for dogs' needs while camping. Keep vaccinations and flea/tick prevention up-to-date before heading out on your trip.
Providing Proper Nutrition And Hydration
Proper nutrition and hydration are crucial for your dog's well-being. Depending on the dog's age, fitness level, and physical activity during the trip, their nutritional needs may vary from what they normally consume at home.
In addition to proper nutrition, ensuring adequate hydration for dogs is just as important. Dogs should have access to clean water throughout the day, especially in hot or dry climates where dehydration can occur quickly.
Providing plenty of opportunities for rest and relaxation can also help prevent exhaustion and fatigue. Bringing along snacks such as high-protein treats can be a great way to keep your furry friend energized during long hikes or outdoor activities.
Allowing For Relaxation And Rest
Camping with your furry friend is a lot of fun, but it can also be an exhausting experience for both you and your dog. That's why it is crucial to allow for relaxation and rest during your camping trip.
Your dog needs time to recharge just like you do, so make sure they have its own space to unwind and take a break from all the excitement. Setting up a comfortable sleeping area with a cozy bed or blanket will allow them to relax and catch some Zzzs after a long day of exploring nature.
It's important not to forget that relaxation also involves providing plenty of water, food, shade, and opportunities for potty breaks throughout the day.
Final Thoughts
Tent camping with dogs is an excellent way to bond and create memories with your furry companion. With proper preparation, the experience can be fun, safe, and rewarding for both you and your dog.
Research pet-friendly campgrounds, pack necessary supplies, choose the right gear, follow campground rules and regulations, practice safety measures, and prioritize your dog's health and wellness.
Remember to respect other campers by keeping your dogs leashed or contained at all times while enjoying nature together.
And be sure to check out our tent camping must-haves post for more great ideas.