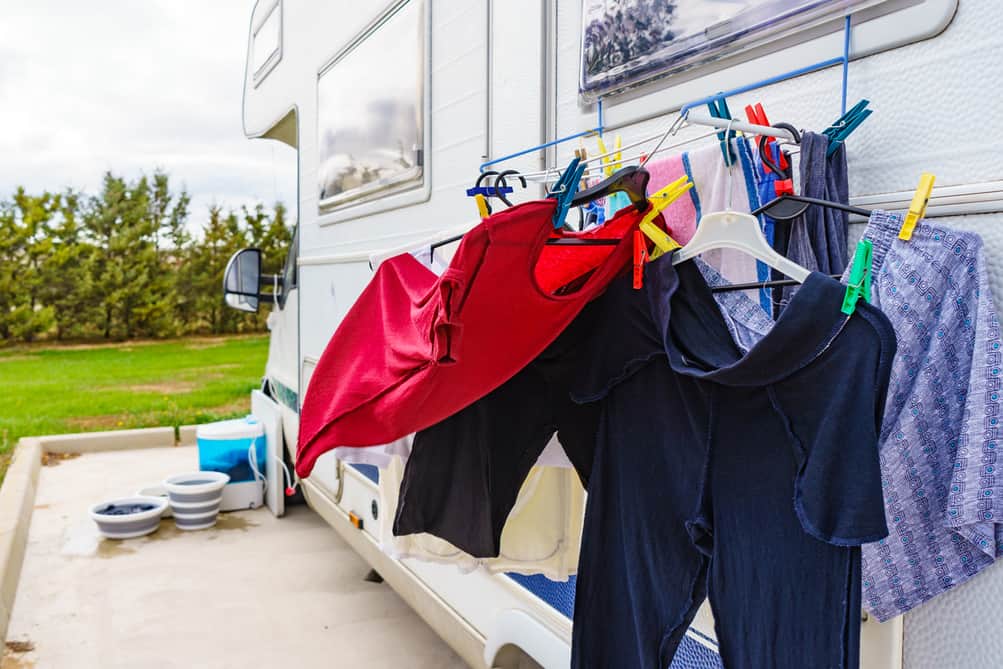 Heading out on a camping adventure can be both exciting and overwhelming, especially when it comes to packing the right clothes. Your attire ensures comfort, safety, and enjoyment during outdoor escapades.
This blog post will guide you through choosing the most suitable clothing for various weather conditions and activities while keeping your load light and practical.
Key Takeaways
When packing for a camping trip, consider the weather and climate, planned activities, trip duration, comfort, and fit when choosing clothes.
Essential clothing items include base layers made of synthetic or merino wool for moisture management, insulating layers like fleece jackets for temperature regulation, and outer layers like waterproof rain jackets or windbreakers for protection from the elements.
Appropriate footwear and socks are crucial for a comfortable and safe experience. At the same time, you should bring accessories such as hats, gloves, sunscreens, and insect repellents that offer additional protection from varying environmental factors. Finally, pack light using versatile clothing options that you can mix and match and laundry bags for dirty clothing.
Choosing The Right Clothes For Camping
Consider the weather and climate, planned activities, trip duration, comfort, and fit when making your checklist of what clothes you want to bring camping.
Considering Weather And Climate
Taking into account the weather and climate is an essential step in determining what clothes to pack camping. A successful outdoor adventure often hinges on your preparedness for the conditions you'll face during your trip.
For example, if you're planning a summer camping trip in the mountains where temperatures can fluctuate significantly between day and night, pack versatile clothing items like lightweight layers that you can easily add or remove to regulate body temperature.
On the other hand, if you're going to do some fall camping at a coastal location known for its windy conditions and frequent rain showers, invest in quality waterproof outerwear such as rain jackets and pants along with breathable base layers that dry quickly.
Assessing Planned Activities
When planning a camping trip, it is helpful to consider the activities you have in mind and the clothing needed for them. For example, if you plan on hiking or doing any physical activity while camping, bring moisture-wicking shirts and pants to keep you comfortable during exertion.
Similarly, if swimming is part of your planned activities, pack a swimsuit and quick-drying towels. On the other hand, if relaxation is your priority and most of your time will be spent lounging at camp or around a fire pit, comfortable clothes such as cargo shorts and cozy sweatshirts may be more appropriate.
And, of course, If you're equestrian camping, you may want to bring a riding outfit.
Determining Trip Duration
Another factor to consider when packing for a camping trip is the duration of your stay. If you only stay overnight, you may need fewer clothing items than a week-long camping trip.
However, it's still essential to bring versatile clothes that you can wear for different activities and weather conditions.
For example, if you plan a five-day camping trip where hiking and fishing are included in the itinerary, pack clothes suitable for these activities.
Bring comfortable hiking pants with moisture-wicking fabric and quick-drying shirts for daytime hikes. Pack warm layers like fleece jackets or wool-synthetic blends, as temperatures tend to drop at night.
Prioritizing Comfort And Fit
When making your camping packing list (or shopping list), it is essential to prioritize comfort and fit. Wearing ill-fitting clothes can cause discomfort and chafing, leading to unnecessary distractions during your outdoor adventure.
For example, if you plan on going hiking or engaging in other strenuous activities, opt for lightweight and breathable clothing that allows for ease of movement. Moisture-wicking fabrics like polyester or nylon are ideal for keeping sweat away from your skin and allowing it to evaporate quickly.
Additionally, choose clothing with a comfortable fit that doesn't restrict mobility but is also not too loose that it interferes with movement or gets caught on branches while moving around.
Essential Clothing Items For Camping
Essential clothing items for camping include base layers made of synthetic or merino wool, insulating layers like fleece jackets, and outer layers to protect against the elements.
Appropriate footwear and accessories like hats and gloves for sun and bug protection are essential camping gear.
Base Layers For Moisture Management
When you go camping, it's essential to have proper base layers for moisture management. These are the first layer of clothing that sits closest to your skin and help wick away sweat and moisture from your body, keeping you dry and comfortable.
For outerwear, choose moisture-wicking T-shirts and pants or shorts made of quick-drying fabric. This will keep you dry and prevent chafing during hiking or rock climbing activities.
Keep in mind that when choosing base layers, it's important to prioritize fit over anything else.
Insulating Layers For Temperature Regulation
When camping, especially winter camping, it's crucial to prepare for fluctuating temperatures by packing insulating layers that can help regulate your body temperature. Insulation helps trap air close to the skin, creating a layer of warmth that keeps you comfortable in colder weather.
Fleece jackets and down vests are excellent insulators to pack with you on your trip.
It's important to note that insulation can mean something other than bulky clothing. You can also look for lightweight synthetic materials like PrimaLoft® or Thinsulate™, which provide excellent insulation without adding weight or bulkiness.
Choosing proper insulation will make all the difference in whether you enjoy a cozy night under the stars or find yourself shivering through each moment of your trip.
Outer Layers For Protection From Elements
When camping, it is crucial to have suitable outer layers that protect you from the elements. Depending on the weather and climate of your destination, you should pack a waterproof rain jacket or windbreaker.
These items keep you dry during rainfall or shield you against strong winds.
Investing in lightweight and breathable outer layers made of moisture-wicking fabrics like fleece or nylon will help regulate body temperature while providing adequate cover from harsh outdoor conditions.
Overall, having durable outer layers that are easy to layer over other clothing items is essential when packing clothes for camping trips.
Appropriate Footwear And Socks
Appropriate footwear and socks are crucial for a comfortable and safe camping experience. Hiking boots or shoes with sturdy soles provide traction on uneven terrain and protect your feet from rocks, debris, and even snakes.
Look for breathable materials to keep your feet dry during long hikes in hot weather.
It's also important to consider the activities you plan on doing while camping. Water-resistant sandals may be suitable for swimming or crossing streams, while insulated boots are necessary for cold-weather camping.
Don't forget to break in new footwear before heading out on a trip to avoid painful blisters and sore feet.
Accessories For Sun And Bug Protection
Protection from the sun and bugs are critical when camping, as these pests can quickly ruin a trip. Bringing proper accessories can help keep you comfortable and protected outdoors.
A wide-brimmed hat or cap should be one of your first choices for sun protection, as it will shield your face, neck, and ears from harmful UV rays.
Bring sunglasses too! They are essential in protecting your eyes from the sun's glare while hiking or fishing. Additionally, packing clothing made of tightly woven fabrics such as polyester blends or nylon can provide UPF protection against direct sunlight.
Packing Tips For Camping Clothes
Pack light and versatile clothing that can be layered for multiple outfits. Utilize packing cubes or compression bags to save space, and bring a laundry bag for dirty clothes.
Pack Light And Versatile Clothing
When you pack for camping, it's crucial to remember that you'll be carrying everything on your back or in your vehicle. Even when car camping, there is only so much space available. So, only fill your bag with necessary clothing items you won't wear when camping.
Instead, pack light and versatile clothing pieces that can be mixed and matched. For instance, consider packing a pair of convertible pants that you can zip off to become shorts when the weather gets warm during the day.
Another tip is to choose neutral-colored clothes such as black, grey, or beige instead of bright colors, which may look dirty quickly if you're out for an extended period.
Always look for highly breathable clothing options: moisture-wicking fabrics like polyester or natural materials like merino wool that naturally repel water from sweat or wet environments, thus keeping you dry and comfortable while camping.
By choosing lightweight and adaptable clothes wisely, campers can save space in their bags while ensuring they have everything they need for an enjoyable outdoor experience.
Utilize Packing Cubes Or Compression Bags
To make the most out of limited space while camping, it's a good idea to utilize packing cubes or compression bags. These organizational tools allow you to pack your clothing more efficiently and make it easier to locate specific items when you need them.
Packing cubes come in various sizes and can be used to group similar items, such as shirts or socks.
When packing for your camping trip, consider using both packing cubes and compression bags to further maximize your space. This will allow you to bring everything you need without having an overstuffed backpack weighing you down on the trail.
Bring A Laundry Bag For Dirty Clothes
It's no secret that camping can be a dirty business, especially when it comes to clothes. That's why bringing a laundry bag for your soiled garments is essential. Pack a separate bag just for this purpose to keep track of what needs washing and what doesn't.
Plus, having all your dirty clothes in one place makes doing laundry much easier once you get home.
Pack light and consider opting for quick-drying fabrics if possible, as they will dry faster when washed or air-dried.
Consider Packing Outfits Instead Of Individual Items
When packing for a camping trip, throwing in individual clothing items without much thought can be tempting. However, it is often more practical to pack complete outfits instead.
This helps with organization and ensures you have everything you need for each day or activity. For example, you might pack a daytime outfit consisting of quick-drying shorts and a moisture-wicking T-shirt for hiking and exploring, an evening outfit made of cozy fleece pants, and a warm sweater for lounging around the campfire.
You could also try packing your outfits in lightweight packing cubes or compression bags to save space in your backpack or luggage. Additionally, bringing along a separate laundry bag for dirty clothes will help keep your clean clothes fresh and organized throughout your camping trip.
Pack For Layering And Mix-and-Match
Packing clothing items that allow for easy layering, mixing, and matching while camping is critical. Layering clothes is essential as it helps you regulate your body temperature according to the changing weather conditions.
Start with a base layer of moisture-wicking fabric, such as synthetic or merino wool, which will keep sweat away from your skin and keep you dry.
Mix-and-match outfits save space in your backpack while avoiding redundant pieces of clothing that can weigh you down. To do this effectively, consider packing versatile items that you can wear for different purposes – hiking pants that double up as swimming trunks or cargo shorts with extra pockets to hold cooking utensils when at the campsite are great examples.
Plan ahead and choose materials like quick-drying apparel that air-dry quickly overnight so they're ready for use during the day without wasting valuable packing space.
Additional Gear To Consider For Camping Clothes
Other vital gear to consider when packing for a camping trip includes rain and waterproof gear, swimwear, hats and gloves for sun and bug protection, emergency clothing, and more.
Sleeping Clothes And Accessories
Packing appropriate sleeping clothes and accessories when heading out for a camping trip is important. Comfort is key when it comes to sleeping gear, so consider packing lightweight pajamas or sleepwear that will keep you warm enough without being too bulky.
Accessories like eye masks and earplugs can help create a better sleeping environment while camping, especially if you're not used to the sounds of nature at night. It's also essential to have a quality sleeping bag that fits your body size and temperature needs.
Check the climate of your destination beforehand so you can pack the correct type of insulation for your sleeping bag, whether it's down or synthetic fiber fill.
And don't forget to pack your CPAP machine, if needed.
Rain And Waterproof Gear
Being prepared for rainy weather is essential when camping. Rain can quickly ruin a trip if you need to be equipped with the right gear. That's where rain and waterproof gear come in handy.
When choosing rain and waterproof gear, consider durability and versatility as essential factors. Look for materials that can withstand heavy rainfall and pack up small so they only take up a little space in your backpack.
Investing in high-quality rainproof clothing is worth considering if you're planning an extended camping trip. This includes gear such as a durable tarp that provides extra shelter from the elements, water-resistant hiking pants, or even a waterproof tent explicitly designed for rainy weather conditions.
Swimwear
Swimming is a popular activity for campers and outdoor enthusiasts, and packing proper swimwear is essential. When choosing swimwear for camping, comfort should be a top priority.
Consider options made of quick-drying material, such as nylon or spandex blends. For women, one-piece swimsuits or comfortable tankinis with adjustable straps provide ease of movement and support while swimming.
It's also important to remember that swimming can be unpredictable, so having an extra set of swimwear is always recommended in case the first set gets wet or damaged during activities like kayaking or rafting.
Additionally, bringing a microfiber towel for drying off after swimming helps save on space and weight when packing.
Hats And Gloves
Packaging a hat for outdoor activities is important to protect your face from the sun and bugs. Choose a hat with a wide brim that covers your face, ears, and neck. Baseball caps are popular but don't offer enough coverage.
Wide-brimmed hats made of lightweight material are great because they provide ample protection while also allowing ventilation. On colder days or at night, warmth should be your priority when choosing hats and gloves.
Gloves are another crucial accessory on any camping trip as they protect hands from cuts, scrapes, blisters—and extreme cold weather if necessary.
Emergency Clothing
It's always important to be prepared for unexpected weather changes or accidents while camping, and this includes having emergency clothing in your gear. This may include spare socks, a warm hat, gloves, and an extra layer such as a fleece jacket or rain shell.
It's also helpful to have quick-drying clothes that can be easily washed and dried in case of unexpected wet weather. Make sure to pack emergency clothing that is appropriate for the season you'll be camping in and keep them easily accessible in your backpack or duffel bag.
You might want to bring some off-grid communication gear in case of emergency.
Conclusion
Packing the right clothes for camping is key to having a comfortable and enjoyable trip. When choosing what to bring for your next camping trip, consider factors such as weather and planned activities, prioritize comfort and fit, and focus on layering your clothing.
Always pack essentials like breathable underwear and socks, moisture-wicking T-shirts and pants or shorts, headwear for sun protection, and adaptable outerwear. Pack light using versatile clothing options that can be mixed and matched. And remember laundry bags for dirty clothing.
Sale
Bestseller No. 1
BALEAF Women's Fleece Lined Leggings Water Resistant Thermal Winter Warm Tights High Waisted with Pockets Running Gear Black XL
★BALEAF provide different versions of leggings for women of different body types and heights, there are short, long, multi-pocket, single pocket, the color is also very rich and fashionable, you can choose according to your own needs.
Warm & Water Resistant: The fleece lined leggings women is made of soft fleece inner layer traps heat to keep you warm & comfortable, perfect for cold days under 40°F. Water resistant fabric can handle light rain for a short time or keep dry on snowy days and provide wind protection.
Tummy Control High Waist: Womens fleece lined leggings offers gentle compression, high-rise waistband leggings will streamline your silhouette and hold in your midsection.
5 Utility Pockets: Four side pockets are large enough to hold mobile phones, and a zipper pocket in the back helps keep your S valuable items, like electronic device secure or credit card.
Premier High-elastic Fabrics: The thermal leggings for women is high stretch and durable than traditional polyester and spandex fabrics. Not only to provide you with insulation effect, while the fabric is not too heavy, does not affect your dexterity of action.
Bestseller No. 2
Bestseller No. 3
DLOODA Quick Dry Cargo Pants Lightweight Tactical Hiking Pants with 6 Pockets for Women, Elastic Waist and Water-Resistant Black
【Quick Dry and Water-Resistant】: These cargo pants are made of a quick dry and water-proof material that keeps you dry and comfortable.
【Lightweight and Durable】: The pants are made of lightweight and durable fabric with a UPF 50 rating that is perfect for hiking, camping, running, lounge and casual everyday wear.
【Multiple Pockets】: The pants feature six pockets to provide ample storage space for your essentials, including two front pockets, two cargo pockets, and two side pockets.
【Elastic Waist & Cuff】: The pants feature an elastic waistband and cuff for a comfortable, adjustable fit that stays in place during activities.
【Adjustable Cord Locks】: The five drawstring cord locks are strong and durable, providing a secure and reliable way to adjust the fit of the pants during any outdoor activity.
Sale
Bestseller No. 4
Porvike Sports Crop Tank Tops for Women Cropped Athletic Yoga Tops Racerback Running Tanks Cotton Workout Shirts Sleeveless Undershirts Exercise Gym Clothes 3 Pack Black/Grey/Army Green S
COMFORTABLE MATETIAL: Porvike crop top workout shirts for women are made of 95% cotton and 5% spandex, which offers this workout cropped tank tops super comfort and soft as well as stretch and great performance. Breathable and super soft cotton fabric provides comfortable feeling against skin, smooth moving, great fitting, super comfortable racerback tanks for women and girls.
DESIGN & FEATURES: The sleeveless yoga shirt is a cropped tank top designed with a scoop neckline, wide shoulder straps and racer back style. Crop length pairs perfectly with high waist bottoms to meet all your daily wear fashion. Tag-free neck label provides the sports tank top max comfort and mobility.
APPLICABLE OCCASIONS: This simple and basic crop top shirt is a wardrobe essential for both workout or casual daily wear. This racerback crop top is ideal for activities like yoga, running, fitness, suitable for running. You can also wear this cute tank tops with your outfit for the perfect going out look.
VALUE PACK: Package includes 3 pieces women crop tank tops, different colors to choose, easy to match your different outfit, available in 4 size,S/M/L/XL, fit for most ladies and girls.
PRODUCTS & SERVICE: We provide comprehensive after-sales service, if you have any question about our crop tank top, feel free to contact us, we guarantee your 100% satisfaction to help you. Please refer to the size chart provided before purchase. If you have bought inappropriate size, please contact us for a free return or exchange.
Bestseller No. 5
Retractable Portable Clothesline for Travel,Clothing line with 12 Clothes Clips, for Indoor Laundry Drying line,Outdoor Camping Accessories
[Creative Design]Portable Clothesline with 12 Colorful Clothespins,13 Anti-Skid Clips can windproof,Design with Positioning Bead,Can move smoothly from left to right,the black rope is stretchy can be stretch up to 10 ~ 12 feet,no need to worry that clothes bunching up together due to weight or wind and improves drying effect.
[Strong & Durable] heavy duty clothesline Easy to fasten by two strong stainless steel material hooks and easy removable,Our pegless Clothesline can be attached anywhere:house、balcony、bathroom、backyard、Hotel、students' dormitory,laundry,is a good camping item for inside or outside,Facilitates the washing,storage and organization of clothes.
[Strong Clamping Force]Anti-slip Design with Positioning Bead,Hooks and Clothespins,Strong Clamping Force,Used to hang different types of clothes such as towels, cloth diapers, underwear, socks ,blankets, pants, etc.t,Don't worry about being blown away by the wind
[Widely Use]small Lightweight and easy to carry,apply to rv gadgets,clothes line retracting outdoors,tendedero de ropa para patio,camper decorations for inside,camper accessories for travel trailers inside decor,camper organizers for travel trailers,drynatural retractable clothesline,pool clothes line,Great for traveling, camping, outdoor and indoor use.A must for campers,camp trailer must haves
[Quality and satisfaction]Your purchase is protected. If you are not satisfied with our portable clothesline, You can return them at any time, We will improve it in time until you are satisfied
Bestseller No. 6
FEIDEER 5 Pairs Women's Hiking Walking Outdoor Recreation Socks Wicking Cushion Crew Socks (5WS18205-M)
Cotton78%, Polyester fibre20%, Spandex2%. Medium fits women's socks size 4.5-7 (US).
MOISTURE CONTROL – Walk all day long and no need to worry about moisture due to our Exclusive Moisture Wicking Management, breathable and fast drying, keeping your feet cool and dry.
FULLY CUSHIONED – With thickened towel bottom design to made our hiking socks more soft and comfortable, which reduce foot friction and relieve foot fatigue, effectively protecting your feet from shear and painful blisters.
EXCELLENT ELASTICITY – Elasticized arch brace, good flexibility, to avoid the rotation of the sock during the movement; elastic ribbed cuffs, not tight or loose, durable and comfortable.
HIGH PERFORMANCE ATHLETIC SOCKS – FEIDEER outdoor recreation socks are comfortable, breathable, moisture-wicking cotton socks, ideal for trekking, walking, running, camping, hiking, skiing, cycling and other outdoor activities.
Bestseller No. 7
Bestseller No. 8
Happy Camper Shirt for Women Funny Cute Graphic Tee Short Sleeve Letter Print Casual Tee Shirts Gray
T-Shirt Material: At UNIQUEONE, comfortable is king! Made from premium and super soft cotton blend, this cute happy camper shirt is lightweight, stretchy and breathable on your skin. You will stay comfy all day long
T-Shirt Feature: Happy camper letter print graphic t shirt, womens camping graphic tshirt, classic o-neck tee, simple print shirt, relaxed fit, lightweight, slouchy shirt, happy camper short/long sleeve shirt. A great gift for those who love camping, camping shirt, happy camper Tshirt, glamping shirt
Fashion Mix: Suit for spring, summer, fall, winter. A great gift cute shirt top, this funny graphic print tee top goes perfectly almost everything. You can simply pair it with your skinny jeans, shorts or leggings to step up your casual and chic style
Perfect Gift Choice: Funny camping graphics tshirt, Great for party, camping, hiking, workouts, social events, beach, school, photoshoot, casual and daily wear. Great gift for yourself, friend, mom, wife, sister, daughter, aunt, grandma, teacher etc
Package Include: 1*Women funny happy camping graphics tee. We stand behind everything we sell.Your purchase is fully protected when you order today. If you are not satisfied with your shirts, please feel free to contact us
Sale
Bestseller No. 9
BALEAF Women's Hiking Pants Quick Dry Water Resistant Lightweight Joggers Pant for All Seasons Elastic Waist Pond Size M
Stay cool, fresh and comfortable all day with our lightweight, breathable, water-resistant and quick-dry women's hiking pants.
UV protection is a priority when exploring the great outdoors, which is why our pants offer UPF 50+ built-in to keep you safe from the sun's harmful rays.
Convenience is key when hiking, so we designed our women's hiking pants with four zip-closure security pockets, an elastic waist with a drawstring, and articulated knees to give the perfect fit.
The adjustable cord locks around the cuffs allow for easy leg opening adjustment to keep bugs out and ensure they fit perfectly, no matter what adventure you take them on.
Don't let sizing be a hassle! Based on customer feedback, we launched petite version if you got a petite figure, pick it. Plus, our pants are easily machine washable for extra convenience.
Sale
Bestseller No. 10
The Children's Place Baby-Girls And Toddler Girls Long Sleeve Graphic T-shirt 2-pack Fox/Camping 4T
GRAPHIC T-SHIRT — A classic, comfortable fit with graphics she'll love.
FABRIC — Made of 100% cotton jersey
DESIGN — Features long sleeves, rib-knit crew neck and cat in stocking graphic design at front
MULTIPACK — 2-pack of graphic tees: 1 style with foxes graphic design at front; 1 style with hedgehog and squirrel camping graphic design at front
THE CHILDREN'S PLACE — We offer a huge selection of kid's clothing! Shop us for jeans, shorts, leggings, chinos, polo shirts, dresses, pajamas, and accessories.
FAQ – What Clothes To Bring Camping
What are camping clothes?
Camping clothes are clothes that are suitable for a camping trip, both in terms of comfort and functionality. They include base layers for insulation, fleece, and other warm layers to keep you warm, moisture-wicking fabrics to keep you dry, breathable materials to help regulate your body temperature, and waterproof and quick-drying fabrics to protect you from the elements.
What should I pack for a camping trip?
You should pack clothes that are suitable for the weather and the activities you will be doing. This may include rain jackets, rain pants, extra layers for warmth, and clothes that will keep you cool in hot weather. Make sure to also pack camping outfits that will keep you comfortable while you sleep at night, such as merino wool or polyester base layers and a durable sleeping bag. Always bring sun protection and a set of clothes to wear when you are setting up camp or relaxing around the site.
What should I wear on a camping trip?
You should wear clothes that are appropriate for the season and the activities you will be doing. This may include long pants, breathable shirts, and layers that you can add or remove as needed. Choose clothes that are made from moisture-wicking and quick-drying fabrics, such as polyester or merino wool, and that will keep you warm when it's cold out and keep you cool when it's hot.
What are the best clothes to bring for camping?
The best clothes to bring for camping depends on the time of year and the weather conditions. Consider packing fleece and other warm layers, as well as rain jackets and rain pants, if the forecast calls for rain. Make sure to also include moisture-wicking and quick-drying garments for active days, like those spent hiking or fishing.