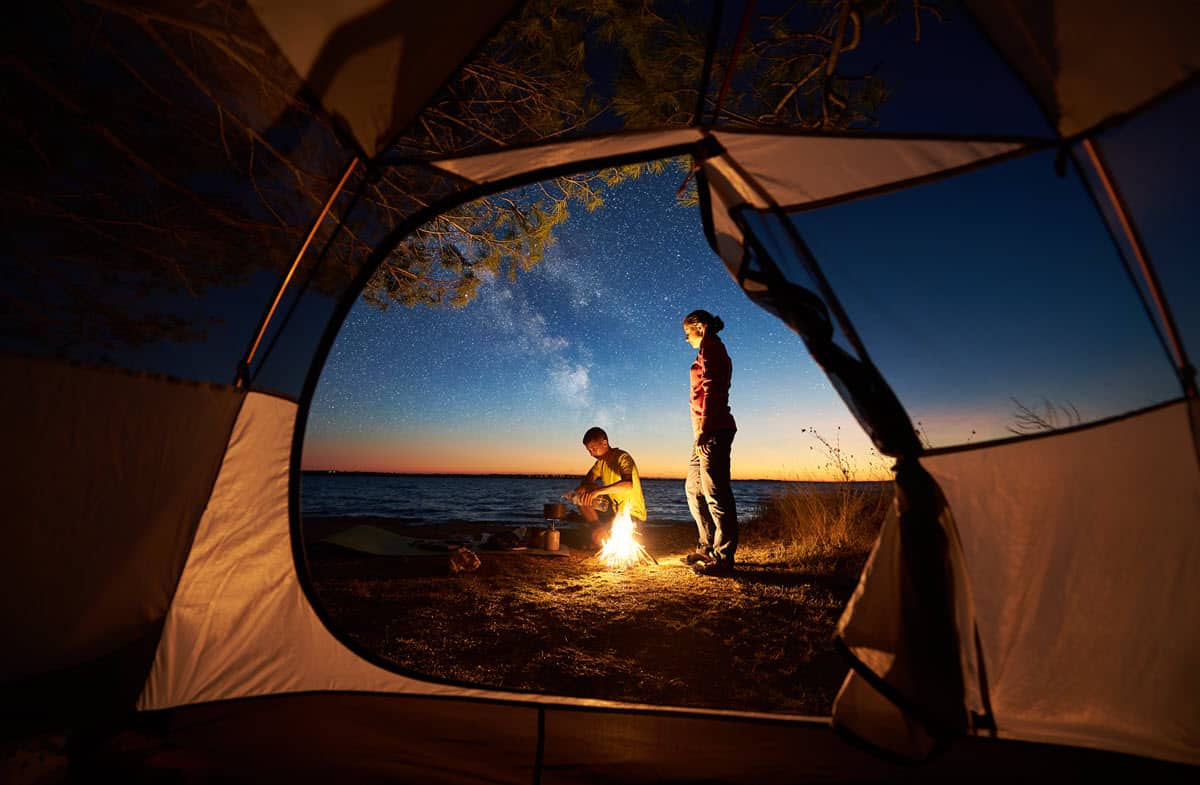 Having the perfect 4person tent can make all the difference in creating a comfortable and enjoyable outdoor adventure.
In this blog post, we'll explore the top four best 4 person tents for camping in 2023, as recommended by experts and avid campers like us. We'll dive into their features, benefits, and what makes each stand out.
Quick Recommendations
For a quick recommendation, check out our product list or scroll down for in-depth reviews to help you make an informed decision.
Comparison Table
Best 4 Person Tents For Camping
1. Coleman Sundome 4 Person Camping Tent
Experience Easy and Comfortable Camping with Weatherproof Tent
I bought a 4-person Sundome 6 or 7 years ago for my kids to use for various sports camps and school-related campouts, and it's still going strong. Easy to set up, affordable, and has proven to be very durable (teenager tested and approved). It gets my vote for the best budget four-person tent.
Highlights
Accommodates up to 4 people, perfect for small groups or families
Made with durable fabric that can withstand various outdoor elements
Includes a rainfly feature to keep campers dry during rainy weather
Ideal for backpacking and camping trips due to its lightweight design
Offers enough room for comfortable sleeping arrangements while still compact in size
Suitable for use in 3 seasons, providing flexibility when planning outdoor adventures
The Coleman Sundome Camping Tent is a must-have for outdoor enthusiasts seeking a reliable and comfortable shelter. As our No. 1 pick for the best 4-person tent on a budget, this tent provides ample space with 9 x 7 feet dimensions and a center height of 4 feet, 11 inches – easily accommodating a queen-size air bed for maximum comfort.
Setting up camp becomes an effortless task with this tent's intuitive design, allowing assembly in about ten minutes. This may be the best four-person tent for the money. And based on my personal experience, it's a tent that will last many years.
Enhanced ventilation from its two large windows and ground vent ensures consistent airflow for pleasant camping experiences in various weather conditions.
Furthermore, the tents' WeatherTec floor system blocks out water effectively while remaining durable to withstand harsh elements. In extreme weather or unforeseen circumstances, the included rainfly offers extra protection against wind and rain – having been wind-tested at over 35 mph!
The convenient E-Port makes bringing electrical power inside the tent easy without compromising security from outside elements. Backed by a one-year limited warranty, you can trust Coleman Sundome Camping Tent for your next adventure!
Pros
Enjoy spacious living quarters with a roomy interior that fits one queen-size airbed.
Save time and hassle with an easy 10-minute setup process.
Thanks to the E-port for electrical power access, stay connected to the outside world.
Experience superior ventilation and weatherproofing, including large windows, a ground vent, welded corners, and inverted seams.
Cons
It may not be suitable for extreme weather conditions
Only fits one queen-size airbed
E-port flap is not entirely waterproof
The Coleman Sundome Camping Tent is the perfect choice for outdoor adventurers who want to enjoy their camping trips conveniently and comfortably.
Its easy setup, protection against rain and water, great ventilation features, and secure frame make it ideal for campers of all ages looking to explore nature without worrying about weather conditions.
So whether you're a student on a tight budget or an experienced camper, this High-Quality tent will make your adventure one to remember!
I bought my Coleman Sundome on Amazon… Check out the Coleman Sundome.
2. Marmot Halo 4 Person Tent
Spacious and Versatile Tent for Family Camping Adventures
Highlights
Roomy 4-person occupancy for comfortable family camping.
Free-standing design for easy setup and flexibility in campsite selection.
Two doors for convenient access and ventilation options.
Durable polyester, nylon, and taffeta fabric with 3000mm water resistance technology for reliable protection against the elements.
Lightweight at only 13 pounds makes transporting to different campsites or locations easy.
Recommended for use during 3 seasons – spring, summer, and fall – providing versatility in outdoor activities.
The Marmot Halo 4-Person Family Camping Tent is an excellent choice for camping enthusiasts, standing out as our No. 2 pick. Its innovative pole structure offers increased space and stability, ideal for family car camping and outdoor living.
The spacious double-door entrance presents unobstructed access to the main tent area. The d-shaped door leads into an ample front vestibule that accommodates all your gear storage needs.
The tent is constructed with durable 100% polyester material. It boasts a seam-taped full-coverage fly with vents for optimal air circulation. Interior pockets provide convenient organization options for small essentials within easy reach of campers.
The setup is quick and smooth thanks to zip open/close canopy panels and the pole sleeve-clip combo design found in the Marmot Halo. With exceptional quality fitting its name, this tent assures users of an unforgettable outdoor experience complemented by comfort, security, and convenience.
The Marmot Halo excels in accommodating families or groups of campers who value ease of use while not compromising on performance features like durability and ventilation under different weather conditions.
Choosing this well-rounded option will elevate your next adventure through its thoughtful design choices, prioritizing user satisfaction above all else. It's one of the best camping tents on this list.
Features
Seam-Taped Full Coverage Fly with Vents: The Marmot Halo tent has a full coverage fly that is seam taped to prevent water from seeping in during heavy rain. The vents ensure proper airflow, keeping the interior fresh and cool.
Pole Sleeve-Clip Combo: Setting up this tent has never been easier! Depending on your preference, You can choose between pole sleeves or clips. Its user-friendly design makes it perfect for novice campers too.
Zip Open / Close Canopy Panels: This feature allows you to easily open and close the canopy panels according to your personal preferences. You'll be able to enjoy the starry night sky while still being protected from pesky critters.
Interior Pockets for Small Gear Organization: Keep your essentials safe and organized in the interior pockets of this tent. You won't have to worry about losing small items like flashlights, mobile phones, or maps anymore!
One Super-Sized Double Door and One Side D Shaped Door with Large Front Vestibule for Gear Storage: The double door design ensures easy access in and out of the tent without disturbing other occupants. Meanwhile, the side D-shaped door opens into a large front vestibule, providing ample storage space for gear such as bicycles or camping chairs.
Pros
Stay Dry: With the fly vents and seam-taped full coverage, this tent helps keep you dry during rainy camping trips.
Easy Setup: The pole sleeve-clip combo makes setup a breeze so that you can enjoy the great outdoors more.
Organized Space: Interior pockets organize small gear for a clutter-free tent space while camping.
Roomy Storage: Features one super-sized double door and one side D-shaped door with a large front vestibule for ample gear storage.
Cons
Relatively heavy and bulky, not ideal for a backpacking tent or hiking trips.
Some users reported difficulty setting up the tent, especially in inclement weather conditions.
The price point may be higher than other 4-person camping tents.
This Marmot Halo 4-Person Tent is perfect for weekend warriors, outdoor adventurers, and family campers searching for a reliable shelter with plenty of room.
Get the ultimate camping experience with this versatile tent today!
I recommend checking out the Marmot Halo 4 on Amazon… they have great prices.
3. Big Agnes Bunk House 4 Person Camping Tent
Spacious and Versatile Camping Tent for Family or Group Trips.
Highlights
4-season design for all-year camping
Waterproof construction to keep you dry in rain or snow.
Lightweight and easy to carry, weighing only 15 pounds.
Spacious interior with room for up to four people.
Sturdy aluminum poles provide stability and support.
The triangular shape offers an innovative twist on traditional tent designs.
The Big Agnes Bunk House Camping Tent is a game-changer for camping enthusiasts seeking ample space, durability, and convenience in their outdoor shelter.
Its 4-person capacity provides generous living quarters for friends or family. At the same time, the oversized front vestibule creates a pole-supported awning that allows for dry entry and exit during those unexpected weather changes.
With features like color-coded webbing and buckles, this tent ensures an effortless setup process even at night, thanks to reflective guy lines and webbing.
The Bunk House offers comfort with its two large doors and mesh windows for ventilation or complete closure options and boasts exceptional versatility through its "Shelter Mode." This mode enables users to pitch just the fly, poles, and included webbing harness as a covered shelter without needing the tent body—ideal when seeking shade on hot days.
Storage needs are met with four interior mesh pockets, removable corner bin pockets perfect for stashing sundries, gear loft loops compatible with various sold-separately lofts, plus an extra-large welcome mat keeping dirt out.
For campers prioritizing durability alongside adaptability in their tents' design choices without compromising user experience or functionality – look no further than Big Agnes Bunk House Camping Tent!
Pros
Stay dry in any weather with taped seams and waterproof materials
Enjoy easy setup with color-coded webbing and included tensioners
Keep your essentials organized with multiple pockets and gear loft loops
Create an ideal shady spot for everyone to hang out under during hot days with the shelter mode feature
Cons
Heavy packed weight may not be ideal for backpacking trips (but it makes for the perfect car camping tent)
Higher price point compared to other camping tents on the market
It may not hold up well in extreme weather conditions such as heavy winds or snowfall.
This Big Agnes Bunk House Camping Tent is perfect for outdoor enthusiasts who love hosting family or group camping trips. With its spacious interior, two vestibules, and versatile shelter mode, this tent can fit your every need. Get outside and start adventuring with this tent today!
You'll find reviews and great prices for the Big Agnes Bunk House on Amazon.
4. The North Face Wawona 4 Four-Person Camping Tent
Flame-retardant Free Family Tent for Comfortable Camping.
Highlights
4-person occupancy for group camping trips
3-season design for versatile use in different weather conditions
Portable and easy to pack, perfect for hiking and backpacking
Free-standing installation type for convenient setup anywhere
A maximum height of 68 inches allows for comfortable standing inside the tent
No flame-retardant coating ensures a natural, eco-friendly experience.
The North Face Wawona 4 Four-Person Camping Tent stands out as a reliable and comfortable option for camping enthusiasts, earning the No. 3 spot on our list.
Boasting a spacious interior with an area of 58.13 square ft and a peak height of 68 inches, this tent accommodates four people with ease while offering room to stand comfortably or sit in chairs.
The large mesh front door facilitates superior ventilation, ensuring optimal airflow throughout your encampment.
One of the key features contributing to its ranking is the intuitive setup facilitated by color-coded poles and trims and the inclusion of a stronger DAC MX pole set without adding extra weight.
Furthermore, this family-oriented tent comes without flame-retardant coating, benefiting health-conscious users who prefer eco-friendly products.
The massive vestibule provides ample storage space or serves as an additional seating area. At the same time, internal organization pockets keep essentials at hand during your stay in nature's embrace.
Combining thoughtful design elements like these and external resources showcasing multiple sellers makes this review comprehensive and valuable, allowing fellow campers to make informed decisions regarding their choice of shelter for their next outdoor adventure.
Features
Stuff sack: 10″ X 27″ (25.4 cm X 68.6cm) for Easy Portability – The North Face Wawona 4 Four-Person Camping Tent comes with a convenient duffel-bag style stuff-sack that makes it easy to carry and store your tent, whether you're hitting the road for an extended camping trip or just heading out for a weekend getaway.
No Flame-Retardant Coating for Increased Safety – Unlike other camping tents that use potentially harmful flame-retardant coatings, this tent is made without one, ensuring your and your family's safety while enjoying nature.
Color-Coded Poles and Trims for Effortless Setup – With color-coded poles and trims, setting up your Wawona 4 Four-Person Camping Tent has never been easier. You'll spend less time struggling with assembly instructions and more time enjoying your outdoor adventure.
Integrated Storage for Convenient Organization – This family tent features internal organization pockets that provide everyday conveniences when camping. Ceiling pockets offer space to keep headlamps, lights, and tablets handy while keeping them off the ground and organized.
Large Vestibule & Massive Interior Height Offer Comfortable Living Space – Not only does The North Face Wawona 4 Four-Person Camping Tent have a spacious vestibule perfect for storing gear, but its large interior height also allows campers to stand comfortably or sit in chairs inside the tent. Additionally,
Pros
Easy and quick setup with color-coded poles and trims
Comfortable design with spacious interiors, a large vestibule for storing gear or additional seating, and superior ventilation
Integrated storage, including internal organization pockets and ceiling pockets for convenience while camping
No flame-retardant coating was used in the construction of the tent.
Cons
The tent is quite heavy, weighing in at 13 lbs.
The footprint needs to be purchased separately.
No flame-retardant coating may be a concern for some customers.
This North Face Wawona 4 Four-Person Camping Tent is perfect for the adventurous camper who wants an easy setup, integrated storage, and a comfortable design.
You'll find a great price for The North Face Wawona on Amazon.
Features To Consider When Choosing A 4-Person Tent
When choosing a 4-person tent, it's essential to consider the size and space requirements needed for your camping trip, weather resistance capabilities to protect against harsh elements, and ease of setup and portability for convenient transportation.
If you are car camping, then you can afford to bring along a heavier tent.
Size And Space Requirements
Selecting the perfect 4-person tent for your camping adventure involves carefully considering size and space requirements. It's crucial to ensure that there is enough room not only for sleeping but also for storage of gear and personal belongings.
Remember that, though marketed as 4-person tents, the floor space may need to be increased to accommodate four campers lying side-by-side on their backs comfortably.
To avoid this cramped situation while camping, choosing a tent with additional features such as vestibules or storage compartments can be helpful.
A well-designed 4-person tent like the North Face Wawona and the Marmot Halo offers a large vestibule in its design, providing ample room for each camper's gear without sacrificing valuable sleep space inside the main body of the shelter.
Moreover, utilizing a size guide created explicitly for backpacking and camping tents can make determining capacity easier. Hence, you have an ideal living environment during your outdoor excursions.
Weather Resistance
A crucial factor to consider when selecting the perfect 4-person tent for your camping adventures is weather resistance. Ensuring that your tent can withstand various weather conditions will make all the difference in providing a comfortable and safe shelter during your trip.
Not only should a dependable 4-person tent shield you from rain, but it must also be capable of withstanding high winds without collapsing.
Moreover, investing in a well-ventilated tent helps combat condensation buildup, ensuring that humidity levels remain manageable during damp conditions or sudden showers.
Be sure to check out our seasonal guides to camping, including Spring Camping Tips, Summer Camping Essentials, and Winter Camping Tips.
Ease Of Setup And Portability
Ease of setup and portability are essential when choosing the perfect 4-person tent for your camping adventures. No one wants to spend hours struggling with complex poles and instructions, especially after a long day of hiking or traveling.
Portability is another crucial aspect since you'll likely carry your camping gear through various terrains. A lightweight yet durable tent like the Kelty Grand Mesa 4 is an excellent choice for backpacking trips where every ounce matters.
Opting for a compact design that fits snugly into its storage bag can save valuable space in your car or backpack while on the go.
Tip: If you do plan on car camping, then be sure to check out our car camping checklist.
Final Thoughts
Camping with family or friends is a great way to bond and enjoy the outdoors. Choosing the right 4-person tent can make all the difference in ensuring a comfortable and enjoyable trip.
Suppose you're looking for superior protection from harsh weather conditions and exceptional stability. In that case, our top pick is Big Agnes Bunk House Camping Tent.
Alternatively, suppose you're after something that offers space and comfort for summer camping trips. In that case, we recommend the Marmot Halo 4-Person Family Camping Tent – which features two doors for easy access, water-resistant technology rated at 3000mm, high-quality polyester taffeta nylon materials that ensure durability over many years of use.
Whether it's for an upcoming camping trip or just adding to your outdoor gear collection, these tents are worth considering!
Sale
Bestseller No. 1
Sale
Bestseller No. 2
Sale
Bestseller No. 3
Moon Lence Camping Tents 4 Person Pop up Tents Set Up in 10 Seconds Instant Tent for Family Waterproof with Detachable Rainfly and Skylight Green
SET UP IN SECONDS – The set up of this pop up tent is very easy, only take it out of the package, unstrap the tent, and throw it into the air, it will be opened automatically in seconds. Before folding, pls read the instruction stitched in the tent bag.
GREAT VENTILATION SYSTEM – With 2 updated breathable large doors, 2 mesh windows, and one extra mesh window on the top, this pop up tents for camping assure enough airflow. Meanwhile the rainfly on the top prevents not only rain but also moisture and water vapor condensation from appearing inside when tent closed. Kick off all the unpleasant smells and enjoy the breeze.
4-PERSON ROOMY TENT – With the unfolding size of 300*220*120cm (130*86.6*47.2in), the camping tent is spacious for 3-4 adults. Weigh only 4.5kg (9.9lb).
ALL-ROUND PROTECTION – Thanks to the 190TPU material, this camping tent 4 person waterproof provides 2000mm water resistance. Moreover, this instant tent is equipped with 10 lightweight alloy pegs and 4 guy ropes, which assure high resistance to wind and more security.
ENJOY THE LEISURE TENT -This pop-up tent suitable for casual camping, backyard resting, festivals, outdoor recreational activities, boy/girl scouting, backpacking, and beach gatherings.
Sale
Bestseller No. 4
Coleman 4-Person Cabin Tent with Instant Setup | Cabin Tent for Camping Sets Up in 60 Seconds
Instant tent sets up in just 1 minute. Fits 1 queen-size air bed.5 Tent Windows with 1 door.Built in Lights : No, Vestibule Area : No.
WeatherTec system with patented welded floors and inverted seams to keep you dry
Rugged Polyguard 2X double-thick fabric for reliable, long-lasting use
Integrated vented rainfly improves airflow without any extra assembly needed
Measures 8 x 7 feet with 4-foot 11-inch center height
Sale
Bestseller No. 5
Pacific Pass Camping Tent 4 Person Family Dome Tent with Removable Rain Fly, Easy Set Up for Camp Backpacking Hiking Outdoor,Navy Blue
Spacious: The 4 person tent designed for a roomy and overall cozy experience. The camping tent with a center height of 60 inches and 108.3 x 82.7 inches base size, and it is a spacious backpacking tent with plenty of space. Great tent for camping
Stable & Safe: To keep your items dry, the durable fabric on the outdoor tent body and the rain fly help to ensure water does not make rain infiltration of your 1500 MM waterproof tent for a dry trip. Ideal family tents for camping
Convenient Design: There are two mesh storage bags and a net bag on the top in the family tent and keep the dome tent organized. The hook on the top designed for a lantern. E-Port makes it easy to bring electrical power inside
Easy Set-Up & Carry: The camp tent equipped with 2 ropes and 7 stakes for safe and stable. It only takes 2-3 people 5 minutes to set up. The carry bag weighs only 8.05lbs, and a large tent can be store in the car without taking up much space
Lightweight & Portable: When you finish your trip, you can simply place components back into the zippered carry bag to pack up and transport. The good design makes a lightweight tent is suitable for outdoor, hiking, traveling, fishing, etc
FAQ
What is a backpacking tent?
A backpacking tent is a lightweight and portable shelter designed to be carried on a backpacking trip to provide protection from the elements.
What is a four-person tent?
A four-person tent is a camping or backpacking tent that is designed to accommodate four people comfortably.
Is a 4 tent a good pick for the best camping tent?
It depends on your camping needs. A 4 tent is an excellent option for a small family or a group of friends. However, if you have more people or need more space, consider a larger tent.
What is the Kelty Grand Mesa 4 tent?
The Kelty Grand Mesa 4 tent is a high-quality tent that is designed for camping and backpacking trips. It is lightweight, easy to set up, and has a spacious interior.
Are there tents for backpacking?
Yes, many tents are designed specifically for backpacking. These tents are lightweight, portable, and easy to set up, so you can easily carry them on your back during your trip. The Kelty Grand Mesa 4 is a highly rated and affordable option.
How do I choose a tent for camping or backpacking?
When choosing a tent, consider size, weight, durability, and weather resistance. Choosing a tent that fits your needs and is suitable for the weather conditions you will be facing is essential.
What are some of the best 4 person tents for backpacking or camping?
How can I tell if a tent is a good quality?
A good quality tent should have a sturdy frame, strong body, and quality tent poles. It should also have a waterproof or water-resistant design to keep you dry in rainy weather. Additionally, it should be easy to set up and have enough space to accommodate you and your gear comfortably.