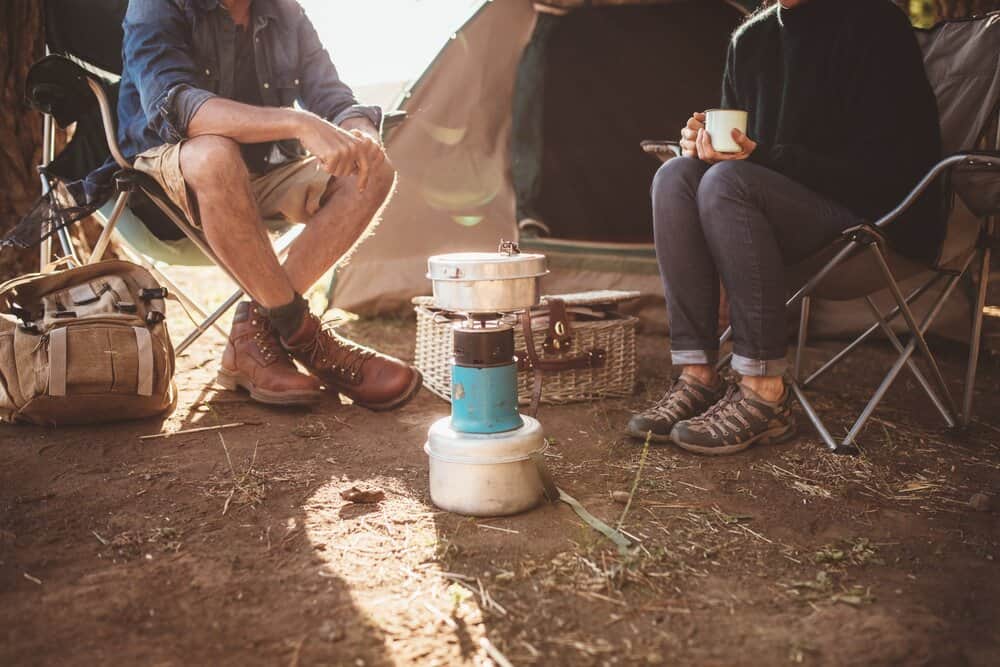 More than 9 million people recently went camping for the first time. Using a stove is one of the best skills new campers can learn.A camping stove lets you prepare food that you'll enjoy throughout the entire trip. Cooking on one is a skill that will feed the whole group and help you enjoy the quality of your trips. For more help with your camping, check out this article on how to use a camping stove effectively.
Key Takeaways:
Choosing the Right Stove: It's essential to select a reliable camping stove that suits your needs, considering factors like size, capacity, settings, and material.
Safety First: Always prioritize safety by keeping the stove away from children, setting it up at a safe distance from tents or gear, and ensuring the burner is completely extinguished after use.
Fuel Efficiency: Opt for a fuel-efficient stove and bring a sufficient supply of quality fuel, stored in airtight containers, and only use the stove in well-ventilated areas.
Practice Makes Perfect: Regularly practice using your camping stove to become proficient in preparing a variety of recipes, which will enhance your overall camping experience.
Maintenance: Perform regular maintenance on your camping stove to ensure longevity and reliability, including cleaning and checking for clogs.
Eco-Friendly Practices: Consider eco-friendly stoves and practices, like using renewable fuels and conserving fuel, to minimize your ecological footprint.
Cookware Compatibility: Use compact, lightweight, and flat-bottomed cookware made from materials like titanium and anodized aluminum for efficient heat distribution.
Altitude and Weather: Be aware that high altitudes and cold weather can affect stove performance, and use accessories like a pressure regulator or windscreen as necessary.
Find the Best Stove
The first step to follow is making sure that you have an excellent and reliable camping stove. These little gadgets get a lot done and are a lifesaver for many people roughing it. It helps whether you bring all of your food or decide to live off the land, say by doing some fishing while you camp. When shopping for a camping stove, look into things like the size, capacity, settings, and the material that the stove is made from. Look for some reviews from other campers so that you purchase a model that you can trust.
Observe Some Safety Tips
Next, let's review some safety tips you need to follow in order to prevent burns and fires:
1. Make sure that no kids are anywhere near the stove when it's in operation.
2. Set your stove up outside of the tent and at least 10 to 15 feet away from the tent or your gear.
3. Put the burner all the way out after its use, and wet the ground around the stove.
4. Make sure that you learn how to pack and care for your camping gear so that it's kept in working order.
Use the Best Fuel
Choose a camping stove that is fuel-efficient, and make sure that you always bring enough of it. Camping stoves typically operate with either liquid fuel or canister fuel. Purchase quality fuel, keep it stored in an airtight container, and make sure that you only use the stove in a ventilated area.
Get Lots of Practice
Practice makes perfect, even with your camping stove. Because of this, make sure that you put the time and effort into learning how to use it effectively. This way, whenever you dust it off and decide to take a trip, you will be prepared and able to feed the whole family. There are several camping recipes that you can trust to make sure that your skills are up to par. Put the time into getting out of your comfort zone with your recipes and you'll have an impressive cookbook of things you can make by memory.
Learn How to Use a Camping Stove
The tips in this article will help you learn how to use a camping stove that will be useful to you during your trips. Once you learn how to cook on a quality camping stove, you won't want to go back. If you need more camping tips on using a stove, preparing food, and other topics, we're your go-to resource. Bookmark our website and read our other articles to catch up, such as How to Keep Food Cold While Camping, Free PDF Camping Food List, and How Much Water to Bring Camping.
Sale
Bestseller No. 1
Coleman Triton ML 2 Burner Stove PPN Black C00
PORTABLE: Easy addition to the campsite, picnic, roadside, and more
TWO WIND GUARDS: Help shield and protect burners from wind
HEAVY-DUTY LATCH: Easy to open and keeps the stove closed when not in use
EASY TO CLEAN: Durable, chrome-plated grate is removable for easy cleanup
IMPROVED KNOB ROTATION: For precise temperature and simmering control of two independently adjustable burners
Bestseller No. 2
Gas One GS-3400P Propane or Butane Stove Dual Fuel Stove Portable Camping Stove – Patent Pending – with Carrying Case Great for Emergency Preparedness Kit
Duel Fuel – Compatible With Both Butane (Fuel Not Included) And Propane Fuel (Fuel Not Included), Operates On A Single Butane Cartridge 8 Oz Or A Propane Cylinder 16.4 Oz , Propane Converter Regulator Included
Automatic Piezo Electric Ignition – Piezo-Electric Ignition That Eliminates The Use For Lighter/Matches In Order To Ignite Flame, No Need For Lighters Or Matches With This Stove
Easy To Use – Our Gs-3400P Is Easy To Use With Adjustable Heat Dial And Automatic Piezo-Electric Ignition
Safety Features – Built In Pressure Sensor Cartridge Ejection System And Gas Flow Cut Off Mechanism (Butane), Will Eject Cartridge When Irregular Pressure Is Detected
Sale
Bestseller No. 3
Coleman Triton+ 2-Burner Propane Camping Stove, Push-Button Instant Ignition, Portable Camp Grill, Adjustable Burners, Wind Guards, 22,000 Total BTUs of Power, Beach Cookouts, Backyard BBQ, Tailgating
PORTABLE: Built-in handle makes it easy to bring to the campsite and more; heavy-duty latch keeps the stove closed when not in use
TWO INDEPENDENTLY ADJUSTABLE BURNERS: For precise temperature control; PerfectFlow and PerfectHeat technology to keep the heat steady with less fuel
MATCHLESS LIGHTING: Push-button Instastart ignition for automatic, matchless lighting
EASY TO CLEAN: Chrome-plated grate is removable for easy cleanup; aluminized steel cooktop is rust-resistant
IMPROVED COOKING CONTROL: Improved knob rotation for the ultimate simmer control; two wind guards to helps shield and protect burners from wind
Bestseller No. 4
FAQs
How do I choose the right camping stove for my outdoor adventures?
Selecting the perfect camping stove hinges on your specific needs such as trip duration, the number of people, and meal complexity. Consider factors like stove type (canister, liquid fuel, alternative fuel), weight, and efficiency. Prioritize stoves that are reliable, easy to ignite, and have adjustable heat settings for diverse cooking needs.
What safety precautions should I take when operating a camping stove?
Safety is paramount with camping stoves. Always position the stove on a stable surface, away from flammable materials. Check connections for leaks, and never leave a lit stove unattended. Understand the fuel source your stove uses, and remember that altitude and temperature can affect stove performance. Always have a fire extinguishing method nearby.
Can you outline the basic steps for setting up and igniting a camping stove?
Certainly! Begin by connecting the fuel source to the stove, ensuring it's tightly secured. Place the stove on a level surface and turn the fuel valve on, then use a match or lighter at the burner to ignite the stove. Some stoves have a built-in ignition system for convenience. Once lit, adjust the flame as necessary for your cooking needs.
How should I maintain my camping stove to ensure longevity and reliable performance?
Regular maintenance is crucial. Post-trip, disconnect the fuel, and clean any residue from the stove. Periodically check for clogs in the burner and clean according to the manufacturer's instructions. For liquid fuel stoves, regularly lubricate the pump cup on the fuel pump. Always store in a cool, dry place.
Are there eco-friendly options or practices for stove camping?
Yes, environmentally conscious campers can opt for stoves that use renewable fuels like alcohol or wood. Practices like conserving fuel by boiling only the water you need, using a windscreen to increase efficiency, and proper disposal of fuel canisters also contribute to a reduced ecological footprint.
What types of cookware are compatible with camping stoves?
Compatibility depends on the stove design. Generally, compact and lightweight cookware is preferred for portability. Materials like titanium and anodized aluminum are popular for heat distribution. Flat-bottomed pans are ideal, but ensure the cookware size matches the burner size for efficiency. Nested sets can optimize packing space.
How does altitude and weather affect the performance of camping stoves?
Camping stoves are affected by external conditions. High altitudes may require a pressure regulator for consistent fuel flow. Cold weather affects fuel performance, especially with canister stoves; keeping the canister warm can improve performance. Wind can reduce heat efficiency, remedied by using a windscreen.