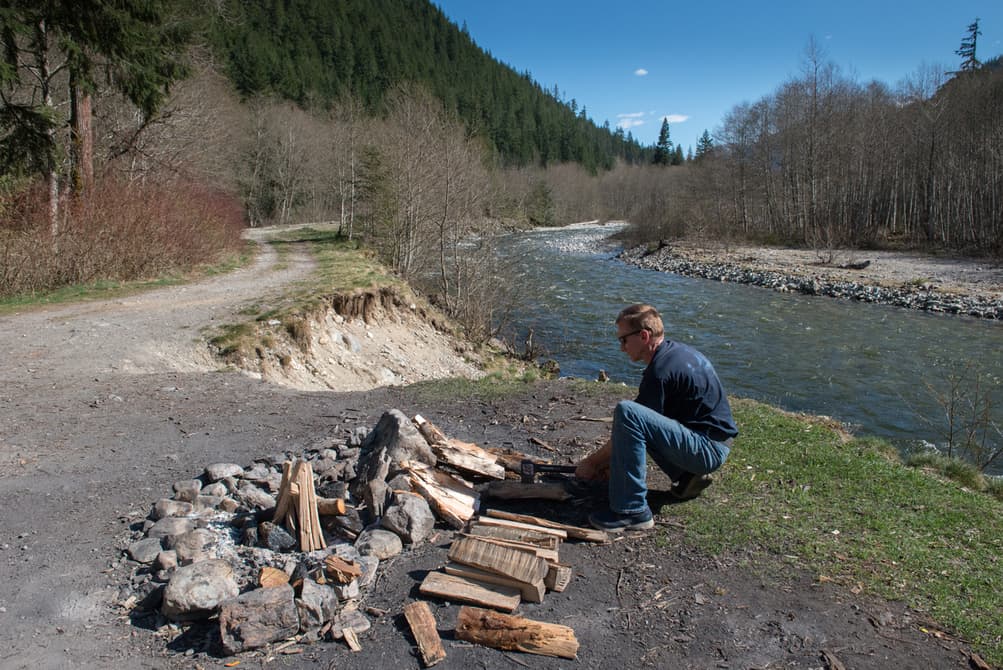 Embarking on an off-grid camping adventure can be thrilling yet daunting without the right supplies. A recent study shows that more people are gravitating towards this type of outdoor recreational activity for its raw and unfiltered connection with nature.
This comprehensive guide will outline everything you need to pack for a safe and enjoyable experience in the wilderness, from essential camping gear to clothing suggestions. Ready to conquer your next camping trip? Let's dive into the heart of self-sufficiency!
Key Takeaways
A good-quality tent, sleeping bag, light source (flashlight or lantern), water purifier or filtration system, multi-tool, first aid kit, fire starter, solar shower, portable generator, and solar charger are essential gear for off-grid camping.
When selecting a tent, consider factors like weather resistance and ventilation to ensure comfort during your off-grid camping experience.
Having a reliable light source like a flashlight or lantern for navigation and safety in the dark is important when off-grid camping.
Clean drinking water is crucial while camping. Investing in a high-quality water purifier or filtration system will allow you to treat water from natural sources.
A multi-tool is a versatile tool that combines various functions into one compact device and can help with tasks like fixing gear issues or preparing meals while off-grid camping.
A well-stocked first aid kit is vital for handling minor injuries or illnesses during outdoor adventures.
A fire starter is necessary for cooking food and providing warmth at your campsite. Choose from options like waterproof matches or handheld fire starters with flints or ferrocerium rods.
A solar shower allows you to enjoy warm showers even when away from modern amenities. It uses the sun's energy to heat water stored in a portable container with a built-in nozzle.
A portable generator provides power for charging devices and running small appliances while off-grid camping. Choose one suitable for your needs based on fuel type and size.
Essential Gear for Off-grid Camping
When going off-grid camping, it is crucial to have essential gear such as a good-quality tent, sleeping bag, light source (flashlight or lantern), water purifier or filtration system, multi-tool, first aid kit, fire starter, solar shower, portable generator, and solar charger.
Good-quality tent
A good-quality tent forms the cornerstone of any successful off-grid camping experience, offering a safe and comfortable shelter in the vast wilderness. It's essential to opt for one resilient against diverse weather conditions, ensuring it holds up under heavy rain, strong winds, or intense sunlight.
The best tents also provide ample ventilation to keep you cool during hot summer nights and reduce condensation. Additionally, consider its size and ease of set-up; a spacious tent with straightforward assembly allows you more time to enjoy exploring the great outdoors away from civilization, truly enhancing your camping adventure.
Make sure your choice is lightweight but sturdy – remember that every piece of gear makes a difference when going off-grid!
Sleeping bag
A sleeping bag is a non-negotiable item on your off-grid camping essentials list. Ensure you select one tailored to your campground's climate and weather conditions. Your go-to choice should be lightweight for easy mobility but sturdy enough to withstand the great outdoors.
A good-quality sleeping bag will provide warmth during cold nights and ensure a comfortable sleep after an adventurous day.
Different sleeping bags are designed for varying temperature ranges, from summer nights under the stars to freezing winter terrains. Therefore, choosing a suitable one is crucial based on your expected camping season. This gear can make all the difference in ensuring you enjoy a restful night.
Lastly, consider options with added features such as hoods for extra warmth and internal pockets for storing small items like flashlights or cell phones easily within reach when you're off-grid.
Light source (flashlight or lantern)
Navigating the great outdoors after sunset requires a reliable light source. A quality flashlight or lantern is an essential piece of gear for your off-grid camping adventure. These tools illuminate your campsite, aid in finding routes in the dark, and serve as signaling devices in an emergency.
Lanterns are ideal for casting wide, ambient light around your campsite, while flashlights offer targeted beams, perfect for specific tasks or walking paths at night. Choosing LED lights enhances visibility and conserves energy, aligning with off-grid camping principles.
Quick Tip: Check out our article "How To Make a Camping Bucket Light"
Also, whether you opt for battery-powered models or solar-charged units, ensure they're durable enough to withstand outdoor conditions during your camping trip.
Water purifier or filtration system
Clean drinking water is essential for any camping trip, especially when you're off-grid. Having a reliable water purifier or filtration system is crucial to ensure that you stay hydrated and healthy.
While natural water sources may seem pristine, they can contain harmful bacteria, parasites, and pollutants that could make you sick. Investing in a high-quality water purifier or filtration system will allow you to easily treat water from streams, rivers, or even stagnant ponds.
This means you won't have to carry heavy water bottles and can enjoy the convenience of having a fresh supply wherever your outdoor adventures take you.
Multi-tool
A multi-tool is a must-have item for off-grid camping. This versatile tool combines several useful functions into one compact device, making it perfect for tackling various tasks in the wilderness.
With features like pliers, screwdrivers, knives, bottle openers, and even wire cutters, a multi-tool can help you easily fix gear issues on the go, prepare meals, or handle unexpected situations.
Its portable and lightweight design ensures you can always have it within reach when needed. So whether you need to tighten tent stakes or open cans of food, a multi-tool is an essential piece of equipment that shouldn't be forgotten when planning your off-grid adventure.
First aid kit
A well-stocked first aid kit is an essential item to have when going off-grid camping. Accidents can happen, and it's important to be prepared for minor injuries or illnesses during your outdoor adventure.
A good first-aid kit should include band-aids, gauze pads, adhesive tape, antiseptic wipes, tweezers, scissors, pain relievers (such as ibuprofen), and any specific medications you might need.
A proper first aid kit will give you peace of mind knowing you're ready to handle small emergencies and care for yourself while enjoying the great outdoors.
Firestarter
A fire starter is an essential item for off-grid camping. It allows you to easily and quickly start a campfire, which is crucial for cooking food, staying warm, and providing light at your campsite.
Various types of fire starters are available, including waterproof matches, handheld fire starters with flints or ferrocerium rods, and even compact butane lighters. A reliable fire starter ensures you can start a fire in any weather condition or situation.
Remember to practice proper fire safety techniques when using a fire starter and fully extinguish the flames before leaving your campsite.
Here's a good video on how to start a campfire:
Solar shower
A solar shower is an essential item to have for off-grid camping. It allows you to enjoy a refreshing and warm shower even when you are far away from modern amenities. A solar shower uses the sun's energy to heat water stored in a portable bag or container with a built-in nozzle.
It's lightweight, easy to use, and requires no electricity or propane. Simply fill it with water and leave it out in the sun for a few hours, then hang it at your campsite when you're ready for your shower.
With a solar shower, you can stay clean and fresh during your off-grid camping adventures without sacrificing comfort or convenience.
Portable generator
A portable generator is a crucial piece of gear for off-grid camping. It gives you the power to charge your devices, run small appliances, and illuminate your campsite. Whether you're camping in an RV or tent, a portable generator will ensure that you have the conveniences of modern living while enjoying nature's beauty.
Generators are available in various sizes and fuel types, including gasoline, propane, and solar-powered options. They offer flexibility and peace of mind, knowing that you can still stay connected and powered up even when away from civilization.
Don't forget to pack extra fuel or solar panels to keep your generator running smoothly throughout your off-grid adventure!
Quick Tip: check out our article What Kind of Generator for Camping?
Solar charger
A solar charger is a must-have item for off-grid camping. It allows you to harness the sun's power and charge your electronic devices, such as smartphones, tablets, or cameras, wherever you are.
With a solar charger, you can stay connected and keep your essential gadgets powered up without relying on traditional electrical outlets. Not only is it convenient, but it's also environmentally friendly since it uses renewable energy.
So whether you capture beautiful moments in nature or use GPS to navigate unknown trails, a solar charger ensures you never run out of battery power during your off-grid adventure.
Tent Camping Must-Haves for Off-Grid Camping
When going off-grid for an adventure, a few tent camping must-have items will make your experience more enjoyable and comfortable. Here are three essential tent camping must-haves for off-grid camping:
Good-quality tent: A sturdy and reliable tent is crucial for off-grid camping. Look for a tent that is waterproof, easy to set up, and provides enough space for you and your fellow campers. Opt for a tent with good ventilation to prevent condensation buildup.
Sleeping bag: A high-quality sleeping bag will keep you warm and cozy during chilly nights in the great outdoors. Choose a sleeping bag that suits the expected temperature range of your camping location. Look for one with insulation material such as down or synthetic fiberfill.
Light source (flashlight or lantern): Having a reliable light source is essential when darkness falls. Pack a durable flashlight or lantern to navigate your campsite, find your way to the bathroom at night, or read inside your tent. Opt for LED lights, which are energy-efficient and long-lasting.
Summer Camping Essentials for Off-Grid Camping
Sunscreen: Protect your skin from harmful UV rays by applying sunscreen regularly throughout your off-grid camping trip.
Insect repellent: Keep pesky bugs at bay with a reliable insect repellent to avoid itchy bug bites.
Lightweight clothing: Opt for light and breathable clothing to stay cool in the hot summer while protecting yourself from the sun.
Hat and sunglasses: Shield your eyes and face from the sun's glare with a wide-brimmed hat and polarized sunglasses.
Extra water: Stay hydrated by bringing extra water bottles or investing in a hydration pack for longer hikes or outdoor activities.
Cooling towels or bandanas: Beat the heat using cooling towels or wet bandanas to keep you cool during hot summer days.
Portable fan: Consider bringing a portable fan to help circulate air inside your tent during hot nights, providing some relief from sweltering temperatures.
Additional shade options: Bring along a portable canopy or umbrella as an additional shade option when there is limited natural shade available at your campsite.
Summer camping requires special considerations due to the high temperatures. Ensuring proper protection against the sun and insects while staying cool is essential for a comfortable off-grid camping experience in the summer months.
Shopping List for Off-Grid Camping
To ensure a successful off-grid camping adventure, here is a shopping list of essential items you'll need:
Good-quality tent: Look for one with sturdy construction and weather-resistant features.
Sleeping bag: Choose a sleeping bag suitable for the expected temperature range.
Light source (flashlight or lantern): Opt for LED lights that are energy-efficient and long-lasting.
Water purifier or filtration system: Ensure clean drinking water with a reliable water purification method.
Multi-tool: A versatile tool that combines different functions like knives, pliers, and screwdrivers.
First aid kit: Stock up on essential medical supplies for any emergencies.
Firestarter: Bring waterproof matches or a fire starter kit to start fires easily.
Solar shower: Stay clean and refreshed with a portable solar shower that heats water using the sun's energy.
Portable generator: If you require additional power, consider investing in a portable generator designed for camping use.
Solar charger: Keep your electronic devices charged by harnessing the sun's power.
Sale
Bestseller No. 1
WEIYII Camping Shower, Portable Shower for Camping 5 Gallons/20L Solar Heating Shower Bag with Removable Hose and On-Off Switchable Shower Head for Camping Beach Swimming Outdoor Traveling Hiking
New Model: Flow rate description: 1.43 GPM Flow rate description: 1.43gpm. The camping shower with Removable Hose and the upgraded solar shower head offers an easy-to-open/close switch with low to high water flow. The hot camping shower is very convenient to control water yield. The outdoor water shower provides high-quality after-sales service to ensure your shopping experience. We can replace or refund your products immediately if they fail.
Portable Solar shower bag Temperature Design: The hot camping shower heay water to 113°F (45°C) in 3 hours with direct sunlight. Ultra-lightweight and foldable, easy to carry, easy to store, suitable for home shower and outdoor camping travel hiking shower in summer, feel en-suite. It can provide portable shower.
Outdoor shower bag environmental and durable: This 5 gallon shower bag made of PVC non-toxic and eco-friendly material which are safe to human health. The shower bag with strong handles and strengthened plastic tubes make it more solid and durable, the front pocket design help you to hold some shower accessories.
Practical Shower & Mesh Pocket: Outdoor water shower equipped with a large shower head and soft hose, just turn the switch on the shower head to easily control the water flow and bring you a better shower experience! The front mesh pocket can hold mini travel essentials such as bath milk, shampoo, soap, facial cleanser, razor, nail clippers, etc.
Wide Application: This useful bag can carry up to 5 gallons water for showering outdoor, let you enjoy a nice and refreshing shower anywhere. And it is great for camping, hiking, fishing, climbing, surfing, beach playing or other outdoor activities. Add it to your outdoor gears as it's a MUST HAVE for your families when going outdoors.
Bestseller No. 2
Sale
Bestseller No. 3
12 Pack Natural Mosquito Repellent Pouches for Outdoor, Indoor, Patio, Yard, Camping, Travel, Citronella Oil Mosquito Deterrent to Keep Mosquito Away, Safe for Kids and Adults
Powerful Mosquitoes Repellent: Our mosquito repellent for Yard are made with natural Ingredients: Citronella oil, Lemongrass oil and Rosemary, which proven to effective to keep mosquito far away from your home and out of your yard.
Deet Free, Natural & Safe: Our mosquito repellent pouch with botanical extracts is non-toxic, without chemical, safe for kids, adults pets and plants when used as directed.
Long Lasting Protection: The offensive odor for mosquito control will last up to 60-90 days. Long lasting scent will create a natural barrier around areas you. Each mosquito repellent pouch is INDIVIDUALLY packed in a sealed bag to keep active.
Suitable for Outdoor & Indoor: Our natural mosquito repellent is small size and lightweight. Perfect for indoor and outdoor activities: camping, traveling, sports, fishing, patio, yard. Just enjoy your Tourism with your familes.
Easy to Use: Just tear off the sealed bag and place the mosquito pouch to the place where there are many mosquitoes, ticks, biting flies, gnats and chiggers. The effective protection area is 120 sq ft. Natural mosquito repellent pouches to protect your family and friends from mosquitoes and insects. Perfect for patio, swimming pool, pond, balcony, basement, garden and other places with lots of mosquitoes.
Additional Items for Off-grid Camping
Don't forget bug spray, bear protection, appropriate clothing, a proper backpack, and compact cookware! Read on to discover more essential items for your off-grid camping adventure.
Bug spray
Bug spray is an essential item to bring along on your off-grid camping adventure. When you spend time in nature, bugs can quickly become a nuisance and potentially ruin your experience.
Mosquitoes, ticks, and other biting insects are annoying and can transmit diseases. Applying bug spray will help repel these pests and keep them at bay while you enjoy the great outdoors.
Additionally, it's important to choose a bug spray that contains DEET or another effective active ingredient to ensure maximum protection against insects. Protect yourself from bites and potential illnesses by packing a reliable bug spray for your next off-grid camping trip.
Protection against animals (bear spray or bear canister)
When camping in off-grid locations, preparing for encounters with wild animals, especially bears, is crucial. It is recommended to bring bear spray or a bear canister to ensure your safety and prevent any unwanted interactions.
Bear spray is a powerful deterrent that can effectively ward off aggressive bears, while a bear canister provides secure storage for food and scented items, keeping them out of reach from curious wildlife.
By taking these precautions, you can enjoy your off-grid camping adventure with peace of mind knowing that you are protected against potential animal encounters.
Appropriate clothing for the weather
Choosing appropriate clothing for the weather is crucial when going off-grid camping. The right clothing can significantly affect your comfort and overall experience. Always check the weather forecast before packing, and consider daytime and nighttime temperatures.
Dressing in layers is key, allowing you to adjust your clothing based on changing conditions. Opt for moisture-wicking fabrics that keep you dry if you sweat or encounter rain. Don't forget to pack warm socks, a hat, and gloves for cooler evenings or colder destinations.
Also, bring quick-drying clothes that are easy to wash if needed. Being prepared with suitable clothing will ensure you stay comfortable throughout your off-grid camping adventure.
Proper backpack for carrying essentials
When heading out for off-grid camping, having a proper backpack for carrying your essentials is crucial. Look for a backpack that is durable, comfortable to wear, and has plenty of storage compartments.
Opting for a backpack with adjustable straps will allow you to customize the fit and distribute the weight evenly across your back. Consider one with multiple pockets and compartments to help you stay organized and easily access your gear.
Additionally, look for a waterproof backpack or a rain cover to protect your belongings from unexpected showers during your outdoor adventures. With the right backpack, you can confidently carry all your necessary items while enjoying the freedom of off-grid camping.
Check out our backpacking tips post for more information.
Compact and lightweight cookware
Having compact and lightweight cookware is essential for off-grid camping as it allows you to prepare meals easily while taking up minimal space in your backpack or campsite. When selecting cookware, opt for materials like aluminum or titanium that are durable yet lightweight.
Additionally, look for nesting sets or collapsible pots and pans that can be neatly packed together to save space. Remember, having the right cooking equipment will make mealtime a breeze during your off-grid camping adventure.
Safety and Preparedness for Off-grid Camping
Ensure your safety while off-grid camping by telling someone your itinerary, learning basic wilderness survival skills, and respecting wildlife. Stay prepared for potential risks and hazards and navigate without GPS or cell service.
Discover more essential tips for a safe and enjoyable off-grid camping experience!
Telling someone your itinerary and expected return date
It's always important to let someone know about your off-grid camping plans, including your itinerary and expected return date. This step is crucial for safety reasons as it ensures that someone knows where you are and when to expect you back.
This information will help search and rescue teams locate you quickly in case of unforeseen emergencies or accidents. It's recommended to provide detailed information about the route you plan to take, the campsites or destinations along the way, and any checkpoints or landmarks.
Remember, even if you're an experienced camper, sharing your plans with a trusted friend or family member can make all the difference if something goes wrong during your adventure into the great outdoors.
Knowing the area and potential risks or hazards
Knowing about the area in which you plan to go off-grid camping is essential for a safe and enjoyable experience. Familiarize yourself with the potential risks or hazards that may be present, such as weather conditions, wildlife encounters, or challenging terrain.
Understanding the local flora and fauna can help you avoid poisonous plants or dangerous animals. Additionally, knowing how to navigate without GPS or cell service is crucial in case of emergencies.
Being prepared and aware of your surroundings can ensure a successful off-grid camping adventure.
Understanding how to navigate without GPS or cell service
When you're off-grid camping, it's important to understand how to navigate without relying on GPS or cell service. Technology may not always be reliable in remote areas, so having basic wilderness navigation skills can make a big difference.
Familiarize yourself with reading maps and using a compass, as these tools will help you find your way when no electronic devices are available. Additionally, learning how to identify natural landmarks and trails can also assist in orienting yourself in unfamiliar terrain.
By acquiring these essential skills, you'll feel more confident exploring the great outdoors, even without modern technology.
Basic wilderness survival skills
Knowing basic wilderness survival skills is crucial for off-grid camping. Understanding how to navigate without GPS or cell service can help you find your way in case you get lost. Learning basic first aid techniques can save a life in case of an emergency.
Knowing how to start a fire and build a shelter using natural resources will keep you warm and protected. Respecting wildlife and following Leave No Trace principles helps preserve the environment for future campers.
Being prepared with these skills ensures that you're ready to handle any situation that may arise during your off-grid camping adventure.
Respecting wildlife and Leave No Trace principles
Respecting wildlife and adhering to Leave No Trace principles are crucial in off-grid camping. By respecting the natural environment and the creatures that inhabit it, you can help preserve the beauty of the outdoors for future generations.
Avoid feeding or approaching wild animals, as this can disrupt their natural behavior and put both them and yourself at risk. Dispose of waste properly by following the principles of Leave No Trace, which include packing out all trash, burying human waste in a cathole at least 200 feet from water sources, and leaving natural objects as you found them.
By practicing these principles, you can minimize your impact on the environment and ensure a sustainable camping experience for everyone involved.
Food and Water for Off-grid Camping
Don't forget to pack enough food and water for your off-grid camping trip – it's essential for staying nourished and hydrated outdoors. From planning meals to knowing how to find and treat water sources, we've got you covered with all the tips you need.
Read more about ensuring a successful food and water supply on your next off-grid camping adventure.
Planning and packing enough food for the duration of the trip
Packing enough food for your off-grid camping adventure is essential to ensure you have sustenance throughout your trip. When planning your meals, consider non-perishable and lightweight options that are easy to pack and require minimal preparation.
Shelf-stable foods like dried fruits, nuts, granola bars, and canned goods are great choices. Also, don't forget to bring a water filter or purification tablets as a backup if you need to treat water from natural sources.
Knowing how to find and treat water sources in the wilderness is important for staying hydrated during your off-grid camping experience. So stock up on food supplies and prepare accordingly for a worry-free outdoor getaway!
Considering non-perishable and lightweight options
When packing food for your off-grid camping trip, it's important to consider non-perishable and lightweight options. This ensures that your food stays fresh and easy to carry without taking up too much space in your backpack or cooler.
Non-perishable foods like canned goods, dried fruits, nuts, granola bars, and jerky are great choices as they have a long shelf life and don't require refrigeration. Additionally, opting for lightweight options such as dehydrated meals or pre-packaged camping meals can significantly reduce the weight you need to carry while still providing nutritious sustenance during your outdoor adventure.
By planning and selecting these types of food items, you'll be well-prepared for delicious meals that won't spoil on your off-grid camping trip.
Packing a water filter or purification tablets for backup
A water filter, or purification tablets, is one of the most important items to pack for off-grid camping. Clean drinking water may not always be readily available when exploring remote areas.
A backup method to purify water is crucial for staying hydrated and preventing illness. Water filters are designed to remove impurities like bacteria, protozoa, and sediment from natural water sources, making it safe to drink.
Purification tablets can also be used as an alternative method for treating water by killing bacteria and viruses. With these essential tools in your backpack, you can ensure a safe and enjoyable off-grid camping experience without worrying about contaminated water sources.
Quick Tip: If you like going off-grid, maybe you'll like Cowboy Camping.
Knowing how to find and treat water sources in the wilderness
One crucial skill for off-grid camping is finding and treating water sources in the wilderness. Clean drinking water is essential for staying hydrated and healthy when you're out in nature.
You can use several methods to locate water sources, such as looking for signs of vegetation or listening to the sound of flowing water. Once you've found a potential source, treating the water before consuming it to remove any harmful bacteria or contaminants is important.
Using a portable water filter or purification tablets can help ensure the water is safe to drink. Always prioritize your safety by being cautious about where you collect your water and taking necessary precautions to avoid contamination.
Properly storing and disposing of food waste
Properly storing and disposing of food waste is crucial when camping off-grid. Not only does it help keep your campsite clean and odor-free, but it also helps prevent attracting wildlife. Ensure any leftover food is stored in airtight containers or sealed bags to prevent animals from getting into it.
Dispose of food waste properly by either packing it out with you or using designated trash bins, if available. Remember, leaving behind food waste can disrupt the natural ecosystem and potentially harm the wildlife around you.
By being responsible for your food waste, you can help maintain a pristine environment for future campers.
Conclusion
Having the right gear for off-grid camping is essential for a successful and enjoyable experience. From a good-quality tent and sleeping bag to a water purifier and multi-tool, each piece of equipment plays its part in ensuring your safety and comfort in the great outdoors.
Don't forget to pack essentials like a first aid kit, fire starter, and solar charger to stay prepared for any situation. With the right supplies, you'll be ready for an unforgettable off-grid camping adventure.
Sale
Bestseller No. 1
Survival Kit and First Aid Kit, 142Pcs Professional Survival Gear and Equipment with Molle Pouch, for Men Dad Husband Who Likes Camping Outdoor Adventure (Black)
【Christmas gift ideas】 High-quality comprehensive emergency survival first aid equipment, best gifts for men, father, family, friends. You can enjoy a more relaxed and safe adventure with our survival kit. If you and Your family, are not satisfied with our product, please contact us in time, we will serve you wholeheartedly.
【A Must Have Survival First Aid Kit】LUXMOM survival kit is unique in that it was specifically designed by survival experts. The comprehensive survival kit not only includes 21pcs multipurpose survival tools, but it also offers 106pcs first aid kit, and a fishing tools set which can meet your different needs and provide the most safest and comprehensive protection for any outdoor activities like camping, hiking, car travel, climbing, boating, etc.
【Wide application range】This survival kit is great for firefighters, first aid personnel, hikers, campers, outdoor sports enthusiasts, etc. It is idea for car, ship, bicycles, motorcycles, workplace, travel, shooting, hunting, camping, hiking, fishing, boating, cycling, outdoor sports, wilderness adventure and other activities.
【Practical Survival Gears & First Aid Kit】LUXMOM emergency kit contains the most popular survival accessories: Hatchet, 3-mode flashlight, Multifunctional Card, Survival Bracelet, Dual-tube Whistle, Wire Saw, Parachute Cord, Emergency Blanket, fire starting tools, fishing tools, comprehensive first aid kit, etc. All these gears can make sure that the wound can be treated in time to prevent infections.
【Compact Lightweight & Durable】All items are neatly arranged in a 600D nylon bag measuring 9 inches x 6 inches x 5 inches. Easy to carry, small and lightweight, can hold all the 142pcs emergency supplies and survival tools. There is still room to add your own gear. The Molle compatible straps on the back allow you to attach it to other bags or your belt, which made it a perfect companion for any outdoor activities.
Bestseller No. 2
Stanley Perfect Brew Pour Over Set with Camp Mug- Reusable Filter – BPA-Free – Easy-clean Stainless Steel Coffee Maker – Hammertone Green
Note: 1)Too coarse a grind, too little coffee, or insufficiently tamping the grounds before brewing can all lead to inadequate pressure for a proper brew. 2)It is important to note that the amount of espresso extracted will vary depending on the grind size and amount and refinement may be needed when the size and amount are adjusted
BEST BREW EVERY TIME: Refresh your coffee experience with Stanley products coffee maker! The Stanley Pour Over coffee maker is a traditional way to brew using a Stainless Steel filter. Brew pour over coffee like a pro at home. It is easy to use, and environmentally friendly
STAINLESS STEEL FILTERS: The stainless steel design is stylish and non-breakable. The stainless steel filter helps extract your coffee's aromatic oils and subtle flavors instead of being absorbed by a paper filter. It's a smarter option for your coffee. The perfect solution for brewing your fresh brewed coffee at home, in your office, or outdoors
EASY TO USE: Pour the desired amount of coffee into the filter, place on top of a cup, coffee mug, slowly pour in the hot water, let the coffee maker drip out the water through the fine pour over filter, and remove the coffee dripper when done. Now you are ready to enjoy your drink
EASY TO CLEAN: Once done using the coffee brewer, rinse it quickly by hand and immediately use it again within 2-3 minutes for another flavor. Since it is a reusable coffee strainer made from stainless steel, it is better quality than plastic, ceramic, or glass coffee filters, it saves you money not buying paper coffee filters
Bestseller No. 3
OlimpiaFit Quick Dry Towel – 3 Size Pack of Lightweight Microfiber Travel Towels w/Bag – Fast Drying Towel Set for Camping, Beach, Gym, Backpacking, Sports, Yoga & Swim Use
COMPACT DESIGN – This sports towel set is packable for the gym, beach, and anywhere else you need them. They can easily be condensed in size 4x smaller than a camping towel of the same size.
FAST DRYING – Made with fibers that are much thinner than a standard microfiber towel, our quick dry towels have 4x as much surface area, allowing them to absorb more water and dry up to 3x as fast.
MULTIPURPOSE – Each set includes 3 lightweight travel towels in the sizes 50″x30″, 30″x15″, and 15″x15″. Use them as swim towels to dry off, gym towels during a workout, or small beach towels on vacation.
HIGH QUALITY – Every microfiber travel towel is made with premium material that shares the same smooth qualities as satin. They're also super absorbent, odor-resistant, and won't smell after drying.
SOFT – If you're looking for a packable beach towel or swim towel, give this one a go! It has a slip-resistant surface and extra plush microfiber that is oh-so-gentle on your face, body, and skin.
Sale
Bestseller No. 4
CL Thermal Underwear Long Johns for Men,Hunting Gear Sport Top and Bottom Set Winter Base Layer Long Underwear for Outdoor
Extreme Warmth and Comfort: Perform your best, even on a chilly day when you wear CL fleece thermal underwear ! Adding some extra cozy, warm fleece to the mix, CL long johns for men amazingly help to tackle cold weather conditions and keep the comfort you crave. Made from 90% polyester and 10% spandex super soft fabrics, they also help reduce pilling and shrinkage. Prepare yourself for the cold with these fleece lined thermal underwear for men!
Strong Moisture Wicking(Without the Sweaty Mess): Our fans say the unique breathable, moisture-wicking fibers on CL thermal underwear will wick away moisture to keep you dry with no sticky or clammy feeling so you can wear them all day for your work or snow adventure. The smiles on men's faces will tell you how satisfied with this thermal underwear set.
4-Way Stretch Insulated Underwear: While adopting the design of the Four-way stretch, we improved the crotch and armpit according to the feedback of market customers. make the reach and squat more comfortable while retaining excellent elasticity and durability for maximum mobility. CL uses high-quality stitching for thermal leggings and long sleeve shirts to beat super-active days and many muddy adventures.And insulated design let you get rid of static trouble in dry autumn and winter.
Easy Care Of Base Layer Set:Our men's base layer top and bottom are set with no labels in order to obtain greater comfort, which can reduce any skin irritation. You can slip them on and off easily and can be worn under your clothes for added insulation and at the gym for added support and movement. And these men's thermal underwear will not fade after washing. The highest dyeing fastness even after multiple washing will not fade and shrink.
For Any Occasion: We stock these crew or turtle neck thermals for men in a wide range of sizes. The thermal set is fitted with elastic for added comfort to keep tops and bottoms from falling down or bunching up (even on long hiking), and if your family enjoys hunting, camping, snowboarding, skiing, cycling, or running then CL makes a great base layer. Also it is good to wear at home or as a base layer under your coats, it will warm you as comfy pajamas on cold nights.
Bestseller No. 5
SZHLUX Camping Hammock Double & Single Portable Hammocks with 2 Tree Straps and Attached Carry Bag,Great for Outdoor,Indoor,Beach,Camping,Light Grey/Sky Blue
Adjustable Tree-friendly Straps: Each strap 10 feet long with 18+1 loops,Makes setting up a breeze. so you can adjust it to the perfect height. No need to tie any knots and not damaging the trees.
2 Person Hammock:Camping hammocks can easy supports up to 400lbs weight and its unfolded size is 106.3"L x 55.1"W,which can accommodate 2 adults Sit side by side or 4 children without being crowded.and it is very easy to fold and put away.Don't hesitate!get it.
Durable & Comfortable Hammock For camping essentials:Made of 210T parachute fabric material, has excellent antifraying, anti-tearing, dirty resistance. Easy to be cleaned and dry quickly after being wet. The super soft material will bring you the amazing experience when you relaxing in the portable hammock
Easy To Carry For Camping Gear Must Haves:This hiking hammock is easily packed in the attached stuff sack with bundled size 6.2*4.7*3inches and weight 1.8lbs only. You can hang it on your backpack and bring it to everywhere you want,which make it to be perfect portable hammock for outdoor travel.
Camping Gifts:No matter the occasion,our camping hammock is a must-have gift for every adventurer. It's the perfect companion for upcoming camping trips and ideal for your fall outdoor escapades!
Bestseller No. 6
LcFun Waterproof Lighter Outdoor Windproof Lighter Dual Arc Lighter Electric Lighters USB Rechargeable-Flameless-Plasma Cool Lighters for Camping, Hiking, Adventure, Survival Tactical Gear
❤️Waterproof Design ▶ waterproof lighter, metal-ring sealed lighter cover and locking clasp, IP56 WATERPROOF SYSTEM, water does not seep inside, no fear of rain, this waterproof lighter is your best choice when you go camping, travelling, survival tactical or hiking, arc lighter waterproof.
❤️Multipurpose ▶ windproof and flameless, usb chargeable lighter, it is a perfect outdoor lighter, camping fire starter tool, emergency equipment, EDC Camping survival gear, gadgets for men and more.
❤️Economic & Eco-Friendly ▶ build-in rechargeable lithium battery, usb rechargeable electronic lighter, no gas or butane required, no more refilling, save you money, clean and convenient. About 2 hours full charged. There are obvious current voice when using, fashion and cool lighter.
❤️Convenient & Durable ▶ come with a thick paracord lanyard for better carrying during camping, hiking or other outdoor adventure. High-quality ABS and Zinc Alloy material, durable.
❤️After-sale Service ▶ 60 day guarantee, if you aren't love your lighter or any questions, please free to contact us, we are ready to help, we will provide a perfect solution.
Sale
Bestseller No. 7
Durecopow Solar Charger, 20000mAh Portable Outdoor Waterproof Solar Power Bank, Camping External Backup Battery Pack Dual 5V USB Ports Output, 2 Led Light Flashlight with Compass (Orange)
High-Quality Portable Solar Charger – water-resistant, shock-resistant and dustproof solar phone charger, featured with carabiner, compass, and 2LED flashlight. Solar power bank provides more convenience in your daily or on your trip. Awesome for outside activities such as camping, hiking, and other emergency use. The solar USB battery pack can be regards as a nice gift.
Two Charging Way – External battery charger with solar panel can recharge by solar or outlet. Compatible with your iPhone, Samsung, HTC, Nexus, Go-pro Camera, Tablets and other USB devices. More than 1000+ recharge lifecycle.
Dual USB and Powerful LED Light – It makes it easy to charge two smartphones simultaneously or a tablet at full speed. 2 led lights can be used as flashlight with Steady-SOS-Strobe mode. Five pilot indicators show the status of the battery charger timely. The green light on when charging by a solar, blue light on when USB charging.
Safety for Use – Made of eco-friendly silicone rubber and ABS PC material. CE, FCC, RoHS certified, reliable and durable. Solar charging is a charging way for emergency use, and solar panel charging efficiency will be influenced by natural conditions and random factors, such as day and night, season winter and summer, sunny, cloudy, rainy, and so on, so it may take a long time to be charged.
Best Warranty for Solar Phone Charger – 12 months Warranty, 24h online after-sales service, Friendly replace policy. We take pride in the quality of our products. Any related issues are guaranteed with friendly REPLACEMENT or REFUND, and also support 24h online after-service. Please CONTACT US if you have any problems with the items from HQT-US Store.
Sale
Bestseller No. 8
PTEROMY Hooded Rain Poncho for Adult with Pocket, Waterproof Lightweight Unisex Raincoat for Hiking Camping Emergency (Black)
[PREMIUM MATERIAL] This rain poncho is made from lightweight yet durable and rip-resistant polyester material. Seams are sealed with waterproof backing material to guarantee no rain will leak from them. Each corner is reinforced and comes with a grommet. Quality buttons along the side are added to help in windy weather. A brim is incorporated in the hood to help you see better
[REUSABLE AND EASY TO CARRY] This rain poncho is easy to fold and weighs only 10.5 oz after being packed in the compact storage pouch, which made it super easy to carry in a backpack or sling bag of any size. Use clean water to wash off any dirt after each use and the polyester material will dry superfast
[3 IN 1 FUNCTIONAL] Unlike traditional rain coat or rain suit, the rain ponchos for adults are made practical. It can be used flat on the ground as a camping tarp. The grommets on each corner can be used to set it up as an emergency shelter or cover the goods such as backpacks or other camping gear
[VERSATILE APPLICATION] One size fits most. PTEROMY rain ponchos adult is designed breathable and will keep you dry for outdoor activities of any kind such as hiking, camping, picnic, and outdoor game watching. Great gift idea for hunting gear for men, rain gear, or bushcraft gear
[PTEROMY BRAND QUALITY COMMITMENT] We stand behind the quality of our products. If for any reason you are not satisfied with your purchase, please contact us. We provide 30-day money back and lifetime warranty. 100% Satisfaction Guarantee for risk-free shopping!
Sale
Bestseller No. 9
Camp Field Camping Folding Aluminum Table with Adjustable Legs for Outdoor Travel Beach, Backyards, BBQ, Party and Picnic Foldable Table
Easy to install and fold up.Overall Dimensions:L47.24"*W18.5"*H27.36"; Folded Dimensions:L23.62*W18.5*H3.96"Hold up to 68lbs, velcro and storage canvas
Foldable camping table: This convenient camp table folds up easily for storage and transport, making it ideal for camping trips and outdoor adventures.
Versatile and practical: Whether you need a place to cook, eat, or play games, this foldable camping table is a must-have accessory for any outdoor adventure. Its compact size and lightweight construction make it easy to bring along wherever you go.
Compact and space-saving: This camp tables portable foldable design makes it a great choice for those with limited space in their vehicle or campsite. It's also easy to store when not in use.
Multiple Uses: Use this camp table as a grill table, picnic table, or to hold your lantern and other camping gear. It's suitable for all your outdoor activities.
Bestseller No. 10
Yuzonc Camping Sleeping Pad, Ultralight Camping Mat with Pillow Built-in Foot Pump Inflatable Sleeping Pads Compact for Camping Backpacking Hiking Traveling Tent
【Extra Wide & 4″ Thick】 This self-inflating camping pad is up to 79*27.5*4 inches, after inflating keeps you away from the uneven ground and hard rocks. The extra thick air cells and built-in pillow are designed to relieve back and neck pressure, ensuring maximum comfort and warm for your sleep all night!
【30s Inflate & 1s Deflate】Save your time and efforts! Built-in pump needs only 30-60s to fully-inflate the camping mat, just simply step or press on it. No longer needs to inflate with your mouth or a pump. Only 1 sec to quickly deflate. The upgraded air release valve has double-layer valves. Never worry about air leaking!
【Durable 40D Nylon】 Camping sleeping pad made of outdoor-grade 40D nylon and inner TPU sealing coating. Durable, hard wearing, no tearing and easy to clean. Ergonomic design allows you to sleep comfortablely even in rough outdoor environments. Our inflatable camping mattress have undergone strict quality inspection, so please use them with confidence.
【Ultralight & Easy to Carry】 The ultra-light self inflatable sleeping pad is weighed and sized only like a water bottle. Inbuilt pillow saves you the trouble of carrying an extra one. This air mattress can easily fit in your backpack, perfect for hiking, camping, backpacking, traveling, climbing, hiking and other outdoor activities.
【Get One More for Twin Bed】 Our camping pads are equipped with buttons on the side, you can easily connect another one to create a double bed, making a wider space for more comfort sleeping. Perfect for you to go camping with your families and friends. Also, it comes in different colors on each side, more fashionable than others.