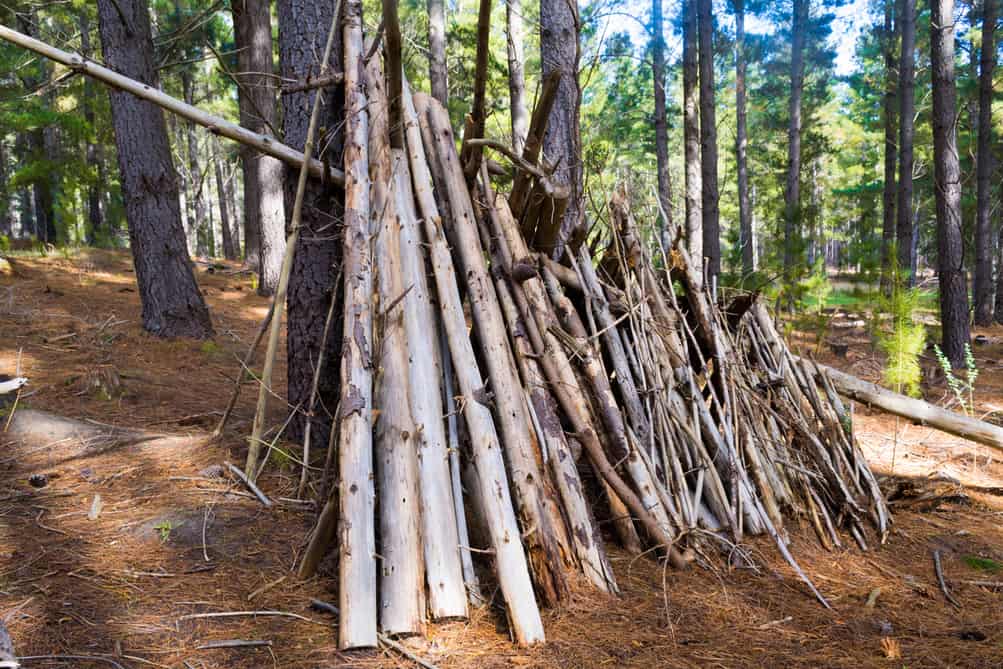 When embarking on an adventure into the wilderness, whether it's for dispersed camping (or off-grid camping) or a more structured trip, understanding the fundamentals of survival becomes paramount. One of these fundamentals is the ability to build a survival shelter. Knowing how to construct a refuge could mean the difference between a comfortable night and exposure to harsh elements.
The Importance of Building a Temporary Shelter While Camping
A shelter is more than just a place to rest your head while camping. It is a shield that protects you from the unpredictability of weather, a barrier that keeps wild animals at bay, and a cocoon that provides a sense of safety and comfort in an otherwise potentially hostile environment—the importance of building a shelter while camping cannot be overstated.
A shelter's primary function is to help maintain your body temperature, protecting you from extreme cold or heat. This is particularly crucial during the night when temperatures can fluctuate drastically. A well-built shelter can prevent hypothermia or heat stroke, either of which can be deadly in survival situations.
Another important survival skill is knowing How To Make Fire With Sticks.
Even if you're armed with the latest camping gear, such as high-quality tents, understanding how to build a survival shelter using only the materials available in your immediate environment is a vital skill every outdoor enthusiast should possess. Unpredictable circumstances can arise – gear can be lost, damaged, or inadequate in the face of severe weather conditions. In such instances, the ability to construct a shelter from scratch becomes not just a nicety but potentially lifesaving.
You might want to bring some off-grid communication gear in case of emergency.
Techniques for Building Temporary Shelters
Different circumstances call for different types of shelters. Here we discuss three fundamental structures that are easy to build and effective at providing protection: the lean-to, the A-frame, and the debris shelter.
Lean-To Shelter
The lean-to is a simple yet effective type of shelter. Ideally, you'll want two trees close enough to tie a rope between them. Lay a long branch or a tarp across the rope, and prop up one side with tree branches at an angle. Cover this structure with leaves or other natural materials for insulation. The open side should face away from the wind for maximum protection.
A-Frame Shelter
An A-frame shelter, named for its characteristic shape, is another excellent option for a survival shelter. Begin by finding a long, sturdy branch and resting it on two trees or rocks. Then, lean smaller branches along the length of the main branch, creating a 'frame.' Finally, cover this frame with leaves, grass, or a tarp to create a shield against the elements.
Debris Shelter
A debris shelter is a fantastic option when you're short on materials but surrounded by natural debris. Start by building a frame similar to an A-frame shelter. Then, pile leaves, grass, and small branches onto it. A well-constructed debris shelter can provide excellent insulation and protection against wind and rain.
Materials for Building Temporary Shelters
Knowing the types of shelters is essential, but understanding the materials you need to build a shelter is equally crucial. These materials can range from items you've brought, such as tarps or ropes, to natural resources you find in your environment, like branches or leaves.
Tarps
A tarp is a versatile tool in shelter construction. Lightweight and compact, one or more tarps can form the roof of your lean-to or A-frame shelter. Furthermore, they provide excellent water resistance.
Ropes and Cordage
Ropes are essential for tying branches together and securing your tarp. Paracord, a lightweight nylon rope, is popular among outdoor enthusiasts due to its strength and durability.
Tent Poles
While only sometimes readily available in the wilderness, carrying a few lightweight tent poles in your backpack can make shelter building significantly easier. They can serve as the frame for your shelter, providing stability and structure.
Duct Tape
Never underestimate the power of duct tape. It can help secure your shelter, patch holes in your tarp, and serve many other survival needs. Its durability and water-resistant properties make it a valuable addition to any survival kit.
Natural Materials (Leaves, Branches, Pine Needles)
In an actual survival situation, you will likely rely heavily on natural materials. Leaves and pine needles provide excellent insulation, helping to maintain warmth inside your shelter. Branches can serve as the main structure for your shelter, providing a sturdy frame that can be further fortified with other materials.
Tips for Building a Sturdy and Comfortable Shelter
Building a sturdy and comfortable shelter requires careful consideration and planning. Here are some tips to help you construct a robust shelter that provides maximum comfort and safety.
Choosing a Suitable Location
The location of your shelter plays a critical role in its effectiveness. Look for a flat area, preferably slightly elevated, to avoid water pooling around your shelter in case of rain. Ensure no dead trees or branches overhead could fall on your shelter. The location should also be safe from landslides, avalanches, or flooding.
Quick Tip: Good navigation skills can help you find an ideal spot for building a temporary shelter. Learn more about navigating in the wilderness.
Considering the Weather Conditions
When building your shelter, consider the weather conditions. The direction of the wind, the likelihood of rain, and the temperature should all influence your shelter's design and location. For example, if it's cold, you should build your shelter near a rock wall that can reflect heat from a fire back into your sanctuary.
Using Readily Available Materials
While it's beneficial to have tarps, ropes, and poles, you might only sometimes have these items available. In such cases, using readily available natural resources can be a lifesaver. Look around for fallen branches, leaves, and other debris that could be useful in your shelter building.
Ensuring Adequate Ventilation
While it's essential to keep out the cold, your shelter also needs ventilation, especially if you plan on having a fire nearby. Smoke inhalation can be deadly, so make sure there's a way for the smoke to escape. Proper ventilation also helps regulate the temperature and reduces the condensation inside your shelter.
Safety Tips to Follow During Shelter Building
Safety should always be your priority when building a shelter. Be careful when handling sharp tools or when lifting heavy materials. Stay hydrated and take breaks when needed to avoid exhaustion. Remember, a well-built shelter is only beneficial if you're safe and healthy enough to use it.
Conclusion
Building a temporary shelter in the wilderness is a vital survival skill. It requires understanding different types of protection like the lean-to, A-frame, and debris shelters. You must also know how to use various materials, including tarps, ropes, and natural elements. With practice, anyone can learn to build a survival shelter. It's a skill that fosters confidence and independence, preparing you for whatever adventures await in the great outdoors. Remember, the key to successful shelter building is preparation, resourcefulness, and understanding your environment.