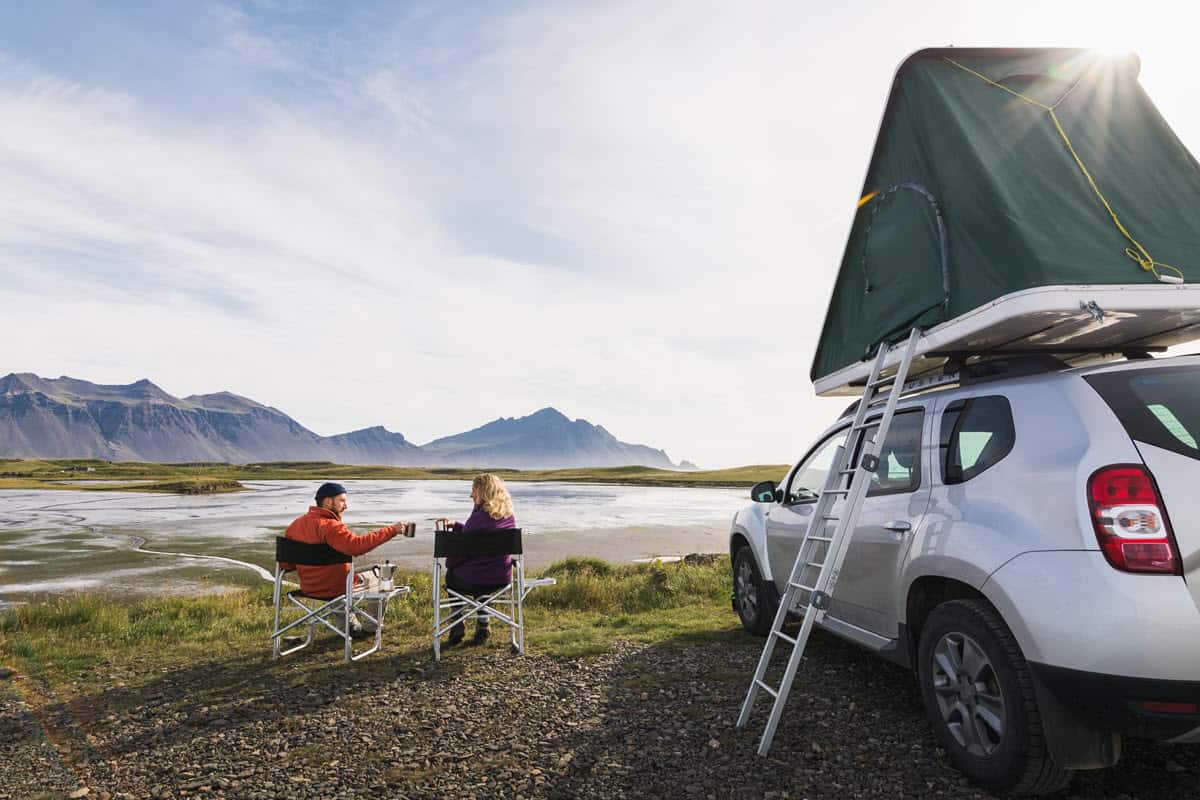 This comprehensive guide will walk you through every aspect of your car camping checklist, ensuring no stone is left unturned regarding supplies needed for your next outdoor escapade.
With our expert tips and recommendations, we'll help you prepare the ultimate car camping essentials list so that you can enjoy your trip with peace of mind.
Key Takeaways
A comprehensive car camping checklist should include essential gear such as shelter, sleeping gear, cooking and food supplies, clothing, personal items, navigation, safety equipment, and water and hydration.
Additional comfort and relaxation items like portable hammocks, camping chairs, or blankets can make your trip more enjoyable. At the same time, repair and maintenance tools are vital in case of unexpected equipment malfunctions.
Lighting sources such as headlamps or flashlights are essential for convenience and safety during the camping experience. Reliable power sources, including solar-powered lights or portable generators, should also be considered when planning a car camping adventure.
Car Camping Essentials
Here's a list of car camping essentials that should be on your shortlist of things to bring…
Shelter And Sleeping Gear
Packing suitable shelter and sleeping gear can significantly enhance car camping trips, making your trip comfortable and relaxing. Here's a list of essential items to include when you go car camping:
Tent: Choose one that is easy to set up, offers ample space for occupants, and provides protection against weather conditions.
Tent accessories: Include tent stakes, guylines, and a groundsheet or tarp to protect the tent floor.
Sleeping bags: Select bags suited for the expected temperature range during your trip (check our our how to pick a sleeping bag post).
Sleeping pads or air mattresses: Ensure they are comfortable, lightweight, and insulated if needed.
Blankets or quilts: Bring additional warmth for colder nights or when lounging around the campsite.
Camp pillows: Opt for compact pillows designed for camping to save space and improve comfort.
Hammocks (optional): Bring a hammock with an integrated bug netting feature for those who prefer sleeping off the ground.
Tarps or shade sails (optional): These can provide additional shade or rain protection at your campsite.
Remember that packing proper shelter and sleeping gear is crucial for your enjoyment and safety during your car camping trip. Ensure each item on this essentials list is accounted for to ensure you're prepared for any situation while car camping.
Cooking And Food Supplies
Having the right cooking and food supplies can make mealtime a breeze when car camping. Here are some essentials to consider:
Camp stove or grill
Fuel for the stove or charcoal for the grill
Cookware (pots, pans, utensils)
Cooler with ice or ice packs
Food storage containers/bags
Plates, bowls, cups, and utensils
Cutting board and knives
Dishwashing tub, soap, and sponge or dish towels
Trash bags
Basic pantry items (salt, pepper, oil, sugar)
Remember to pack food that is easy to transport and cook while camping, such as canned goods, pasta dishes, sandwich ingredients, and snacks.
Tip: Download a copy of our Free Camping Food List PDF and learn How to Use a Dutch Oven Camping
Car camping is a perfect opportunity for trying new recipes on the open flame while enjoying nature.
Check local fire restrictions before starting a campfire or using a camp stove.
Also, remember to securely store any food that may attract wildlife in specialized containers, as animal attacks have resulted from improper food storage during camping trips.
With these basic cooking and food supplies covered in your checklist -you're ready to start planning your next car camping adventure!
Clothing And Personal Items
Proper clothing and personal items are essential for a comfortable and enjoyable car camping trip. Here are some things to consider packing:
Clothing appropriate for the weather conditions, including layers for cooler temperatures and rain gear
Comfortable shoes or hiking boots
Personal hygiene items, such as toothbrush, toothpaste, soap, shampoo, and toilet paper
Towels and washcloths
Hand sanitizer
Sunscreen, sunglasses, and a hat for sun protection
Insect repellent and bug spray
Prescription medications and any necessary first-aid supplies
Personal identification and emergency contact information
Cash or credit cards for any necessary purchases
Remember to pack lightweight and breathable clothing that can easily be layered according to the weather conditions you may encounter on your trip. It's also important to prioritize personal hygiene items to stay clean and comfortable throughout your adventure. Remember essential safety items like sunscreen for sun protection and insect repellent for pesky bugs in the great outdoors!
And if you are camping with your family, be sure to check out our best camping gear for families post.
Navigation And Safety Equipment
Navigating unfamiliar territory and staying safe are crucial aspects of any car camping trip. Remember to bring these essential navigation and safety items:
Maps and compass: While GPS devices are convenient, they can malfunction or lose signal in remote areas. Always carry a physical map and compass as backup tools for navigating the wilderness.
First aid kit: Accidents happen, so be prepared with a well-stocked kit that includes bandages, gauze, antiseptic wipes, pain relievers, and any necessary prescription medications.
Emergency whistle: In an emergency, this small but mighty tool can attract attention from far away.
Headlamp, flashlight, or bucket light: A reliable light source is essential for navigating the dark or finding your way to the bathroom at night.
Multi-tool or knife: A versatile multi-tool or knife can help prepare food, repair gear, and even start a fire.
Fire extinguisher: Cooking over an open flame is part of the fun of car camping, but keep a fire extinguisher handy in case things get out of control.
Remember to familiarize yourself with potential hazards in the area you're visiting and take precautions accordingly. And always let someone know where you're going and when you plan to return for added safety measures.
Water And Hydration
Staying hydrated during a camping trip is vital to keep your body functioning properly. Here are some essential water and hydration items to have readily available at your campsite.
Water bottles: Bring reusable water bottles for each camper, and pack enough large-capacity water containers for a backup supply.
Water filter or purification tablets: Bring a portable water filter or purification tablets if your campsite doesn't have access to clean drinking water.
Hydration backpacks: These are ideal for hikers who need to hydrate while on the move.
Electrolyte powder packets: Add these to your water bottle to boost hydration and essential minerals.
Cooler with ice: Keep your drinks cool and refreshing by packing them in a cooler with ice packs or frozen bottles of water.
Sports drinks help replace lost electrolytes during long hikes or other strenuous activities.
Hot beverages: Bring a portable stove or campfire cooking equipment for morning coffee or hot tea, which can also help you stay hydrated.
Remember, staying hydrated is vital to enjoying all the outdoor activities that come with car camping. Pack enough water supplies for your entire trip and plan accordingly if the campsite needs easy access to drinking water.
Tip: Be sure to read our how to purify water in the wild and finding water sources in the wild posts.
Additional Car Camping Gear To Consider
Car campers may consider bringing comfort and relaxation items such as a portable hammock, camping chairs, or extra blankets. Packing repair and maintenance tools like duct tape, spare tent stakes, and a multi-tool are also crucial if something breaks or needs fixing.
Remember to bring lighting sources such as headlamps, lanterns, and power sources for charging devices.
Comfort And Relaxation Items
Bringing comfort and relaxation items is important to fully enjoy your car camping trip. Here are some suggestions:
Camping Chairs: Set up a comfortable seating area with sturdy chairs that support your back and neck.
Air Mattresses: Get a good night's sleep on an air mattress that inflates quickly and provides ample cushioning.
Camping Blankets: Stay warm and cozy on cool nights with soft fleece or wool blankets that can be layered for added warmth.
Hammocks: Take a break from sitting in a chair and relax in a hammock strung between two trees or posts.
Books or Magazines: Wind down after a busy day by reading a good book or magazine under the stars.
Portable Speakers: Keep the tunes going with portable speakers that provide high-quality sound without taking up too much space.
Board Games or Cards: Bring classic games like chess, checkers, or playing cards for old-fashioned fun around the campfire.
Pack these comfort essentials for a more enjoyable outdoor experience while car camping!
Repair And Maintenance Tools
Car camping can be a lot of fun, but preparing for unexpected equipment malfunctions is important. Here are some essential repair and maintenance tools for when you go camping.
Multi-tool: A good quality multi-tool is an all-in-one tool that includes a knife, pliers, screwdrivers, and other useful functions.
Duct tape: Duct tape can fix almost anything – from ripped tents and sleeping bags to broken poles and shoes.
Tent repair kit: A tent repair kit should include patches, seam sealer, and extra cordage for emergency repairs.
Spare tire and jack: It's always a good idea to have a spare tire and jack in case of a flat tire on rough terrain.
Tire pump: A portable air pump or tire inflator can help keep your tires properly inflated on bumpy roads.
Lubricant: WD-40 or other lubricants can help loosen stuck zippers, tent poles, or bike chains.
Zip ties: These versatile little fasteners are handy for fixing gear attachments or securing items together.
Remember that preparation is key when it comes to car camping. By including these essential repair and maintenance tools in your packing list, you'll be ready for anything that comes your way during your camping adventure!
Lighting And Power Sources
When car camping, having adequate lighting and power sources is essential for comfort, safety, and convenience.
Headlamps or flashlights: These hands-free light sources can help you navigate camp and find items in the dark.
Lanterns: A lantern can provide ambient lighting for your entire campsite. Look for options that are rechargeable or powered by batteries.
Solar-powered lights: These lights can be charged during the day and provide illumination at night without draining your car battery.
Power banks: Keep your electronic devices charged with a portable power bank. Look for models with multiple ports and quick charging capabilities.
Car chargers: If you use your car battery to charge devices, ensure a reliable car charger won't drain the battery too quickly.
Portable generators: If you require more power than your car battery can provide, consider investing in a portable generator. Make sure you know how to safely use it before setting out on your trip.
By packing the right lighting and power sources, you'll be able to fully enjoy your car camping adventure without any unexpected setbacks or inconveniences.
Entertainment And Activities
Remember to pack some fun items for your car camping trip! Here are some ideas for entertainment and activities:
Outdoor games: Bring classics like cornhole, frisbee, and horseshoes for some friendly competition.
Cards and board games: A deck of cards or a favorite board game can be a great way to pass the time on rainy days or during downtime at camp.
Books: Take advantage of the peace and quiet of nature by bringing along a good book or two.
Musical instruments: If you play an instrument, consider bringing it along for fireside jam sessions.
Art supplies: Get creative with some sketch pads, watercolors, or other art supplies to capture the beauty of your surroundings.
Hiking guides and maps: Plan some scenic hikes with helpful guides and maps detailing different trails and viewpoints.
Fishing gear: Bring fishing gear for a relaxing afternoon on shore if your campsite is near the water.
Remember to tailor your entertainment choices based on your interests. There's no right or wrong way to enjoy outdoor car camping activities!
Pet Supplies (if Applicable)
If you plan to bring your furry friend(s) along for the ride, remember to pack their essentials.
Here are some pet supplies you may need:
Collar, leash, and ID tags
Pet food, treats, and dishes
Waste bags or scooper
A comfortable bed or blanket
Toys or chews for entertainment
Any necessary medications or first aid supplies
A tie-out stake or a portable dog fence
A crate (if your pet is crate-trained)
A reflective vest or light-up collar for visibility at night
A doggy life jacket (if near water)
Remember that pets have different needs than humans when it comes to outdoor adventures, so make sure all their necessary gear is included for a fun and safe experience together!
Tips For Packing And Preparing For A Car Camping Trip
– Create a detailed car camping checklist, including all the necessary gear and equipment for your trip.
– Test and organize your gear before leaving to ensure everything is in working order.
– Pack efficiently using space-saving techniques such as rolling clothing and compression bags.
– Prioritize essential items such as food, water, shelter, and safety equipment.
– Plan for emergencies by including a first aid kit and emergency communication devices in your packing list.
See How To Fit Camping Gear In Your Car for tips on packing for your trip.
Make A Detailed Checklist For Car Camping
Creating a detailed checklist is one of the most important steps in preparing for a car camping trip. A checklist ensures you remember all essential items and reduces the risk of leaving something behind.
When creating your list, start with the basics, such as shelter, sleeping gear, food supplies, clothing, and navigation equipment.
Creating a checklist for car camping may seem daunting at first, but it can save time and reduce stress when packing for your trip. To ensure everything is included in your car camping essentials list, consider downloading one from various outdoor websites available online that offer free downloadable camping checklists.
Remember to personalize the list based on your needs; solo or family car campers may have different requirements, so tailor accordingly.
Test And Organize Gear
Testing and organizing your gear is important before hitting the road for your car camping trip. Testing your equipment beforehand ensures everything works correctly and any issues can be addressed before you're in the wilderness.
Organizing your gear also helps make the packing process more efficient. Sort items by category, such as food supplies, cooking equipment, or personal belongings. Use storage containers or bags to keep things organized within your vehicle.
This way, when you reach the campsite, everything is easily accessible and ready to go.
Pack Efficiently
Packing for a car camping trip can be overwhelming, but with the right approach, it can be done efficiently and without stress. The key is to start by making a detailed checklist of all the gear you need and prioritizing essential items.
Once you have your list, take the time to organize your gear based on how frequently you will use each item during the trip.
Another helpful tip for efficient packing is to pack strategically. This means using every inch of space in your vehicle wisely by storing gear within larger equipment like coolers or tents.
Additionally, consider packing lightweight and compact items like sleeping bags and pads first, as they take up less space than bulkier items like camp chairs or cooking stoves.
Remember that when it comes to car camping checklists, there are no hard-and-fast rules – make modifications according to individual preferences or specific needs, such as solo versus family trips.
Prioritize Essential Items
When packing for a car camping trip, it's important to prioritize essential items to ensure you have everything you need during your outdoor adventure. This means focusing on the basics first, such as shelter and sleeping gear, cooking supplies, water and hydration equipment, navigation tools, and safety equipment.
Once you've packed these essentials, consider adding additional gear to enhance your experience even further. This might include comfort and relaxation items like hammocks and camping chairs or entertainment options like books or board games.
You'll also find some great ideas for summer camping essentials and tent camping must-haves on our blog.
Plan For Emergencies
While no one wants to think about potential emergencies while enjoying a relaxing camping trip, it's important to be prepared for any situation. Before heading out on your car camping adventure, make sure you have a first aid kit packed with essential medical supplies such as band-aids, gauze pads, and antiseptic wipes.
Packing gear for unexpected weather changes, such as rain gear or warm layers, is also wise in case of sudden temperature drops. And don't forget to bring extra batteries or portable chargers for electronic devices like flashlights or GPS devices that may be necessary during an emergency.
Final Thoughts on Car Camping Checklist
In conclusion, having a car camping checklist is essential for any outdoor enthusiast or camper. It ensures you have all the necessary gear and equipment to make your trip comfortable and stress-free.
Whether you go solo or with family, a comprehensive car camping essentials list will cover everything from your shelter to safety equipment, navigation tools, and even entertainment items.
Remember to prioritize the essentials when packing and organizing your gear efficiently in the car.
Sale
Bestseller No. 1
Camp Toad Universal SUV Tent Spacious Camping Attachment for SUV Car Van Minivan Hatchback and Truck Rear Door Setup for Outdoor and Tailgate Use with Most Automobiles with Screen Tent & Rainfly
Fully Updated for fall 2023: I want to offer the very best for your money, so after years of feedback, I have incorporated a new and improved design to address any sticking points. The new tent features genuine YKK zippers, optional poles to expand the tent, even more durable materials, and options for an even closer fit with your vehicle.
Easy Setup: With its user-friendly attachment system, this tent can be quickly and easily secured to your hatchback, SUV, or minivan, allowing you to spend less time setting up and more time enjoying the great outdoors. Simply pull the tent over your hatchback and you're done!
Spacious Interior: The tent's 6'5″x6'4″ interior provides enough room for up to four people, making it an ideal choice for families and groups.
Durable and Weatherproof: Constructed from high-quality materials, this tent is designed to withstand the elements and keep you and your belongings dry and protected from the elements.
Compatibility: Designed to fit most hatchback, SUV, and minivan models, our tent uses elastic to tightly conform to fit tightly with every style of hatchback, and most trucks.
Sale
Bestseller No. 2
TIMBER RIDGE 5 Person SUV Tent with Movie Screen Weather Resistant Portable for Car SUV Van Camping, Includes Rainfly and Storage Bag, 10′ W X 8′ L X 7.6′ H Khaki
Connect Without Gap: SUV tents securely and seamlessly connect to your trunk to provide you with extra sleeping and storage space, a connection to power outlets to keep your devices charged. when raining, you will never get wet when you want to access something from your car.
Large Space Sleep 5: Suitable for the family! Spacious 10 'x 10' tent offering over 7.6 ' higher than any other car tent, enjoy being able to stand when changing your clothes, or the openness of high ceilings. 2 mesh bags inside the tent for easy storage of debris and keeping the interior space clean.
Extra Movie Screen: With an extra movie screen, sit in the SUV tent and enjoy the movie while the family camping. The privacy of the tent ensures you don't have to worry about being disturbed.
Weather Resistant and Ventilation: The PU2000 waterproof coating and durable polyester taffeta cloth protect you from the elements. 1 large door、top mesh skylight and 2 mesh windows offer optimal ventilation, you can easily look at the stars at night on the SUV tent.
Fitment Note:About trunk,max heights:59″(Trunk bottom to top distance) ,max width:69″,max length:57″(Length of trunk lid).Storage bag length:31".Please measure the size before purchase.The tent can be installed on hatchbacks such as CUVs, SUVs, Model Y, minivans, Jeep Wrangler Hard Top, or Pick-up Trucks with Bed Caps, etc. or it can be removed from the vehicle and used as a stand-alone tent.
Bestseller No. 3
Pumbba SUV Tents for Camping Car Tents for Campers Multipurpose Truck Tent Camping Tent Connected to Vehicle Universal Fit
Multipurpose – they can be used as standalone units or as a trunk tent when connected to your cargo area. It can be used to house extra people or store equipment, as a sleeping space for your dog, or as a dressing room. This tent is suitable for a weekend at the state park or on a cross-country trail.
Universal Fit – Suits any car thanks to its custom vehicle sleeve, will keep you dry even if it rains. If you want a standalone tent, simply close the vehicle sleeves and you'll have one.
A lot of flexibility – allowing you to switch to the car when it gets cold or a downpour surprises you. Disconnect the tent if you need to drive away to get supplies. It will remain self-contained until you return. After that you should hitch it up to your car once more.
Doubles the amount of room – with a spacious 10×5 interior and 7.2 feet of headroom, pumbba tent is a roomy model that can comfortably accommodate up to four people. For easy ventilation, the tent comes with four doors.
Four-season compatible – made of water-resistant fabric with tape-sealed seams to keep you warm while also protecting you from wet and damp surfaces. New strong tent poles architecture boosts wind stability.Erecting the tent is a breeze.you can get the tent up and run in under 10 minutes.
Sale
Bestseller No. 4
HREFEU SUV Tailgate Tent with Awning,Waterproof 3000MM UPF 50+,Tailgate Shade Awning Tent for Compact SUV/Van/MPV/CUVCamping (Large Size)
【Product upgrade!】The original S-shaped plastic hook at the bottom has been changed to a mountaineering buckle strap, more sturdy and durable, and the outer bag has been changed to a large handbag for more convenient and fast storage.
【Universal for compact SUV】This tailgate tent attaches to the rear of compact SUV, medium SUV , medium to large SUV,Van, CUV, MPV with its elastic universal fit design. Not suitable for cars with double doors, side doors, and tires on the back,Full size SUV.
【Specification】 The package includes – 1 x tailgate tent, 2 x ground stakes, 4 x guylines,1 x small storage bag ,1 x carrying bag, and 1 x user guide.「Poles are not Included」
【Easy Setup and Convenient to Carry】 It is so eay to setup or take down by two steps,attach the tent to the rear of vehicle,it can be handled by one person within 4 minitues after proficiency. connect the straps and hooks to proper place.The tailgate awning is easy to fold and store, easy to transport and store, and it will not take up a lot of space for you. storage bag, easy to carry.
【Material 】Large SUV Tailgate tent made of high-quality 210D polyester tear-resistant, with silver-coated fabric, PU2000, effectively blocks sunlight and ultraviolet rays, allowing you to better rest in the car, blocking the rain.
FAQ
What is car camping?
Car camping is where you can drive your car or vehicle up to your campsite. Having your car close by allows you to bring more gear and supplies than backpacking because you don't have to carry everything on your back.
What should be on my car camping checklist?
Your car camping checklist should include basic car camping essentials such as a tent, sleeping bag, air mattress or pad, camping stove or grill, food and water, cooking utensils, headlamp or flashlight, first aid kit, insect repellent, sunscreen, and toiletries. You should also consider the length of your trip, the weather, and any activities you plan to participate in.
What are the benefits of car camping?
Car camping allows you to bring more gear and supplies than backpacking. You also have more space in your car to bring items that may not be essential but are nice to have, such as camp chairs, coolers, and even solar panels. Additionally, car camping allows you to bring more food options and cook more elaborate meals than you would on a backpacking trip.
What should I bring on a camping essentials list?
A camping essentials list should include basic camping gear such as a tent, sleeping bag and pad, camping stove and fuel, utensils, dishes, food, and water. Other items to consider include a first aid kit, insect repellent, sunscreen, headlamp or flashlight, and toiletries.
How can I plan for my next car camping trip?
When planning for your next car camping trip, consider the length of your trip, the destination, and the activities you plan to participate in. Pack a camping essentials checklist to ensure you remember everything important. Also, check campsite availability and make reservations in advance if necessary.
What is the difference between car camping and backpacking?
Car camping allows you to drive your car up to your campsite and bring more gear and supplies, while backpacking requires you to carry everything on your back. Backpacking is typically done in remote areas that require hiking to get there. In contrast, car camping is usually done in established campsites.
What are some campsite essentials to bring on a camping trip?
Some campsite essentials to bring on a camping trip include a tent, sleeping bag and pad, camp stove and fuel, utensils, dishes, food, water, first aid kit, insect repellent, sunscreen, and toiletries. Additionally, you should bring camp chairs, a cooler, and a portable grill.
What are some good camping meals?
Good camping meals include easy-to-make dishes that don't require a lot of cleanup. Some ideas include hot dogs, burgers, grilled chicken, foil packet meals, and gourmet sandwiches. Don't forget to bring cooking oil, spices, and condiments to enhance your meals.
How do I stay clean while camping?
To stay clean while camping, bring toiletries such as toothbrush and toothpaste, baby wipes, wet wipes, and hand sanitizer. You can also choose a campground with shower facilities or bring a solar shower to use at your campsite.
What are some national parks that are good for car camping?
Some national parks for car camping include Yosemite National Park, Yellowstone National Park, Grand Tetons National Park, and Rocky Mountain National Park. Always check availability and make reservations in advance, especially during peak season.
Can I buy firewood at the campsite?
Yes, some campsites may have firewood for sale. However, not all campsites sell firewood, so bringing some of your own is a good idea to be safe. See "Where to Buy Firewood for Camping?"
What should I do if I encounter a critter while car camping?
Keep your food and toiletry products in a sealed container. If you encounter a critter, it's best to keep your distance and let it pass.
What type of shoes should I wear while car camping?
It's important to bring comfortable and durable shoes, such as hiking shoes or sandals, for car camping.
Is it necessary to check the weather before car camping?
Yes, checking the weather before your trip is always a good idea to ensure you have appropriate gear and clothing.
See "How to Store Camping Gear" and "How to Pack Your Motorcycle for Camping" for more tips.