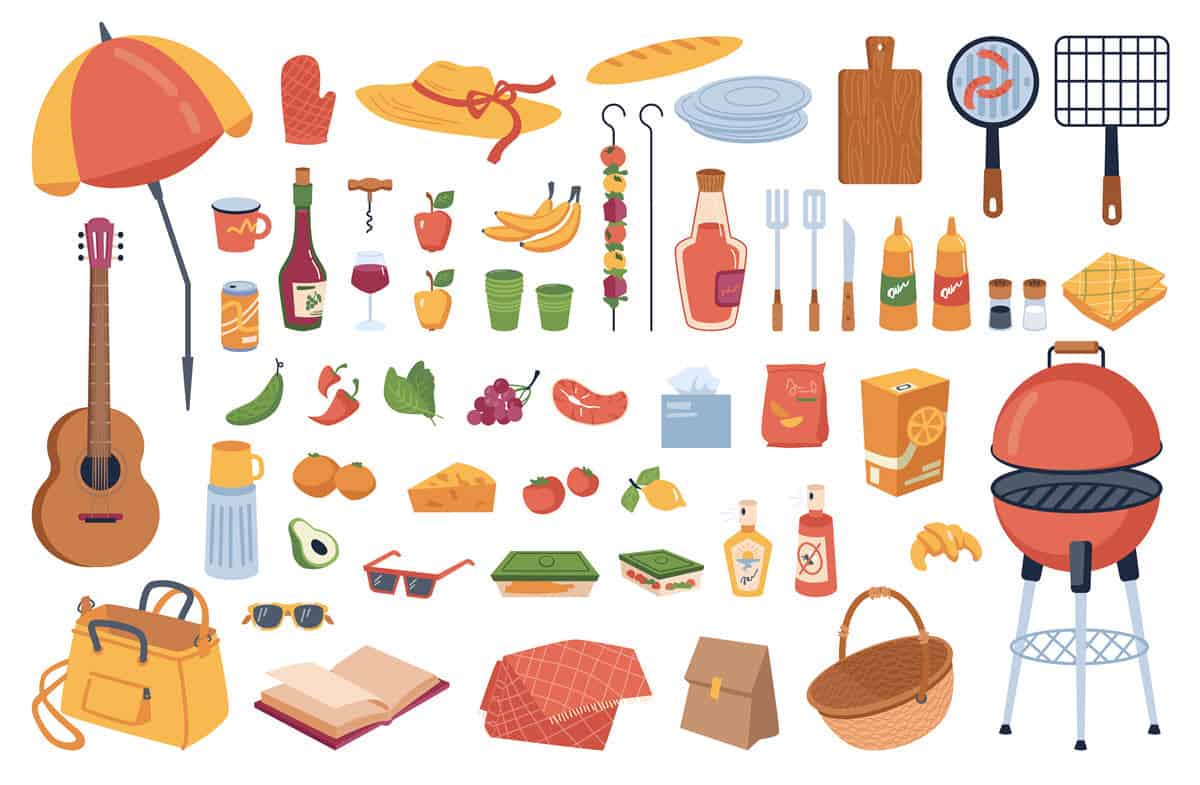 Heading out on a camping trip is an exciting outdoor adventure, but making sure you have a well-prepared camping food list is essential for creating fond memories that can last a lifetime (I still remember how much fun we had making s'more by the campfire as a kid).
That's why I put together this essential camping food list of various types of campsite-friendly foods, snacks, and meals, as well as tips on meal planning and storage.
Camping Food List PDF (Print or Download)
Here's a Free PDF version of the Camping Food List, which you can print or download… your choice.
Shopping List For Camping
This Ultimate Camping Food Guide includes the entire camping food list… Plus, additional things like Camping Meal Ideas, Meal Planning Tips, Food Safety and Storage, and more.
Check it out…
Non-Perishable Camping Foods
Non-perishable foods are essential camping foods for any trip because they have a long shelf life and require no refrigeration, which comes in handy when camping. These items provide a solid foundation for your camping food list.
Grains and Starches
Rice
Pasta
Quinoa
Cream of wheat
Oatmeal
Breakfast cereal
Instant mashed potatoes
Breads and/or other related items such as:

Tortillas
Pita
Buns
Muffins
Bagels
Canned and Packaged Goods
Canned Beans
Mac & Cheese
Canned Vegetables
Canned Tomatoes
Canned Artichoke Hearts
Canned Peas
Canned Fruit
Canned Soup or Stew
Canned Tuna or Chicken
Packaged Soup Mixes
Packaged Pasta or Rice
Cooking Oil
Pasta Sauce
Condiments, Seasonings, and Spreads
Table Salt & Pepper
Seasoned Salt
Seasoning Mixes (Cajun, Mexican, etc.)
Ketchup
Mustard
Relish
Pickles
Mayonnaise or Miracle Whip
Cinnamon sugar
Sauerkraut
Salsa
Hot Sauce
Peanut Butter/Nut Butter
Sunflower Butter (for those with nut allergies)
Jelly or Jam
Breakfast Essentials
Tip: Here are the 8 best coffee percolators for camping.
Perishable Camping Foods
Although perishable foods have a shorter shelf life, they can add variety and freshness to your camping snacks and meals. Pack these items in a cooler to maintain proper temperature and prevent spoilage.
Quick Tip: Check out our article What Size Cooler for Camping.
Tip: if you are car camping, then be sure to bring several coolers to help keep your meats away from the rest of your perishable food and beverages (extra coolers are also great for storing extra ice). See How to Keep Food Cold While Camping for more info and tips.
Meats
Fresh or Frozen Meat (hamburger, chicken, beef, or fish)
Sausages or Bratwurst
Hot Dogs
Hamburger Patties (less prep and clean up)
Deli Meats
Veggie Patties (for those who don't eat beef and/or meat)
Fruits and Vegetables
Apples
Oranges or Clementines
Berries
Carrots
Zucchini
Lettuce
Tomatoes
Bell peppers
Broccoli
Leafy greens
Peas
Watermelon
Onions & Garlic
Cucumber
Radish
Potatoes
Dairy
Milk
Cheese (block or shredded – such as string, cheddar, or cream cheese)
Butter
Sliced Cheese (Cheddar, American, Swiss, etc.)
Yogurt
Beverages
Milk (or Powdered Milk)
Coffee (ground or instant) (how to use a percolator camping)
Tea Bags
Juice or Juice Boxes
Soda Pop
Hot Chocolate
Water
Iced Tea (bottled or instant)
Adult Beverages (beer, wine, mixers, etc.)
Snacks and Trail Mixes
Tasty snacks and healthy trail mixes are essential for staying energized during your camping activities. Customize your trail mix with your favorite ingredients for a personalized touch.
Snack Ideas
Granola bars
Beef jerky
Dried fruit
Pretzels
Crackers
Chips (Potato, Tortilla, etc.)
Dips
Hummus
Chocolate
Cookies
Trail Mix Components
Nuts (such as almonds, peanuts, or walnuts)
Seeds (such as sunflower or pumpkin seeds)
Chocolate chips or M&Ms
Dried fruit (such as raisins, apricots, or cranberries)
Popcorn
Chex Mix
Camping Meal Ideas
Now that you have your essential camping food list, it's time to plan some delicious, nutritious, and easy-to-prepare meals. Here are a few ideas to inspire your camping menu.
Breakfast
Breakfast burritos with scrambled eggs, cheese, and salsa
Pancakes with fresh berries and maple syrup
Oatmeal with dried fruit, nuts, and a drizzle of honey
Lunch
Deli meat and cheese sandwiches with lettuce and tomato
Tuna salad wraps with canned tuna, mayo, and chopped veggies
Quinoa salad with canned beans, vegetables, and a simple vinaigrette
Dinner
Grilled chicken with a side of couscous and sautéed vegetables.
Spaghetti with marinara sauce and canned meatballs
Foil packet meals with your choice of protein, vegetables, and seasonings, cooked over the campfire
Coney Dogs topped with a classic homemade Hot Dog Sauce chili.
Dessert
S'mores made with graham crackers, marshmallows, and chocolate
Campfire banana boats filled with chocolate chips and mini marshmallows
Fruit skewers drizzled with honey and grilled
Meal Planning Tips For Camping
Planning your meals in advance is essential for a smooth and enjoyable camping experience. Follow these tips to ensure you have a variety of meals while minimizing waste.
Choose versatile ingredients: Select ingredients that can be used in multiple meals to save space and reduce waste. For example, tortillas can be used for breakfast burritos, lunch wraps, and quesadillas.
Consider cooking methods: Plan meals that can be cooked using your available camping equipment, such as a portable stove, campfire, or grill.
Prep ingredients in advance: Cut and portion ingredients before your trip to save time and reduce mess at the campsite.
Plan for leftovers: Incorporate leftover ingredients into subsequent meals to minimize waste and make meal preparation easier.
Food Storage and Safety
Proper food storage is crucial for maintaining the freshness and safety of your camping food. Follow these guidelines to prevent spoilage and foodborne illnesses.
Use a cooler for perishable items: Pack perishable foods in a cooler with ice or ice packs to maintain a safe temperature. If you are car camping, then consider bringing a second cooler to hold spare ice.
Store food in airtight containers: Keep food in sealed containers to prevent insects from getting in, and to help minimize the chances of attracting wildlife.
Keep raw meats separate: Store raw meats in leak-proof containers and away from other foods to prevent cross-contamination.
Monitor cooler temperature: Regularly check the temperature of your cooler and replenish the ice as needed to ensure perishable items remain safe to eat.
Cleaning Up
Be sure to pack eco-friendly or biodegradable soap for washing your campsite dishes. However, not even biodegradable soap is environmentally friendly enough to be used anywhere near lakes, rivers, or seas. So, please do not dispose of your dirty dishwater by dumping it anywhere near the water.
With this comprehensive guide, you'll have everything you need to create a delicious and nutritious camping food list for your next outdoor adventure. Bon appétit, and happy camping!