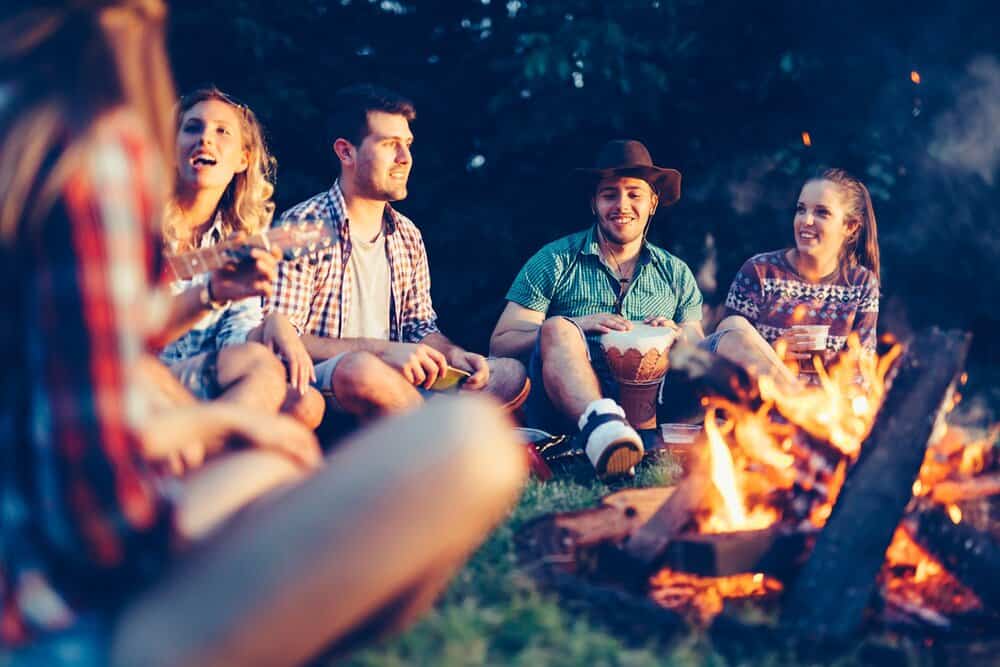 Camping is one of the best ways to enjoy nature, but many camping recipes leave a lot to be desired. While cooking with a camping stove will get the job done, the small cooking area limits your dining options and the number of people you can feed at one time. Not to mention you have to carry fuel along with the stove itself.
That's why many outdoor enthusiasts take a Dutch oven camping. This versatile cooking pot can make everything from stews and baked beans to grits, roasts, and whole chickens or small game.
However, cooking with fire is more of an art than using a basic stove. Be sure to master the fundamentals of using a Dutch oven outdoors before you try to take one out on the trail.
Key Takeaways:
Versatility of Dutch Ovens: Dutch ovens are a versatile option for campsite cooking, capable of making a variety of dishes from stews to roasts and baked goods.
Cooking with Fire: Mastering the use of a Dutch oven over an open fire is an art that requires practice, as it differs from cooking with modern stoves.
Design for Camping: Dutch ovens for camping are specifically designed with cast iron, support legs, and a flat flanged lid, making them suitable for outdoor use.
Heat Distribution: The ability to place coals on the lid of the Dutch oven as well as underneath allows for even heat distribution, similar to a slow cooker.
Recipe Flexibility: The use of a Dutch oven expands the range of recipes that can be cooked at a campsite, especially when combined with stockpiled essentials like beans and rice.
Maintenance is Key: Proper cleaning and seasoning of the Dutch oven are crucial to maintain its non-stick properties and prevent rust.
Practice Before the Trail: It's recommended to practice cooking with a Dutch oven in a controlled environment before embarking on a camping trip.
The Basics of Using a Dutch Oven Camping
Dutch ovens designed for camping differ from cooking pots you'd use in your home kitchen. They're always made entirely from cast iron, have support legs on the bottom, and come with a flat flanged lid. In short, they look a lot like the classic outdoor cooking pots people would have used back in the 17th century.
The simplest way to use a Dutch oven is to place it directly over an open fire. The metal legs on the bottom will help keep it stable. Hanging the oven from a tripod will allow you to adjust the distance to better control the cooking temperature.
To create a slow-cooker effect, you can set the oven over a bed of hot coals and place charcoal briquettes on the lid. Cast iron is already excellent at radiating heat, but heating from the top and the bottom helps ensure even heat distribution through the inside.
Dutch ovens can do anything from slow-cook and bake to sear, pan-fry, and steam. Your camping recipes are only limited by the supplies you carry with you. Stockpiling essentials like beans, rice, and canned goods will give you plenty of options without having to worry about refrigeration.
Caring for Your Dutch Oven
Because they're made from cast iron, it's important to clean Dutch ovens right away after each use to prevent rust. Once you let the pot cool, wipe the inside out thoroughly. Use a damp cloth or steel wool to clean away any bits of caked-on food.
Even though most cast iron goods say they're pre-seasoned, you should always season cast iron yourself before its first use. This process applies a protective coating that creates a non-stick effect and protects the iron from rust. Applying a layer of vegetable oil and then returning your pot to the heat can help preserve the non-stick seasoning.
Elevate Your Camping Cuisine
Taking a Dutch oven camping will let you expand your menu on your next excursion and cook for bigger parties than a simple camping stove. But using one well takes plenty of practice. Be sure to master your outdoor Dutch oven somewhere close to home before taking it out on the trail.
Your cookware is only part of your kit, of course. You need the right supplies to serve up a campfire feast. Download our free PDF camping food list to make sure you have all the essentials you need for any stay in the great outdoors.
Sale
Bestseller No. 1
Overmont Camp Dutch Oven Pre Seasoned Cast Iron Lid Also a Skillet Casserole Pot with Lid Lifter for Camping Cooking BBQ Baking 6QT(Pot+Lid)
All-round Dutch Oven. The integral legs on both pot and lid allow the oven to sit perfectly over the campfire; the lid can also be used as a skillet for frying. Moreover, cast iron pots are not coated in toxic chemicals. It is a safe non-stick surface.
Well known as a Lifetime Pot. Compared with pots of other materials, the Overmont Dutch Oven is made of high quality cast iron, and will last a lifetime if cared for properly. It can be used both on the stove and in the oven at home, providing value for money.
Energy-saving and therefor good for the environment. Heat is evenly distributed and held, making it great for deep frying, searing and baking. It also has the advantages of great heat insulation and a good seal, so even a novice camper can do a delicious roasted chicken with this pot.
Considering the considerable weight of cast iron, Overmont equips a lid lifter for the Dutch Oven. The durable handle also allows you to hang it over the open fire. Our Logo design of an eagle on the lid means, freedom, power, strength and desire for life.
Once you are finished cooking, cleaning and after care are simple. Make sure to dry the pot completely after cleaning and whilst the pot is still warm, lightly oil the inside of the pan with your oil of choice, a thin coat is all you need. Use a cloth or paper towel to rub off any excess. Overmont are dedicated to providing the best sporting experience for the new generation of outdoor sports enthusiasts. Please feel free to get in touch if you have any issues with the equipment.
Sale
Bestseller No. 2
Bestseller No. 3
7 QT Cast Iron Dutch Oven, HaSteeL Large 2 in 1 Camp Pre-Seasoned Deep Pot & Lid Skillet Pan, Heavy Thick 7 Quart Multiple Cookware with Feet for Outdoor Camping Baking, Bracket and Lid Lifter
[Pre-Seasoned Cookware]: HaSteeL Cast Iron Dutch Oven is made of 100% Cast Iron for extreme durability, Thickened construction can withstand high temperature very well without break, Treated with healthy vegetable oil without any harmful substance or toxic, Form a layer of even coating to prevent from rusting, Non-stick surface offers you peerless cooking experience, No more stubborn food scraps and difficult cleaning work
[2-in-1 Multi-Cooker]: Deep pot measures 12 x 12 x 6.5in(L x W x H), Large 7.5 QT camp dutch oven can serve 6-8 adults, Suitable for baking, stewing, Lid measures 12 x 12 x 2.6in (L x W x H), Rimmed lid can lay carbon to provide heat, Converse the lid, then you can get a new cookware as a pan/skillet/griddle, Ingenious design allows you to use them together or cook different food separately at the same time for searing, frying, grilling
[Features]: Cast iron's great heat retention and heat conductivity are born to cook, won't lose heat when you put some cold food on its surface, also can keep high temperature evenly on the inconsistent campfire, Dual side handles are connected by wire bail handle with bold hollow design for safe hanging, Both of the pot and the lid have 3 legs under bottom, provide ventilation for burning carbon fully, also allow more fuel under the bottom to offer more heat
[T-bar Lid lifter & Bracket]: Both of them are made of thickened iron without deformation and black coated finish, 10in lid lifter with hollow spiral heat diffusing handle, safe to lift or rotate heavy hot lid, Hanging design on the end means you can use it as a long hook, also convenient for hanging on your kitchen or next to your campfire, Bracket measures 7.9 x 7.9 x 2in(L x W x H), Support pot without bend, Leave room for hot pot bottom and table surface to avoid damage
[Clean & Maintain]: A cast iron pot could provide excellent service for generation to generation after proper caring, We recommend you washing it without any soap or detergent, because chemical detergent will break the coating of cast iron's surface, Wipe it until it dry but not wait for it dry slowly, Oil its surface evenly, waiting cast iron absorb oil completely, We attached A care instruction with goods, you can read it carefully as a reference
Bestseller No. 4
FAQs
What are the unique features of a Dutch oven designed for camping?
Dutch ovens tailored for outdoor adventures are distinct from their kitchen counterparts. They are exclusively crafted from cast iron, equipped with support legs, and feature a flat, flanged lid conducive to outdoor cooking environments. This design is reminiscent of traditional 17th-century cookware, optimized for stability and heat distribution over open fires or hot coals.
How do you cook with a Dutch oven over an open fire?
To utilize a Dutch oven over a campfire, you can place it directly on the flames, using its metal legs for stability. For temperature control, suspend the oven from a tripod to adjust its proximity to the fire. This method allows for a variety of cooking techniques, including searing, pan-frying, and steaming, expanding your culinary options beyond what a typical camping stove offers.
Can you explain the slow-cooking method using a Dutch oven while camping?
Certainly! To mimic a slow-cooker effect, nestle the Dutch oven over a bed of hot coals and add charcoal briquettes atop the lid. The cast iron's inherent heat-radiating properties, combined with dual heating from above and below, ensures a consistent cooking temperature, perfect for slow-cooking stews, roasts, or baking bread.
What are some tips for maintaining a Dutch oven in camping conditions?
Maintaining a Dutch oven in the great outdoors involves prompt cleaning post-use to avert rusting. After cooling, the interior should be wiped clean, and any stubborn food remnants can be removed with a damp cloth or steel wool. Despite most cast iron products being pre-seasoned, it's advisable to season the oven yourself before initial use. This involves coating it with vegetable oil and heating it to fortify the non-stick surface and protect against rust.
How can a Dutch oven enhance the camping food experience?
A Dutch oven elevates your camping cuisine by offering the versatility to cook a wider array of dishes that a simple camping stove cannot accommodate. It's ideal for preparing meals for larger groups, allowing you to serve up a campfire feast. However, it's recommended to practice using the Dutch oven in a controlled setting before embarking on wilderness adventures to ensure culinary success.
What should I consider when preparing to cook with a Dutch oven outdoors?
Before setting out, it's crucial to familiarize yourself with the Dutch oven's operation in an outdoor setting. Additionally, compiling a comprehensive camping food list, possibly through resources like a downloadable PDF guide, can ensure you have all the necessary ingredients and supplies for a fulfilling outdoor cooking experience.