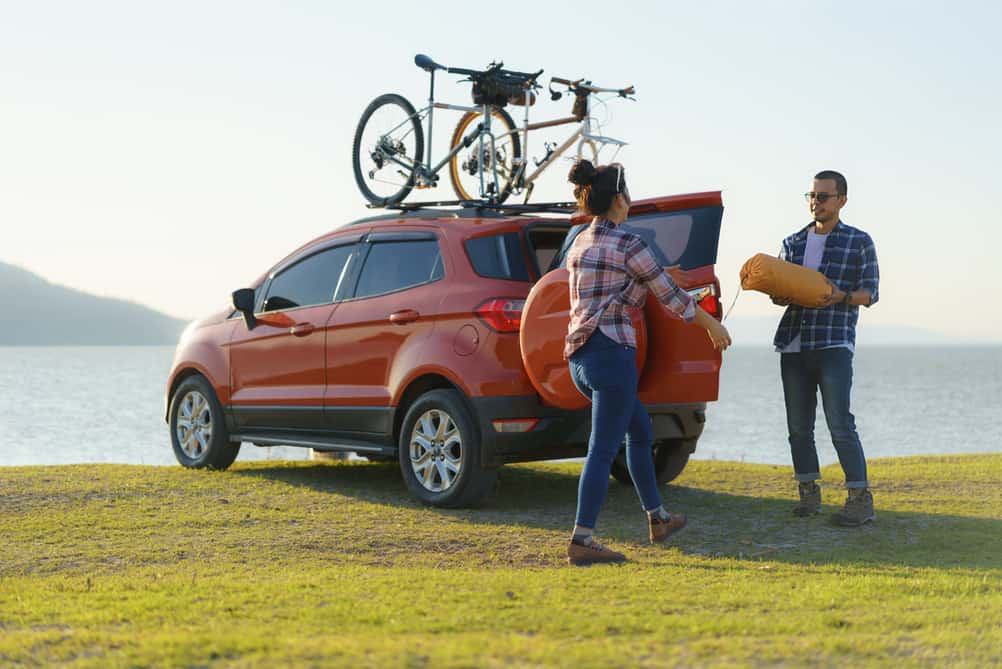 It's no secret that figuring out how to fit camping gear in your car can be a formidable challenge. Effective car packing for outdoor adventures is an essential part of camping preparation, often underestimated.
This comprehensive guide aims to change the game by equipping you with practical and efficient ways to pack your car tightly yet safely before heading out into nature. Ready to start smart packing? Let's dive in!
Key Takeaways
Developing a packing plan and checklist is crucial for efficiently fitting camping gear in your car.
Pack heavy items first and place them low and towards the vehicle's rear to ensure stability during transit.
Utilize storage containers, duffel bags, rooftop carriers, or cargo boxes to maximize space inside your car.
Use space-saving techniques such as collapsible gear, vacuum-sealed storage bags, and roof racks/hitch-mounted cargo carriers to optimize trunk space.
Bungee cords, cargo nets, tie-down straps, carabiners, and gear organizers are essential tools for securing and organizing your camping gear in the car.
Tips for Efficiently Packing Your Car for Camping
Develop a packing plan and checklist to ensure you have everything you need for your car camping trip.
Develop a packing plan and checklist
Maintaining organization is crucial when fitting camping gear in your car. Constructing a packing plan and checklist beforehand ensures a well-organized and efficient process.
Identify all the items necessary for your camping trip. These include tents, cooking utensils, clothing, and personal hygiene products.
Use an existing printable camping checklist or create your own tailored to your needs.
Gather all the camping gear next to your car before loading them up. This approach will give you a clear perspective on how much space each item occupies.
Start loading relatively large items such as tents, sleeping bags, and bulky clothing pieces first into the boot of your car.
Pack smaller items like cutlery, dishes, torches, and cleaning supplies in plastic containers or duffel bags for better organization.
Make sure vital equipment such as first aid kits is quickly accessible if needed during travel.
Update the list as you load each item into the car, ensuring nothing essential gets left behind.
Adjust your packing plan for any trip based on weather conditions or temperature variations.
Pack heavy items first and place them low and towards the rear of the car
Organizing your car efficiently for a camping trip begins with strategically placing heavier items. Kick off the packing process by loading these items first, focusing on positioning them low and towards the rear of your vehicle.
This crucial step serves multiple purposes, acting as an underpinning that creates stability during transit while contributing to even weight distribution which is essential in maintaining fuel economy.
Not only does this approach create a solid foundation enabling easier stacking of lighter gear, but it also contributes significantly to safety. With heavy gear nestled against secured components like the back seat or floor, there's less likelihood of items shifting or flying loose in the event of sudden stops or accidents.
Besides being safer, placing bulky essentials at the bottom ensures easy access to smaller necessities without having to unpack everything you need each time you reach a campsite during your road trip.
Utilize storage containers and duffel bags for organization
Efficient packing is key to successful camping trips, especially if you use your car as the main transportation and storage unit. One highly effective way to organize is by deploying various-sized storage containers and duffel bags.
These items will assist in keeping all of your gear – from clothes to cooking utensils – well-sorted and readily accessible. Specifically, see-through plastic bins work exceptionally well to store smaller camping knick-knacks that often get lost amongst other larger equipment within the car.
Packing similar items, such as clothing or toiletries, in one durable duffel bag makes unpacking easier at the campsite. And it saves significant trunk space in your vehicle, making room for bulkier, essential equipment like tents and sleeping bags.
So, next time you pack your car for a family camping adventure or solo expedition, bank on these simple yet effective tools – storage containers and duffel bags; they're practical, affordable, and can swiftly transform chaos into an organized system.
If you're interested in car camping, you might like to read: What is Overland Camping? and How to Stay Warm Car Camping.
Use rooftop carriers or cargo boxes for additional storage space
Consider using rooftop carriers or cargo boxes to maximize your car's storage capacity for camping gear. These handy additions offer valuable additional space for all your essentials.
Cargo boxes can accommodate bulky items like skis, backpacks, and strollers, freeing up room inside the car. They are available in various sizes to suit different needs, and reliable brands like Thule provide "fit guides" for easy selection.
With a roof rack and cargo box combo, you can avoid the hassle and expense of renting gear or trailers for your camping adventure. So take advantage of this practical solution to maximize storage space on your next trip!
See "How to Store Camping Gear" for more tips.
Space-Saving Techniques for Small Cars
Space-saving techniques are crucial when packing camping gear in a small car. From collapsible equipment to vacuum-sealed storage bags, discover innovative ways to maximize trunk space and make your next camping trip a breeze.
Read more for tips on optimizing space in your small car for an epic outdoor adventure.
Utilize collapsible or compact camping gear
When it comes to fitting camping gear in your car, one space-saving technique that can make a big difference is utilizing collapsible or compact camping gear. These products are designed to be easily folded or disassembled, allowing you to maximize the available space in your vehicle.
From collapsible tents and camp chairs to compact cooking equipment and hiking-style bedding, plenty of options can help minimize the gear you need to bring without sacrificing comfort or functionality.
These items save space in your car and are lightweight and easy to transport. They are perfect for car campers looking for convenience and efficiency on their trips.
By opting for collapsible or compact camping gear, you can easily pack everything you need into your car without feeling cramped or overwhelmed by bulky items. These space-saving solutions allow you to bring more essentials on your adventures and ensure that all your gear remains organized and readily accessible throughout your trip.
Maximize trunk space by using vacuum-sealed storage bags
To make the most of limited trunk space on your camping trip, consider using vacuum-sealed storage bags. These nifty bags are designed to compress items and remove air, allowing you to reduce the volume of bulky gear like sleeping bags and clothing.
Not only do they save precious space in your car, but they also keep your belongings organized and protected from moisture. Place your items inside the bag, use a vacuum cleaner to remove the air, seal it up, and voila! You'll be amazed at how much more room you have for other essentials.
Whether you're traveling in a small car or want to optimize storage space, vacuum-sealed storage bags are an affordable and practical solution for packing smartly on your next camping adventure.
Utilize roof racks or hitch-mounted cargo carriers
For car campers needing extra storage space, roof racks or hitch-mounted cargo carriers are game-changers. Roof racks provide a convenient solution for maximizing storage by utilizing your vehicle's roof rails.
With the ability to securely attach items like rooftop cargo boxes, you can easily transport bulky camping gear without sacrificing interior space. On the other hand, hitch-mounted cargo carriers are designed to increase your car's cargo-carrying capacity and keep wet or soiled gear outside of the vehicle.
They come in various types, including heavy-duty options with retaining walls and folding designs for easy storage when not in use. Whether you prefer a roof rack or a hitch-mounted carrier depends on personal preference and needs. Both options offer additional storage solutions that can make all the difference on your next camping adventure.
Essential Gear for Organizing and Securing Your Camping Gear in the Car
Having the right gear for organizing and securing everything in your car is essential to ensure the safety and organization of your camping gear during transit.
Bungee cords, cargo nets, and tie-down straps for securing items
Bungee cords, cargo nets, and tie-down straps are essential for car campers to secure their items during transportation. These tools ensure your gear stays in place and prevent unwanted movement or damage. Here are some key points to keep in mind:
Bungee cords can secure various items such as coolers, fridges, and outdoor recreation equipment. They provide a flexible and adjustable way to hold down your gear tightly.
Tie-down straps are specifically designed for securing cargo during transportation and come with load ratings for breaking strength. They offer a more secure option than bungee cords due to their design and purpose.
Repurpose old bungee cords by creating cord wraps using synthetic wine corks. This allows you to easily store and organize your cords without them getting tangled or damaged.
When securing oversized items, a 4'x8′ heavy-duty cargo net designed for trailers can be a perfect fit for the back of your car. It provides ample space for storing camping gear while keeping everything secure.
Cargo nets often come with additional cargo straps with hooks that offer extra security for items that need a more stable hold.
Organize loose items with modular gear tie-down anchors. These anchors can be attached to various parts of your car's interior or trunk area, providing multiple attachment points for securing coolers, camping gear, or outdoor equipment.
Consider investing in safe and functional tie-down options that use industrial-strength elasticized webbing. These options stretch when needed but won't snap like bungee cords, ensuring a reliable hold on your camping gear.
Carabiners and gear organizers for easy access to smaller items
Carabiners and gear organizers are essential tools for car campers looking to keep their smaller items easily accessible. These practical solutions help keep keys, cell phones, camping gear, and garden tools organized and within reach during your camping adventures. Here's how carabiners and gear organizers can make your outdoor experience more efficient:
Carabiners: These handy devices come in different materials like aluminum, steel, and plastic, providing durability for securing smaller loads. Attach carabiners to your backpack straps or belt loops to keep essentials close at hand.
Gear Organizers: Storage boxes and bins are excellent options for organizing camping gear on the road. They help minimize clutter and ensure that everything from tents to cooking utensils is easy to locate and retrieve when needed.
Multi-functional Carabiners: Consider using carabiners that double as knives or firestarters for added convenience. These multi-functional tools combine practicality with space-saving capabilities in your camping gear setup.
Permanent Camping Storage Boxes: If you frequently embark on camping trips, investing in durable storage boxes can be a game-changer. These long-lasting containers provide a practical solution for storing and organizing camping gear between trips.
Waterproof Storage Containers: Protecting sensitive items from water damage is crucial during camping trips. Waterproof storage containers safeguard your belongings from wet weather conditions, ensuring they remain dry throughout your adventure.
Home Organization: Streamline the packing process by organizing your camping gear at home before hitting the road. This strategy ensures that everything you need is readily available when packing the car.
Kitchen Organizers: Camping storage drawers and kitchen organizers help keep food, cooking utensils, and other essentials neatly organized during outdoor excursions.
See our Shopping List For Camping post for tips and ideas about what you might need for your trip.
Waterproof storage bags or containers for protecting gear from moisture
Waterproof storage bags or containers are essential for car campers to protect their gear from moisture.
These bags and containers keep your camping equipment dry, even in wet weather conditions.
Look for waterproof storage options made from durable materials such as nylon or PVC, which can withstand the elements.
Waterproof storage bags typically have a roll-top closure or airtight zipper to ensure a watertight seal.
These bags come in various sizes, allowing you to choose the right one for your needs.
Waterproof storage containers are another great option for safeguarding your gear against moisture.
Look for containers with built-in rubber gaskets or O-rings to keep water out and ensure a tight seal.
These containers are ideal for storing electronics, clothes, sleeping bags, and food that need extra protection from moisture.
Waterproof storage bags and containers are essential when camping near bodies of water or during rainy seasons to prevent damage to your gear.
These waterproof solutions can also help you stay organized by keeping your belongings neatly packed.
These containers are also good for storing gear at home, as discussed in How to Store Camping Chairs.
Utilize storage bins or dividers for easy organization and accessibility
Properly organizing and accessing your camping gear is crucial for a successful camping trip. By utilizing storage bins or dividers, you can ensure that everything has its place and is easily accessible when needed. Here are some tips on how to make the most of storage bins or dividers for easier organization:
Categorize your gear: Sort your camping gear into categories such as cooking utensils, sleeping gear, and outdoor equipment. This will help you determine how many storage bins or dividers you need.
Choose the right-sized containers: Opt for storage bins or dividers that are size-appropriate for your gear. This will prevent items from shifting during travel and allow for efficient use of space in your car.
Label your containers: To quickly locate specific items, label each container with its contents. This will save you time rummaging through multiple boxes to find what you need.
Pack strategically: Place frequently used items in easily accessible containers near the top of the stack. For example, keep cooking utensils and food supplies in separate containers within reach of the rear seats.
Use dividers to maximize space: If you have larger storage bins, consider creating compartments within them. This will prevent smaller items from getting lost or buried under larger gear.
Protect against moisture: Opt for waterproof storage bins or line them with plastic bags to protect your camping gear from water damage during rainy weather or accidental spills.
Stack and secure: Stack your storage bins securely in your car's trunk or cargo area, ensuring heavier items are placed on the bottom to maintain good weight distribution.
Secure loose items: Use bungee cords or cargo nets to secure loose items that won't fit in a storage bin. This will prevent them from shifting around while driving.
Prioritize safety: Ensure that sharp objects or potentially hazardous materials are stored safely in separate containers or adequately secured to avoid accidents.
Consider overlanding storage solutions: If you frequently go car camping, investing in a roof rack or cargo carrier can provide additional space for oversized gear items such as tents or camp chairs.
Sale
Bestseller No. 1
iClimb Ultralight Compact Camping Alu. Folding Table with Carry Bag, Two Size (Black – S)
Unlike other similar tables with bungee cord connection, this table has unique hinged design connection which will make it last many years.
Ultralight, made of aerospace-grade aluminum alloy, only 2.2 lbs; Max Load 66 lbs; Unlike wooden or nylon-top tables, this table is durable, waterproof, corrosion-resistant, easy to clean; Sturdy joints and connectors, plus anti-slip rubber feet make this table more stable, and the legs won't fold, bend, or disengage on different terrain; Very easy to set up, just open the base frame and attach the table top, enjoy your leisure time in seconds
Compact, packed size 17 × 5.9 × 2.76 inches; carry bag included, easy to carry everywhere; Unlike normal cloth tables, this table has flat surface; Surface area 16.1 × 13.58 inches; Height 11.4 inches; Heat resistant, can put your stove on; Very easy to set up, just open the base frame and attach the table top, enjoy your leisure time in seconds, you can also check the video in this page to see more details
Perfect height and size for drinks and snacks when relaxing on your camping chairs, have a picnic in the garden, as a beach table, go fishing, have some coffee at home, or just take it when you have a car travelling.
Lifetime warranty: We stand behind our products and offer a limited lifetime warranty against manufacturer defects.
Sale
Bestseller No. 2
Willpo CertiPUR-US Memory Foam Camping Mattress Portable Sleeping Pad Floor Guest Bed Lightweight Outdoor Tent Mattress Removable Waterproof Cover Travel Bag
【GREAT SUPPORT and COMFORT】 High density foam has great resilience, grants you constant support, memory foam increase more wrapping feelings, brings comfort and relaxation for the body, perfect collocation between two type of foam gets your body well rested. NO MORE Back pain or annoying Discomfort from rocky terrain from inflatable sleeping pad.
【SUPERIORLY WATERPROOF & NON-SLIP】 Removable waterproof sheet is machine-washable, also the high quality water-resistance zipper promotes the performance of the pads away from water. Reduce the hazards of getting sick. Black non-slip bottom is suitable for hard floor or tiles
【PORTABLE & MULTI-FUNCTION】The kids size (63″x26″x2.36″) is easy to roll up into a compact size: 26.5″x13″, weight 6.5lb. Comes with a travel bag. Perfect for any outdoor activity like traveling or car camping for family, indoor use for house guest, kids play mat.
【SAFE & EASY TO CLEAN】All of foam are tested by Certipur-US, safer material, healthier life. Soft touch of cover cloth on the top. The zippered cover can be easily removed in seconds and is even machine washable. Simply zip it off, pop it in the washer and dryer and it is good as new. You can't do that with a futon!
【BETTER LIFESTYLE WITH FAMILY AND NATURE】Make the Memory Foam Camping Mattress be your favorite piece of camp gear to UNPLUG, UNWIND and spend more time with nature, family, and friends by improving the quality of your life. Let lying down in nature Guide your Choices and Inspirations.
Bestseller No. 3
Rightline Gear Moki Car Door Step – Hooks on Car Door Latch for Car Roof Access, As Seen on Shark Tank
Folding Moki Ascent Door Step: Wide enough to accommodate both feet, our patented folding Moki Ascent vehicle step makes it simple to maintain a balanced standing position and eliminates the need for bulky step stools or ladders
Easy Roof Access: Use this convenient folding vehicle door step to easily access your vehicle's roof when loading and strapping down vehicle-top cargo bags and boxes; canoes, kayaks, and SUPs; skis and snowboards; and bikes
Universal Fit: This folding vehicle door step works with all vehicles and can be used on both front and rear doors; Simply attach the door step to any one of your vehicle's u-shaped door latches
Safe For You And Your Vehicle: A rubber bumper and a coated door hook protect your vehicle's door frame; Compact foldable car, SUV, and truck step fits in your center console, glove box, or spare tire compartment when not in use
Shop With Confidence: Our USA-based service team is highly trained and ready to assist you with any questions or concerns
Sale
Bestseller No. 4
11 Piece Camp Kitchen Cooking Utensil Set Travel Organizer Grill Accessories Portable Compact Gear for Backpacking BBQ Camping Hiking Travel Cookware Kit Water Resistant Case (Orange)
COMPACT-ABILITY: Neatly organizes and holds your utensils in one convenient place. Each utensil has its own designated pouch, so units don't get smeared, scratched or damaged in storage or in transit. Provides easy access to your cooking utensils and it is equipped with a secure zip seal.
MULTIPURPOSE: The trendy kit can be used for multiple applications, perfect for concerts, sporting events, hiking, boat rides, mountaineering and BBQ's. The weather retardant the travel utensil kit is the perfect camp kitchen accessory, and it holds all your essential outdoor cooking utensils.
DURABLE | RUGGED: Made with tough woven cotton, it protects your utensils from the elements, falls, and it has multiple compartments, so flatware stays sturdy and doesn't clatter during transportation. In the case of a fall, the thick woven cotton outer shell casing will prevent your cutlery from getting scratched, marred or disfigured
FASHIONABLE | STYLISH: A contemporary design with a woven multicolored pattern it's sure to be a hit at your next boat ride, barbeque or camp. Blends in nicely with existing dinnerware décor and adds a vibrant splash of color to your spread no matter what the occasion.
PORTABLE | TRAVEL FRIENDLY: Perfect for family outings to the Beach, Park or picnic, hiking and camping. Folded, the pouch fits comfortably into travel luggage, trunk or it can be hand held (built in handle). Dishwasher safe and it cleans easily and is washer friendly. Engineered with a sleek design, it stores away easily in standard storage spaces
Sale
Bestseller No. 5
Pitch and Trek Female Urination Device, Silicone Standing Pee Funnel w/Discreet Carry Bag, for Travel, Road Trip, Festival, Camping & Hiking Gear Essentials for Women, Pink
PEE FREE: When you gotta go, you gotta go! This leak-free, reusable female urinal makes doing your business a breeze. Perfect for any situation – from pregnancy to post-op.
EASY CLEAN: Made with high-quality silicone, our female pee funnel can be washed with water and soap and shaken dry for hassle-free cleaning.
COMPACT: Lightweight and convenient, our portable pee funnel for women can easily be folded and thrown into your car's glove compartment, your backpack, or even your purse!
CONVENIENT: From porta potties to public bathrooms, our womens urinal funnel has you covered. Say hello to your new favorite camping companion and enjoy urinating mess and stress-free from anywhere.
CAMPING GIFTS FOR WOMEN: If you're looking for a thoughtful stocking stuffer or white elephant present for the outdoorsy woman in your life, look no further! This travel urinal for women makes for a great Christmas gift they'll actually use."
Conclusion
Packing your camping gear efficiently and strategically in your car is essential for a smooth and enjoyable trip. By following these tips and utilizing space-saving techniques, you can maximize the limited space in small cars or ensure secure storage in larger vehicles.
Remember to prioritize safety by properly securing your gear with bungee cords, cargo nets, and tie-down straps. Happy camping!
Are you a visual learner? Have a look at L.L. Beans How to Pack for Car Camping video:
FAQ
What are some car packing tips for camping?
When it comes to packing the car for a camping trip, there are many things to consider. Some car packing tips include using a cargo barrier to separate the passenger area from the packed items, using the footwell to store smaller items, and packing the heaviest items first.
How do I pack my car for a car camping trip?
Packing the car for a camping trip requires planning and organization. Start by making a list of everything you need to bring, and then prioritize your items based on what you need first when you get to your destination. Pack the heaviest items on the bottom and secure loose items to prevent them from flying around in the event of an accident.
Should I pack my camping gear on the roof of my car?
It depends on the size of your car and how much you want to pack. If you have a small car, using the roof to pack your camping gear may be necessary. However, suppose you have a bigger car and can fit everything inside. In that case, it may be better to avoid using the roof to keep the overall height of your vehicle down.
Can I tow a camper or caravan on a car camping trip?
Yes, you can tow a camper or caravan on a car camping trip. However, it's important to make sure your car has the appropriate towing capacity and that the height and weight of your caravan or camper are within your car's limits. You may also need to invest in roof bars or a roof box to accommodate additional gear.
How do I pack my car safely for a camping trip?
To pack your car safely for a camping trip, you should avoid overloading the vehicle, keep the weight evenly distributed, and make sure all gear is securely packed in the car. Check the height of your car before you pack to avoid any clearance issues, and make sure all items are stored in a way that won't obstruct your rearview mirror.
What items do I need to pack for a camp kitchen?
When it comes to packing a camp kitchen, it's helpful to prioritize items that you'll need to use first, like a stove and cooking utensils. Pack your food and drinks last so they don't get crushed.
What is the best way to pack the roof of my car for camping?
To pack the roof of your car for camping, consider investing in a roof box or using a cargo bag to maximize your space. Pack heavier items towards the center of the roof to keep the weight evenly distributed and avoid disrupting the car's balance.
Do I need to pack wet weather gear for a camping trip?
Yes, it's always a good idea to pack wet weather gear for a camping trip, even if the forecast is sunny. You never know when the weather might change, and it's better to be prepared than to be caught in the rain without the proper gear.
How do I pack a small car for a camping holiday?
To pack a small car for a camping holiday, prioritize the items you need and be strategic about how you pack them. Consider using vacuum bags to compress clothing and invest in collapsible camping gear to save space. Remember to keep the weight distributed evenly and avoid obstructing your rearview mirror.
What do I need to know about packing a trailer or caravan for a camping trip?
When packing a trailer or caravan for a camping trip, you must ensure you have the appropriate towing capacity and that you're within the legal limits for the size of your vehicle. Pack heavier items towards the front of the trailer or caravan to prevent swaying, and make sure all items are securely packed to avoid damage during transport. Keep in mind that overloading your trailer or caravan can invalidate your insurance and put you at risk for a dangerous situation on the road.