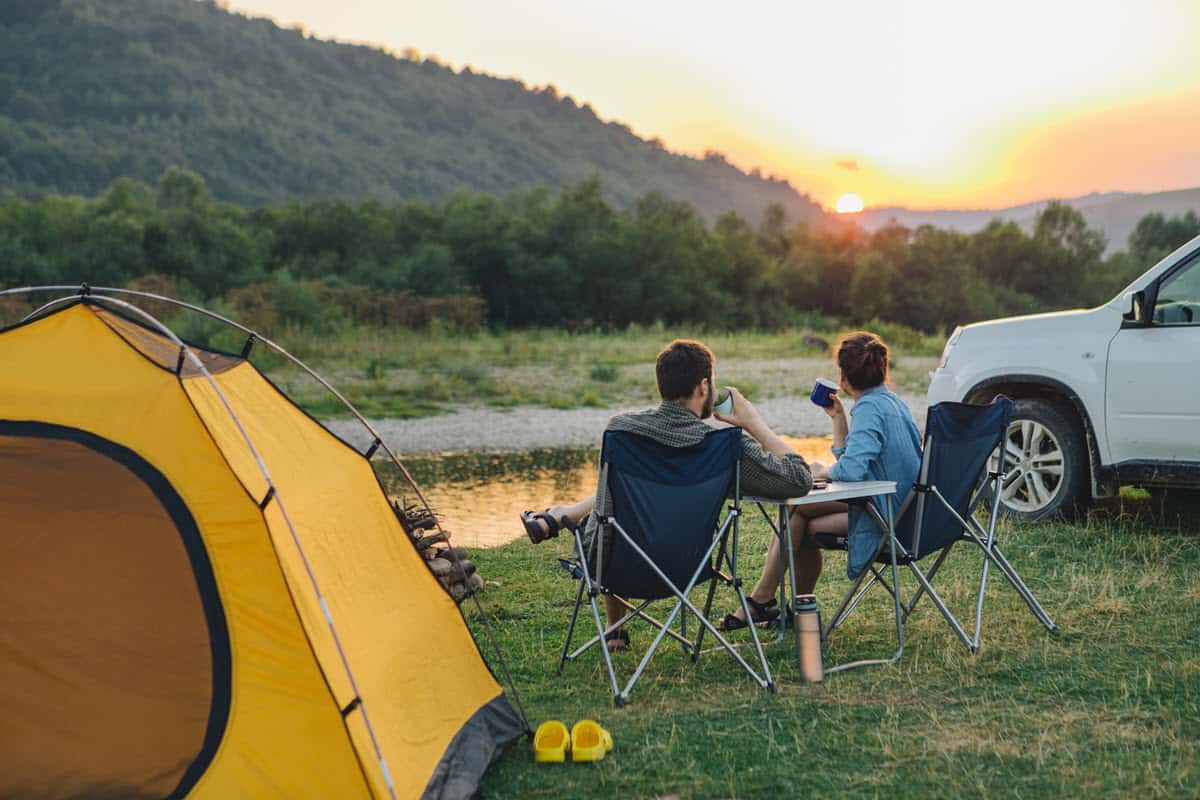 What is Car Camping?
Car camping refers to a type of camping where the campsite is accessible by vehicle, allowing campers to bring more equipment and supplies than would be possible with backpacking or hiking.
This form of camping typically takes place in designated campgrounds or areas where cars are permitted, such as national parks, forests, or private campgrounds.
The term "car camping" comes from the convenience of using your car both as a means of transportation to the campsite and as a storage unit for your camping gear. It's an ideal choice for families, beginners, or those who prefer a more comfortable and less strenuous camping experience.
With car camping, you can enjoy the beauty of the outdoors while still having access to amenities and comforts that might be unavailable in more remote camping scenarios.
Why is Car Camping So Popular?
Car camping is that sweet spot between roughing it in the wild and enjoying the creature comforts we all know and love. Simply put, car camping is all about using your trusty vehicle as your home base, while you set up camp nearby. It's the best of both worlds, really—giving you the chance to unwind in nature without sacrificing those little luxuries that make life worth living.
This guide provides you with everything you need to know about car camping, from essential gear to expert tips and tricks to ensure a successful and enjoyable experience.
Benefits of Car Camping
Car camping offers several advantages over traditional camping, including things like:
Convenience: With car camping, you can easily access your vehicle's amenities (e.g., charging your phone, playing music, having access to a heat source, etc.) and store your camping gear in your car, making setup and teardown a breeze.
Comfort: Car camping allows you to bring along additional comforts, such as your favorite pillow, air mattresses (and a pump to inflate it), those large comfy folding camp chairs, and a big-ass cooler, for a more enjoyable outdoor experience.
Versatility: Car camping provides the flexibility to explore various campgrounds and natural sites without the need for extensive planning or having to carry your gear to the campsite in a backpack.
Affordability: With no need for specialized gear or permits, car camping is an affordable option for those looking to enjoy the outdoors without having to spend a ton of cash.
Essential Car Camping Gear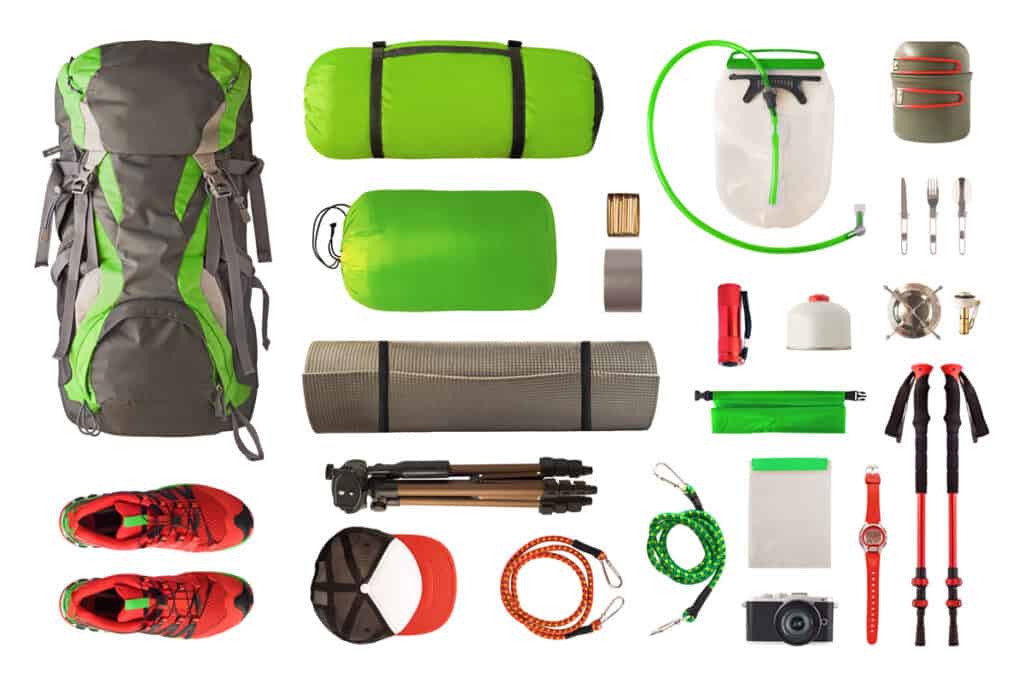 To have a successful car camping trip, you'll need to pack some essential gear, so here's a comprehensive list of items to bring along:
Shelter and Sleeping
Tent: Choose a tent that suits your needs in terms of size, weight, and weather resistance. A quality, easy-to-set-up tent is crucial for a comfortable night's sleep. Based on years of personal experience, I highly recommend Coleman tents. They are affordable, reliable, and easy to set up and break down.
Sleeping Bag: Opt for a sleeping bag rated for the expected temperatures you'll encounter during your trip. A lightweight, compressible bag is ideal for easy storage. Check out our how to pick a sleeping bag post for ideas. Tip: We've been using the same 4 North Face Sleeping Bags for the last 15 years and we love them.
Sleeping Pad or Air Mattress: For added comfort, bring a sleeping pad or air mattress to cushion against the ground and provide insulation against the cold or wet ground.
Pillows: Pack your favorite sleeping pillows or use rolled-up clothing for extra head support.
Cooking and Food Storage
Portable Stove: A compact and efficient portable stove, preferably one that runs on propane, is essential for preparing hot meals at your campsite.
Campfire Cookware: Bring along lightweight, non-stick pots, pans, and utensils designed for outdoor cooking.
Cooler: Store perishable food items and drinks in a high-quality cooler to maintain freshness and prevent spoilage.
Water And Hydration
Staying hydrated during a camping trip is vital to keep your body functioning properly. Here are some essential water and hydration items to include in your car camping checklist:
Water bottles: Bring reusable water bottles for each camper, and pack enough large-capacity water containers for a backup supply.
Water filter or purification tablets: If your campsite doesn't have access to clean drinking water, bring along a portable water filter or purification tablets.
Hydration backpacks: These are ideal for hikers who need to hydrate while on the move.
Electrolyte powder packets: Add these to your water bottle to boost hydration and essential minerals.
Cooler with ice: Keep your drinks cool and refreshing by packing them in a cooler with ice packs or frozen bottles of water.
Sports drinks: These can help replace lost electrolytes during long hikes or other strenuous activities.
Hot beverages: Bring along a portable stove or campfire cooking equipment for morning coffee or hot tea, which can also help you stay hydrated.
Remember, staying hydrated is key to enjoying all the outdoor activities that come with car camping. Make sure you pack enough water supplies for your entire trip and plan accordingly if the campsite does not have easy access to drinking water.
Be sure to read our 6 simple ways to purify water in the wild and finding water sources in the wild posts to learn more about finding drinkable water while camping in the wilderness.
Clothing and Personal Items
Clothing: Pack weather-appropriate clothing, including moisture-wicking layers, waterproof outerwear, shoes, boots, water shoes, and any other type of footwear you may need based on your planned activities and the weather.
Personal Hygiene Items: Bring travel-sized toiletries, such as soap, toothbrushes, toothpaste, and the most important personal hygiene product of all, toilet paper.
First Aid Kit: Prepare a first aid kit with essential supplies like bandages, gauze, pain relievers, anti-bacterial ointment for cuts and scrapes, calamine lotion for stings and poison ivy, and any necessary prescription medications.
Navigation And Safety Equipment
Navigating unfamiliar territory and staying safe are crucial aspects of any car camping trip. Remember to bring these essential navigation and safety items:
Maps and compass: While GPS devices are convenient, they can malfunction or lose signal in remote areas. Always carry a physical map and compass as a backup.
First aid kit: Accidents happen, so be prepared with a well-stocked first aid kit that includes bandages, gauze, antiseptic wipes, pain relievers, and any necessary prescription medications.
Emergency whistle: In case of an emergency, this small but mighty tool can attract attention from far away.
Headlamp or flashlight: A reliable light source is essential for navigating in the dark or finding your way to the bathroom at night.
Multi-tool or knife: A versatile multi-tool or knife can help with food preparation, repair gear, and even start a fire.
Fire extinguisher: Cooking over an open flame is part of the fun of car camping, but keep a fire extinguisher handy in case things get out of control.
Remember to familiarize yourself with potential hazards in the area you're visiting and take precautions accordingly. And always let someone know where you're going and when you plan to return for added safety measures.
Tips for a Successful Car Camping Trip
Follow these tips to ensure a smooth and enjoyable car camping experience:
Plan Your Route and Campsite
Research campgrounds and natural sites beforehand with free tools like Google Maps, Mapquest Multi-Stop Route Planner, and Apple Route Planner to find the perfect route and location for your trip. Consider factors such as amenities, proximity to attractions, and site availability when making your decision.
Organize and Pack Efficiently
Create a packing list and group your items into categories (shelter, cooking, clothing, etc.) for easy organization. Use storage bins, duffel bags, or stuff sacks to keep your gear organized and accessible.
Practice Leave No Trace Principles
Preserve the environment and minimize your impact by practicing Leave No Trace principles, which means disposing of waste properly, extinguishing your campfire, leaving natural and cultural features undisturbed, using eco-friendly biodegradable soap, and respecting wildlife and other campers.
Choosing a Campsite and Setting It Up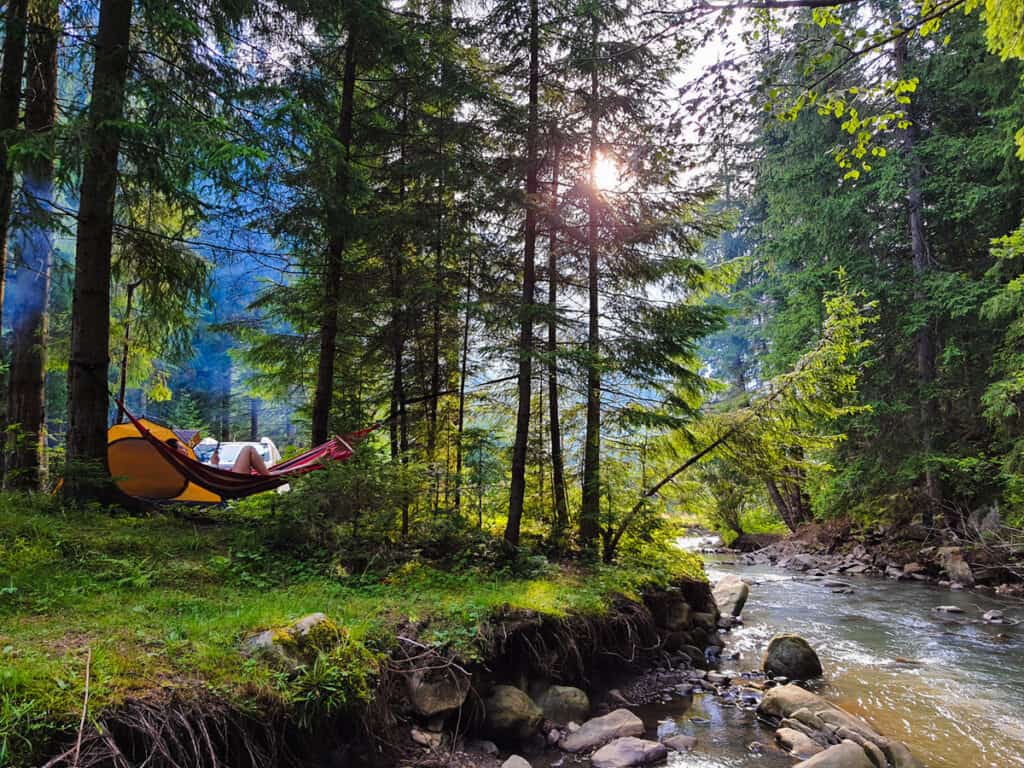 When setting up your campsite, consider the following factors for optimal comfort and safety:
Choose a flat, level surface: Pick a spot with minimal rocks, roots, and uneven ground to ensure a comfortable sleeping area and a safe place to cook.
Consider wind direction: Position your tent's door away from the prevailing wind to minimize drafts and keep your shelter stable.
Establish a cooking area: Set up a designated cooking area at least 200 feet away from your sleeping area to minimize the risk of attracting unwanted wildlife visitors (think bears) and reduce fire hazards.
Check out our Ulitmate Guide to Dispersed Camping for some great ideas on where to find great campsites, including campsites for car camping.
Camping With Dogs
Be sure to check out our Camping With Dogs guide for making sure you are fully prepared for your trip.
Prepare for Changing Weather Conditions
Weather can be unpredictable (especially when you live in Michigan like I do), so it's essential to be prepared for various conditions. Check the forecast before your trip and pack appropriate clothing, shelter, and gear to stay comfortable and safe in any situation.
Stay Safe and Be Prepared
Familiarize yourself with potential hazards in your camping area, such as wildlife encounters, poisonous plants, or adverse weather conditions. Equip your first aid kit with items specific to these risks and learn how to respond in case of an emergency.
Engage in Fun and Relaxing Activities
Car camping offers ample opportunities for outdoor recreation and relaxation. Plan activities such as hiking, fishing, backpacking, stargazing, or simply enjoying campfire s'mores and a cold beverage or two with friends and family to make the most of your trip.
Wrapping It Up – Car Camping Essentials
Car camping is a fantastic way to experience the great outdoors with added convenience and comfort. By following this comprehensive guide, you'll be well-equipped for a memorable and enjoyable car camping adventure. From packing the right gear to choosing the perfect campsite and engaging in fun activities, you're on your way to creating lasting memories in nature.
Check out our Camping Food List for ideas on which foods to pack for your car camping trip.
And don't forget to read our car camping checklist post to learn how to pack like a pro for your next adventure.