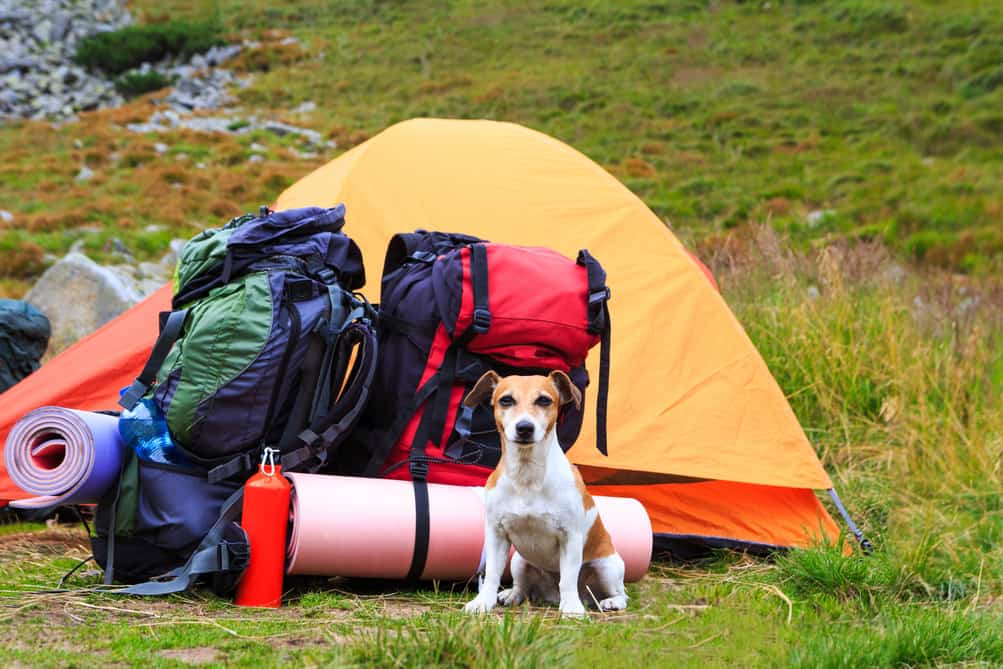 Embarking on a camping trip with your favorite four-legged companion can be a fun and rewarding experience. Dogs are often eager explorers who love the excitement of the great outdoors. However, to ensure your pet's safety and comfort, it's crucial to pack the right dog camping gear.
Must-Have Camping Gear for Dogs
Dog Camping Bed or Pad
A good dog bed or sleeping pad is essential for any camping trip. Your furry friend will appreciate a warm, comfortable place to sleep after a day of adventure. Choose a dog bed that's durable, easy to clean, and designed for outdoor use. I recommend the VMGreen Travel Dog Bed.d
Dog Food Storage, Bowls, and Serving Gear
When camping with dogs, proper food storage is crucial. Opt for airtight containers that keep food fresh and deter wildlife. Collapsible bowls are a great space-saving option for serving food and water. Remember to bring a sturdy water bottle to keep your dog hydrated.
Quick Tip: make your dog's meals tasty with camping recipes for dogs.
Treat Pouch or Container
A treat pouch is essential, especially when training your dog in a new environment. Choose one that is easily attached to your belt or bag for convenience. Leashboss is a good choice.
Dog Leash and Harness
A robust and durable leash and harness are vital for your dog's safety during your camping trip. A harness provides better control and is less likely to cause injury if your dog pulls.
First Aid Kit for Dogs
Like humans, dogs can get injured too. Pack a first aid kit with bandages, antiseptic wipes, tweezers, and any necessary medication, such as for ticks and fleas. Knowledge of basic pet first aid can also come in handy.
Additional Gear to Consider
Light-up Collars or Leashes for Visibility
Visibility is critical when camping with your dog. Light-up collars or leashes can help you keep an eye on your pet during nighttime adventures.
Dog-friendly Insect Repellent and Sunscreen
Protect your dog from harmful UV rays and biting insects with dog-friendly sunscreen and insect repellent. Remember, many human products can be toxic to dogs.
Dog Boots for Rough Terrain or Protection
Consider investing in a pair of dog boots if your adventures involve rough terrain. These can protect your dog's paws from sharp rocks, thorns, and hot surfaces. Try them out beforehand, and give your dog a chance to get used to them at home without the distractions of being in a new place.
Dog Life Jackets for Water Activities
A dog life jacket is a must if your camping trip involves water activities. Not all dogs are natural swimmers; even the best can get tired or face strong currents. Here again, you'll want to acquaint your dog with their life jacket before you go on your trip.
Tips for an Enjoyable Camping Experience with Your Dog
Plan Ahead for Pet-Friendly Campsites
Before you set off, ensure you're heading to a pet-friendly campsite. Our guide to dog-friendly national park campsites can help you plan.
Ensure Your Dog is Up-to-Date on Vaccinations and Preventative Care
Before camping with your dog, ensure they are up-to-date with vaccinations and tick, flea, and heartworm prevention.
Here are some of the most common vaccinations for dogs:
Rabies Vaccination: Rabies is a deadly disease that can be transmitted to humans. Most states require rabies vaccinations by law.
Distemper, Hepatitis, Parainfluenza, and Parvovirus (DHPP): This is often called the "combo" vaccine because it protects against multiple diseases. Distemper and parvovirus are highly contagious and potentially fatal diseases, while hepatitis affects the liver, and parainfluenza affects the respiratory system.
Bordetella (Kennel Cough): This vaccine protects against a highly contagious respiratory disease often spread in boarding and grooming facilities.
Leptospirosis: This vaccine protects against a bacterial infection that can lead to kidney damage and liver disease.
Lyme Disease: If you live where ticks are common, your vet might recommend a Lyme disease vaccination.
Canine Influenza: The canine influenza vaccine is relatively new and may be recommended if your dog spends time in kennels or dog parks.
Remember, your vet will recommend a vaccination schedule and types of vaccines based on factors such as your dog's age, health status, breed, lifestyle, and regional disease risks. Always consult your vet to determine what vaccines are necessary for your dog.
Bring Enough Food, Water, and Medication for Your Dog
Pack enough dog food for your trip, plus a little extra in case of delays. Remember any medication your dog may need.
Below are some common medications and treatments that dog owners might need to pack:
Flea, Tick, and Heartworm Preventatives: These are often administered monthly, so if you're going to be away during that time, be sure to pack them.
Prescription Medications: If your dog has a chronic condition like arthritis, heart disease, diabetes, or anxiety, don't forget their regular prescription medications.
Allergy Medication: If your dog has allergies, bring any prescribed antihistamines.
Digestive Medications: Anti-diarrheal medications and other digestive aids can be helpful if your dog tends to have a sensitive stomach.
Pain Relievers: Never give your dog human pain relievers, as they can be toxic. Only use pain medication prescribed by your vet.
Eye and Ear Drops: Bring any prescribed drops or cleansers if your dog is prone to eye or ear infections.
Antibiotics: If your dog has a recurrent issue that requires occasional antibiotic treatment, speak with your vet about bringing a supply.
Consult your veterinarian before any trip to ensure you have all the necessary medications and supplies your dog might need.
Keep Your Dog Secure and Supervised at All Times
Never leave your dog unattended. Ensure your pet is always on a leash or securely confined within your campsite.
Here are several methods to securely confine your dog during a camping trip:
Dog Leash/Tether: This is the most straightforward method. Always have your dog on a leash outside your tent or RV. Use a rope or stake out a line to secure the leash at the campsite, but never leave your dog unattended.
Portable Fencing/Pen: Portable dog fences or playpens are great for camping. They give your dog more freedom to move around while confining them to a specific area. Make sure the fence or pen is sturdy enough to contain your dog and large enough for them to move comfortably.
Dog Crate: If your dog is crate-trained, bringing along their crate can provide a safe, familiar space for them.m This can be particularly useful at night or when you cannot supervise them. Ensure the crate is well-ventilated and not in direct sunlight.
Inside the Tent/RV: At night or during bad weather, the safest place for your dog might be inside the tent or RV with you.
Dog Harness with a Long Line: A harness with a long line can give your dog more freedom to explore while keeping them secure.
Cable Run: A cable run involves setting up a line between two trees and attaching your dog's leash to it, allowing them to move along the line. This is not recommended for unsupervised use, as dogs can get tangled.
Remember, even when your dog is securely confined, you should always supervise them to ensure their safety and well-being.
Enjoying the Outdoors with Your Furry Friend
Benefits of Camping with Your Dog
Camping with your dog can be a great bonding experience and an excellent way for both of you to get exercise and fresh air. Tent camping, in particular, can be an adventure. Check out our guide on tent camping with dogs for more information.
Activities to Do with Your Dog While Camping
From hiking to swimming, there are plenty of activities to enjoy with your dog while camping. Just remember to keep your dog's physical abilities and restrictions in mind.
How to Teach Your Dog Camping Etiquette
Teaching your dog not to bark excessively, chase wildlife, or invade other campers' space is essential. Start training at home before your trip.
Here are some key points to consider:
Training Before the Trip
Start training your dog for camping before you embark on your trip. Work on basic commands such as "sit," "stay," "come," and "leave it." The latter can be handy to prevent your dog from picking up or eating something they shouldn't.
Keeping Noise to a Minimum
Excessive barking can disturb wildlife and other campers. If your dog tends to bark a lot, work on the "quiet" command at home. If your dog continues to bark excessively while camping, it might be a sign of stress or discomfort, and it may be best to pack up and try again another time.
Respecting Wildlife
Dogs can disrupt local wildlife, so teaching your dog to leave animals alone is important. The "leave it" command is especially useful in these situations. Always keep your dog on a leash and under control.
Cleaning Up After Your Dog
Always clean up after your dog. Not only is it respectful to other campers, but it also protects the environment. Be sure to bring plenty of poop bags to pick up your dog's waste, and dispose of it in designated pet waste containers if available.
Respecting Other Campers
Not everyone is a dog lover. Teach your dog to only approach other campers if invited. This is where a reliable "stay" command comes in handy.
Leash Training
Your dog should be comfortable and well-behaved on a leash, as most campsites require dogs to always be leashed. If your dog isn't used to being on a leash, practice at home before your trip.
Remember, every dog is different and may require alternate training techniques. It's always a good idea to consult a professional dog trainer or your vet for personalized advice.
Making Memories with Your Pup
Remember to bring a camera! Document your camping trip and make lasting memories with your furry friend. You might want to bring some sort of portable backup solution if you're not going to have internet access for cloud backup. Or just back up your phone to your laptop, if you'll have that with you.
Conclusion
Whether it's your first time or you're a seasoned camper, proper planning and the right gear can make your camping trip with your dog a memorable one. From a comfortable dog bed to a sturdy leash, your dog's camping gear is as essential as yours. Remember, a well-prepared camper is a happy camper.