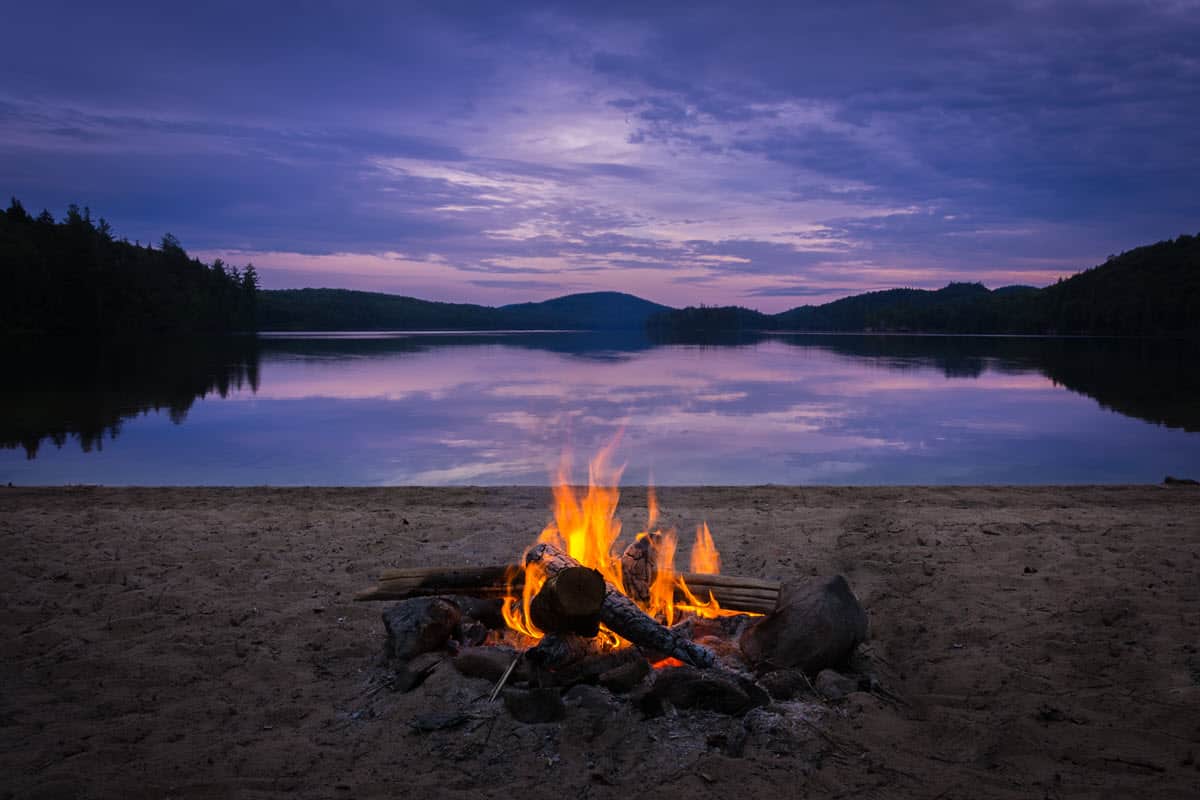 Summer is the perfect time to pack up your gear and head outdoors for an unforgettable camping experience. However, a successful adventure relies on bringing the right summer camping essentials.
This blog post will guide you through everything you need to make your trip comfortable, safe, and enjoyable – from essential gear and clothing items to tips for packing smartly.
Key Takeaways
Choosing the right gear for summer camping, including shelter and sleeping equipment, cooking gear and food supplies, lighting and navigation tools, sun and insect protection, and first aid kit and emergency supplies, is crucial for a comfortable experience.
Appropriate clothing and footwear are essential to staying safe in changing temperatures during summer camping trips. At the same time, hydration systems or water filtration devices ensure you drink clean water throughout your journey.
Personal care items like sunscreen, insect repellent, and hand sanitizer are essential to bring along with entertainment options like books or games to relax after a long day of outdoor adventure. Remember to follow Leave No Trace principles when using any tool!
Essential Gear For Summer Camping
Gear for summer camping includes shelter and sleeping equipment such as a tent, sleeping bag, and sleeping pad.
Shelter And Sleeping Equipment
Ensuring a comfortable and restful night's sleep is crucial for an enjoyable summer camping experience. Equip yourself with the proper shelter and sleeping gear from this list:
A sturdy, well-ventilated tent suitable for summer weather.
A lightweight yet durable tarp or tent footprint to protect your tent floor
An inflatable or foam sleeping pad for added comfort and insulation
A high-quality sleeping bag appropriate for the expected temperature range
Compact camping pillows, either inflatable or stuffed with compressible filling
Optional: a hammock with mosquito netting for a relaxing alternative to tent sleeping
Tent accessories, such as stakes, guylines, and repair kit in case of damage
Here are our top picks for the best 4 person tents for camping.
Cooking Gear And Food Supplies
Cooking delicious meals while camping is an essential part of the experience. Here are some important gear and camping food supplies to bring along:
Portable camp stove
Fuel for the stove
Cooking utensils (pots, pans, spatula, etc.)
Cooler with ice or ice packs
Food storage containers or bags
Utensils (forks, spoons, knives)
Plates, bowls, and cups
Cutting board and sharp knife
Dish soap and sponge for washing dishes
When planning your meals for camping, consider non-perishable foods such as canned goods, dried fruits and nuts, trail mixes, granola bars, and instant oatmeal. Remember to bring fresh produce that can withstand the conditions, like apples, oranges, carrots, or celery sticks. If you plan on cooking meat or fish at the campsite, make sure it is packed properly so it doesn't spoil. Also, remember to pack appropriate spices to use during cooking.
A few additional tips include meal planning before your trip, which allows you more time for outdoor activities, using a cast iron skillet that can easily be placed over a campfire, and packing meals in advance to reduce prep work at the campsite.
Camping cuisine has evolved from simple hotdogs on a stick over a fire pit to gourmet meals cooked outdoors with high-quality equipment. Make sure you have all the necessary items to make mealtime fun when exploring nature!
Lighting And Navigation Tools
When camping, it's essential to have reliable lighting and navigation tools. Here are some of the most important items to pack for your summer camping trip:
Headlamp or flashlight with extra batteries: These will come in handy during nighttime activities and when navigating the campsite.
Lantern or campfire lighters: A lantern can provide ambient lighting in your tent or around the campsite. At the same time, a lighter is necessary for igniting a fire.
Maps and compass: Even if you're not planning a hike, it's always good to have a map and compass in case you need help. And don't forget to brush up on your navigating in the wilderness skills while you're at it.
GPS device: For more advanced navigators, a GPS device can help keep track of your location and guide you to your destination.
Whistle: In an emergency, a whistle can signal for help.
Remember, always practice Leave No Trace principles when using any lighting or navigation tool.
Sun And Insect Protection
Staying safe from the sun and pesky insects is crucial for a comfortable summer camping trip. Here's what you need:
Sunscreen: Protect your skin from harmful UV rays by packing a high-SPF sunscreen.
Sunglasses: Keep your eyes safe from the sun's glare with a good pair of sunglasses.
Hat: A wide-brimmed hat can protect your face, ears, and neck from sunburns.
Insect repellent: Keep bugs away with a quality insect repellent spray or lotion.
Bug zapper: A bug zapper lantern can help keep insects away from your campsite and light up your area at night.
Citronella candles: Add ambiance to your campsite while keeping mosquitoes away with citronella candles or oil lamps.
Mosquito netting: If you're sleeping under the stars, bring mosquito netting to cover your sleeping area for added protection.
After-bite cream: Soothe itchy bug bites with after-bite cream or lotion.
Remember to reapply sunscreen every few hours and bring extra insect repellent in case you need it throughout your trip!
First Aid Kit And Emergency Supplies
Accidents and emergencies can happen when camping, so it's essential to always be prepared with a first aid kit and emergency supplies. Here are some items you should consider packing:
A pre-made first aid kit or one you put together yourself includes essentials like bandages, gauze, antiseptic wipes, tweezers, scissors, and pain relievers.
Personal medications for any known medical conditions.
Emergency blankets to keep warm in case of cold weather or unexpected situations.
A whistle or signaling device in case you need to call for help.
Duct tape for quick fixes and emergency repairs.
A multi-tool or pocket knife for various tasks.
A map and compass to navigate in case of getting lost.
Remember to check your first aid kit and emergency supplies before every trip to ensure everything is in good condition and not expired. Knowing basic first aid skills can also be helpful during a camping trip.
Wondering about the other seasons? See When Is the Best Time to Go Camping?
Clothing And Personal Care Items For Summer Camping
Bring appropriate clothing for the weather, including inner and outer layers, headwear, and sturdy hiking boots. If necessary, remember to pack personal care items such as sunscreen and insect repellent, medications, hydration systems, or water filtration devices.
Entertainment options like books or games can provide relaxation after a long day of outdoor adventure.
Appropriate Clothing And Footwear
When it comes to summer camping, choosing suitable clothing and footwear is essential for a comfortable and safe experience. Here are some tips to consider:
Dress in Layers: Temperatures can vary significantly throughout the day and night, so dressing in layers allows you to adjust your outfit accordingly. Start with a moisture-wicking base layer, add insulating layers, and finish with a waterproof outer layer.
Choose Breathable Fabrics: Opt for lightweight and breathable fabrics such as cotton, linen, or synthetic materials that dry quickly and wick away sweat.
Wear Sturdy Footwear: When hiking or exploring nature trails, wear sturdy closed-toe shoes or boots with good traction to protect your feet from rocks, rough terrain, and potential hazards.
Remember the Headwear: Bring a wide-brimmed hat or cap to shield your face and neck from the sun's harmful UV rays.
Pack Rain Gear: Even if the forecast looks clear, pack rain gear like a waterproof jacket or poncho in case of unexpected showers.
Bring Swimsuits: If you plan on swimming or enjoying water activities, remember your swimsuits!
Stay Cool with Light-Colored Clothing: Dark-colored clothing absorbs more heat than lighter colors, making you feel uncomfortably hot during warmer weather; opt for light-colored clothing instead.
Check the weather forecast before packing and select appropriate clothing based on anticipated temperatures and conditions to ensure an enjoyable summer camping trip!
Hydration And Water Filtration
Staying hydrated is crucial when camping in the summer, but it's important to make sure the water you drink is safe and clean. Here are some hydration and water filtration essentials for your summer camping trip:
Water bottles or hydration bladders: Bring enough water bottles or hydration bladders to keep everyone hydrated throughout your trip.
Water filter or purification tablets: To ensure that the water you drink is clean and safe, bring a water filter or purification tablets. Some popular options include gravity filters, pump filters, and straw filters. Tip: read how to purify water in the wild.
Water containers: In addition to personal water bottles, bring one or more larger water containers to refill throughout your trip. Collapsible containers are a great space-saving option.
Electrolyte packets: When you're sweating in the heat, it's important to replenish electrolytes lost through sweat. Bring electrolyte packets to add to your water for an added boost.
Cooler with ice: Keeping drinks cold can be challenging when camping in the heat. Bring a cooler with plenty of ice (or freeze some ahead of time) to keep beverages ice-cold and refreshing.
Backcountry source: If you're backpacking into a remote location without access to filtered or purified water sources, consider bringing a backcountry source such as the SteriPEN Ultra UV Water Purifier. Tip: read finding water sources in the wild.
Remember to plan for how much water you'll need and where you can refill it. With these hydration and water filtration essentials, you'll be well prepared to stay hydrated on your summer camping trip.
Personal Care Items And Medications
When camping, personal care items, and medications are crucial to bring along for a safe and comfortable trip. Here are some essential things to include:
First Aid Kit: A first aid kit should always be included on any camping trip. Make sure it includes bandages, antiseptic wipes, gauze pads, tweezers, and any necessary prescription medications.
Insect Repellent: Bugs can be a nuisance while camping. Bring insect repellent to avoid bites and stings.
Sunscreen: Protect your skin from harmful UV rays by packing sunscreen with at least SPF 30.
Hand Sanitizer: Keep hands clean and germ-free by bringing along hand sanitizer.
Personal Hygiene Items: Basic hygiene items like toothbrushes, toothpaste, soap, and toilet paper are essential when camping outdoors.
Prescription Medications: Remember to pack and keep any necessary prescription medications in a cool, dry place.
Pain Relievers: Headaches or other minor aches and pains can put a damper on your camping experience. Bring pain relievers like aspirin or ibuprofen, just in case.
Pack these personal care items and medications in waterproof bags or containers to protect them from moisture or accidental spills while camping.
Entertainment And Relaxation
After a long day of hiking and exploring, it's important to unwind and have fun at your summer campsite. Here are some ideas for entertainment and relaxation:
Bring a deck of cards or board games that are easy to pack and can be played by all ages. And review our best camping gear for families post for more great ideas.
A good book is an excellent way to relax before going to bed. Get lost in a story while listening to nature's sounds.
Play music with portable speakers or bring musical instruments like a guitar or harmonica (if you know how to play).
Create your own outdoor movie theater by bringing a projector, screen, and popcorn.
Enjoy the outdoors by playing lawn games like frisbee, cornhole, or bocce ball.
Try stargazing and learn about constellations with an app on your phone or a guidebook.
Bring art supplies like watercolors, colored pencils, or sketchpads to capture the beauty of nature around you.
Remember relaxation! Pack comfortable camping chairs or hammocks that will allow you to kick back and enjoy the views.
Consider bringing meditation cushions or yoga mats for morning stretches or peaceful moments.
Lastly, enjoy the company of those around you! Campfires are perfect for storytelling and bonding with friends and family under the stars.
Remember that camping is all about connecting with nature and taking time away from technology and distractions. Use these entertainment ideas as inspiration but remember to savor moments of peace and quiet too!
Camping Chairs And Tables
Camping chairs and tables are essential for a comfortable camping experience. Here are some things to consider when choosing the right ones:
Choose lightweight, collapsible chairs and tables for easy transport.
Look for chairs with sturdy frames and comfortable seating options.
Tables should have a flat surface that can be easily cleaned.
If you plan to eat at the table, make sure it's big enough to accommodate your camp stove or other cooking equipment.
Consider getting a chair with a built-in cooler for drinks or snacks.
Tables with adjustable legs can accommodate uneven ground surfaces.
Pack tablecloths or extra blankets to lay over the table for added comfort.
Camping chairs and tables should enhance your outdoor experience, not hinder it. Choose ones that fit your needs and preferences.
Tips For Packing And Preparation
– Create a detailed checklist of all the necessary camping items and double-check before leaving.
– Pack smart by organizing gear into categories and using space-saving techniques.
– Bring appropriate clothing, layers, and gear for weather changes.
– Follow Leave No Trace principles to minimize environmental impact while camping.
– Review campsite regulations and safety tips in advance.
– Plan activities and adventures ahead of time to make the most out of your trip.
Make A Checklist And Pack Smart
Before embarking on your summer camping trip, it's essential to make a checklist and pack smart. Here are some tips to help you stay organized and ensure that you don't forget any essential items:
Start by creating a comprehensive packing list with all the gear, equipment, and supplies you need for your trip.
Break down the list into categories: shelter, sleeping gear, cooking supplies, clothing, personal care items, entertainment, etc.
Prioritize the items on your list based on their importance and relevance to your camping trip.
Be mindful of the weight and bulk of your gear; remember that you'll have to carry everything with you.
Consider the anticipated weather conditions and pack accordingly; if it's going to be cold at night, bring extra blankets or warm clothing layers.
Pack multipurpose tools and gadgets that can serve multiple functions; this will save space in your backpack or car.
Remember essential safety items like a first aid kit, emergency whistle, map or compass, and headlamp or flashlight.
Double-check your list before leaving; ensure you have everything crucial.
By following these checklist tips and packing smartly, you can enjoy a stress-free summer camping trip filled with adventure and memories!
Tip: Check out our other posts including camping essentials for women, our tent camping must-haves, and our camping tips category for additional ideas.
Prepare For Weather Changes
Weather can change quickly during a summer camping trip, so preparing for any possible conditions is crucial. Always check the weather forecast before leaving and pack appropriately.
Bring clothes that can be layered and easily removed if temperatures rise, such as moisture-wicking base layers and lightweight jackets.
In addition to clothing, consider bringing extra equipment for unexpected weather changes. For example, bring a tarp to create additional shelter from rain or wind. Remember about extreme heat; pack hats or visors to protect your face from the sun's intense UV rays and sunglasses to protect your eyes.
It wouldn't hurt to have some form of off-grid communication in case of severe weather.
Consider Environmental Impact And Leave No Trace Principles
As outdoor enthusiasts, it's our responsibility to take care of the environment we love. When camping during the summer months, it's essential to consider your environmental impact and follow Leave No Trace principles.
One way to reduce your impact is by packing reusable items such as utensils, plates, cups, and water bottles instead of disposable products.
Additionally, campers should respect wildlife habitats by keeping food stored in secure containers away from animals. Avoid feeding wildlife or interfering with their natural behavior due to potential health risks for humans and animals. If you're camping in an area with bears, you might consider bringing bear spray.
Know Campsite Regulations And Safety Tips
When camping, it's important to know the campsite regulations and safety tips to ensure a safe and enjoyable experience. Here are some tips to keep in mind:
Familiarize yourself with the rules and regulations of the campsite before your trip.
Be aware of any fire restrictions or bans in effect, and always make sure fires are fully extinguished before leaving them unattended.
Keep food stored safely in bear-resistant containers or hanging from trees if necessary.
Dispose of trash properly by using designated receptacles or packing out what you bring in.
Follow Leave No Trace principles by minimizing your impact on the environment.
Be respectful of neighboring campsites by keeping noise levels down during quiet hours.
Always stay current on weather conditions and plan for any potential hazards or temperature changes.
In an emergency, know how to contact park rangers or other authorities for assistance.
By following these guidelines, you can ensure a safe and responsible camping experience while enjoying all that nature has to offer.
Plan For Activities And Adventures
Part of the fun of summer camping is planning out activities and adventures. Whether hiking, swimming, or just enjoying the great outdoors, it's important to come prepared with appropriate gear.
Pack a daypack with essentials like sunscreen, insect repellent, snacks, and water – if you plan to go for a long hike or explore the area.
If you need help determining what kind of activities to plan, consider looking up local attractions beforehand or asking park rangers for recommendations upon arrival. Additionally, check weather forecasts and potential hazards (such as wildlife) before embarking on your adventure.
Final Thoughts
In conclusion, having the right gear and supplies can make all the difference in enjoying your summer camping experience.
Pack smart by creating a checklist, preparing for weather changes, considering environmental impact, knowing campsite regulations and safety tips, and planning for activities.
So remember your tent accessories, insect repellent, sunscreen, water filtration system, first aid kit, hiking boots – all these essentials are important! With proper preparation and packing skills, plus our list of summer camping essentials above – you'll be set up for an outdoor adventure you will remember!
Now you might want to read up on When is Camping Season?
Bestseller No. 1
EFAN Womens Hiking,Walking,Cycling,Running,Yoga Sweat Shorts Summer Casual Comfy High Waisted Lounge Shorts Drawstring Cotton Shorts with Pockets 2023,Medium
★Comfy Material: This summer shorts are made of super soft, skin-friendly fabric that is stretchy and non-deforming, with good sweat absorption and breathability to give women wearing these casual shorts a comfortable experience.
★Design: The EFAN sweat shorts feature a high waist adjustable drawstring, side pockets, solid color and color blocking, loose and comfy casual minimalist design, The Simple shorts is Casual Chic and Never out of Date.
★Match: This women shorts is a great match for t-shirts, tank tops, tight tops, loose jackets, sun shirts, shirts, sweatshirts, hoodies, sandals, sneakers, etc. They are versatile and fashionable, highlighting your personal style.
★Occasion: Suitable for running, yoga, playing ball, dancing, cycling, playing ball, hiking, walking, exercising, home, sleeping, daily wear, so you can stay comfortable, fresh and fashionable in the hot summer.
★Tips: Please Refer to the EFAN Size Chart before Ordering(NOT AMAZON SIZE). Any other questions, please contact us freely!
Bestseller No. 2
Nantucket Spider Summer Camp – 4 oz | Summer Camp Bug Repellent Spray | DEET & Citronella-Free | Organic Mosquito Repellant | Kids Bug and Tick Spray | Made in USA
Our natural, DEET-free no citronella formula for kids and adults is composed of a unique blend of organic essential oils and is highly effective at repelling mosquitos (99% effective in independent tests) and works extremely well against biting flies. Made specially for those who dislike the scent of citronella. Intended for head-to-toe application including hair, clothing, skin and gear.
Made from a blend of organic essential oils including rosemary, geranium, cedarwood, peppermint, spearmint, lemongrass, and clove.
Product has a light and refreshing lemon scent and Summer Camp does not contain citronella, an oil to which some people have an aversion.
A broad range of essential oils is important in a bug spray because different species of insects are primarily repelled by different essential oils.
Distilled water, vegetable glycerin, and organic essential oils are the only other ingredients
Bestseller No. 3
Restland Portable Folding Camping Chairs, Lightweight Collapsible Camping Chairs for Adults, Comfortable High Back Chairs for Outdoor Hiking, Backpacking, Fishing or Picnic
☀【Breathable Fabric】Restland Camping Chairs selected wear-resistant and breathable eco-friendly fabrics, which are odorless even when used in hot summers. The support of the chair is made of lightweight and sturdy metal pipes, with a surface of breathable mesh fabric and 600D Oxford cloth, odorless PE coating on the back to strengthen durability. So you can take it for travelling without worry, providing you with a moment of relaxation and rest when necessary
☀【Stable & Comfortable】The innovative triangular structure base is more stable and has stronger load-bearing capacity than others. The high back design allows you to lie comfortably in the chair and completely relax your neck. Whether it's lying for a cool breeze in the evening or resting after your journey, it can always provide better rest than the traditional small chairs
☀【Compact & Portable】Although a chair can allow an adult to lie down when unfolded, it is surprisingly compact when folded up. You can even pack it into your backpack, it's not only lightweight but also portable when traveling
☀【Easy to Install & Fold Away】Take 30 seconds to unfold these metal tubes, then put metal pipe into the cloth cover by stretching 2 straps. The installation steps are very simple, it only takes a few minutes to install or fold it. There are related instructions in the package. You can take a few seconds to read and learn how to install it
☀【Various Uses & Tips】It is perfect for backpacking, fishing, hunting, backyard party, barbecue or light travel etc. This camping chair is also a popular holiday gift for family members or friends,especially for outdoor enthusiasts, they will definitely enjoy it. Warm Tips: It is recommended that you place the chair on a flat ground for better and more secure use
Bestseller No. 4
FAQs for Summer Camping Essentials
What are the essential items needed for summer camping?
Some essential items you need for summer camping include a tent, sleeping bags, a portable stove, kitchen supplies, insect repellent, and sunscreen.
How do I choose the right tent for my summer camping trip?
When selecting a tent for your summer camping trip, consider size (how many people will be using it), material quality (waterproofing), and weight. You want to ensure the selected model is suitable for outdoor conditions while also being easy to transport from one location to another.
Is insect repellent really necessary when camping in the summer?
Yes! Insect bites can ruin an otherwise pleasant experience very quickly, so having clothing with permethrin-treated fabrics or treated bug sprays can help keep bugs at bay while enjoying some time outdoors comfortably.
Do I need special cooking equipment when campgrounds have established fire pits/grills?
If your chosen campground already has established fire pits or grills available, then you might not need any additional cooking equipment; however, if you plan on doing more elaborate menus than simple burgers & hotdogs, It may be worth considering bringing basic pots/pans/bowls alongside utensils like spatulas/tongs knives fork spoons, etc.
What is the best time of year to go camping?
Camping season is typically from late spring to early fall, with the peak season being summer. The weather can be unpredictable depending on your location, so it's best to check the forecast and plan accordingly.
What are the important pieces of gear I should bring for summer camping?
Some camping gear essentials include a tent, sleeping bag, sleeping pad, camping chairs, first aid kit, backpack, tarp, and firestarters. These items will help keep you comfortable and safe during your trip.
Should I invest in a quality sleeping bag?
Investing in a quality sleeping bag is essential for a cozy and comfortable night's sleep. Look for a bag rated to the temperatures you'll be encountering, and make sure it's the right size for you. Read how to pick a sleeping bag for some great tips.
Do I need to bring a large amount of gear for camping?
The gear you need depends on the camping you'll be doing and how many people are going with you. You can bring more items for car camping since you'll have more space. If you're backpacking, you'll need to keep it lightweight and only bring the essentials.
What are some affordable camping gear options?
There are plenty of inexpensive options when it comes to camping gear. Look for off-brand items or used gear. Don't forget to check out local thrift stores and garage sales for gear you may need.
Is it necessary to bring a camping chair?
While a camping chair isn't necessary, bringing one is a great idea. It helps keep you off the ground and provides a comfy spot to sit around the campfire.
What should be included in my summer camping checklist?
Some items to include in your summer camping checklist include a tent, sleeping bag, sleeping pad, camp chair, first aid kit, backpack, tarp, and firestarters. Remember to bring plenty of water, food, medications, and allergy supplies.
How do I start a campfire?
A good start to a fire is with dry kindling, such as twigs or small sticks. Add larger pieces of wood once the fire is going. It's best to bring some firestarters with you just in case the conditions are damp. Check out the post how to build a campfire in 5 easy steps for more info.
Should I bring a sleeping pad?
Yes, a sleeping pad is an important piece of gear to bring. It helps to insulate you from the ground and provide a more comfortable sleeping surface.
What's the best way to pack my camping gear?
It's always good to think ahead when packing your gear—group items together, such as cooking gear in one bin and sleeping gear in another. Remember to bring a gallon-sized bag for trash and another for dirty clothes.
What are some fun things to do while camping?
Camping offers plenty of opportunities for fun. Hiking, fishing, playing games, and telling stories around the campfire are just a few ideas. Don't forget to bring ingredients for s'mores!
See "How to Store Camping Gear" for more tips.