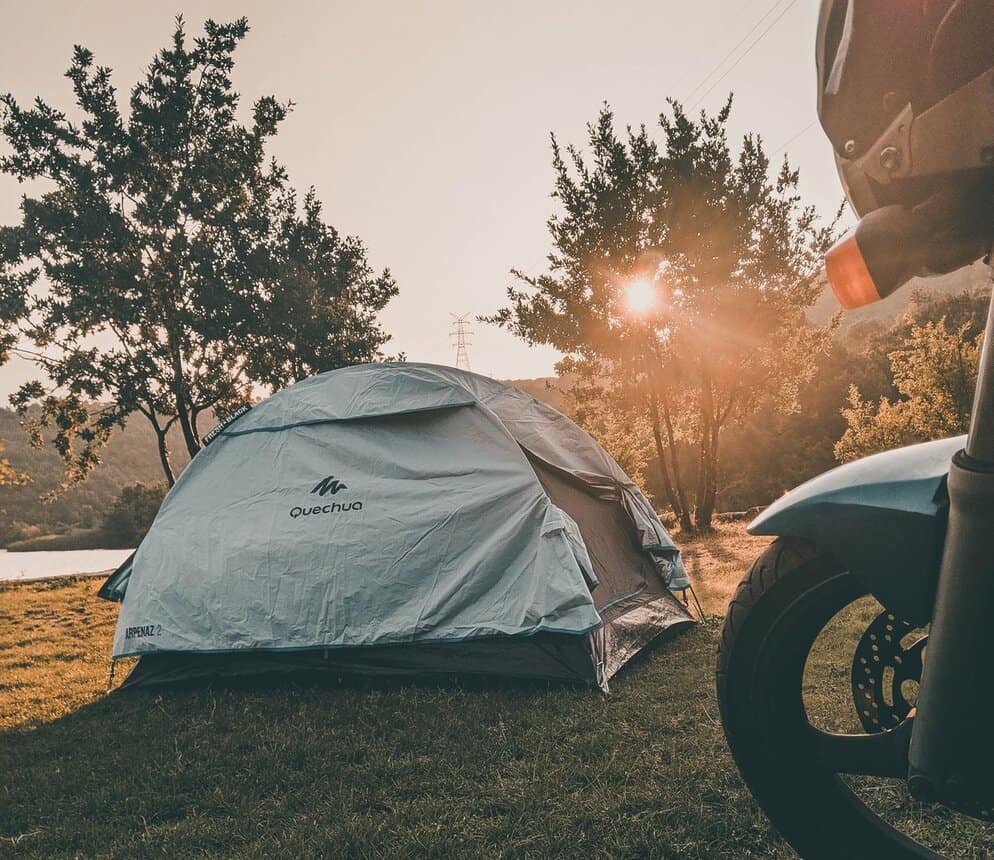 Camping is a great way to get away from society and embrace nature. It's good for your health, and you can do it all from the comfort of your motorcycle. However, how you pack for your camping trip will differ quite a bit from if you took a car to the campsite.
Here's what kind of motorcycle camping gear you should pack and what to prioritize.
Key Takeaways:
Strategic Packing for Motorcycle Camping: The article outlines the unique considerations when packing for a motorcycle camping trip, emphasizing the need to pack light while ensuring all essentials are included.
Choosing the Right Campsite: It's important to select a motorcycle-friendly campsite where you can park close to your tent, providing convenience and security for your motorcycle.
Essential Gear Selection: Key items for motorcycle camping include a motorcycle tent to protect your bike and gear overnight, a kickstand plate to stabilize your bike on uneven ground, and non-perishable food items stored in airtight containers.
Compact and Efficient Shelter: Opt for compact camping gear like a fold-out tent and a sleeping bag that can easily be carried on a motorcycle without compromising comfort and protection.
Power Supply Management: Carry a power bank, preferably solar-powered, to keep electronic devices charged without draining the motorcycle's battery.
Safety Precautions: Always pack a first-aid kit to handle minor injuries and be prepared for any emergencies while off the grid.
Lightweight and Durable Equipment: The article suggests using gear that is both lightweight for easy transport on a motorcycle and durable enough to withstand the rigors of outdoor camping.
Packing Tips for Your Motorcycle Trip
The first thing you should do if you plan to go camping on your motorcycle is find the right place to go. Motorcycle campsites let you park your ride right next to where you want to hitch your tent. You don't have to worry about someone stealing it while you're away.
You can take that into account when you're packing. Even though you'll want to pack light, you'll have your belongings easily accessible at all times.
Remember that you won't be able to bring larger appliances or equipment like a cooking stove or a blow-up mattress. You'll need to focus on more simple items like a sleeping bag and a fold-out tent.
Finally, consider towing a small trailer if you need to pack extra. Although you'll have a limited weight limit, it's useful for anything you can't strap to the side of your ride.
Quick Tip: Also see Pack Like A Pro: The Ultimate Car Camping Checklist
Must-Have Motorcycle Camping Gear
What are some essentials you'll need when you're camping with your motorcycle?
A must-have for anyone who wants to protect their bike is a motorcycle tent. This item unfolds large enough to cover both a sleeping person and their motorcycle. It's a great option if you want to keep your motorcycle dry throughout the night.
Another helpful item is a motorcycle kickstand plate. This allows you to park your motorcycle in the dirt without worrying about it falling over.
Any food you bring needs to be non-perishable. This includes things like canned fruit, granola, beef jerky, and trail mix. You'll also want to store your camping food in airtight containers to avoid attracting insects or other wildlife.
If you intend to use any electronics like your phone or iPad, then bring at least one power bank. Ideally, you'll have a solar-powered one that can provide enough power for multiple nights. This way, you won't have to rely on your motorcycle battery for electricity.
Last but not least, pack a first-aid kit. You never know when you'll get a cut that becomes infected because you didn't bring bandages.
Pack the Essentials for Your Trip
Even though you'll have to pack light, your motorcycle camping gear should hold all the off-grid camping essentials you'll need to survive in the wilderness. Pack some food, tents, sleeping bags, and whatever else you'll need while you're there. Even if things go wrong, you can always hop on your bike and ride back to civilization at any time.
Take a look at our camping tips for US national parks.
Bestseller No. 1
Wolf Walker Motorcycle Tent for Camping 2-3 Person Waterproof Instant Tents with Integrated Motorcycle Port for Outdoor Hiking, Backpacking, Picnic Fast Pitch
🏍️Bike port camping tent with spacious design stores a full-sized motorcycle with room for 2-3 people to sleep comfortably;Includes a separate, secure enclosure attached to the inner tent for storing your bike and gear.
☀️Convenient access thanks to 4 different entryways from the tent and bike port; mesh panel provides privacy and protects against bugs.
🏕️4 Season tent with waterproof rainfly for cover and protection from heavy rain and strong wind; waterproof floor keeps campers dry through the night.
🎵The size of the tent is 187.2inch x 98.4inch x 72.8inch. It can easily accommodate 2-3 adults. The folded size is only 24″L X 11″W X 6″H, Only weighs 14.85 pounds.
👍Tent includes 3 finest aircraft grade aluminum poles with stakes and storage bag for quick and easy setup; Multifunctional tent packs up easily into motorcycle bag or carrier.WOLF WALKER always put customer experience first. We guarantee a 100% refund or replace for any quality problem of the product.
Bestseller No. 2
Biker Beach Bash – Daytona
Amazon Prime Video (Video on Demand)
Jeffrey Grubert (Director)
English (Playback Language)
English (Subtitle)
Sale
Bestseller No. 3
Motorcycle Camping Made Easy
Used Book in Good Condition
Woofter, Bob (Author)
English (Publication Language)
200 Pages – 03/15/2010 (Publication Date) – Whitehorse Press (Publisher)
Bestseller No. 4
Leather Drop Leg Bag Sling Pack for Men Women Motorcycle Bike Outdoor Sports Crossbody Waist Fanny Pack Travel Hunting Hiking Camping Climbing Multi-purpose Pouch Brown
Durable & Vintage Leather Drop Leg Bag: This leg bag is made of cowhide genuine leather, top-quality zippers, adjustable straps, quick release buckle, ideal for motorcycle, bike, riding, cycling, travel, outdoor, sports, hunting, hiking, tactical military, running, fishing, walking, jogging, camping, all kinds of outdoor activities and daily use.
Versatile & Spacious: Size: 14cm(L)x3.5cm(D)x22cm(H)(5.5″x1.3″x8.6″) approx; Fit Waist: ≤115cm (45.2 ") approx; Fit thigh: ≤70cm (27.6 ") approx; weight: 350g approx; practical, minimalist design, 2 zipper pockets on the main body, one front open pocket with small magnetic closure cover, perfect gift for Christmas, New Year, Thanks Giving Day, Groomsmen, Birthdays, Father's Day.
Designed for comfort: Good construction, comfortable carry, enough place for carrying up your cell phone, notepad, goggles, books, keys, pens, cards, flashlight, gloves, chargers, power bank. vintage and fashion, brings you more fashion sense and happiness to carry it all the time when travel.
Multipurpose use: This stylish leg bag can used as a drop leg bag, waist pack, thigh bag, crossbody bag, shoulder bag, travel bag, outdoor bag, daypack, fit very well for adult men or women. Perfect for outdoor, travel, camping, shopping, not big, easy to put it in you backpack, luggage bag or suitcase when you travel.
100% satisfaction guarantee warranty and friendly customer service: Don't worry about the service. If you have any problem about the item, Please Do not hesitate to contact us. (Through the order ,you can find out : CONTACT SELLER) We will be there with you!
FAQs
What is the recommended approach to selecting a campsite when motorcycle camping?
When planning a motorcycle camping trip, it's advisable to choose motorcycle-friendly campsites where you can park your bike close to your tent. This convenience offers peace of mind regarding the security of your motorcycle and allows for easy access to your gear.
How should I pack my motorcycle for a camping trip to ensure safety and preparedness?
Packing for motorcycle camping requires prioritizing compact and lightweight gear. Essential items include a motorcycle tent, a kickstand plate, non-perishable food stored in airtight containers, a power bank (preferably solar-powered), and a comprehensive first-aid kit. It's crucial to pack items that are essential for survival and comfort without overloading your bike.
Can I bring large appliances or equipment while camping with a motorcycle?
Due to space and weight constraints on a motorcycle, it's not feasible to bring large appliances or equipment. Instead, focus on compact and multi-use items such as a fold-out tent and a sleeping bag. If additional space is needed, consider towing a small trailer, keeping in mind the weight limitations.
What are some must-have gear items for motorcycle camping?
Must-have gear for motorcycle camping includes a motorcycle tent that can also cover your bike, a kickstand plate to stabilize your bike on uneven ground, non-perishable food, a solar-powered power bank for charging electronics, and a first-aid kit for emergencies.
How can I manage food storage on a motorcycle camping trip to prevent wildlife encounters?
Store your food in airtight containers to maintain freshness and prevent attracting insects or wildlife. Choose non-perishable items such as canned goods, granola, beef jerky, and trail mix that are easy to pack and won't spoil without refrigeration.
What are the benefits of having a motorcycle tent during camping?
A motorcycle tent is beneficial as it provides shelter for both the camper and the motorcycle. It ensures that your motorcycle stays dry and protected from the elements overnight, which is especially important for maintaining the condition and functionality of your bike.
Is it possible to use electronic devices during motorcycle camping, and how can I charge them?
Yes, you can use electronic devices while motorcycle camping. To keep them charged, bring a power bank, ideally a solar-powered one, which can recharge your devices for multiple nights without depending on your motorcycle's battery.
In case of an emergency, what safety measures should I take when motorcycle camping?
Always pack a well-stocked first-aid kit to handle minor injuries and emergencies. It's also wise to inform someone of your travel plans and expected return, carry a map or GPS device, and have a plan for reaching civilization quickly if needed.