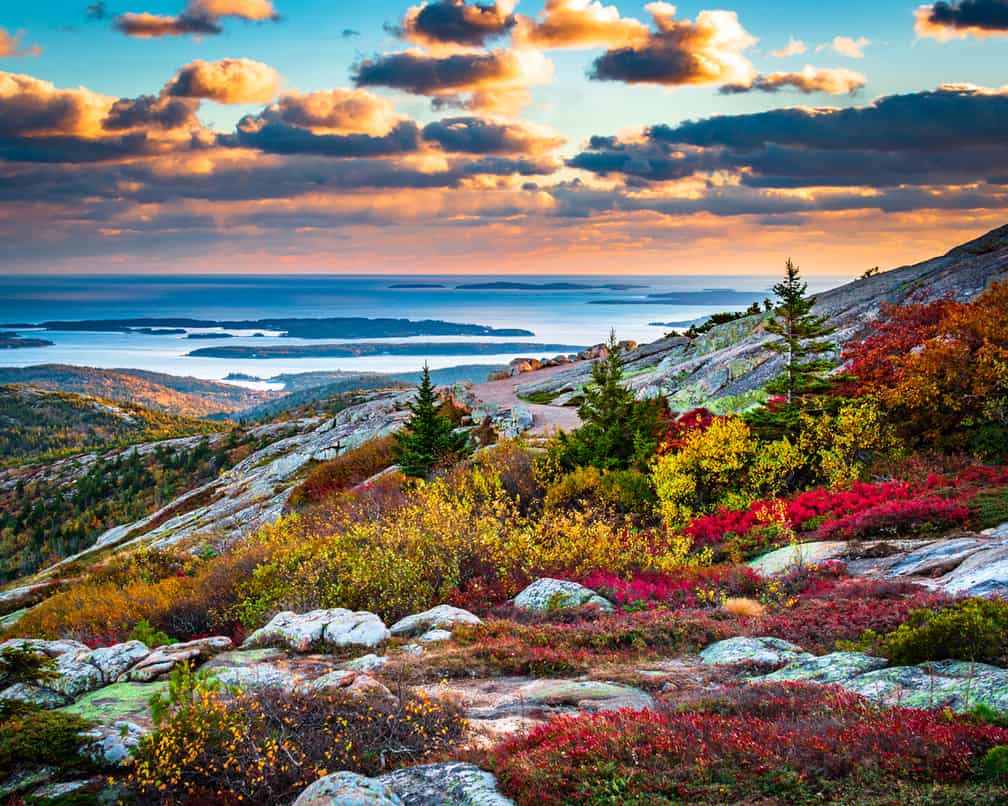 Our seasonal guide to U.S. National Parks will help you decide on the perfect time to visit, hinging on your specific interests, preferred activities, and the distinct seasonal offerings of each park. From Yellowstone's geothermal wonders to the majestic peaks of Rocky Mountain National Park, there's a perfect time and place for everyone.
Best Time to Visit U.S. National Parks Based on Interests
Determining the best time to visit a national park can be a balance of interests. Whether you seek the thrills of hiking and adventure, the magic of wildlife viewing, the tranquility of water activities, or the enriching exposure to cultural and historical sites, there's a suitable season.
Hiking and Adventure
Hiking enthusiasts and adventurers typically find spring and fall the best times to visit, particularly in parks such as Yosemite and the Grand Canyon. Cooler temperatures and fewer crowds allow an uninterrupted experience of the park's breathtaking trails.
Wildlife Viewing
Wildlife viewing is optimal when animals are most active in the early summer and fall. For example, Yellowstone National Park shows exceptional animal activity during these seasons.
Water Activities
Summer is ideal for water activities such as canoeing, kayaking, and swimming. Like the Everglades National Park, parks with outstanding water features come alive during these hot months. These are an especially attractive option for kids.
Cultural and Historical Sites
The time to visit is more flexible for cultural and historical exploration, often year-round. However, accessibility may be better during off-peak seasons due to smaller crowds. Some notable parks for history lovers include:
Gettysburg National Military Park in Pennsylvania preserves the site of the Civil War's bloodiest battle.
Little Bighorn Battlefield National Monument in Montana marks the location of General George Custer's last stand.
Fort Sumter National Monument in South Carolina marks the start of the Civil War.
Antietam National Battlefield in Maryland preserves the site of a Civil War battle that helped to turn the tide of the war.
Appomattox Court House National Historical Park in Virginia is where Confederate General Robert E. Lee surrendered to Union General Ulysses S. Grant, effectively ending the Civil War.
Fort McHenry National Monument and Historic Shrine in Maryland is where the American flag was famously raised during the War of 1812.
Independence National Historical Park in Pennsylvania includes Independence Hall, where the Declaration of Independence and the U.S. Constitution were signed.
Seasonal Guide to National Parks
Knowing when to visit national parks can enhance your experience and enjoyment. Different seasons bring out unique aspects of each park, from spring's budding flora to winter's snow-capped mountains.
Spring: Best parks to visit in spring
Spring is a time of renewal in our national parks. As temperatures rise and snow melts, dormant landscapes awaken, allowing visitors to witness nature's resurgence. For instance, the vast landscapes of Zion National Park come alive with vibrant wildflowers and lush vegetation, providing scenic vistas for hikers and photographers alike.
Spring also marks the return of wildlife. From the rustling of small critters to the melodious songs of returning birds, the parks brim with activity. This makes it an ideal time for wildlife enthusiasts eager to glimpse nature's inhabitants.
Lastly, springtime visitors can often take advantage of milder temperatures and fewer crowds before the rush of the peak summer season. This can lead to more tranquil trail experiences and more enjoyable interactions with park rangers.
Quick Tip: you can also beat the crowds by visiting Lesser Known National Parks
Summer: Best parks to visit in summer
As the warm summer sun bathes the country, national parks reach their full potential, becoming hubs of activity and exploration. In parks like Yosemite National Park, the snow melts from the high country, revealing miles of hiking trails and an abundance of cascading waterfalls. The park's meadows are vibrant and verdant, offering breathtaking vistas for hikers and nature lovers.
Similarly, the iconic Grand Canyon comes alive in the summer. With the park's shuttle service in full operation, visitors can easily traverse the expansive landscape. It's an ideal time for those looking to descend into the canyon's depths, take in the staggering scale of this natural wonder, or capture the perfect sunset photograph.
Summer also offers the best time for water-based activities in many parks. From the tranquil lakes of Rocky Mountain National Park to the vast waterways of the Everglades, activities like canoeing, kayaking, and even white-water rafting become popular.
Furthermore, summer's longer days mean more daylight hours to enjoy everything the parks offer. It's a great time to participate in ranger-led programs, witness nocturnal wildlife, and even stargaze in parks famous for their dark skies. It's also the perfect time for camping under the stars, whether in a tent or an RV. If you're looking for the best parks to set up camp this summer, check out this comprehensive guide to the best national parks for camping.
Fall: Best parks to visit in the fall
Autumn in the national parks presents a dramatic transformation. Nature unveils her vibrant palette of fall colors as days grow shorter and temperatures cool. Parks such as Rocky Mountain National Park and Glacier National Park become canvases painted with gold, orange, and crimson hues. It's a paradise for photographers and leaf-peepers who marvel at the vivid display of fall foliage.
In addition to the stunning scenery, fall is prime time for wildlife viewing. Elk, for instance, enter their rutting season, providing a powerful spectacle as males engage in fierce battles for dominance. Keep a respectful distance and use binoculars or a telephoto lens to observe these incredible displays safely.
Furthermore, fall offers an array of scenic drives. Winding roads through the parks showcase a panoramic spectacle of autumn's splendor. Whether navigating the Going-to-the-Sun Road in Glacier National Park or traversing the picturesque Trail Ridge Road in Rocky Mountain National Park, these routes offer a feast for the eyes.
Fall also offers quieter park experiences as visitor numbers drop following the summer rush. Trails are less crowded, providing a peaceful environment for hiking and exploring. Yet, park facilities and services are still available, making it a convenient time to visit.
Winter: Best parks to visit in winter
Winter offers a unique perspective on the natural beauty of national parks, transforming them into serene winter wonderlands. One such park is Yellowstone, renowned for its geysers, hot springs, and abundant wildlife. In winter, visitors can enjoy the unique experience of cross-country skiing or snowshoeing through its frosted landscapes, witnessing geysers like Old Faithful erupting into the chilly air.
Another winter-friendly destination is Hot Springs National Park. Known for its therapeutic thermal waters, it offers a warm respite from the cold. At the same time, Death Valley National Park provides a milder winter climate. Both these parks offer visitors the opportunity to escape from harsh winter conditions and enjoy outdoor activities comfortably.
Apart from the fun-filled activities, the winter season has a unique allure. Snow-capped mountains, frost-covered trees, and icy waterfalls create enchanting scenes for spectacular photography. Plus, the reduced crowds offer a serene, tranquil atmosphere – perfect for those seeking solitude in nature.
Finally, remember that winter also means shorter days, so plan your visits to maximize daylight hours. Likewise, some park roads or services may be closed or reduced. So, check the national park service for the latest information and plan accordingly. Despite the chilly conditions, a well-prepared winter trip to a national park can yield unforgettable memories and breathtaking vistas.
If you're cold-weather camping in an RV, check out How to Keep RV Pipes From Freezing While Camping.
Conclusion: Finding the Perfect Time to Visit U.S. National Parks Based on Your Interests
The perfect time to visit a national park aligns with your interests and the unique qualities of each season. Every park has its peak season, From the spring blossoms of Zion to winter's snow-dusted peaks of Yellowstone. Plan well in advance, and remember to consider off-peak times for a less crowded experience. Explore more national parks and find your perfect match here.
Be sure to check out our posts about Spring Camping Tips, Summer Camping Essentials, and Winter Camping Tips.