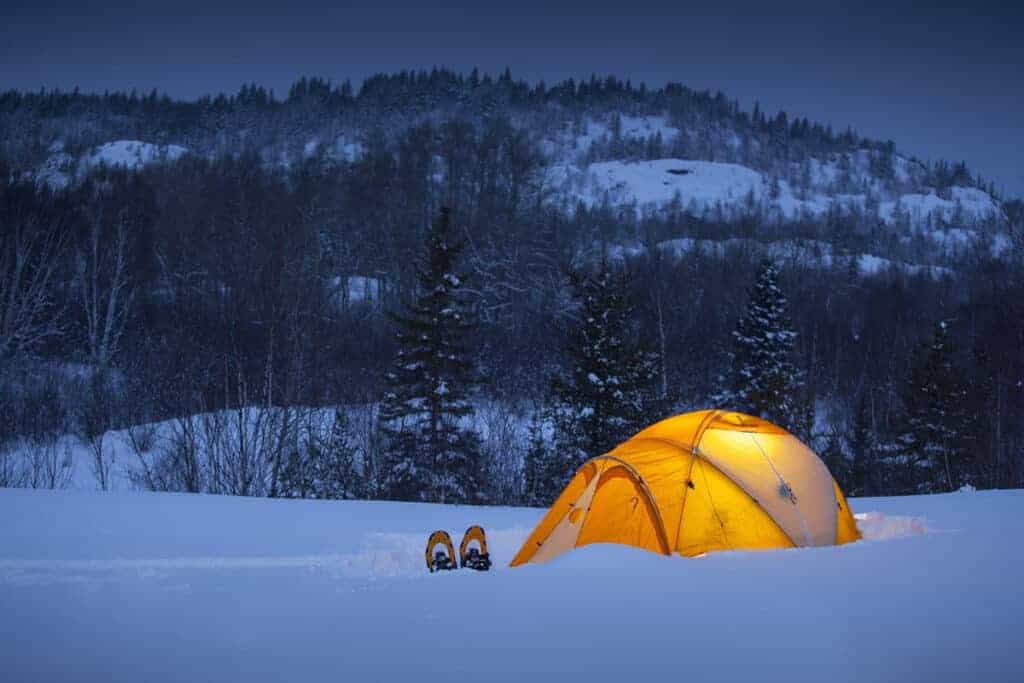 Camping is a joy, but camping while you are freezing is not. You can't escape the cold when you choose to go winter camping.
Luckily, you don't have to avoid winter camping altogether even if you do like to stay warm. There are various winter camping tips you can follow to feel comfortable during a snowstorm or in winter winds.
Let's dive into the best tips and tricks for how to stay warm in a tent.
Choose the Right Tent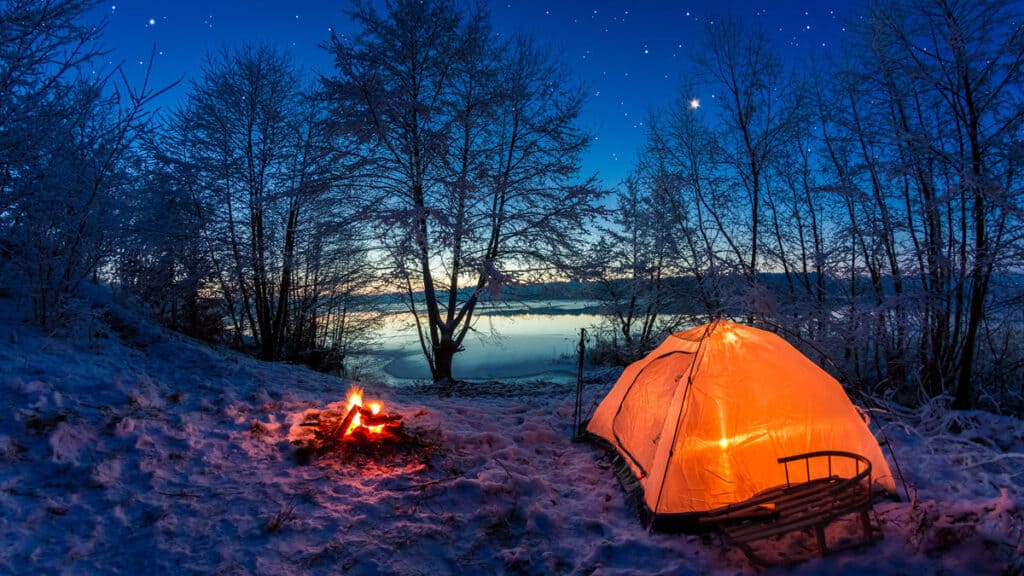 You can stay warm in a tent during the winter by choosing a tent that can resist harsh winds and snow.
Most winter campers decide between a 3-season and 4-season tent. The right choice for you depends on the environment you are camping in.
3-Season Tent vs. 4-Season Tent
3-season tents are designed for temperate conditions and made with lightweight performance in mind. A 4-season tent can withstand heavy snow loads and intense winter winds.
3-season tents, also known as backpacking tents, are generally better for non-winter adventures. However, they can work in winter environments without heavy snowfall and strong winds.
All-season tents are the best choice for camping in a snowy area. These 4-season tents are built with a robust frame structure that allows them to resist high winds and prevents the tent from collapsing if snow builds up on top of it.
If you've settled on purchasing a 4-season tent, you'll have three basic categories to choose from, based mainly on how much weight and bulk you're willing or able to carry:
Standard Four-Season
Four-Season Mountaineering
Alpine Bivy
You might have guessed it, but a Four-Season Mountaineering tent is best if you want to summit a mountain. It has room for multiple people and their gear, and will normally have a coating on the tent fabric that helps snow slide off. Look for versatility in venting options, as this will allow you to adjust for maximum comfort in a variety of weather conditions.
A Standard Four-Season tent is much the same as a mountaineering tent, just not as heavy-duty. A mountaineering tent is meant to withstand a few feet of snow and very high winds, which is overkill in most winter camping situations.
An Alpine Bivy is the tent of choice for winter adventurers and alpinists who need to keep their gear minimal because they are doing a lot of climbing. A bivy is a very small tent, sometimes little more than a bag; it's just big enough for one person in a sleeping bag, and maybe has enough room for a backpack. A four-season bivy will typically have a sort of awning at its head to keep snow from falling on your face while you sleep. It will also be waterproof, or nearly so.
Performance Features
Winter tents are designed with different features that impact warmth, durability, and weight.
4-season tents have durable poles to keep a tent up during strong wind storms. Durable pole construction is essential for any tent, but necessary for camping high in the mountains or other areas with strong winds.
Tent doors are also important features. You'll want more than one door if you aren't camping alone.
A tent with mesh will have built-in ventilation, which is important for keeping your tent dry while you sleep.
If you purchase a tent with ventilation, you benefit from increased breathability and decreased condensation, at the expense of losing some heat. However, keep in mind that excess moisture can lead to decreased effectiveness of sleeping bag and clothing insulation. So keeping things drier can keep you feeling warmer.
Set the Tent up Properly
Another one of the essential tips for winter camping is properly setting up your tent.
You will easily freeze in harsh winter weather if your tent is not properly set up. If you don't camp or pitch a tent often, it's best to learn how to do this before going winter camping.
A tent has many layers and there are some days you won't find it necessary to put a camping tarp under the tent or to use the top fly sheet. However, these are essential components for insulating your tent during the winter.
Fly sheets will minimize moisture to keep snow from penetrating the inside of the tent.
Most tents won't come with a tarp that you can lay under the tent, but this is a smart additional purchase to make for winter camping. These are inexpensive defenses against the cold ground.
Even if you don't opt for a four-season tent, a lighter-weight tent can protect you from winter elements if it is properly set up.
Choose Sleeping Bag Based On Temperature Rating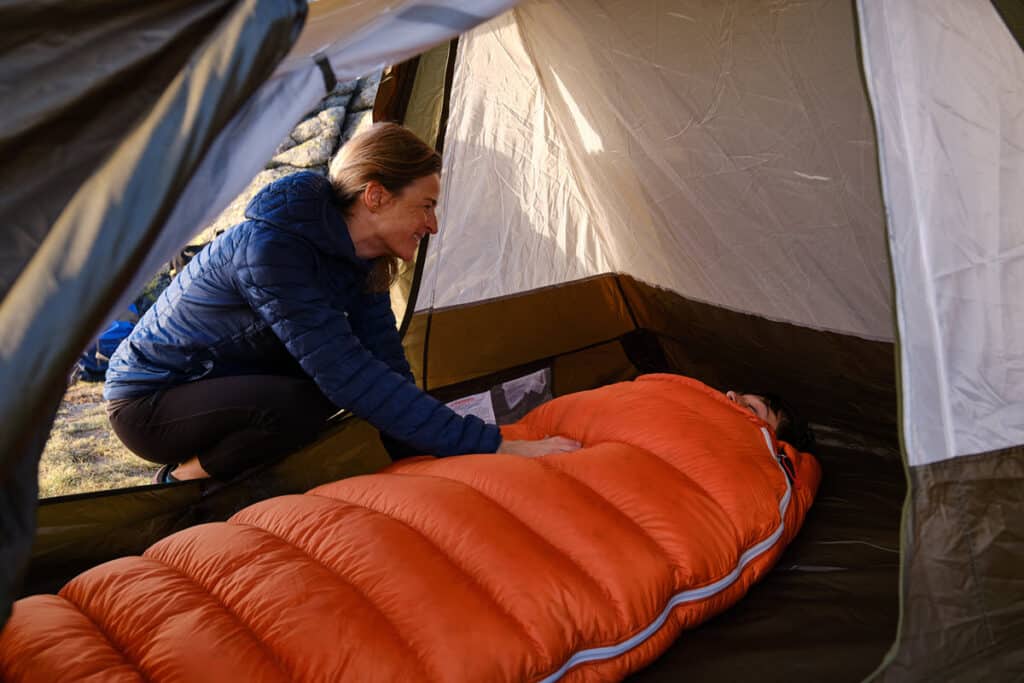 There are camping accessories you cannot live without, including a sleeping bag. When you camp in the winter, not just any old sleeping bag will keep you warm while you are bundled up in your tent.
There are different varieties of sleeping bags and most are manufactured for a specific season. Lightweight sleeping bags are only suitable for summer camping, so you'll want to avoid this when needing to stay warm is a high priority.
Cold weather sleeping bags are often made with better quality materials that include insulation that can keep you comfortable in lower temperatures while still keeping gear weight down.
Winter-weight sleeping bags are the most expensive type because of their thickness and heaviness. You'll want to buy this sleeping bag if you are camping in below-freezing temperatures.
As soon as you prepare your tent, it's recommended to fluff out your sleeping bag. A squished and compressed sleeping bag will flatten the insulation and that decreases their effectiveness.
Take the time to shake up the internal insulation so that it is evenly distributed.
Tip: Using a sleeping bag liner will also help keep you warmer by increasing your sleeping bag's temperature rating by as much as 25°F.
Here's a list our top recommendations for Marmot Sleeping Bags as well as our top recommended sleeping bags from several other well known brands.
Bring a Mylar Emergency Blanket
An emergency blanket is one of the most important camping essentials to bring with you on your winter trip. These blankets aren't cozy or soft, but they can come to your rescue in an emergency.
You won't use this type of blanket for sleeping, but if you are in a remote camping area facing unexpected cold temperatures, this blanket may actually save your life.
Emergency blankets are light and easy to pack along with your other camping gear.
Tip: Check out our car camping essentials article… car heaters can be lifesavers during an emergency.
Use an Insulated Sleeping Pad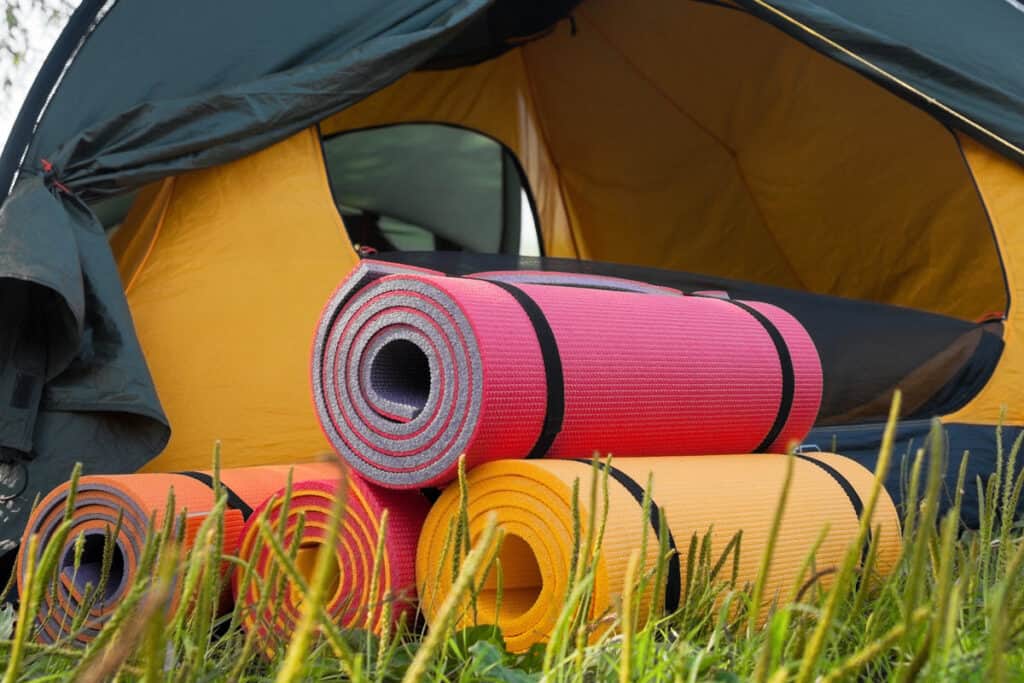 If you are learning how to stay warm camping in the winter, you'll quickly find out that sleeping in just a sleeping bag is uncomfortable, even if you purchase the best one with quality materials.
Insulated sleeping pads can prevent discomfort and keep you warm in your tent overnight. Sleeping pads are used to provide a warmer layer between your body and the ground.
Bring Extra Clothes
When it comes to camping gear, it's always recommended to pack light, especially if you will be hiking or backpacking to your camping destination.
Winter camping requires a few more materials than you normally would bring on a summer camping trip.
Even in the winter, you are likely to get sweaty during the day, so you'll need to bring extra clothes. At night, wear different clothes than you were wearing in the daytime.
It can be dangerous to wear damp clothes while sleeping in a tent during the winter. Protect yourself from getting wet at night so your body can stay warm while you are sleeping.
If you go to bed cold, it's going to be very hard to warm up. Before heading into your tent to sleep, spend time building a campfire and hanging around it to warm up. Getting into your sleeping bag while your body is still warm sets you up for a good night's sleep.
Pro tip: Prepare your clothes for the next day by keeping them warm throughout the night. Take the dry clothes you plan on wearing the following day and put them inside your sleeping bag while you sleep. This adds additional insulating layers to your little nest while ensuring you have warm clothes to change into in the morning.
Take a Hot Bottle of Water to Bed
While hanging out around the fire before bed, boil some water to place in a leak-proof, resealable bottle. Brands like Hydro Flask can help keep boiled water warm for hours at a time.
Be careful not to use a bottle made of metal, glass, or plastic, as these materials aren't made to hold hot liquids.
While you are sleeping, place this hot water bottle on your core to help your body heat up throughout the night. If you have cold feet, take another hot water bottle and place it at your toes.
Using a hot water bottle acts as a makeshift heater. It's not typically recommended to take a heater in a tent because they do come with some risks.
Electric fan heaters are generally safe for heating a tent, but you have to have site power and an extension cord.
Some campers use portable gas heaters that don't need electricity to work, but you have to ventilate the tent well if you do this.
Anything with an open flame is hazardous inside a tent. A hot water bottle is a safe alternative to traditional heaters.
Stay Hydrated and Plan Your Meals
Throughout the day, you'll need to stay hydrated in order to get a warm night's sleep. Drinking warm liquids can help keep your body temperature regulated and prevent fatigue.
The best part of winter camping is that you can eat fatty and rich foods without guilt! Fats and proteins make your body work harder to digest them. So eating a meal high in fat and protein at night will cause your body to burn more calories over a longer period, which can help keep you warmer for longer.
Hiking and doing other physical activities in winter temperatures force your body to need more calories. Your body will burn off calories to stay warm so it's necessary to keep snacking throughout the day.
Plan meals that are high in fat and double the number of calories you would normally consume. The foods you eat while camping play a huge role in warming your body.
Winter Camping Tips You Don't Want to Forget
If you plan on camping in the colder months, it's important to know and follow these winter camping tips.
Staying warm in a tent is tough, even when you choose the right tent for your conditions. Keep these strategies for staying warm at night in mind for your next dispersed camping trip.
And be sure to check out our Spring Camping Tips article to be prepared for warmer weather camping trips.
Happy camping!