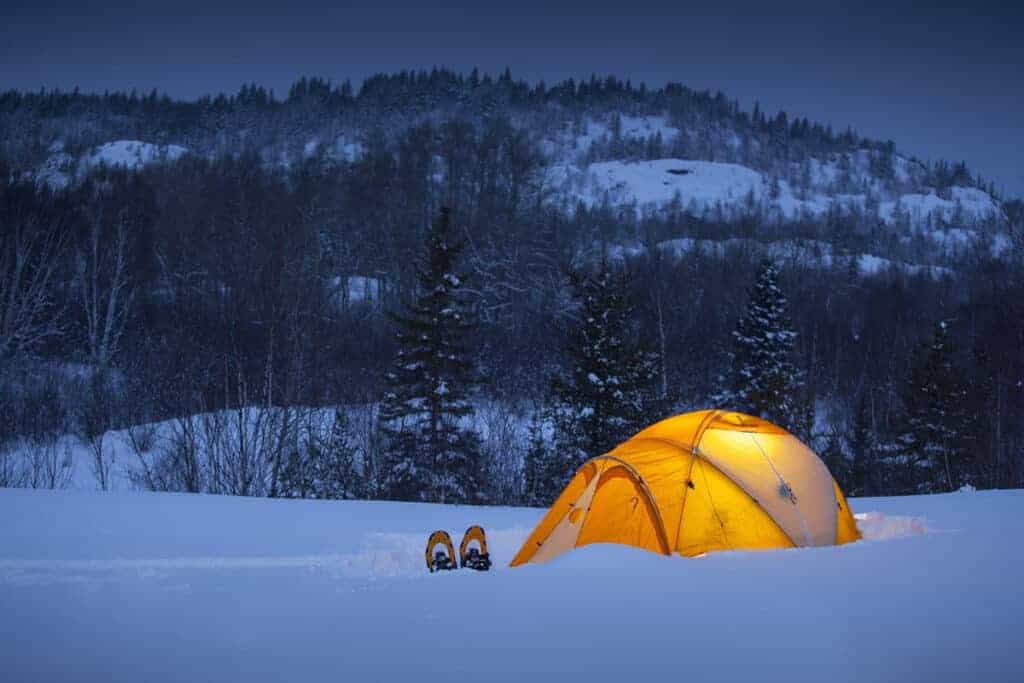 Camping is a joy, but camping while you are freezing is not. You can't escape the cold when you choose to go winter camping.
Luckily, you don't have to avoid winter camping altogether even if you do like to stay warm. There are various winter camping tips you can follow to feel comfortable during a snowstorm or in winter winds.
Let's dive into the best tips and tricks for how to stay warm in a tent.
Choose the Right Tent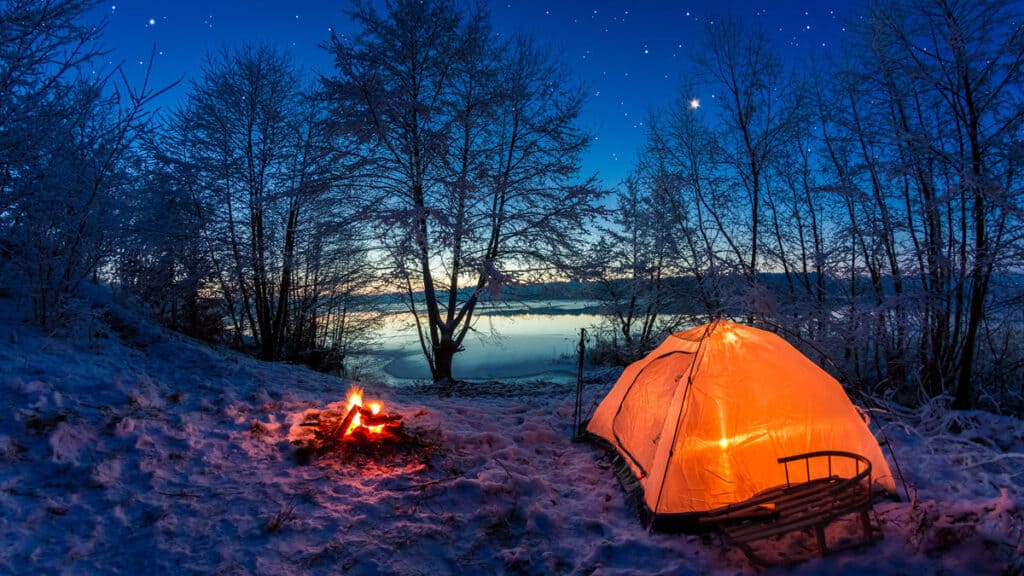 You can stay warm in a tent during the winter by choosing a tent that can resist harsh winds and snow.
Most winter campers decide between a 3-season and 4-season tent. The right choice for you depends on the environment you are camping in.
3-Season Tent vs. 4-Season Tent
3-season tents are designed for temperate conditions and made with lightweight performance in mind. A 4-season tent can withstand heavy snow loads and intense winter winds.
3-season tents, also known as backpacking tents, are generally better for non-winter adventures. However, they can work in winter environments without heavy snowfall and strong winds.
All-season tents are the best choice for camping in a snowy area. These 4-season tents are built with a robust frame structure that allows them to resist high winds and prevents the tent from collapsing if snow builds up on top of it.
If you've settled on purchasing a 4-season tent, you'll have three basic categories to choose from, based mainly on how much weight and bulk you're willing or able to carry:
Standard Four-Season
Four-Season Mountaineering
Alpine Bivy
You might have guessed it, but a Four-Season Mountaineering tent is best if you want to summit a mountain. It has room for multiple people and their gear, and will normally have a coating on the tent fabric that helps snow slide off. Look for versatility in venting options, as this will allow you to adjust for maximum comfort in a variety of weather conditions.
A Standard Four-Season tent is much the same as a mountaineering tent, just not as heavy-duty. A mountaineering tent is meant to withstand a few feet of snow and very high winds, which is overkill in most winter camping situations.
An Alpine Bivy is the tent of choice for winter adventurers and alpinists who need to keep their gear minimal because they are doing a lot of climbing. A bivy is a very small tent, sometimes little more than a bag; it's just big enough for one person in a sleeping bag, and maybe has enough room for a backpack. A four-season bivy will typically have a sort of awning at its head to keep snow from falling on your face while you sleep. It will also be waterproof, or nearly so.
Here's a post that features our best 4 person tents for camping.
Performance Features
Winter tents are designed with different features that impact warmth, durability, and weight.
4-season tents have durable poles to keep a tent up during strong wind storms. Durable pole construction is essential for any tent, but necessary for camping high in the mountains or other areas with strong winds.
Tent doors are also important features. You'll want more than one door if you aren't camping alone.
A tent with mesh will have built-in ventilation, which is important for keeping your tent dry while you sleep.
If you purchase a tent with ventilation, you benefit from increased breathability and decreased condensation, at the expense of losing some heat. However, keep in mind that excess moisture can lead to decreased effectiveness of sleeping bag and clothing insulation. So keeping things drier can keep you feeling warmer.
Wondering about the other seasons? See When Is the Best Time to Go Camping?
Set the Tent up Properly
Another one of the essential tips for winter camping is properly setting up your tent.
You will easily freeze in harsh winter weather if your tent is not properly set up. If you don't camp or pitch a tent often, it's best to learn how to do this before going winter camping.
A tent has many layers and there are some days you won't find it necessary to put a camping tarp under the tent or to use the top fly sheet. However, these are essential components for insulating your tent during the winter.
Fly sheets will minimize moisture to keep snow from penetrating the inside of the tent.
Most tents won't come with a tarp that you can lay under the tent, but this is a smart additional purchase to make for winter camping. These are inexpensive defenses against the cold ground.
Even if you don't opt for a four-season tent, a lighter-weight tent can protect you from winter elements if it is properly set up.
If you're camping in an RV, you'll want to check out How to Keep RV Pipes From Freezing While Camping.
Choose Sleeping Bag Based On Temperature Rating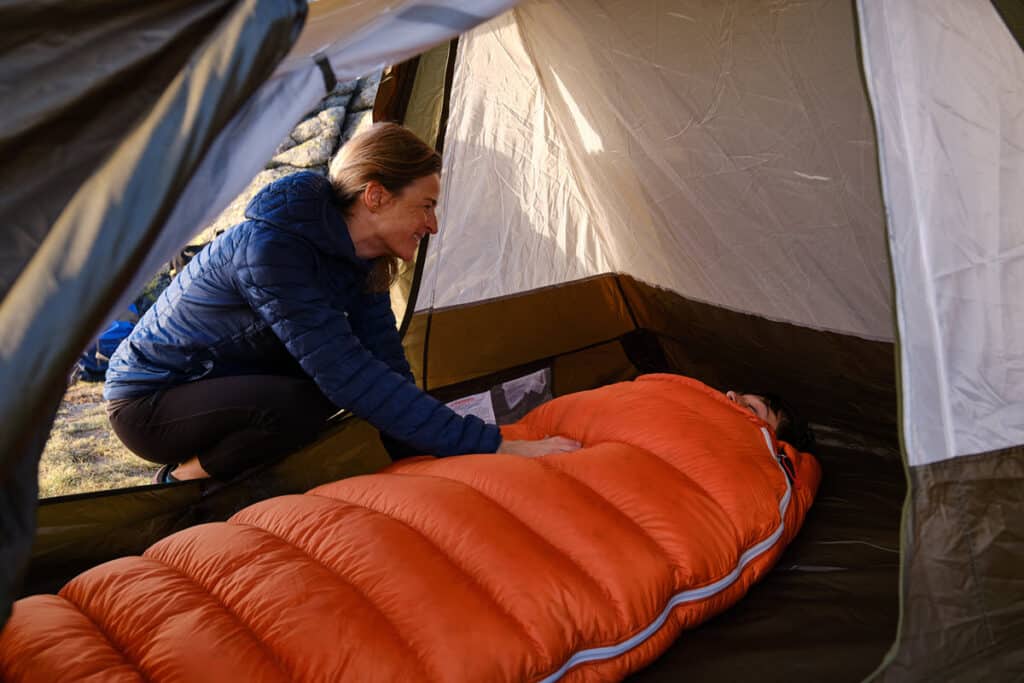 There are camping accessories you cannot live without, including a sleeping bag. When you camp in the winter, not just any old sleeping bag will keep you warm while you are bundled up in your tent.
There are different varieties of sleeping bags, and most are manufactured for a specific season. Lightweight sleeping bags are only suitable for summer camping, so you'll want to avoid this when needing to stay warm is a high priority.
Cold-weather sleeping bags are often made with better quality materials that include insulation that can keep you comfortable in lower temperatures while still keeping your gear weight down.
Winter-weight sleeping bags are the most expensive type because of their thickness and heaviness. You'll want to buy this sleeping bag if you are camping in below-freezing temperatures.
As soon as you prepare your tent, it's recommended to fluff out your sleeping bag. A squished and compressed sleeping bag will flatten the insulation, and that decreases their effectiveness.
Take the time to shake up the internal insulation so that it is evenly distributed.
Tip: Using a sleeping bag liner will also help keep you warmer by increasing your sleeping bag's temperature rating by as much as 25°F.
Here's a list of our top recommendations for Marmot Sleeping Bags as well as our top recommended sleeping bags from several other well-known brands.
Bring a Mylar Emergency Blanket
An emergency blanket is one of the most important camping essentials to bring with you on your winter trip. These blankets aren't cozy or soft, but they can come to your rescue in an emergency.
You won't use this type of blanket for sleeping, but if you are in a remote camping area facing unexpected cold temperatures, this blanket may actually save your life.
Emergency blankets are light and easy to pack along with your other camping gear.
Tip: Check out our car camping essentials article… car heaters can be lifesavers during an emergency.
Use an Insulated Sleeping Pad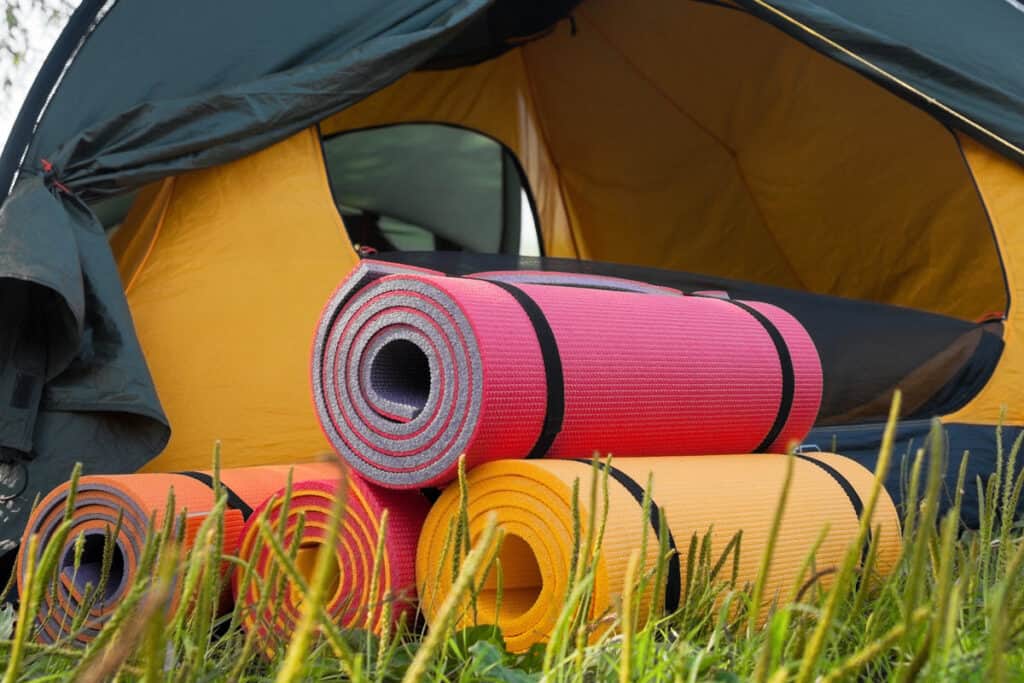 If you are learning how to stay warm camping in the winter, you'll quickly find out that sleeping in just a sleeping bag is uncomfortable, even if you purchase the best one with quality materials.
Insulated sleeping pads can prevent discomfort and keep you warm in your tent overnight. Sleeping pads are used to provide a warmer layer between your body and the ground.
Bring Extra Clothes
When it comes to camping gear, it's always recommended to pack light, especially if you will be hiking or backpacking to your camping destination.
Winter camping requires a few more materials than you normally would bring on a summer camping trip.
Even in the winter, you are likely to get sweaty during the day, so you'll need to bring extra clothes. At night, wear different clothes than you were wearing in the daytime.
It can be dangerous to wear damp clothes while sleeping in a tent during the winter. Protect yourself from getting wet at night so your body can stay warm while you are sleeping.
If you go to bed cold, it's going to be very hard to warm up. Before heading into your tent to sleep, spend time building a campfire and hanging around it to warm up. Getting into your sleeping bag while your body is still warm sets you up for a good night's sleep.
Pro tip: Prepare your clothes for the next day by keeping them warm throughout the night. Take the dry clothes you plan on wearing the following day and put them inside your sleeping bag while you sleep. This adds additional insulating layers to your little nest while ensuring you have warm clothes to change into in the morning.
Take a Hot Bottle of Water to Bed
While hanging out around the fire before bed, boil some water to place in a leak-proof, resealable bottle. Brands like Hydro Flask can help keep boiled water warm for hours at a time.
Be careful not to use a bottle made of metal, glass, or plastic, as these materials aren't made to hold hot liquids.
While you are sleeping, place this hot water bottle on your core to help your body heat up throughout the night. If you have cold feet, take another hot water bottle and place it on your toes.
Using a hot water bottle acts as a makeshift heater. It's not typically recommended to take a heater in a tent because they do come with some risks.
Electric fan heaters are generally safe for heating a tent, but you have to have site power and an extension cord.
Some campers use portable gas heaters that don't need electricity to work, but you have to ventilate the tent well if you do this.
Anything with an open flame is hazardous inside a tent. A hot water bottle is a safe alternative to traditional heaters.
Bestseller No. 1
Arcturus Military Wool Blanket – 4.5 lbs, Warm, Heavy, Washable, Large 64″ x 88″ – Great for Camping, Outdoors, Survival & Emergency Kits (Navy Blue)
THE BEST GOT BETTER: Thanks to input from thousands of customers, we've made dramatic improvements for the new decade to provide more warmth and value. Unlike cheaper blankets, Arcturus wool blankets are triple-washed during production, making them softer, more hygienic, and less susceptible to shedding. Check out recent customer feedback to get the most accurate reviews from your fellow Arcturus fans.
PERFECT ANYWHERE: Loom-woven and hemmed on all sides with contrast lock stitching, our blanket looks right at home in the woods or on your couch. Wool is a naturally fire-retardant material. Our blankets are NEVER treated with any additional flame-retardant chemicals, making it safe for you and your family.
PLENTY OF ROOM FOR ALL – Large size (64″ x 88″) will keep you and a friend cozy while camping, at a tailgate party, or an outdoor concert. Also great as an emergency blanket in your vehicle or for a cowboy camping setup.
WARM & DEPENDABLE – Wool is a time-tested natural fabric that will keep you warm, even when wet. The remainder of the blanket is composed of 20% hypoallergenic synthetic fibers for durability and washability. Because wool fibers are relatively short, longer synthetic fibers help secure the weave, minimizing shedding and adding years of life to your blanket.
MACHINE WASHABLE – We make it easy to care for your new blanket. Not only are they washable, but they get softer and softer with each wash. Scroll down for detailed care instructions.
Sale
Bestseller No. 2
CL Thermal Underwear Long Johns for Men,Hunting Gear Sport Top and Bottom Set Winter Base Layer Long Underwear for Outdoor
Extreme Warmth and Comfort: Perform your best, even on a chilly day when you wear CL fleece thermal underwear ! Adding some extra cozy, warm fleece to the mix, CL long johns for men amazingly help to tackle cold weather conditions and keep the comfort you crave. Made from 90% polyester and 10% spandex super soft fabrics, they also help reduce pilling and shrinkage. Prepare yourself for the cold with these fleece lined thermal underwear for men!
Strong Moisture Wicking(Without the Sweaty Mess): Our fans say the unique breathable, moisture-wicking fibers on CL thermal underwear will wick away moisture to keep you dry with no sticky or clammy feeling so you can wear them all day for your work or snow adventure. The smiles on men's faces will tell you how satisfied with this thermal underwear set.
4-Way Stretch Insulated Underwear: While adopting the design of the Four-way stretch, we improved the crotch and armpit according to the feedback of market customers. make the reach and squat more comfortable while retaining excellent elasticity and durability for maximum mobility. CL uses high-quality stitching for thermal leggings and long sleeve shirts to beat super-active days and many muddy adventures.And insulated design let you get rid of static trouble in dry autumn and winter.
Easy Care Of Base Layer Set:Our men's base layer top and bottom are set with no labels in order to obtain greater comfort, which can reduce any skin irritation. You can slip them on and off easily and can be worn under your clothes for added insulation and at the gym for added support and movement. And these men's thermal underwear will not fade after washing. The highest dyeing fastness even after multiple washing will not fade and shrink.
For Any Occasion: We stock these crew or turtle neck thermals for men in a wide range of sizes. The thermal set is fitted with elastic for added comfort to keep tops and bottoms from falling down or bunching up (even on long hiking), and if your family enjoys hunting, camping, snowboarding, skiing, cycling, or running then CL makes a great base layer. Also it is good to wear at home or as a base layer under your coats, it will warm you as comfy pajamas on cold nights.
Bestseller No. 3
COOLERO 4in Thick Winter Sleeping Pad for Camping, Ultralight Inflatable Air Mattress with Adjustable Pillow, Portable Camping Pad Built-in Pump Compact Comfort Sleeping Mat for Camping, Hiking-Blue
【Enhanced Comfort and Size】The 4″ thick air mattress elevates you above the cold ground, while the innovative honeycomb design ensures optimal support and comfort in any sleeping position. Enjoy the feeling of sleeping in your own bed even during outdoor adventures. Measuring 27″ wide and 79″ long, this inflatable camping mat provides an expanded sleeping space to accommodate various sleeping positions.
【Adjustable Pillow】The best feature of COOLERO self-inflating sleeping pad is its adjustable pillow, allowing you to personalize your comfort. With a separate air valve, you can easily adjust the height of the pillow to your preferred level. If you find it too high, simply deflate it through adjustment buttons on the air valve for a lower height, and vice versa. Experience the ultimate comfort tailored to your needs with this essential camping pad.
【Easy To Inflate】Say goodbye to tedious setup! This self-inflating sleeping pad features a built-in foot pump that inflates the mattress in just 30-50 seconds with a simple foot press. Deflating is equally effortless—just open the air valve cover. Designed with a double valve system, the sleeping mat ensures a tight seal, eliminating worries of air leakage, allowing you to sleep comfortably through the night.
【Truly Ultra Lightweight】Weighing just about a pound and 12cm in width and 28cm in height when stored away, this camping matress is the epitome of portability. Pack light and relax on your camping, backpacking, or hiking trips with this convenient and compact folding air mattress. Made from 40D TP material, which is not only waterproof but can also withstand wear and tear. It's also low noise, so you can sleep soundly during your camping trip.Comes with upgraded TPU patches for a softer fit to any form of break in the sleeping pad, allowing for a efficient repair.
【Versatile Buckle Design】The side of this camping cot is equipped with a buckle, allowing you to attach another sleeping pad and transform it into a twin air mattress. For larger groups, connect three or more camping mat to accommodate friends, family, children, or pets. Enjoy the flexibility and versatility of this innovative design.
Stay Hydrated and Plan Your Meals
Throughout the day, you'll need to stay hydrated in order to get a warm night's sleep. Drinking warm liquids can help keep your body temperature regulated and prevent fatigue.
The best part of winter camping is that you can eat fatty and rich foods without guilt! Fats and proteins make your body work harder to digest them. So, eating a meal high in fat and protein at night will cause your body to burn more calories over a longer period, which can help keep you warmer for longer.
Hiking and doing other physical activities in winter temperatures force your body to need more calories. Your body will burn off calories to stay warm, so it's necessary to keep snacking throughout the day.
Plan meals that are high in fat and double the number of calories you would normally consume. The foods you eat while camping play a huge role in warming your body.
Winter Camping Tips You Don't Want to Forget
If you plan on camping in the colder months, it's important to know and follow these winter camping tips.
Staying warm in a tent is tough, even when you choose the right tent for your conditions. Keep these strategies for staying warm at night in mind for your next dispersed camping trip.
And be sure to check out our Spring Camping Tips article to be prepared for warmer weather camping trips.
Happy camping!
Bestseller No. 1
BALEAF Women's Fleece Lined Leggings Water Resistant High Waisted Winter Cold Weather Running Gear Zip Pockets Black L
Warm & Water Resistant: The upgraded Soft fleece inner layer traps heat to keep you warm and comfortable,perfect for cold days under 40°F, and the water-resistant surface can handle light rain for a short time or keep dry on snowy days. You can easily do any outdoor activities in winter!
3 Zipper Pockets: These winter fleece lined leggings have two side zipper pockets and a rear zipper pocket, which easily holds your phone or other essentials. It is convenient and safe to store items while exercising outdoors.
Tummy Control High-Rise: Offering gentle compression, BALEAF fleece water resistant running tights high waisted leggings will streamline your silhouette and hold in your midsection. High stretch and more durable than traditional polyester and spandex fabrics.
Reflective Elements: There are reflective elements in the calves and back waisted, enhancing visibility in low light and improving the safety of winter outdoor sports, making you look stylish during your favorite workouts.
Multi Occasion: Our warm running tights are perfect for layering or wearing solo. Perfect for running, hiking, cycling, travel, yoga,skiing,camping , strolling and ice skating,especially for cold places.
Bestseller No. 2
Senllen Balaclava Cold Weather Fleece Windproof Ski Mask Winter Breathable Thermal Face Mask Neck Warmer Scarf Helmet Hood for Men/Women Beige
This extremely lightweight Balaclava made of 100% fleece polyester fabric, cozy stretchable fleece, will keep you covered with comfortable, breathable material whenever you put it on!
Adjustable elastic design: adopt adjustable design, there are black knit strings on the left and right sides of the hat, which can be adjusted to a comfortable feeling and make it better block the wind and snow from entering. Unisex Windproof ski mask, one Size fits all.
More Ways to Keep Warm: This fleece balaclava can be worn as a neck warmer, half mask or a full balaclava for the best cold weather protection.
Made of 4-way stretch fabrication allows greater mobility & maintains shape, feels super soft, windproof and breathable, excellent absorbency , providing your face with comfortably protection.
FULL FACIAL PROTECTION: Multi-Purpose Face Mask Sports Balaclavas offer you full facial and neck protection for winter and summer outdoor activities – outdoor hiking, camping, hiking, skiing, cycling skiing, snowboarding, snowmobiling, cycling, motorcycling, trekking, mountain climbing and other.
Bestseller No. 3
Ymomode Winter Gloves for Men Women – Upgraded Touch Screen Cold Weather Thermal Warm Knit Glove for Running Driving Hiking,Elastic Cuff
🎊2 FINGERS TOUCHSCREEN-Featuring high sensitive conductive material on thumbs and forefingers you can wear our winter gloves to touch screen of your smartphone, tablet, iPhone or other touch screen devices. When you are in cold winter, you can type, text, take and share pictures and use all phone apps without taking off your gloves.
🎊WARM AND ELASTIC CUFF-Cold-proof warm gloves, Mens gloves made of soft napping wool the inner lining, the gloves are extremely comfortable and warm. Thickened elastic wrist keeps the glove closed around your skin, gloves for men cold weather are stretchy enough to fit your hands perfectly which keep you cozy in the stands or at the campfire on a cold night.
🎊LIGHT, SOFT AND NOT BULKY – A pair of lightweight winter gloves are more suitable for daily life and work. It can keep your hands warm and dry. Whether shoveling snow, cycling, driving, running, hiking, camping, snowball fights, skiing, walking dogs, outdoor chores, etc. It's a perfect choice.
🎊EVERYDAY USE & GIFT CHOICE – Womens gloves Fashionably designed to style for both men and women + perfect gift for your relatives, friends, and loved ones as a winter gift, Christmas gift, or even as a birthday gift + Your friends and family will love this pretty gloves.
🎊WASHING TIPS – Please wash gloves use warm water as much as possible, add laundry softener. Do not put in dryer.
Sale
Bestseller No. 5
RIGWARL 20F°- 65F° Upgraded Gloves for Cold Weather Waterproof, Winter Gloves for Men Women with Touch Screen, Drving Gloves for Runing Hiking Walking Skiing Snow (112 Black, M)
🔥【Warmth and Insulation】Specially designed with a premium fleece lining, this winter glove for men and women retains warmth within your hands, providing you with a cozy shield of warmth in temperatures ranging from -12°C to 18°C( 20F°- 65F°), ensuring comfort and thermal during cold weather.
🔥【Touchscreen Convenience】No need to take off your drving gloves to use your smart devices anymore. Our unique two-finger touchscreen technology allows you to effortlessly swipe, tap, and operate your touchscreens while keeping the gloves on, making your daily life more convenient.
🔥【Protect You From Light Rain and Humidity】The cycling gloves are crafted with a water-repellent design, causing water droplets to form on the surface and roll off when encountering light rain, instead of seeping into the lining. (Note: all the same waterproof gloves on the market, unless an inner waterproof compartment is added, cannot achieve full waterproofing in the truest sense.)
🔥【Lightweight Comfort】These cotton plush gloves not only retain their lightweight characteristics but also conform perfectly to your hands, enabling unrestricted movement without the bulkiness of heavy gloves. Their elastic design ensures consistent comfort, maintaining your flexibility and allowing you to fully enjoy outdoor activities.
🔥【Palm Silicone Grip】These cold weather gloves feature clever palm silicone grip design, providing you with excellent traction. Whether you're on wet and slippery surfaces or uneven terrains, the unique anti-slip design of the winter gloves will accompany and support you during outdoor activities. Ideal for cycling, drving, runing, camping, walking, hiking, alaska cruise, fishing, skiing, biking and snow.
Sale
Bestseller No. 6
Hand Warmers Rechargeable, Dnaleao 2 Pack 4000mAh Electric Portable Pocket Heater, Heat Therapy Great for Outdoors, Hunting, Golf, Camping, Warm Gifts(Black)
【2 Packs Hand Warmers】The 2 in 1 design hand warmers with a stylish look are portable and compact. Ergonomic design to make you more comfortable. Portable pocket designs fit for traveling, sports, football, hunting, golf, fishing, hiking, camping, skiing, etc.
【Stable Instant Heat】No more longtime wait, electric hand warmers using the premium chip control system. Double-sided heat up to 131°F/55°C operating temperature with 1-second fast heating and 3 levels of temperature settings for adjustable and precise stable comfortable warmth.
【Long Battery Life & Rechargeable】2 Packs 4000mAh hand warmer, a single full charge will last for 12 Hours, can meet the needs of one day's use. 3 levels indicator lights keep you informed of the remaining battery and heating status, Perfectly meet your different needs.
【High-performance & Safety】Hand warmers rechargeable are made of high-tech lithium battery, aluminum, and ABS which certificated with UL, CE, FCC. Built-in intelligent protection system that is provided with the safeguard of power on, short circuit and overloading, etc. It is shockproof, anti-scald, explosion-proof, and radiation-free.
【Great ideal for Gifts】Keep your hands warm throughout the day while in office work, class, or any outdoor activities in the cold winter. With this hand warmer, no longer afraid of the cold of winter. It is a great birthday or festival gift for your kids, friends, or family, suitable for women, men, elders, girls, boys, youth.
Sale
Bestseller No. 7
Busy Socks Winter Warm Thermal Socks for Men Women Extra Thick Insulated Heated Crew Boot Socks for Extreme Cold Weather, Medium, 1 Pair Black
SIZE- Medium fits for (US Men Shoe Size 6-9.5, Women Shoe Size 7-9.5), Large fits for (US Men Shoe Size 9-12, Women Shoe Size 10-13)
KEEP YOUR FEET WARM – Extra warm for the extreme cold weather during the winter. Heavily brushed fuzzy warm lining make these insulated thermal socks provide soft and comfort for your feet during extended outdoor trail cold weather.
DESIGNED FOR EXTREME TEMPERATURES – Warmer Than Regular Socks! The insulated socks have been specially designed to keep your feet warm even when the temperature outside is too low. The thermal fuzzy socks are great ideal if you are working outdoors, go skiing or enjoy hiking and camping in the mountains during the winter.
MULTI-USEING – The heated thermal socks are suitable for different situations, you can wear them as cabin socks, home floor socks, hiking socks, thermal socks, heavy work socks, winter warm socks, fuzzy socks, outdoor socks and sports socks. What's more, you can wear these thermal socks as boot christmas socks, slipper socks, home sleeping socks or daily cozy socks in winter or in any cold weather areas.
EXCELLENT GIFT CHOICE – Everyone needs more socks. Great socks often make great gifts in Christmas or other holidays. And these thermal socks make the perfect present for hikers, outdoor workers, for Thanks-giving or Daily Wear. It's a great gift in winter for family, friends and anyone you love, as birthday, New Year, Anniversary Christmas gift.
Sale
Bestseller No. 8
AstroAI Balaclava Ski Mask Winter Fleece Thermal Face Mask Cover for Men Women Warmer Windproof Breathable, Cold Weather Gear for Skiing, Outdoor Gear, Riding Motorcycle & Snowboarding, Gray
ULTIMATE PROTECTION & VERSATILITY: UV rays, wind, dust, freezing temperatures, snow, sleet, rain and other elements are no match. You can wear this balaclava as a full face mask, open balaclava, half ski mask or neckerchief on its own, under a helmet, with glasses or goggles. Warm gifts for men women this winter!
SUPERFINE POLAR FLEECE: Get the most comfort out of your experiences. The Polar Fleece offers extra warmth and protection, even when temperatures are freezing; This non-irritating fabric is lightweight, stretchy, soft and breathable with no pilling, deformation, fading and weird smells
EASY BREATH: Insulated mesh fabric prevents fogging up your glasses or goggles; The fit is flexible and design is durable with a refined sewing process to increase its lifespan
FULL FACE COVERAGE: This mask gives you the option to cover your entire face and features an extra-long neck section for superior wind and cold protection; Perfect for outdoor activities like motorcycle, bicycle, skiing, snowboarding, mountain climbing, hiking, or just spending time in cold weather
BUY WITH CONFIDENCE: Both for men and women, you can reference the size chart to choose the right size. If you have any size issues or are not 100% satisfied with our ski mask for any reason, please contact our customer support anytime.
Sale
Bestseller No. 9
Alvada Merino Wool Hiking Socks Thermal Warm Crew Winter Boot Sock For Men Women 3 Pairs ML
MAKE HIKING A COMFORTABLE EXPERIENCE These Merino wool hiking socks are built to provide you with total support and comfort during your hiking trips, no matter the weather. Each pair of these hiking boot socks is ideal for the rugged terrain, allowing these to be great mens or women's hiking socks
ITCH FREE MATERIAL These wool hiking socks come blended with nylon to promote a comfortable, itch free experience. Ultra comfortable, these women and mens hiking socks won't cause you to pause in your step to scratch at your foot or readjust the calf height sock
KEEP YOUR FEET WARM DURING COLD WINTER HIKES With these hiking socks, women and men alike can enjoy the comfortable warmth that these cozy socks provide. Especially good for the colder months, each winter sock in the pair of men and womens wool socks will keep out the cold and moisture that wintertime often affords
SUPERIOR CUSHIONING IN THE FOOTBED These mens and womens hiking socks offer a shaped cushioning in their footbed to promise a more comfortable trek up the mountain. Through the use of these mens wool socks, women and men can enjoy less fatigue and pain in their feet after a long day of hiking in these ladies wool socks
SIMPLE TO CARE FOR When you get home, these wool socks mens accessories can be washed easily. Just put these women and mens hiking socks in the wash on cold and these wool socks will be good to go.
FAQs
How Can I Choose the Right Tent for Winter Camping?
Selecting the right tent is crucial for a comfortable winter camping experience. You'll generally have to decide between a 3-season and a 4-season tent. While 3-season tents are lightweight and designed for temperate conditions, 4-season tents are robust and can withstand heavy snow and strong winds. If you're planning to camp in snowy conditions, a 4-season tent with a sturdy frame is your best bet.
What Are the Key Features to Look for in a Winter Tent?
Winter tents come with various features that enhance warmth, durability, and ventilation. Look for tents with durable poles that can withstand strong winds, especially if you're camping in mountainous regions. Multiple doors are beneficial if you're not camping alone. Ventilation is another crucial factor; tents with mesh offer built-in ventilation that helps keep the interior dry.
How Do I Properly Set Up My Tent in Winter?
Setting up your tent correctly is essential to stay warm and dry. Make sure to use fly sheets and a camping tarp under the tent for added insulation against the cold ground. Fly sheets help minimize moisture and prevent snow from entering the tent. Learning how to pitch your tent properly before your trip can make a significant difference in your comfort level.
How Do I Choose a Sleeping Bag for Cold Weather?
When camping in winter, opt for a sleeping bag based on its temperature rating. Cold-weather sleeping bags are made from high-quality materials and offer better insulation. For extremely cold conditions, consider winter-weight sleeping bags, which are thicker and heavier but provide maximum warmth. Suggested reading: How to Pick a Sleeping Bag.
What Additional Accessories Can Keep Me Warm?
Apart from a good-quality sleeping bag, consider using a sleeping bag liner to increase the temperature rating. Insulated sleeping pads can also add a layer of warmth between you and the cold ground. Mylar emergency blankets are lightweight and can be life-saving in extreme conditions.
What Should I Know About Clothing for Winter Camping?
Always pack extra clothes for winter camping. Avoid wearing damp clothes to bed as they can make it difficult to stay warm. Before going to sleep, spend some time near a campfire to warm up. You can also keep the clothes you plan to wear the next day inside your sleeping bag to keep them warm. Read our What Clothes To Pack for Camping article for more info.
How Can I Use Food and Hydration to Stay Warm?
Staying hydrated is essential for regulating body temperature. Consuming warm liquids can help, as can eating fatty and protein-rich foods. These types of foods make your body work harder to digest, thereby generating more heat. Plan your meals to be high in fat and double your normal caloric intake to stay warm. Suggested reading: Camping Food List.
Are There Safe Ways to Heat My Tent?
While traditional heaters come with risks, a hot water bottle can act as a makeshift heater. Boil some water and place it in a leak-proof, resealable bottle. Place this hot water bottle near your core or at your toes to help maintain body heat throughout the night. Check out our How To Heat A Tent Without A Heater article for more tips.
What Are Some General Tips for Staying Warm While Winter Camping?
Staying warm during winter camping involves a combination of the right gear, proper setup, and smart practices. From choosing a 4-season tent and the right sleeping bag to layering clothes and staying hydrated, every aspect plays a role in keeping you warm. Always prepare for the unexpected and consider carrying emergency items like Mylar blankets.