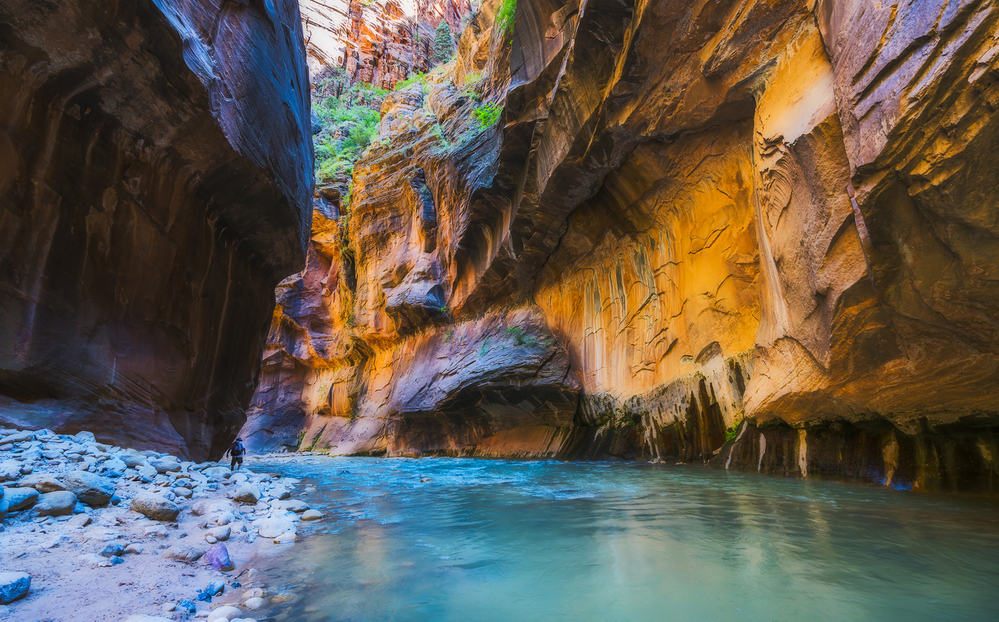 Welcome to the ultimate guide to the best national parks in the United States. These iconic travel destinations are a must-add to your bucket list. From towering cliffs and geysers to wild animals and challenging hiking trails, these parks promise unforgettable experiences. And pet lovers will be happy to learn that many of these parks are dog friendly!
Top 10 Must-Visit US National Parks for Your Bucket List
Yellowstone National Park, Wyoming
First on our top 10 list is the iconic Yellowstone National Park. As the world's first national park, Yellowstone is home to the famous Old Faithful Geyser and many other geothermal features. The park's scenic beauty and abundant wildlife make it a jewel in the US national park system.
Highlights include:
Old Faithful Geyser: Perhaps the most famous geyser in the world, Old Faithful is known for its predictability, erupting approximately every 90 minutes, much to the delight of onlookers.
Grand Prismatic Spring: This is the largest hot spring in the US, famed for its vibrant colors caused by microbial life in the mineral-rich waters.
Yellowstone Lake: One of the largest high-altitude lakes in North America, it offers breathtaking vistas, picnic areas, and many water activities.
Lamar Valley: Often referred to as America's Serengeti, this valley is the place for wildlife viewing, including herds of bison, elk, and the elusive wolf.
Grand Canyon of Yellowstone: This dramatic canyon features two stunning waterfalls and offers numerous viewpoints and hiking opportunities. The Artist Point is particularly noted for its panoramic view of the Lower Falls and the canyon.
Grand Canyon National Park, Arizona
Next up is the breathtaking Grand Canyon National Park. Famous for its deep, red-rock canyons, this park offers an unmatched view of nature's vastness. Whether hiking the rim, white-water rafting, or absorbing the stunning views, it's a bucket list staple.
Yosemite National Park, California
Yosemite National Park is known for its towering waterfalls, granite cliffs, and ancient sequoias. Activities abound, from rock climbing, hiking, and winter sports. Yosemite's iconic Half Dome and El Capitan are sights to behold.
Zion National Park, Utah
With its massive sandstone cliffs of cream, pink, and red, Zion National Park offers some of the most colorful landscapes. The park is ideal for hiking, climbing, and canyoneering, with the Narrows being a visitor favorite.
The Narrows is one of the most remarkable features in Zion National Park. It's the narrowest section of Zion Canyon, an awe-inspiring slot canyon with walls towering a thousand feet overhead. The river flows beneath, often at most 20 to 30 feet wide. This natural marvel is famed for its hiking trail, primarily the river itself, meaning you're often wading, or sometimes even swimming, to progress.
Visitors are drawn to the Narrows for this unique hiking experience, the enchanting beauty of the light playing off the narrow canyon walls, and the sense of adventure and solitude that comes from exploring such a distinctive landscape. For many, it's not merely a hike; it's a once-in-a-lifetime outdoor adventure that embodies the spirit of exploring the US national parks.
Rocky Mountain National Park, Colorado
Rocky Mountain National Park is a paradise for lovers of the outdoors. It offers over 300 miles of hiking trails, wildflowers, wildlife, starry nights, and fun times. In the winter, the park transforms into a playground for snowshoeing and cross-country skiing.
Top Features:
Trail Ridge Road: This highest continuously paved road in the US offers visitors stunning panoramic views of the Rockies and numerous pull-offs for photo ops and wildlife viewing.
Longs Peak: The park's highest peak is a magnet for experienced climbers seeking the challenge of a lifetime. The view from the summit is nothing short of spectacular.
Bear Lake: This accessible and famous high-elevation lake offers a flat, easy trail around its perimeter with stunning mountain views, making it perfect for families and leisurely hikers.
Alberta Falls: A short hike leads to this powerful waterfall that's especially impressive in the spring and early summer. The surrounding area is also excellent for picnicking.
Wildlife Viewing: The park is home to an array of wildlife, including elk, bighorn sheep, and mule deer, allowing visitors to observe these majestic creatures in their natural habitat.
Acadia National Park, Maine
Acadia National Park is a gem of the East on the rugged coast of Maine. The park offers woodland, rocky beaches, and glacier-scoured granite peaks like Cadillac Mountain. Standing as the tallest peak on the US Atlantic coast, Cadillac Mountain gives visitors an unparalleled vista of coastal Maine and the first sunrise in the United States, making it a unique and captivating spectacle.
Great Smoky Mountains National Park, North Carolina/Tennessee
The most visited US national park, the Great Smoky Mountains, straddles North Carolina and Tennessee. Renowned for its diversity of plant and animal life, this park is a paradise for nature lovers, with its ancient mountains shrouded in ethereal blue mist. Visitors are particularly captivated by the park's scenic drive along the Newfound Gap Road and the stunning panoramic views from Clingmans Dome, the highest point in the park.
Glacier National Park, Montana
Glacier National Park dubbed the Crown of the Continent, is a hiker's paradise. It's home to glaciers, alpine meadows, and clear, glacial-fed lakes. The park's Going-to-the-Sun Road is an engineering marvel and sightseeing standout.
Arches National Park, Utah
Arches National Park boasts over 2,000 natural stone arches, with the Delicate Arch being the most popular. This park offers unique geological wonders that are sure to impress.
Denali National Park, Alaska
Rounding out our top 10 is the expansive Denali National Park. Home to North America's highest peak, this Alaskan wilderness offers breathtaking views, wildlife, and the chance to see the Aurora Borealis.
The park's vast tundra and spruce forests serve as the backdrop for an amazing variety of wildlife. Visitors often spot grizzly bears, wolves, caribou, and moose in their natural habitat. Birdwatchers also flock to Denali for the opportunity to spot golden eagles, ptarmigans, and more.
For adventurous souls, Denali offers numerous hiking and backpacking opportunities. The park is unique in that it encourages off-trail, wilderness exploration, offering an experience truly close to nature. For those seeking a more leisurely visit, the park's 92-mile long Denali Park Road provides sweeping views of the landscape and wildlife.
In addition to its natural beauty, Denali National Park is also rich in cultural history. From the Athabascan people who originally inhabited the area to the miners and dog mushers who later ventured into the wilderness, visitors can learn about the park's history through various exhibits and ranger-led programs.
The spectacle of the Northern Lights or Aurora Borealis adds to Denali's allure. During fall and winter, the park offers one of the best places on earth to witness this natural light show. Visitors often describe the experience as magical and unforgettable.
What Makes Each National Park Unique and Worth Visiting?
Astonishing Landscapes: Each park presents unique scenery – from the Grand Canyon's red-rock canyons to the Yellowstone geysers and Glacier National Park's glaciers.
Abundant Wildlife: These parks serve as habitats for diverse wildlife. Spot grizzlies in Yellowstone, moose in Acadia, or elk in the Rocky Mountains.
Rich History and Culture: These parks house rich cultural and historical stories. Learn about Native American history, pioneering explorers, and unique geological processes that formed these landscapes.
Thrilling Outdoor Experiences: Whether you're a seasoned hiker, a wildlife enthusiast, or just love the outdoors, these parks offer countless opportunities for adventure.
Tips for Planning Your National Park Visit
Decide on the Best Time to Visit: Each park has an ideal time to visit. While summer offers the best weather, it's also the busiest. Consider staying in the shoulder seasons for fewer crowds and still pleasant weather. See our Seasonal Guide to US National Parks for more information.
Reserve Ahead of Time: Popular parks like Yosemite and the Grand Canyon can get booked quickly. Be sure to reserve your accommodations and any required permits ahead of time.
Pack Wisely: Bring appropriate clothing, hiking gear, water, and snacks. Remember, the weather can change quickly in the mountains.
Follow Park Etiquette and Leave No Trace: Respect the park and its inhabitants by following all rules and regulations. Dispose of waste properly and stay on designated trails. Visit our dog-friendly national park campsites guide to learn more about bringing your furry friend.
Check for accessibility: While many parks have tried to be accessible, not all areas or activities may suit everyone. Be sure to check the park's website for accessibility information.
Other US National Parks to Add to Your Bucket List
Joshua Tree National Park, California: Experience the meeting of two desert ecosystems and marvel at the park's namesake, the Joshua Tree.
Acadia National Park, Maine: While already mentioned in our top 10, the diverse beauty of Acadia truly merits a second mention.
Badlands National Park, South Dakota: Badlands offers rugged beauty with its layered rock formations, deep canyons, and towering spires.
Olympic National Park, Washington: With its unique combination of alpine mountains, rain forests, and rugged coastline, Olympic is amazing.
Great Sand Dunes National Park and Preserve, Colorado: Home to the tallest dunes in North America, this park is perfect for sandboarding and stargazing.
And don't overlook the Lesser-Known US National Parks Worth Visiting.
Conclusion
No two parks are the same, each offering unique experiences that make them worth visiting. Whether it's your first time exploring the great outdoors or you're a seasoned explorer, there's always something new to discover. So why wait? Start planning your trip today and tick these best national parks off your bucket list. Remember to check out our guide for the best national parks for camping to enhance your adventure.