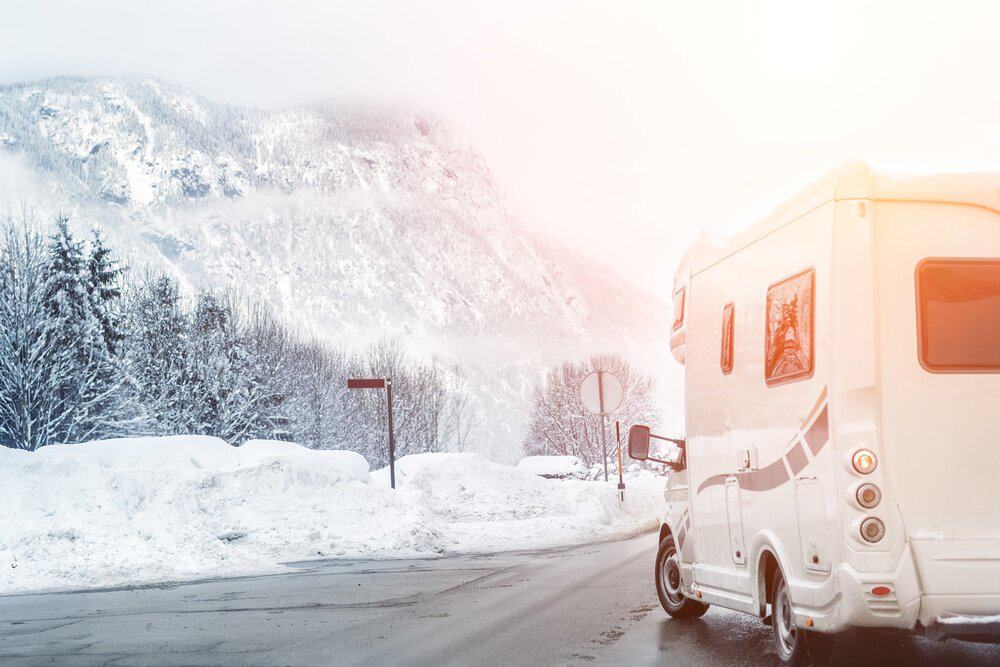 Wintertime adventures can be thrilling, but it's important to make sure your RV is ready. When you know how to keep RV pipes from freezing while camping, there's nowhere you can't explore!
Today, we're sharing five winter camping tips to help pipes stay well-thawed so you can stay on the road.
Key Takeaways:
Insulation is Key: To prevent your RV pipes from freezing, start with proper insulation. Utilize foam insulation, pipe sleeves, or insulation tape to cover all pipes thoroughly, ensuring a snug fit to retain warmth.
Allow Air Circulation: Keep cabinet doors open to let warm air circulate around the pipes, especially those hidden behind walls or under sinks, to prevent them from freezing.
Supplemental Heating: For year-round campers, a built-in heat duct in the RV that warms the storage bay is ideal. If that's not available, strategically placed space heaters can provide necessary warmth to prevent freezing.
Heat Tape for Emergencies: In the absence of insulation, heat tape can be a temporary fix. This electrical heating element wraps around pipes to provide direct heat, but it should be specifically designed for RV use and applied according to instructions.
Skirting for Extra Protection: An RV skirt wraps around the underside of your RV, trapping ambient heat and providing an additional layer of protection against the cold, which can be especially useful in winter camping scenarios.
Be Prepared for Winter Adventures: With the right preparations, such as insulating pipes and using RV skirts, you can enjoy camping adventures even in colder weather without worrying about frozen pipes.
1. Properly Insulate First
If your family loves camping in the cold, insulating your RV pipes is a smart move. There are a few different products you can use, including:
Foam insulation
Pipe sleeves
Pipe insulation tape
The tape provides a snug fit, and you can cut it to the exact shape of your pipe. While you're insulating, remember to get all pipes, even the small ones in your bathroom.
2. Keep Cabinet Doors Open
If you keep your interior doors closed, warm air can't reach the pipes behind your walls or under your cabinets. You may even notice the drop in temperature when you grab something from under the sink!
To keep the air circulating properly, keep those doors open as much as possible.
3. Use a Space Heater
If you camp year round, your RV might already have a heat duct that pumps warm air into your storage bay. The purpose of this duct is to keep the pipes, water lines, and electronics in that area from freezing.
If you don't have that setup, you may need to add a space heater in the bay instead. Larger RVs often require two heaters to warm all areas adequately.
4. Try Heat Tape
You can create a makeshift solution using heat tape if your pipes aren't insulated. This is an electrical heating element that wraps around the exterior of your pipes.
You can plug it in once it's in place to provide heat. Remember to buy heat tape made specifically for RV pipes and follow all the instructions for proper application.
5. Add a Skirt
Have you ever heard of an RV skirt? As you might expect, this piece of material wraps around the bottom or underside of your RV to protect it from cold weather.
This simple step can amplify the ambient heat contained beneath your RV, making winter camping more comfortable and convenient. You can purchase ready-made skirting kits or make your own using products such as:
Vinyl
Heavy-duty plastic
Foam board
If you go the ready-made route, you'll want to read the manufacturer's instructions carefully to make sure you're installing it properly.
Discover How to Keep RV Pipes from Freezing While Camping
You don't have to let the cold weather keep you from exploring the outdoors! Now that you know how to keep RV pipes from freezing while camping, you're free to head out, no matter how low the temperature might drop.
While insulating your pipes from the beginning is best, you can also augment them with special products to keep them frost-free all winter.
Looking for another way to warm up around the campsite? Check out our guide on how to make a fire with sticks!
Sale
Bestseller No. 1
EverSnug Sherpa Waterproof Camping Blanket – Extra Thick and Warm, Large Sherpa Fleece Outdoor Blanket for Camping, Picnics, Beaches, Stadiums, Pets – Washable and Windproof for Cold Weather (Grey)
THE ULTIMATE OUTDOORS LUXURY BLANKET: Forget fearing the cold and windy weather again, our waterproof sherpa blanket is a super thick waterproof and windproof blanket, that will allow you to go anywhere outdoors no matter the weather. Perfect for camping, picnic, beaches or stadium seats during freezing weather. At 85" in length and 55" in width the extra-large soft blanket is perfect to keep you and a loved one warm.
STAY COZY WITH OUR 300GSM PREMIUM FLEECE: The EverSnug Waterproof Blanket is the thickest, most luxurious sherpa fleece blanket available! It's made from an ultra-thick 300gsm sherpa fleece anti-pill material that will keep you comfortable and warm in any condition. While other blankets are 200-250gsm and won't be able to keep you warm in extreme conditions, at 300gm our sherpa outdoor blanket is the thickest sherpa fleece lined portable blanket on the market!
ULTRASONIC QUILTING TO MAXIMIZE SAFETY: Our waterproof blanket uses ultrasonic quilting technology to stitch together the layers without leaving any holes, ensuring that the blanket is 100% waterproof. Ensuring that water won't seep through, making it perfect as an extra layer during winter when temperatures get freezing! Whether you're relaxing in the backyard, or camping out in nature's backyard – our warm and cozy outdoors Sherpa blanket will keep everyone dry and happy.
EXTRA LARGE, ULTRA-LIGHT AND EASY TO CARRY – At a massive size of 85 x 55 inches the waterproof outdoor sherpa blanket is more than large enough to wrap around 2 people or provide the perfect family size picnic blanket, beach blanket or camping blanket. The ultra-light design allows it to be easily carried with the shoulder straps. The zipped pocket is perfect to keep small items such as keys or phones safe.
THE EVERSNUG PROMISE: We at EverSnug stand behind our products with the greatest confidence that you, our customer will love our products just as much as we do. However, if for any reason you did not fall in love with your product, we have your back by providing a 100% love it or your money back guarantee.
Sale
Bestseller No. 2
RIGWARL 20F°- 65F° Upgraded Gloves for Cold Weather Waterproof, Winter Gloves for Men Women with Touch Screen, Drving Gloves for Runing Hiking Walking Skiing Snow (112 Black, M)
🔥【Warmth and Insulation】Specially designed with a premium fleece lining, this winter glove for men and women retains warmth within your hands, providing you with a cozy shield of warmth in temperatures ranging from -12°C to 18°C( 20F°- 65F°), ensuring comfort and thermal during cold weather.
🔥【Touchscreen Convenience】No need to take off your drving gloves to use your smart devices anymore. Our unique two-finger touchscreen technology allows you to effortlessly swipe, tap, and operate your touchscreens while keeping the gloves on, making your daily life more convenient.
🔥【Protect You From Light Rain and Humidity】The cycling gloves are crafted with a water-repellent design, causing water droplets to form on the surface and roll off when encountering light rain, instead of seeping into the lining. (Note: all the same waterproof gloves on the market, unless an inner waterproof compartment is added, cannot achieve full waterproofing in the truest sense.)
🔥【Lightweight Comfort】These cotton plush gloves not only retain their lightweight characteristics but also conform perfectly to your hands, enabling unrestricted movement without the bulkiness of heavy gloves. Their elastic design ensures consistent comfort, maintaining your flexibility and allowing you to fully enjoy outdoor activities.
🔥【Palm Silicone Grip】These cold weather gloves feature clever palm silicone grip design, providing you with excellent traction. Whether you're on wet and slippery surfaces or uneven terrains, the unique anti-slip design of the winter gloves will accompany and support you during outdoor activities. Ideal for cycling, drving, runing, camping, walking, hiking, alaska cruise, fishing, skiing, biking and snow.
Bestseller No. 3
Airensky Camping Blanket, Extra Large (78 "x 55") Outdoor Windproof Stadium Blanket, Thicker Water Resistant Travel Blanket, Portable, Wearable, Warm for Camping, Stadium, Hiking and Backpacking, Navy
【Down Alternative Blanket】Our camping blankets are filled with advanced polyester fibers that can replace down and have the authentic feel of goose down and duck down, without the sting or irritation of feathers. The volume can reach 620 filling power. Warm and cozy enough to give you a comfortable sleep
【Waterproof and Windproof】Compared to other common camping blankets, our outdoor camping blankets are made of hard-wearing 20D nylon, reinforced stitches, and waterproof covers to protect your blanket from splashing and weather. The design of the windproof buckle allows you to easily wear the body, from the cold wind harassment
【Multi-Functional Blanket】In the outdoors, this blanket can not only be draped over the body but also can be used as a sofa bed cover for babies and pets. Don't worry about wet stains on clothes, cars, sofas, and beds
【Easy to Carry】The package size is 5.5 "x 11.8", which is only 25% of the size of the sleeping bag. Measuring 78 "x55" when unfolded, it is large enough for a double bed. At just 1.12lb, it weighs less than a bottle of water. The storage bag has adjustable buttons for easy carrying
【Gift for Camping Lovers】If you are looking for a holiday gift for your loved one or friend, an Airensky camping blanket would be a perfect choice. No matter where you go, including camping, backpacking, hiking, hammocks, camping, or the stadium, it can provide extra warmth and great portability.
Sale
Bestseller No. 4
Hand Warmers Rechargeable, Dnaleao 2 Pack 4000mAh Electric Portable Pocket Heater, Heat Therapy Great for Outdoors, Hunting, Golf, Camping, Warm Gifts(Black)
【2 Packs Hand Warmers】The 2 in 1 design hand warmers with a stylish look are portable and compact. Ergonomic design to make you more comfortable. Portable pocket designs fit for traveling, sports, football, hunting, golf, fishing, hiking, camping, skiing, etc.
【Stable Instant Heat】No more longtime wait, electric hand warmers using the premium chip control system. Double-sided heat up to 131°F/55°C operating temperature with 1-second fast heating and 3 levels of temperature settings for adjustable and precise stable comfortable warmth.
【Long Battery Life & Rechargeable】2 Packs 4000mAh hand warmer, a single full charge will last for 12 Hours, can meet the needs of one day's use. 3 levels indicator lights keep you informed of the remaining battery and heating status, Perfectly meet your different needs.
【High-performance & Safety】Hand warmers rechargeable are made of high-tech lithium battery, aluminum, and ABS which certificated with UL, CE, FCC. Built-in intelligent protection system that is provided with the safeguard of power on, short circuit and overloading, etc. It is shockproof, anti-scald, explosion-proof, and radiation-free.
【Great ideal for Gifts】Keep your hands warm throughout the day while in office work, class, or any outdoor activities in the cold winter. With this hand warmer, no longer afraid of the cold of winter. It is a great birthday or festival gift for your kids, friends, or family, suitable for women, men, elders, girls, boys, youth.
FAQs
What are the best practices for preventing RV pipes from freezing during winter camping trips?
To ensure your RV pipes do not freeze during cold weather camping, it's crucial to start with proper insulation. Utilize foam insulation, pipe sleeves, or insulation tape to cover all pipes thoroughly. Keeping interior cabinet doors open allows warm air to circulate around the pipes, preventing freezing. Additionally, consider using a space heater or heat tape specifically designed for RV pipes to provide extra warmth. Lastly, installing an RV skirt made of vinyl, heavy-duty plastic, or foam board can help retain heat under the RV, offering further protection against the cold.
How can I effectively insulate my RV pipes for cold weather excursions?
Effective insulation of RV pipes can be achieved by using products like foam insulation, pipe sleeves, or specialized insulation tape that can be cut to fit the pipes' shape. It's important to insulate every pipe, including those in less visible areas such as under the bathroom sink, to prevent any freezing risks.
Is it necessary to keep cabinet doors open in an RV during winter?
Yes, keeping cabinet doors open is a simple yet effective strategy to prevent your RV pipes from freezing. This practice allows the warm air from the RV's interior to reach the pipes that are located behind walls or under cabinets, which helps maintain a temperature that prevents freezing.
Can space heaters be used to protect RV pipes from freezing temperatures?
Space heaters can be a valuable addition to your RV during winter camping, especially if your RV doesn't have a built-in heat duct system. Placing a space heater in the storage bay can help keep the pipes, water lines, and electronics from freezing. For larger RVs, you may need more than one heater to ensure even distribution of warmth.
What is heat tape and how does it prevent RV pipes from freezing?
Heat tape is an electrical heating element that you wrap around the exterior of your RV pipes. Once installed and plugged in, it provides direct heat to the pipes to prevent them from freezing. It's essential to choose heat tape that is specifically designed for RV use and to follow the installation instructions carefully.
What is the purpose of an RV skirt, and how does it help in cold weather?
An RV skirt is a material that wraps around the underside of your RV, acting as a barrier against cold weather. It helps to contain the ambient heat beneath the RV, which can make winter camping more comfortable by reducing the risk of freezing pipes. Skirts can be purchased as ready-made kits or created using materials like vinyl, heavy-duty plastic, or foam board.
Are there any additional measures I can take to keep my RV pipes from freezing if they are not insulated?
If your RV pipes are not insulated, you can use heat tape as a temporary solution. This tape provides heat when plugged in and is a quick fix to prevent freezing. However, it's a good practice to insulate your pipes as a more permanent solution.
Can I still enjoy winter camping without worrying about freezing pipes?
Absolutely! With the right preparation, such as insulating your pipes, keeping cabinet doors open, using space heaters or heat tape, and installing an RV skirt, you can enjoy the great outdoors in your RV without the concern of freezing pipes.