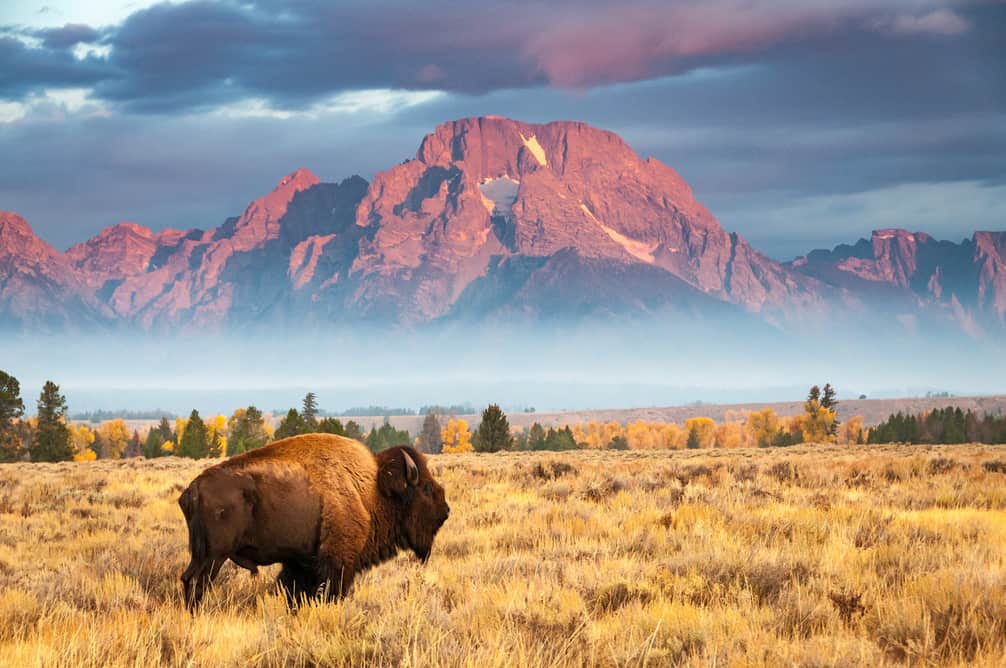 Here we'll be taking a look at the fascinating world of wildlife encounters in U.S. National Parks! These sanctuaries preserve the natural environment, allowing diverse ecosystems to flourish and creating a haven for myriad species. From the iconic grizzly bear of Yellowstone to the alligators of the Everglades, the national parks host an exciting array of wildlife awaiting your discovery.
Types of Wildlife Encounters in U.S. National Parks
Bears
Bears are undoubtedly among the most thrilling encounters in the parks. Both black bears and grizzly bears roam the wilderness of many national parks, including Yellowstone and Glacier National Park. The chance to spot a bear in its natural habitat is a captivating experience. But remember, they are wild animals that occasionally kill people, so observing from a distance is crucial.
Bison
The American Bison, a majestic symbol of the West, is a common sight in parks like Yellowstone. They often appear peaceful, but they're unpredictable and can be dangerous when agitated. Always maintain a safe distance when observing these magnificent creatures.
Wolves
Gray wolves, reintroduced to Yellowstone National Park in the mid-90s, are now integral to the park's ecosystem. Their presence has helped keep the elk population in check and enabled other species to thrive.
Elk
Rocky Mountain National Park is a great place to view elk, especially during the autumn mating season when males engage in fierce bugling contests. You can also spot them in other parks like Yellowstone.
Deer
These gentle mammals are a common sight in several parks, from the majestic mule deer to the white-tailed deer. They are most active during dawn and dusk, offering excellent photo opportunities.
Moose
Encountering a moose is truly a memorable experience. These giant mammals can be seen around water bodies in parks such as Rocky Mountain and Grand Teton.
Coyotes
Coyotes are found in almost all U.S. National Parks. Despite their elusive nature, you might catch sight of them hunting or hear their haunting calls at night.
Birds
Bird enthusiasts will be thrilled by the variety of avian species in U.S. National Parks. Each park hosts unique bird populations, reflecting their diverse ecosystems.
Whether it's the majestic bald eagles soaring above Yellowstone, the vibrant puffins nesting in Acadia, or the elusive wood storks in the Everglades, the opportunity to spot these feathered creatures adds a thrilling element to any visit.
Remember to bring your binoculars for a close-up view!
Best Practices and Safety Guidelines for Wildlife Viewing in National Parks
Observing wildlife is an exciting aspect of visiting a national park. Still, following the National Park Service's guidelines is essential to ensure your safety and the animal's well-being.
Keep a Safe Distance
Always observe animals from a distance, especially larger mammals like bears and bison. Using binoculars or telephoto lenses for viewing and photographing is a good idea.
Never Approach or Feed Wild Animals
Feeding or attempting to touch wildlife disrupts their natural behavior and can lead to aggressive responses. It's against the rules in all national parks.
Store Food and Garbage Properly
Improperly stored food and garbage can pose significant risks, attracting wildlife and leading to dangerous encounters. Remember, wild animals have a keen sense of smell, and the scent of human food can easily lure them. Whether the stealthy raccoon or the imposing bear, every creature is looking for an easy meal.
There are specific guidelines for food storage that every visitor must follow. All food and beverages, cooking equipment, pet food, and even toiletries should be stored appropriately in bear-resistant food storage boxes provided at many national park campsites. If these aren't available, use a bear canister or hang your food from a tree at a height and distance inaccessible to wildlife.
When disposing of garbage, always use animal-proof trash cans and recycling bins throughout the parks. It's a simple step that can significantly reduce the chances of an unpleasant wildlife encounter.
Remember to secure all food and scented items even if you're only away from your campsite for a short period. Unattended food or garbage can attract wildlife to campgrounds and picnic areas, endangering you and others around you.
Adhering to these food and garbage storage practices safeguards yourself and other visitors and wildlife. It prevents them from becoming accustomed to human food, which can harm their health and natural behavior.
Be Aware of the Animal's Behavior
Learn to interpret wildlife behavior. If an animal changes its activity due to your presence, you're too close.
Carry Bear Spray
In bear country, it's advisable to carry bear spray as a safety measure. Remember, it's a deterrent, not a repellent. Bear spray can discourage bears but can not be counted on to drive them away.
Top U.S. National Parks for Wildlife Watching
There's no shortage of places to see wildlife in the national parks, but some offer a unique blend of biodiversity and accessibility.
Yellowstone National Park
Yellowstone, the world's first national park, is one of the best places to see wildlife in the United States. Spread across three states, Wyoming, Montana, and Idaho, it provides a sanctuary for an impressive variety of mammals, birds, fish, and reptiles. The park's vast Lamar Valley is often called "America's Serengeti" due to its rich wildlife population. Here, you can spot herds of bison grazing on the plains, majestic elk, stealthy gray wolves, and black and grizzly bears. With luck, you might also catch sight of a mountain lion, marmots, or the elusive bald eagle.
Grand Teton National Park
Sharing a border with Yellowstone, Grand Teton National Park boasts its own wildlife wonders. The park is most famous for its moose population, which can often be seen grazing near water bodies. It's also home to bison herds, mule deer, and pronghorn – North America's fastest land animal. Birdwatchers will enjoy spotting various species, including golden eagles, ospreys, and numerous types of waterfowl. Its unique ecosystem of mountains, valleys, and rivers is an excellent backdrop for wildlife viewing.
Glacier National Park
Located in Montana, Glacier National Park is often less crowded than Yellowstone but no less rich in wildlife. It's known for its population of mountain goats, recognizable by their white coats and bighorn sheep that can often be seen on rocky outcrops. Other animals inhabiting the park include grizzly bears, black bears, and marmots. During the summer months, the park's many meadows burst into color with wildflowers, attracting an array of butterflies.
Quick Tip: The Lesser Known National Parks also tend to be less crowded.
Yosemite National Park
Yosemite National Park in California is world-renowned for its waterfalls, but it also hosts diverse wildlife. The park's black bears are famous, and efforts to protect them have been a significant focus for the park service. Besides bears, visitors can also spot mule deer, foxes, and if lucky, bighorn sheep in the high country. Bird lovers will appreciate the park's over 260 recorded bird species, including the peregrine falcon and the great grey owl.
Denali National Park
Denali National Park in Alaska offers a truly wild experience. The park's single 92-mile road traverses diverse landscapes providing habitats for various wildlife, including grizzly bears, caribou, moose, and Dall sheep. The park is also home to wolves, lynx, and wolverines. Bird species include the impressive golden eagle and the state bird, the willow ptarmigan. Denali is one of the best places for sighting the elusive gray wolf, a testament to the park's pristine wilderness.
Great Smoky Mountains National Park
Straddling the border between North Carolina and Tennessee, the Great Smoky Mountains National Park is the most visited national park in the U.S. It hosts a high diversity of wildlife due to its extensive size and variety of habitats. The park is home to approximately 1,500 black bears, white-tailed deer, and over 200 species of birds. It's also renowned for its salamander population, leading it to be sometimes called the "Salamander Capital of the World."
Everglades National Park
The Everglades National Park in Florida offers an entirely different wildlife viewing experience. This expansive wetland ecosystem is home to a variety of water-dependent creatures. It's one of the only places worldwide where alligators and crocodiles coexist. The park's birdlife is spectacular, with species like the roseate spoonbill, great blue heron, and the endangered wood stork. The park's coastal areas are a crucial habitat for manatees and a variety of fish species.
Acadia National Park
Acadia National Park is located on Maine's Mount Desert Island and offers stunning coastal scenery and diverse wildlife. White-tailed deer, moose, foxes, and various small mammals can be seen in the park's forests and wetlands. The park's rocky coastlines and islands provide a habitat for seals and a variety of bird species. Puffins and peregrine falcons, both once locally extinct, have been successfully reintroduced to the park.
Conclusion
U.S. National Parks provide unrivaled opportunities for wildlife viewing in an array of stunning landscapes. By respecting these magnificent creatures and their habitats, we can ensure future generations will have the aSchance to experience these unforgettable encounters.
Before you embark on your adventure, it's worth checking out this guide on the best national parks for camping in the USA and these essential camping tips for U.S. National Parks. Happy wildlife watching!