/h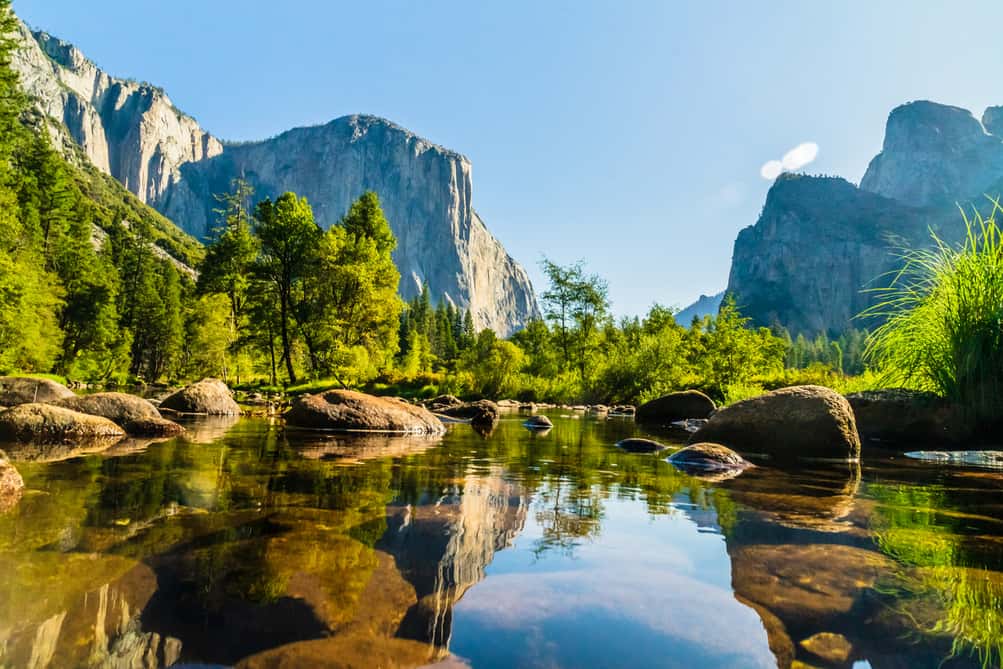 Did you know that there are 424 National Parks in the United States?
I know that sounds like an overwhelming number to choose from, but don't worry…
In this guide, we'll help you narrow down your choices by exploring the top national parks for camping, important factors to consider when choosing a park, and tips for having an extraordinary camping experience.
Things To Consider When Choosing A National Park for Camping
Before settling on a national park for your camping adventure, take into account the following aspects:
Scenery and attractions: What types of landscapes and natural wonders are you most eager to explore?
Activities: Are you passionate about hiking, wildlife observation, water sports, or other outdoor pursuits?
Accessibility: How easily can you access the park and its campgrounds?
Amenities: What facilities and services are available at the campgrounds and nearby?
Climate: What is the typical weather during your preferred camping season?
Top National Parks For Camping In The USA
Discover some of the most magnificent natural wonders in America by camping at top national parks such as Yosemite, Yellowstone, Grand Canyon, Great Smoky Mountains, Acadia or Zion.
Yosemite National Park
Yosemite National Park, an iconic destination for camping enthusiasts in the USA, offers numerous opportunities to connect with nature and explore its breathtaking beauty.
Established as a protected area in 1864, Yosemite's vast wilderness is home to several campgrounds suited for diverse tastes and interests. El Capitan Meadow provides picturesque views of its namesake cliff face, while Moraine Park showcases stunning vistas of Glacier Point.
Other fun camping options include Yosemite Valley campgrounds like Upper Pines or North Pines, offering easy access to renowned sights such as Half Dome and Yosemite Falls. The ultimate outdoor experience awaits at Tuolumne Meadows Campground, with cooler temperatures at higher elevations amid wildflowers perfect for hiking during summer months.
Yellowstone National Park
Yellowstone National Park, America's first national park established in 1872, spans three states: Wyoming, Montana, and Idaho. It has grown to become one of the premier camping destinations in the USA with its diverse wildlife, unique geysers such as Old Faithful, stunning waterfalls, and breathtaking hot springs.
The park offers numerous campgrounds suitable for RVs and tents alike. Popular sites include Grant Village Campground and Madison Campground – both providing great access to nearby hiking trails and other attractions within Yellowstone.
This remarkable landscape is filled with bison, grizzly bears, wildflowers, and more than 1,000 miles of hiking trails for all skill levels; it's no wonder why Yellowstone National Park ranks among the top 10 best places for national park camping in the United States.
Grand Canyon National Park
Grand Canyon National Park, a must-visit destination for campers and outdoor enthusiasts alike, offers awe-inspiring views at every turn. The park's 278 miles span the rugged Colorado River corridor, providing ample camping opportunities in one of the world's most breathtaking natural wonders.
Camping in Grand Canyon National Park is an unforgettable adventure with unique attractions such as Desert View Watchtower and Mather Point just waiting to be discovered. In addition to hiking along its many trails or taking a scenic shuttle ride around the canyon rim, campers have countless opportunities to witness incredible wildlife like bison and grizzly bears up close (well, not too close).
Visitors can also explore historical sites within the park, including Grand Canyon Village, which gained popularity after the arrival of the famed railroad back in 1901.
Great Smoky Mountains National Park
The Great Smoky Mountains National Park offers some of the best camping experiences in the US. With about 850 miles of trails, visitors can choose from a variety of campsites, including those that require hiking several miles to reach.
In addition to camping, the Great Smoky Mountains National Park is a perfect destination for hikers and outdoor enthusiasts. The park is home to one of the oldest mountain ranges in America and offers some breathtaking scenery. It's often ranked among the top ten national parks in the country.
Acadia National Park
Acadia National Park, located in Maine, is one of the most popular and smallest national parks in the United States. Established in 1916, it covers an area of 49,052 acres and attracts an annual visitor count as high as 3.5 million.
The park has two campgrounds on Mount Desert Island; Blackwoods Campground provides easy access to hiking trails and beach areas, while Seawall Campground offers a more rustic experience with campsites nestled among spruce trees near the ocean.
Visitors can enjoy scenic drives along Park Loop Road or explore Cadillac Mountain – the highest peak on the East Coast – offering stunning views of the sunrise over Frenchman Bay.
Zion National Park
Zion National Park is a must-visit destination for camping enthusiasts. Located in Southern Utah, the park is famous for its narrow slot canyons and stunning red and white rock formations that are perfect for hiking, climbing, backpacking, and other outdoor activities.
With numerous campsites available, this park truly offers the best camping experience.
To fully enjoy Zion National Park, visitors need to buy a pass, such as the $35 per vehicle weekly, or purchase the "America the Beautiful" annual pass, which gives access to multiple national parks across the USA.
Furthermore, it's important to note that camping at Zion National Park is only allowed in designated campsites rather than road pullouts or parking lots.
Best Campgrounds In National Parks
Discover the top-rated campgrounds in national parks, including Elkmont Campground in Great Smoky Mountains National Park, Mather Campground in Grand Canyon National Park, and Many Glacier Campground in Glacier National Park.
Elkmont Campground, Great Smoky Mountains National Park
Elkmont Campground is a must-visit destination for camping enthusiasts looking to explore the Great Smoky Mountains National Park. With 220 sites, it's the largest campground in the park and offers great amenities such as showers, restrooms, and picnic tables.
But what truly sets this campground apart is its stunning hiking trails, which offer breathtaking views of the surrounding mountains and forests. Elkmont also has a unique attraction – synchronous fireflies! Every year from late May to mid-June, thousands of fireflies light up simultaneously and create an amazing sight for visitors to behold.
Mather Campground, Grand Canyon National Park
Mather Campground is a popular destination for camping enthusiasts seeking to explore the wonders of Grand Canyon National Park. Located in Grand Canyon Village on the South Rim, this campground offers 327 sites, each including a campfire ring and cooking facilities.
Reservations, which are required, can be made up to 6 months in advance during peak season (March 1 – November 30). Offering RV camping and various amenities such as campfire programs and ranger-led talks, Mather Campground provides an excellent base for exploring one of the most breathtaking landscapes in America.
Moraine Park Campground, Rocky Mountain National Park
If you're looking for a fantastic camping experience in Rocky Mountain National Park, Moraine Park Campground is an excellent option to consider. This campground is the largest among the five front-country campgrounds in the park and boasts beautiful views of the surrounding mountains and parklands.
With 244 campsites on offer, this campground provides ample space for tents, RVs, and trailers alike.
According to retired National Park Rangers, Moraine Park Campground offers some of the best camping experiences in Rocky Mountain National Park due to its stunning vistas and expansive open spaces.
Garden Key Campground, Dry Tortugas National Park
Garden Key Campground in Dry Tortugas National Park offers a unique camping experience that is perfect for adventurers looking to get away from it all. This campground is the only option available on Garden Key – the primary island in the park – and offers primitive camping facilities outside of Fort Jefferson.
The remote location of Garden Key Campground means that those who make it there are rewarded with stunning views of turquoise waters, abundant wildlife, and clear starry night skies.
It's worth noting that due to its remote location, campers need to bring their own supplies and prepare accordingly.
Watchman Campground, Zion National Park
If you're looking for a camping experience amidst natural beauty, Watchman Campground in Zion National Park should definitely be on your list. With over 180 campsites that accommodate both RVs and tents, this campground is the largest in Zion National Park.
One of the best things about Watchman Campground is its year-round availability, allowing campers to enjoy all four seasons within this breathtaking national park. However, due to its popularity and high demand, reservations are required and can be made up to six months in advance.
Many Glacier Campground, Glacier National Park
Located in the northeastern part of Glacier National Park, Many Glacier Campground is a popular destination for campers and hikers. With its breathtaking views of the surrounding mountains and glaciers, this campground is considered one of the best in the park.
Many Glacier Campground offers easy access to several hiking trails that will take visitors through some of the most scenic spots in the park. Whether you are a novice or an experienced hiker, there are plenty of options available for you to explore.
RV Camping In National Parks
RV camping in national parks is a popular way to experience the great outdoors, with benefits such as having access to modern amenities, being able to travel at your own pace, and being more comfortable while camping.
Benefits Of RV Camping
RV camping in national parks has become a popular option for outdoor enthusiasts. One of the main benefits is the convenience and flexibility it provides. With your very own home on wheels, you can easily explore different areas within the park without worrying about finding accommodations or setting up tents.
Another benefit is that RV camping offers a more affordable way to visit national parks compared to staying in hotels or cabins. According to the National Park Service, RV camping fees are generally lower than other accommodation options making it ideal for budget-conscious travelers.
Not only that, but spending time outdoors surrounded by nature has also been shown to have numerous health benefits, including reducing stress levels and improving overall well-being.
Guidelines And Regulations
When RV camping in national parks, it's important to follow guidelines and regulations set by the National Park Service. These rules are designed to ensure the safety of visitors and protect the park's natural resources.
For example, most campgrounds have a limit on RV length, so make sure to check the park's website or call ahead before you arrive.
It's also critical to adhere to pet policies if traveling with pets – most national parks allow up two pets per campsite but require them not to be left unattended and must be cleaned up after at all times.
Visitors should make reservations in advance where possible as campsites can book quickly, especially during peak season; this helps avoid overcrowding of sites and improves the overall visitor experience.
Availability Of RV Hookups
National parks in the USA offer a range of camping options, from primitive campsites to full-service RV campgrounds. However, the availability of RV hookups varies from park to park and may require advance reservation.
Some national parks, like Grand Canyon National Park, have multiple campgrounds with RV sites that offer electric hookups but no water or sewer connections.
Recreation.gov is a helpful resource for finding and reserving national park campsites with RV hookups. A few popular examples of national parks offering great RV camping experiences include Yellowstone National Park, Glacier National Park, Great Smoky Mountains National Park, and Zion National Park.
Rental Options And Costs
When it comes to RV camping in national parks, there is a range of rental options and costs to suit every budget and preference. The table below lists various rental options, along with their average costs and features.
| Rental Option | Average Cost | Features |
| --- | --- | --- |
| Low-Cost RV Parks | $20-40 per night | Basic amenities, located in less popular areas, may have fewer RV sites available |
| Mid-Range RV Parks | $30-50 per night | Standard amenities, well-maintained facilities, more RV sites available, located in more popular areas |
| Luxury RV Parks | $45-150+ per night | Premium amenities, resort-style facilities, and themed parks, located in prime destinations, usually near coasts |
| Weekly or Monthly Rates | Varies, often discounted | Discounted rates for longer stays, available at most RV parks |
| Non-Peak Rates | Varies, often discounted | Lower rates during non-peak seasons, available at select RV parks |
These options provide flexibility for campers, allowing both first-time and experienced RV campers to find the perfect rental for their national park camping adventure. Be sure to consider your budget, desired amenities, and preferred location when selecting your RV rental option.
Tips For RV Camping
RV camping can be a great way to experience the beauty of national parks. Here are some tips to make your trip smooth and enjoyable:
1. Research and plan ahead: Make sure to book your campsite and rental RV early, especially during peak season. Check the park's website for any updates or changes to regulations.
2. Prepare for weather and terrain: National parks have varied climates, so pack clothing suitable for different weather conditions. Also, be aware of the terrain you will encounter on your trip and pack appropriate gear.
3. Choose the right campsite: Look for a campsite that meets your needs, such as proximity to amenities or scenic views. Be aware of any specific site requirements based on the size of your RV.
4. Know the rules: Familiarize yourself with park regulations regarding RV camping, including generator use, quiet hours, and waste disposal.
5. Respect nature: Keep your campsite clean and dispose of waste properly. Follow Leave No Trace principles to help preserve the natural beauty of the park.
6. Plan for emergencies: Have a first aid kit and emergency supplies on hand in case of unexpected situations.
By following these tips, you can have an enjoyable and safe RV camping experience in some of America's best national parks!
Hiking And Outdoor Activities In National Parks
Discover popular hiking trails and outdoor activities in national parks, including stunning mountain views, waterfalls, natural hot springs, and opportunities to witness incredible wildlife such as elk and bison.
Popular Hiking Trails And Activities
Hiking is one of the most popular outdoor activities in National Parks, allowing visitors to enjoy breathtaking landscapes and natural beauty. Here are some of the best hiking trails to explore during your camping trip:
1. Half Dome Trail, Yosemite National Park – a strenuous trail with a climb up a steep rock face that rewards hikers with panoramic views of Yosemite Valley.
2. Bright Angel Trail, Grand Canyon National Park – a challenging but rewarding hike that takes you down into the canyon, where hikers can see layers of ancient rock formations and stunning vistas.
3. West Rim Trail, Zion National Park – an iconic hike that offers stunning views of Zion Canyon as it winds along narrow ridges and cliffs.
4. Hidden Lake Trail, Glacier National Park – a moderate hike through alpine meadows that leads to an overlook of Hidden Lake and stunning mountain scenery.
5. Precipice Trail, Acadia National Park – a thrilling hike along narrow cliff ledges with incredible views of the Atlantic Ocean.
6. Old Faithful Geyser Loop Trail, Yellowstone National Park – an easy hike that takes you past geysers, hot springs, and bubbling mud pots.
7. Moro Rock Trail, Sequoia National Park – a short but steep climb up a granite dome for breathtaking views of the Sierra Nevada Mountains.
8. Mount Ellinor Trail, Olympic National Park – a challenging hike through dense forests to reach panoramic views of the Puget Sound and Olympic Mountain Range.
9. Bearfence Mountain Trail, Shenandoah National Park – a moderate hike with stunning 360-degree views from atop Bearfence Mountain.
10. Appalachian Trail, Great Smoky Mountains National Park – one of America's most iconic long-distance hikes, offering scenic views throughout its 70-mile stretch within the park.
Remember to check park regulations for hiking safety tips and trail conditions before heading out on any hike in these national parks. Always carry plenty of water, wear appropriate footwear and clothing, and follow "Leave No Trace" principles to help protect these pristine wilderness areas for generations to come.
Safety Tips For Hiking And Outdoor Activities
Before embarking on any hiking or outdoor activity in a national park, it's important to prioritize safety. Always travel with a companion and make sure you're physically fit and properly equipped for the specific activity and climate conditions.
When exploring trails and wilderness areas, stick to marked paths to avoid getting lost or injured. Resist the urge to feed wildlife, as this can put both you and the animals at risk.
If you do encounter potentially dangerous wildlife like bears or mountain lions, keep your distance and report sightings to park rangers so they can respond accordingly. And always be prepared for emergencies by carrying basic first aid supplies along with contact information for emergency services in the area.
Additional Safety Tips:
Follow posted rules and guidelines to protect yourself, other visitors, and the environment.
Carry a map, compass, and/or GPS device, and know how to use them.
Check weather forecasts and be prepared for changing conditions.
Carry a first aid kit and familiarize yourself with basic first aid techniques.
Ensure someone knows your plans and expected return time.
Wildlife Watching
National parks in the USA offer some of the best opportunities for wildlife watching, and camping is an excellent way to experience them up close. Rocky Mountain National Park, Yellowstone National Park, Theodore Roosevelt National Park, and Everglades National Park are just a few examples of national parks that attract visitors from all over the world with their incredible variety of animals in their natural habitats.
Bald eagles soaring overhead, bison roaming free on grassy plains, herons fishing in streams, wild horses grazing on meadows – these are just some of the awe-inspiring sights campers can expect to see.
However, it's important to keep your distance and respect boundaries as some animals might appear tame but actually be wild and dangerous.
Essential Tips For Successful Camping In National Parks
When planning to camp in a US national park, it's important to make reservations well in advance, pack appropriate gear for the weather and terrain, familiarize yourself with entrance fees and passes, choose a suitable campsite, prepare for emergencies or medical needs, and prioritize conservation and preservation efforts.
Best Time to Camp in National Parks
The ideal time to camp in national parks depends on your preferred activities, weather conditions, and desired level of solitude.
Generally, spring and fall offer milder temperatures and fewer crowds, while summer is the busiest season. Winter camping is also possible in some parks, provided you have the proper preparation and gear.
Making Reservations In Advance
To ensure a successful camping trip to national parks in the USA, it is vital to make reservations in advance. Reservations can be made up to six months before your desired date of arrival, and many popular park campgrounds sell out quickly.
To make a reservation, you need to have an account with Recreation.gov, which allows you to view availability and reserve specific campsites. You can also use this platform to check campground information, such as amenities, rules, and regulations.
Keep in mind that booking campsites on Recreation.gov requires some planning and knowledge of the reservation system; otherwise, there's a risk of missing out on a suitable site or paying too much for one that's not ideal for your needs. To that end, please see this collection of tips.
Packing Essentials And Planning For Weather And Terrain
When planning a camping trip, it's important to pack carefully and consider the weather and terrain of the national park. Here are some packing essentials and tips for successful camping:
1. Tent: A sturdy and waterproof tent is essential for shelter during bad weather.
2. Sleeping bag: Choose a sleeping bag suitable for the expected temperature range of the park.
3. Clothing: Bring layers suitable for the climate, including rain gear and warm clothing for cooler nights.
4. Footwear: Comfortable and sturdy hiking boots or shoes are crucial for exploring the terrain.
5. First aid kit: Include items such as bandages, antiseptic, pain relievers, insect repellent, and sunscreen.
6. Food and water: Bring plenty of non-perishable food and refillable water bottles to ensure hydration throughout your trip.
7. Navigation tools: A map, compass, or GPS device can help you navigate while hiking in unfamiliar territory.
Remember to check the park regulations before packing any equipment that may not be allowed in certain areas. Additionally, be aware of any potential hazards, such as wildlife encounters or extreme weather conditions, that may require additional preparation. By packing wisely and preparing for all circumstances, you can enjoy a safe and memorable camping trip in one of America's beautiful national parks.
Understanding Park Entrance Fees And Passes
If you're planning a camping trip in a national park, it's important to understand the entrance fees and passes that may be required. The National Park Service (NPS) charges an admission fee for most parks, which can range from $5 to $35 per vehicle or up to $20 per individual for walk-ins.
However, there are several ways to save money on these fees. For example, a standard annual pass is a great option for frequent visitors as it allows access to all national parks for one year at the cost of $80.
Additionally, active duty military members and their families can receive free annual passes, while seniors over 62 years old can get lifetime senior passes at a hefty discount. Find the details here.
It's also worth noting that some states offer their own park pass programs that provide discounts or free entry into certain state parks throughout the year. For instance, Idaho offers an annual state park passport program costing only $10 per year, providing unlimited day-use access across state parks of Idaho with car registration. In contrast, other states like California require an extra payment along with the entrance fee called "day-use" fee, which varies between state parks ranging from nothing up to around ten dollars based on amenities offered in each area; this becomes even more beneficial if you plan on visiting multiple parks within the same region throughout your trip.
Choosing The Right Campsite For Your Needs
Choosing the right campsite for your needs is crucial when camping in a national park. Before booking a spot, consider factors like the size of your tent or RV, proximity to amenities and attractions, and access to water sources.
If you're looking for a more peaceful experience and don't mind hiking to reach your campsite, opt for a backcountry site.
Additionally, be sure to check each park's website for information on specific campsites that may suit your needs or preferences. Some parks have designated areas for large groups or pet-friendly campsites.
It's also important to note that not all campgrounds in national parks offer RV hookups or showers, so it's essential to do research ahead of time and prepare accordingly.
Planning For Emergencies And Medical Needs
On any camping trip, it's important to plan ahead for emergencies and medical needs. Before leaving for a national park, make sure you have a first-aid kit with basic supplies such as bandages, antiseptic wipes, and pain relievers.
It's also essential to inform someone outside your camping group about your itinerary and expected return time. This way, if something unexpected happens during your trip and you are not able to communicate with anyone else, help can be sent to you in a timely manner.
Additionally, remember that weather conditions can change drastically at any time in national parks – so keep an eye on local updates before embarking on hikes or other outdoor activities.
Prioritizing Conservation And Preservation Efforts.
It's important to remember that when we visit national parks for camping, we are entering a delicate ecosystem. As such, it's crucial to prioritize conservation and preservation efforts.
This involves being mindful of our impact on the environment and doing what we can to minimize it.
Additionally, park staff may provide guidance or rules about specific actions visitors should take in order to protect the environment. For example, some parks may have regulations about noise levels or designated trails in order to minimize damage caused by foot traffic.
Final Thoughts
The US National Park Service offers a vast array of sites perfect for camping, each with its own unique attractions and landscapes. From the geysers of Yellowstone to the towering sequoias of Sequoia and Kings Canyon, there's a park suited to every camper's preferences.
By considering factors such as scenery, accessibility, and amenities, you can select the perfect destination for your next camping adventure. Remember to plan ahead, respect the environment, and stay safe to ensure a memorable and enjoyable experience in these incredible natural settings.