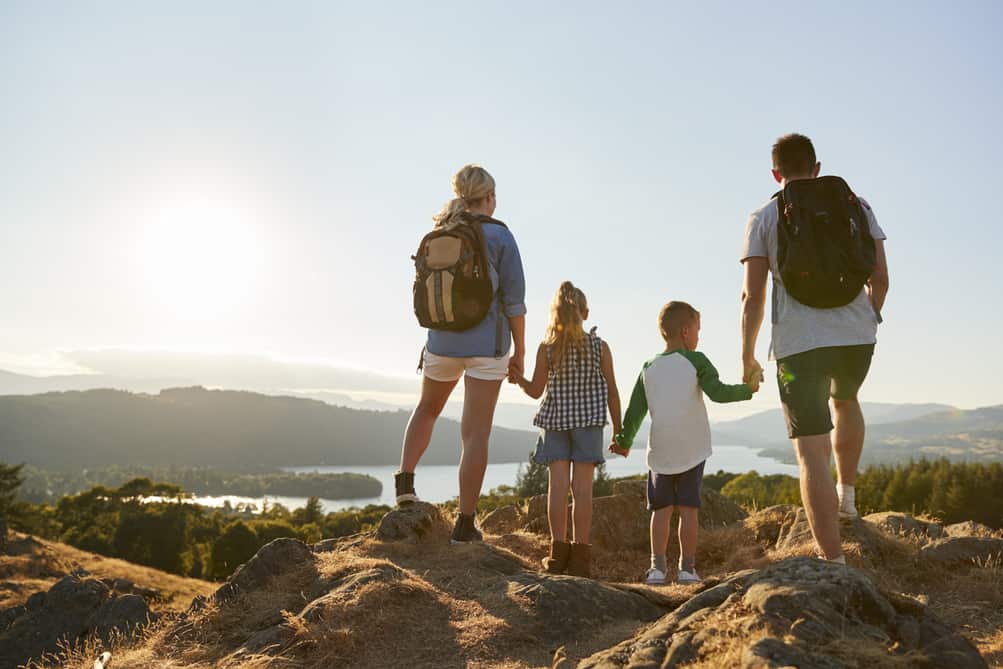 There's a certain magic in a family vacation, the allure of discovery, and the joy of shared experiences. One of the best destinations for such an adventure is a national park. These natural playgrounds, rich with diverse wildlife, stunning landscapes, and hands-on learning opportunities, are ideal for children of all ages.
This guide will explore why national parks are perfect for families and share tips for making your visit unforgettable.
Why National Parks are the Perfect Family Destination
National parks offer unique experiences encouraging outdoor exploration, facilitating learning, and enhancing family bonding. They are a treasure trove of natural beauty and historical significance, making them a perfect backdrop for creating lasting memories.
Encourages Outdoor Exploration
Kids love the sense of freedom and excitement that comes with exploring the great outdoors. A national park is a vast, open space where they can run, climb, and explore to their heart's content.
Facilitates Learning and Education
Every visit to a national park is a learning opportunity. Whether it's understanding the lifecycle of a butterfly, the geology of the Grand Canyon, or the history of the Native American tribes, the park's resources can bring education to life for kids in a way that textbooks simply cannot.
Enhances Family Bonding and Creates Lasting Memories
Nothing brings a family closer than shared experiences. Whether it's spotting a deer in the wild, cooking meals together over a campfire, or gazing at the stars, national parks provide unforgettable experiences that kids will treasure.
Top National Parks for Family Visits
While every US national park offers something unique, some parks are terrific for families with kids. Here are a few favorites.
Yellowstone National Park
Yellowstone National Park, one of the best national parks for kids, is like a giant natural playground. Kids will love the endless adventures here, from awe-inspiring geysers to abundant wildlife and beautiful landscapes.
Olympic National Park
The diverse ecosystem of the Olympic National Park, ranging from the rugged Pacific coastlines to the rainforest and snow-capped mountains, provides families with an opportunity to explore and learn about different habitats in a single visit.
Grand Canyon National Park
A visit to the Grand Canyon National Park can be an eye-opening experience for kids. The vastness of the canyon, the layered colors of the rock formations, and the thrill of hiking down into the canyon make this a fantastic destination for a family vacation.
Acadia National Park
Acadia National Park offers beautiful coastal views, charming forest trails, and even the chance to be the first in the United States to see the sunrise! It's also home to a range of fun activities for kids. From exploring tidal pools teeming with marine life to biking the picturesque carriage roads, the park is a natural playground that children of all ages will adore.
Plus, the park's Junior Ranger program is a favorite among kids, offering them an engaging way to learn about Acadia's unique ecosystems.
Great Smoky Mountains National Park
The Great Smoky Mountains National Park is a dream come true for nature-loving kids. With more than 800 miles of hiking trails and the opportunity to spot various wildlife species, it's a family-friendly national park that kids will love.
Want to explore more? Check out our list of top 10 must-visit US national parks for families.
Tips for Planning a Family Trip to National Parks
Good planning can make your national park visit more enjoyable. Here are some tips:
Become a Junior Ranger
The Junior Ranger Programs are fantastic for kids of all ages. These programs provide educational and fun activities encouraging kids to explore, learn, and protect national parks.
Embrace Unplanned Adventures
While it's essential to plan, be open to spontaneous adventures. Unplanned discoveries often end up being the highlight of a national park visit.
Schedule Breaks and Downtime
While there's a lot to see and do, remember to schedule breaks. Downtime is essential for kids (and adults!) to recharge.
Pack Snacks and Ample Water
National parks can be remote with limited services. Always carry ample water, snacks, and a picnic lunch. Granola bars, trail mix, fresh fruits, and cheese sticks are all easy to pack and provide good nutrition on the go.
For lunch, consider packing sandwiches – peanut butter and jelly, tuna, or ham and cheese – all good options that keep well in a cooler. Also, remember veggies like carrot sticks, cherry tomatoes, or cucumber slices for added nutrition.
To keep everyone hydrated, bring reusable water bottles that can be refilled at park facilities. Remember, the goal is to keep energy levels high while exploring the great outdoors!
Here's a free camping food list PDF that may help you plan for your next adventure.
Dress for the Occasion
Weather can change quickly in national parks. Dress in layers and bring rain gear, hats, and sunscreen.
Check out our comprehensive guide to US national park passes for planning your visit.
If you're a Mother, then you may also want to read our post about essential camping gear for women.
Fun and Educational Activities for Kids in National Parks
National parks are filled with opportunities for hands-on learning and fun activities that kids will love. Here are a few to consider:
Hiking and Guided Nature Walks
Most national parks have trails suitable for all ages. Younger kids enjoy shorter nature trails, while older kids may be ready for a more challenging hike. Some parks offer guided nature walks where park rangers share fascinating facts about the park's flora and fauna.
Camping and Stargazing
Camping within the park can be a magical experience for kids. Apart from learning basic camping skills, it also gives fantastic stargazing opportunities. For more insights on camping, please read our guide on the best national parks for camping in the USA.
Wildlife Observation and Photography
Wildlife observation can be an exciting activity for kids. Keep a safe distance, but let them enjoy the thrill of spotting animals in their natural habitat.
Junior Ranger Programs
These programs allow kids to engage in fun activities while learning about the park's unique features. For instance, at Yellowstone National Park, Junior Rangers might track animals, understand the park's famous geysers, or learn about forest fire safety. Over in Acadia, kids can discover the intricate ecosystem of tidal pools, learn about local bird species, and even identify different types of rocks along the coastline. In the Grand Canyon, participants can learn about the region's geology and Native American history, all while earning their Junior Ranger badge.
Kayaking, Rafting, and Other Water Activities
Many national parks have lakes or rivers where families can enjoy water activities. Always ensure safety precautions are followed.
Conclusion
National parks are a fantastic way to introduce children to the wonders of nature while spending quality time together as a family. The adventures and memories created in these magical places can last a lifetime. So start planning your family's next vacation to a national park. The world of natural wonders awaits!
You should also consider visiting the Lesser Known National Parks.