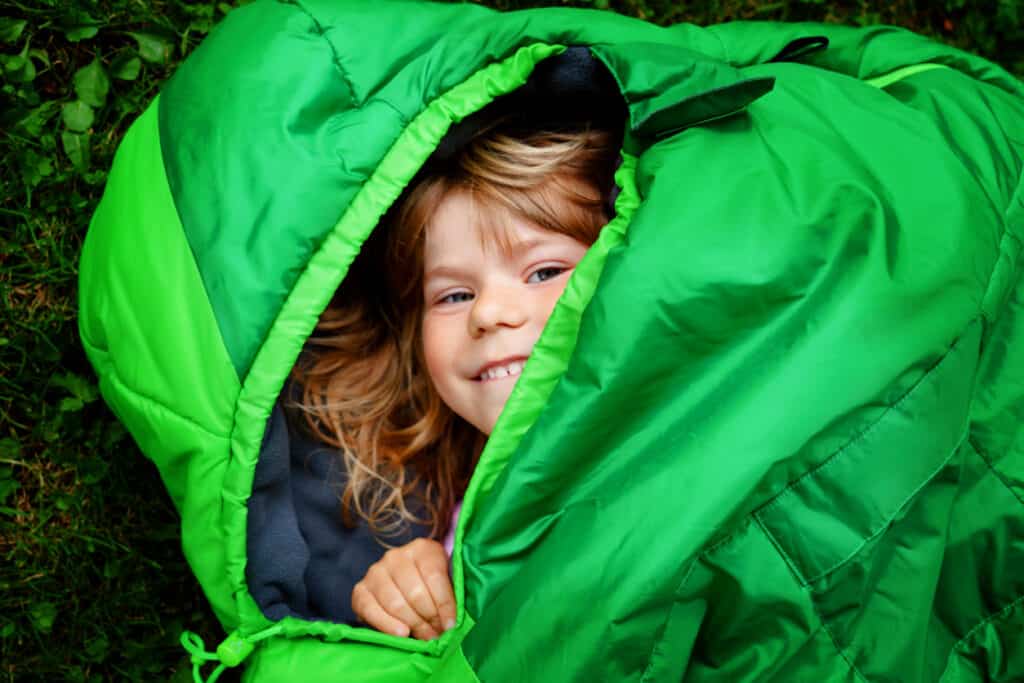 Although North Face is now best known to many people as a clothing company, they started out in the 1960s making climbing/mountaineering gear — which, naturally, included a North Face sleeping bag.
With a history of innovation, including being a pioneer of internal frame backpacks, they continue that tradition with designs like their 3-in-1 sleeping bags. They're also known to be at least somewhat environmentally friendly, in that they use a lot of recycled material and give funding for environmental non-profits.
Here's a list of our top picks for North Face sleeping bags…
North Face Dolomite One Sleeping Bag
The Dolomite has been my family's go-to 3 season (not the best for winter) sleeping bag for the last 15 or so years.
I bought them about 15 years ago to use during one of my son's Cub Scout camping trips (it rained so hard I thought our air mattresses beneath the bags were going to float away).
And both of my kids used them at Summer Camp.
Not to mention my wife and daughter used them for Girl Scout camping trips over a decade ago.
And just last Fall our daughter and her friends used them for their annual "campout with the basketball team" outing up at school (she's in College now).
Our 4 Dolomite sleeping bags have proven to be worth every single penny that I paid for them almost 15 years ago… and going strong!
Here's what you need to know:
The North Face Dolomite One is a 3-in-1 bag that features a top layer with 50-degree Heatseeker Eco synthetic insulation (made with recycled material) to keep you warm in mild weather, and a mid layer with 30-degree Heatseeker Eco synthetic insulation for cool nights. When combined, the two layers create a 15-degree bag for cold-weather camping. So that's three different temperature ranges that can be handled by one bag.
While its versatility makes this an attractive option, this is by far the heaviest bag listed on this page — so not your best choice for backpacking; I'd recommend it for car camping only (or maybe motorcycle camping).
The Dolomite One is also designed with a polyester taffeta for a softer feel, as well as a comfort polyester liner on the mid layer that is super soft. And there's a rectangular footbox that gives your legs room to move. Whether you're new to camping or an experienced outdoorsman, the North Face Dolomite One sleeping bag is sure to keep you comfortable and cozy all night long.
You can find the Dolomite One at a good price on Amazon, or check it out on eBay.
North Face Cat's Meow 20F
The North Face Cat's Meow Sleeping Bag, with a shell made of 20D recycled nylon treated with non-PFC durable water-repellent, is a great choice for anyone looking for a reliable and warm sleeping bag. This bag is designed to keep you warm in temperatures as low as 20F. The Cyclone construction wraps the synthetic insulation around the bag in efficient, compressible, vertical baffles. This design helps the bag maintain its thermal efficiency while taking up less space in your pack.
The fully insulated hood with an insulated cinch collar is designed to seal out cold drafts, keeping your head warm. The durable YKK® 2/3 side zipper makes getting in and out of the bag easy, and helps to keep the weight of the bag down. Shock cords on the back of the bag attach to a sleeping pad so that the pad will stay in place while you sleep.
Being only one ounce less weight than the Wasatch below, but with a 10 degree colder rating, makes me think of this sleeping bag as the stand out choice for cold weather backpacking, out of all the bags on this page. And it comes in four sizes and four color combinations!
Amazon is a good bet for a low price on the Cat's Meow, or check it out on eBay.
North Face Wasatch 30F
The North Face Wasatch 30F sleeping bag is relatively inexpensive and lightweight. It features full-length synthetic insulation made from 50% recycled content. Plus, it has a durable water-repellent finish to help keep you warm and dry.
The Wasatch 30F if designed with a full-length zip for easy entry/exit, and features an articulated hood with cinch-cord to keep your head and neck warm and comfortable. You'll stay warm and comfortable in this sleeping bag, with a temperature rating of 30-degrees Fahrenheit (-1 Celcius) and up. Note, however, that this bag is not EN tested.
I know I said the Cat's Meow was the stand out choice for cold weather backpacking, but if it's not quite so cold and you want to spend less, this is the better bargain.
You can find the Wasatch 30F on Amazon, and you can probably also find it on eBay.
North Face Eco Trail Synthetic 20F Sleeping Bag
The North Face Eco Trail Synthetic 20F sleeping bag is an environmentally friendly sleeping bag option. This bag is made of 100% recycled shell fabric, features attractive embossed lining, and is filled with 100% recycled synthetic insulation, which means you can rest easy knowing you're doing your part to reduce waste.
I consider this a second choice for cold weather backpacking behind the Cat's Meow above, because it adds about a pound (or more for larger sizes) of extra weight. But it's about half the price, so you might prefer to pay less and carry the extra weight.
The extended width at the knees allows for comfortable movement and the wraparound J-zip provides increased mobility and ventilation. Finally, the fitted hood with cinch-cord and draft collar provide extra comfort and keep heat from escaping, while the tie-down loops let you securely attach the bag to your sleeping pad.
I always check prices on Amazon, or you check it out on eBay.
Top-Rated Sleeping Bag Brands