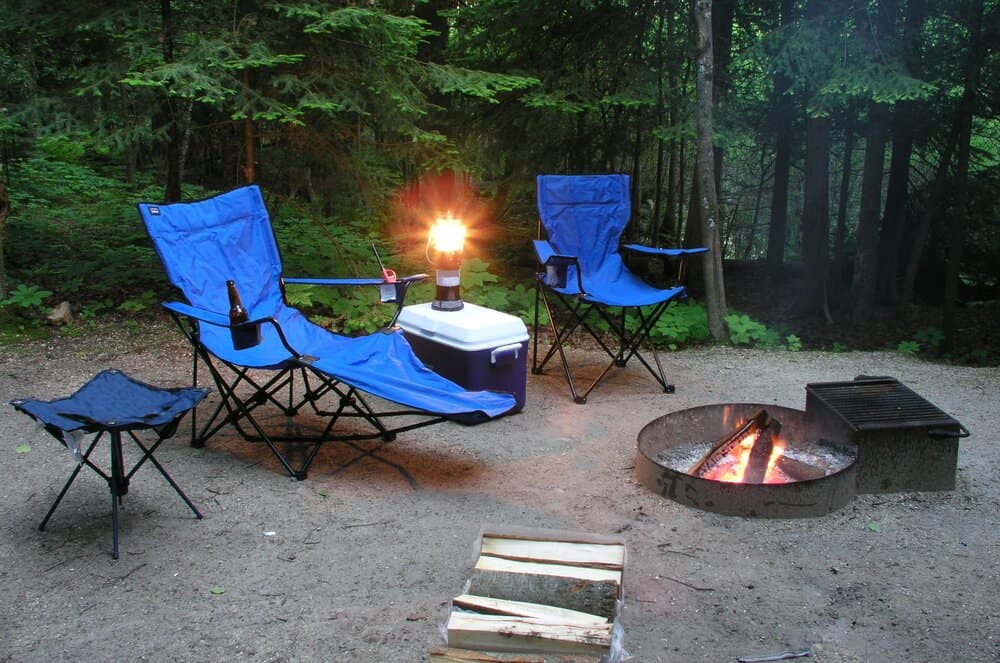 Many campers do not realize how vulnerable their gear is during extreme temperatures or weather. So here we'll cover the best storage practices to protect and preserve your camping chairs.
For example, did you know that polypropylene becomes brittle at zero degrees Celsius? Polypropylene is an inexpensive material that is often used to produce outdoor furniture.
The good news is that there are simple storage tips to prevent this from happening. Read on to learn how to store camping chairs. Explore storage strategies for the best camping chairs to extend their life.
Key Takeaways:
Understand the Vulnerability of Camping Gear: Recognize that camping chairs and other gear can be damaged by extreme temperatures and weather conditions.
Material Matters: Polypropylene, often used in outdoor furniture, can become brittle at zero degrees Celsius. Choose chairs with durable materials, like steel frames and puncture-proof fabrics.
Protect from the Elements: Store your camping chairs away from sun, rain, and wind to prevent UV damage, mold, mildew, and rust.
Cleaning is Crucial: Always clean your camping chairs with a damp rag to remove dirt and grime before storing.
Smart Storage Solutions: Fold and elevate your camping chairs to reduce storage space and protect from pests. Consider using storage bins for additional protection from temperature extremes.
Regular Maintenance Extends Lifespan: Simple steps like cleaning and proper storage can significantly extend the service life of your camping chairs.
What Are the Different Types of Camping Chairs?
There are many different types of camping chairs, and not all camping furniture is created equal. Cheaper camping chairs are often manufactured with less rugged and durable components and parts.
The best camping chair frames are made from steel and not fiberglass. Aluminum frames are stronger than some cheap alternatives, but are still less durable than steel.
You also have to consider the fabric. Some fabrics are designed to be puncture-proof, while other lower-grade fabric is going to break down quickly.
What Elements Should You Avoid?
It is important to avoid sun, rain, and wind when storing your camping chairs. Protecting your camping chairs from the elements alone is going to extend their service life.
Constant sun exposure is just as bad for your camping chair as damp conditions. UV rays from the sun break down fabrics and may even weaken some durable metals.
You should also prevent your camping chairs from getting wet. Damp conditions lead to mold, mildew, and rust.
What Are the Best Practices for Storing Camping Chairs?
The best thing you can do to preserve your camping chairs is remove them from the outdoors. Simply putting your chair in a garage or your vehicle's trunk is going to extend its service life. Here are three other tips that can help.
1. Clean It
Before putting your chair away, it is important to clean it with a damp rag. Make sure to wipe away any dirt, grime, or other substances that could degrade the chair's materials. Then let it stand for a minute to dry.
2. Fold and Elevate
Once the chair is clean, fold it up to reduce its storage footprint. An elevated storage position is one of the best ways to put the chair away.
You can hang the chair on the wall or lay it down on a storage rack. Either way, an elevated storage position provides some protection from pests and insects.
3. Storage Bins
Placing your folded camping chair in a storage bin is another effective strategy. Here, you can close the bin's lid and prevent open-air damage to the chair's materials. A closed storage bin provides some protection against extreme summer or winter temperatures.
Your Guide on How to Store Camping Chairs
Now you have a good idea of how to store your chairs and other camping items. Simple steps like cleaning them off and bringing them inside go a long way.
If you are going camping and enjoyed this article about how to store camping chairs, check out our camping gear blog for more great content.
Check out some of our other articles on storing and packing gear: How to Store Camping Gear, How To Fit Camping Gear In Your Car, and Pack Like A Pro
Bestseller No. 1
Bestseller No. 2
GCI Outdoor Freestyle Rocker Portable Rocking Chair & Outdoor Camping Chair, Cinnamon
Rocking Chair for Outside: This portable folding chair for outside quickly and easily folds flat for simple storage and transportation
Quality Construction: Equipped with a sturdy powder-coated steel frame, this outdoor folding chair supports up to 250 pounds and includes padded armrests, a mesh backrest, and beverage holder
Smooth Rocking: Patented Spring Action Rocking Technology allows this outdoor folding chair to rock on most outdoor surfaces; This folding rocking chair for outside makes a great rocking camping chair, rocking sports chair, or rocking lawn chair
Simple Setup: This rocking camp chair for adults opens and closes smoothly via patented Eazy-Fold Technology; This folding camping chair for adults also features a convenient carry handle
Portable: This folding lawn chair for adults measures 24 x 25 x 34.8 inches when open with a seat height of 19.7 and folds to 24 x 4.9 x 34.8 inches; 12.1 pounds; Limited lifetime warranty
Sale
Bestseller No. 3
SUNNYFEEL Camping Directors Chair, Heavy Duty,Oversized Portable Folding Chair with Side Table, Pocket for Beach, Fishing,Trip,Picnic,Lawn,Concert Outdoor Foldable Camp Chairs
Thoughtful Design for You: The anti-pinching & click-to-lock design help you to set camping directors chair up effortlessly and safely. The open size is 21″x25″x36″, and the packed size 20″x19″x5″. The folding camping chair is easy-carrying and can be stored almost anywhere.
Convenient Storage: The directors chair with side table and the integrated beverage & phone holders free your hands, and the double front multi-pocket attached on side providing ample storage to store your books, magazines, iPad, keys, wallets, keeping your belongings organized.
Built to Last: The sturdy steel frame construction affords up to 300 LBS (136KG) and the chair weight of 13.4 LBS (6.1KG). The double-seam 600x300D Oxford Cloth & 200g mesh has great strength, durability, and breathability. This folding camp chair is great for adults Heavy Duty.
Easy-Peasy: Setting this director chair up is effortless and fast. You only have to take it out from the Handle straps attached carry bag, pull the frame apart, and click the frame to lock… Ta-Da! Here you go – now you can enjoy this sturdy & comfy director chair and easily transport to camp, lawn, concerts, festivals.
A Camping Director Chair that is Built for Anywhere: Use it as a camping chair, folding chair, lawn chair, travel chair, beach chair and more. Suitable for outdoor adventures, tailgating, fishing, backpacking, beach, picnic, sport games, car travelling, or just put it in the backyard, cabin, balcony, patio lawn parties. The SunnyFeel camping chair is an essential to add to your camping accessories.
Bestseller No. 4
FAQs
What is the best way to store camping chairs to prevent damage?
To protect your camping chairs from damage, store them in a dry, sheltered place away from direct sunlight, rain, and wind. This helps prevent UV damage, mold, mildew, and rust.
Can extreme temperatures affect the durability of camping chairs?
Yes, materials like polypropylene used in some camping chairs can become brittle in temperatures at or below zero degrees Celsius. It's essential to store chairs in a temperature-controlled environment to maintain their integrity.
What materials are most durable for camping chairs exposed to the outdoors?
Camping chairs with steel frames are more durable compared to those with fiberglass or low-grade aluminum. Fabrics designed to be puncture-proof also last longer under outdoor conditions.
How should I clean my camping chairs before storage?
Use a damp rag to wipe away any dirt, grime, or substances from your camping chairs. Allow them to dry completely before storing to prevent any moisture-related damage.
What are effective storage methods for camping chairs?
After cleaning, fold your camping chairs to minimize storage space. Elevate them on a wall or storage rack to protect from pests, or place them in a storage bin to shield from extreme temperatures and open-air elements.
Why is it important to avoid sun exposure when storing camping chairs?
Constant sun exposure can break down the fabrics of camping chairs due to UV rays and may also weaken the metals, reducing the lifespan of the chairs.
Are storage bins a good solution for camping chairs?
Yes, storage bins are an excellent option as they provide protection against temperature fluctuations and can prevent open-air damage to the chair's materials.