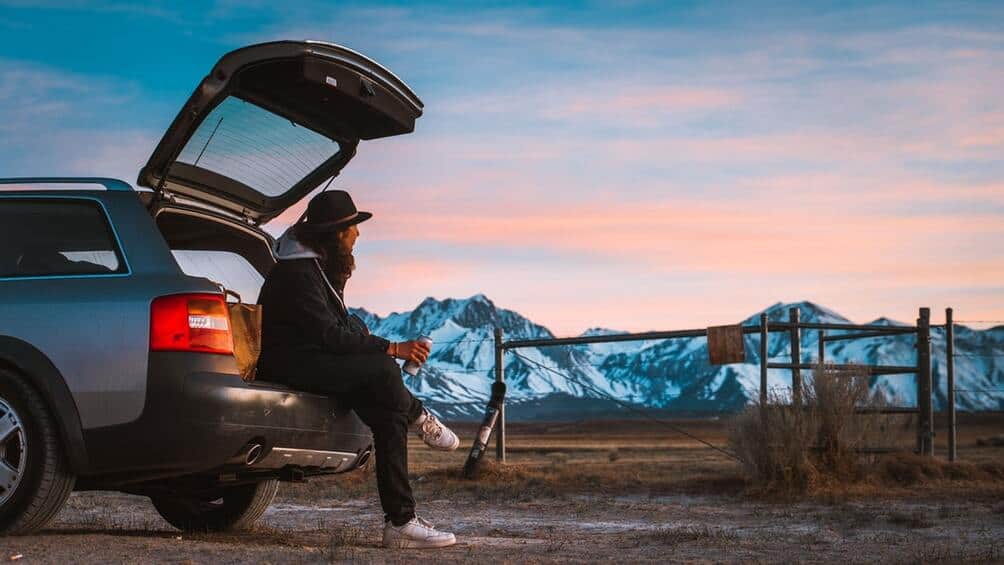 Are you fortunate enough to be one of the 57 million homes participating in camping this year?
If so, our expert guide to car camping was created specifically for you!
Car camping is one of the best ways to spend a night under the stars. However, keeping warm is essential for a comfortable experience.
If you want to get ready for a camping trip, check out our car camping packing list below!
Key Takeaways:
Layer Your Clothing: Begin with a moisture-wicking base layer, add insulating layers such as fleeces, and top with a waterproof and windproof outer layer to protect against the elements and prevent heat loss through convection.
Invest in Quality Insulation: A warm sleeping bag is crucial for trapping body heat, and a back seat air mattress can transform your car's back seat into a comfortable bed, providing additional insulation from the cold car floor.
Prioritize Dryness: Moisture conducts heat away from the body quickly, so choose a well-drained campsite, change into dry clothes before getting into the car, and keep a clean pair of socks handy for sleeping.
Pack Hot Food and Beverages: Hot drinks and food not only provide comfort but also a source of heat. Include items like coffee, hot chocolate, tea, mulled cider, hot broth, and easy-to-cook meals like hot dogs, canned soup, and instant oatmeal on your checklist.
Prepare a Comprehensive Car Camping Checklist: Ensure your checklist includes all essentials for warmth and comfort, considering the convenience, safety, and access to amenities that car camping offers.
Stay Informed on Local Regulations: When planning to use a camping stove, BBQ, or fire pit for cooking, always check the local laws and regulations regarding open flames at your chosen campsite.
Should You Dress in Layers?
Yes, the human body loses up to 15% of its heat through convection. Without the correct clothing, this could lower your temperature from 98.6 °F to 83.81°F overnight.
This stat may not seem like much. Nevertheless, hypothermia starts to develop when internal temperature drops only 3.6°F.
The situation will become more severe, if not life-threatening, after a 9°F decrease.
Start with a moisture-wicking base layer to keep sweat away from your skin. Add insulating layers like fleeces. Finish with a waterproof and windproof outer layer to protect against the elements.
How to Use Proper Insulation?
Bringing a warm sleeping bag is the most vital component for insulation when camping in a car. The thick material traps the hot air produced by your body. In return, you have a significantly warmer climate within the sack than outside.
Consider getting a back seat air mattress that will convert your back seat into a comfy bed.
How to Make Staying Dry a Priority?
Moisture is your enemy when it comes to staying warm. Water can conduct heat from your body 25 times faster than air.
Staying dry begins with picking your campsite. When parking, try to find a flat, well-drained area. Avoid low-lying areas or places prone to flooding. This will help prevent water from getting tracked into your car.
Before you enter your car, be sure to change your clothes. Do this even if it isn't raining since sweat and moisture can seep into your clothing. A clean pair of socks is one of the simplest yet most effective ways to stay warm when sleeping.
What Hot Food and Drinks to Pack for Camping?
Always add hot food and drinks to your checklist when packing for camping. They are a modest but comforting heat source and will provide a tasty treat, enhancing the experience.
A camping stove is the easiest way to prepare hot meals. However, you can also opt for BBQs and fire pits. Just be sure to check the local laws and regulations before you arrive.
Some of the most popular foods and drinks to serve up while camping are:
Coffee
Hot chocolate
Tea
Mulled cider
Hot broth
Hot dogs and sausages
Canned soup
Grilled cheese sandwiches
Instant oatmeal
If you fancy something more hearty, cook some campfire chili, skewers, or a one-pot pasta recipe.
Prepare Your Car Camping Packing List Today
From convenience to comfort and safety and access to amenities, there are several reasons for car camping.
However, you need to know how to stay warm to make the most of this golden opportunity. After reading our car camping packing list, you are ready to do this and set off into the sunset!
But where will your adventure begin?
Uncover the top national parks to visit selected by CampingEssentialsAndMore this year!
Bestseller No. 1
Arcturus Military Wool Blanket – 4.5 lbs, Warm, Heavy, Washable, Large 64″ x 88″ – Great for Camping, Outdoors, Survival & Emergency Kits (Navy Blue)
THE BEST GOT BETTER: Thanks to input from thousands of customers, we've made dramatic improvements for the new decade to provide more warmth and value. Unlike cheaper blankets, Arcturus wool blankets are triple-washed during production, making them softer, more hygienic, and less susceptible to shedding. Check out recent customer feedback to get the most accurate reviews from your fellow Arcturus fans.
PERFECT ANYWHERE: Loom-woven and hemmed on all sides with contrast lock stitching, our blanket looks right at home in the woods or on your couch. Wool is a naturally fire-retardant material. Our blankets are NEVER treated with any additional flame-retardant chemicals, making it safe for you and your family.
PLENTY OF ROOM FOR ALL – Large size (64″ x 88″) will keep you and a friend cozy while camping, at a tailgate party, or an outdoor concert. Also great as an emergency blanket in your vehicle or for a cowboy camping setup.
WARM & DEPENDABLE – Wool is a time-tested natural fabric that will keep you warm, even when wet. The remainder of the blanket is composed of 20% hypoallergenic synthetic fibers for durability and washability. Because wool fibers are relatively short, longer synthetic fibers help secure the weave, minimizing shedding and adding years of life to your blanket.
MACHINE WASHABLE – We make it easy to care for your new blanket. Not only are they washable, but they get softer and softer with each wash. Scroll down for detailed care instructions.
Sale
Bestseller No. 2
CL Thermal Underwear Long Johns for Men,Hunting Gear Sport Top and Bottom Set Winter Base Layer Long Underwear for Outdoor
Extreme Warmth and Comfort: Perform your best, even on a chilly day when you wear CL fleece thermal underwear ! Adding some extra cozy, warm fleece to the mix, CL long johns for men amazingly help to tackle cold weather conditions and keep the comfort you crave. Made from 90% polyester and 10% spandex super soft fabrics, they also help reduce pilling and shrinkage. Prepare yourself for the cold with these fleece lined thermal underwear for men!
Strong Moisture Wicking(Without the Sweaty Mess): Our fans say the unique breathable, moisture-wicking fibers on CL thermal underwear will wick away moisture to keep you dry with no sticky or clammy feeling so you can wear them all day for your work or snow adventure. The smiles on men's faces will tell you how satisfied with this thermal underwear set.
4-Way Stretch Insulated Underwear: While adopting the design of the Four-way stretch, we improved the crotch and armpit according to the feedback of market customers. make the reach and squat more comfortable while retaining excellent elasticity and durability for maximum mobility. CL uses high-quality stitching for thermal leggings and long sleeve shirts to beat super-active days and many muddy adventures.And insulated design let you get rid of static trouble in dry autumn and winter.
Easy Care Of Base Layer Set:Our men's base layer top and bottom are set with no labels in order to obtain greater comfort, which can reduce any skin irritation. You can slip them on and off easily and can be worn under your clothes for added insulation and at the gym for added support and movement. And these men's thermal underwear will not fade after washing. The highest dyeing fastness even after multiple washing will not fade and shrink.
For Any Occasion: We stock these crew or turtle neck thermals for men in a wide range of sizes. The thermal set is fitted with elastic for added comfort to keep tops and bottoms from falling down or bunching up (even on long hiking), and if your family enjoys hunting, camping, snowboarding, skiing, cycling, or running then CL makes a great base layer. Also it is good to wear at home or as a base layer under your coats, it will warm you as comfy pajamas on cold nights.
Bestseller No. 3
COOLERO 4in Thick Winter Sleeping Pad for Camping, Ultralight Inflatable Air Mattress with Adjustable Pillow, Portable Camping Pad Built-in Pump Compact Comfort Sleeping Mat for Camping, Hiking-Blue
【Enhanced Comfort and Size】The 4″ thick air mattress elevates you above the cold ground, while the innovative honeycomb design ensures optimal support and comfort in any sleeping position. Enjoy the feeling of sleeping in your own bed even during outdoor adventures. Measuring 27″ wide and 79″ long, this inflatable camping mat provides an expanded sleeping space to accommodate various sleeping positions.
【Adjustable Pillow】The best feature of COOLERO self-inflating sleeping pad is its adjustable pillow, allowing you to personalize your comfort. With a separate air valve, you can easily adjust the height of the pillow to your preferred level. If you find it too high, simply deflate it through adjustment buttons on the air valve for a lower height, and vice versa. Experience the ultimate comfort tailored to your needs with this essential camping pad.
【Easy To Inflate】Say goodbye to tedious setup! This self-inflating sleeping pad features a built-in foot pump that inflates the mattress in just 30-50 seconds with a simple foot press. Deflating is equally effortless—just open the air valve cover. Designed with a double valve system, the sleeping mat ensures a tight seal, eliminating worries of air leakage, allowing you to sleep comfortably through the night.
【Truly Ultra Lightweight】Weighing just about a pound and 12cm in width and 28cm in height when stored away, this camping matress is the epitome of portability. Pack light and relax on your camping, backpacking, or hiking trips with this convenient and compact folding air mattress. Made from 40D TP material, which is not only waterproof but can also withstand wear and tear. It's also low noise, so you can sleep soundly during your camping trip.Comes with upgraded TPU patches for a softer fit to any form of break in the sleeping pad, allowing for a efficient repair.
【Versatile Buckle Design】The side of this camping cot is equipped with a buckle, allowing you to attach another sleeping pad and transform it into a twin air mattress. For larger groups, connect three or more camping mat to accommodate friends, family, children, or pets. Enjoy the flexibility and versatility of this innovative design.
Bestseller No. 4
Oldelf Ski Mask Fleece Mask Warm Balaclava Stay Warm and Comfortable Face Mask for Men Women Breathable Sports Mask- Army Green
Soft Fleece Material – Our winter ski mask is made from high-quality fleece material that is gentle to the skin and provides ultimate warmth and comfort during the winter season.
Sweat-Absorbent – Our face cover for winter is sweat-absorbent, meaning it can quickly wick away moisture and prevent sweat from accumulating on your skin, keeping you dry and comfortable.
Easy to Put on and Take off – With its pull-on closure design for skimask, our winter face mask for men is easy to put on and take off, making it perfect for those who are always on-the-go.
Even Size – Our balaclava face mask men comes in one size that fits all, making it convenient for everyone to use and enjoy.
Breathable – Our ski mask for men is designed to allow air to circulate through the material, preventing moisture build-up and making it more comfortable to wear for extended periods.
Sale
Bestseller No. 5
Survival Kit and First Aid Kit, 142Pcs Professional Survival Gear and Equipment with Molle Pouch, for Men Dad Husband Who Likes Camping Outdoor Adventure (Black)
【Christmas gift ideas】 High-quality comprehensive emergency survival first aid equipment, best gifts for men, father, family, friends. You can enjoy a more relaxed and safe adventure with our survival kit. If you and Your family, are not satisfied with our product, please contact us in time, we will serve you wholeheartedly.
【A Must Have Survival First Aid Kit】LUXMOM survival kit is unique in that it was specifically designed by survival experts. The comprehensive survival kit not only includes 21pcs multipurpose survival tools, but it also offers 106pcs first aid kit, and a fishing tools set which can meet your different needs and provide the most safest and comprehensive protection for any outdoor activities like camping, hiking, car travel, climbing, boating, etc.
【Wide application range】This survival kit is great for firefighters, first aid personnel, hikers, campers, outdoor sports enthusiasts, etc. It is idea for car, ship, bicycles, motorcycles, workplace, travel, shooting, hunting, camping, hiking, fishing, boating, cycling, outdoor sports, wilderness adventure and other activities.
【Practical Survival Gears & First Aid Kit】LUXMOM emergency kit contains the most popular survival accessories: Hatchet, 3-mode flashlight, Multifunctional Card, Survival Bracelet, Dual-tube Whistle, Wire Saw, Parachute Cord, Emergency Blanket, fire starting tools, fishing tools, comprehensive first aid kit, etc. All these gears can make sure that the wound can be treated in time to prevent infections.
【Compact Lightweight & Durable】All items are neatly arranged in a 600D nylon bag measuring 9 inches x 6 inches x 5 inches. Easy to carry, small and lightweight, can hold all the 142pcs emergency supplies and survival tools. There is still room to add your own gear. The Molle compatible straps on the back allow you to attach it to other bags or your belt, which made it a perfect companion for any outdoor activities.
FAQs
What are the best practices for layering clothes during a car camping trip to maintain warmth?
To retain body heat effectively while car camping, start with a base layer that wicks moisture away from your skin. Add insulating layers such as fleece to trap warmth, and finish with a waterproof and windproof shell to shield against weather elements.
How critical is a sleeping bag for insulation in car camping, and what kind should I consider?
A high-quality sleeping bag is essential for car camping as it is designed to trap body heat. Opt for a sleeping bag rated for the lowest temperatures you expect to encounter. For added comfort, consider pairing it with a back seat air mattress to elevate your sleeping area and provide additional insulation.
Why is moisture management important in staying warm while car camping, and how can it be achieved?
Moisture conducts heat away from the body rapidly, making it crucial to stay dry to remain warm. Select a campsite that is flat and well-drained, change into dry clothing before sleeping, and ensure your footwear and socks are dry to prevent heat loss.
What types of food and beverages should I pack to stay warm during car camping?
Incorporate hot, easy-to-prepare foods and beverages into your car camping packing list. These include coffee, hot chocolate, tea, mulled cider, hot broth, and simple meals like hot dogs, canned soup, grilled cheese sandwiches, and instant oatmeal. They serve as internal heat sources and add comfort to your camping experience.
Can I cook hot meals while car camping, and what equipment is needed?
Yes, you can prepare hot meals while car camping using a portable camping stove, BBQ, or fire pit. However, always verify local regulations regarding cooking and fires at your campsite. Hot meals are not only nourishing but also provide warmth and enhance the overall camping experience.
What are the key considerations when creating a car camping packing list focused on warmth?
When compiling a car camping packing list, prioritize items that provide insulation, dryness, and warmth. This includes appropriate clothing layers, a suitable sleeping bag, dry gear for sleeping, and the necessary equipment to prepare hot meals and drinks.