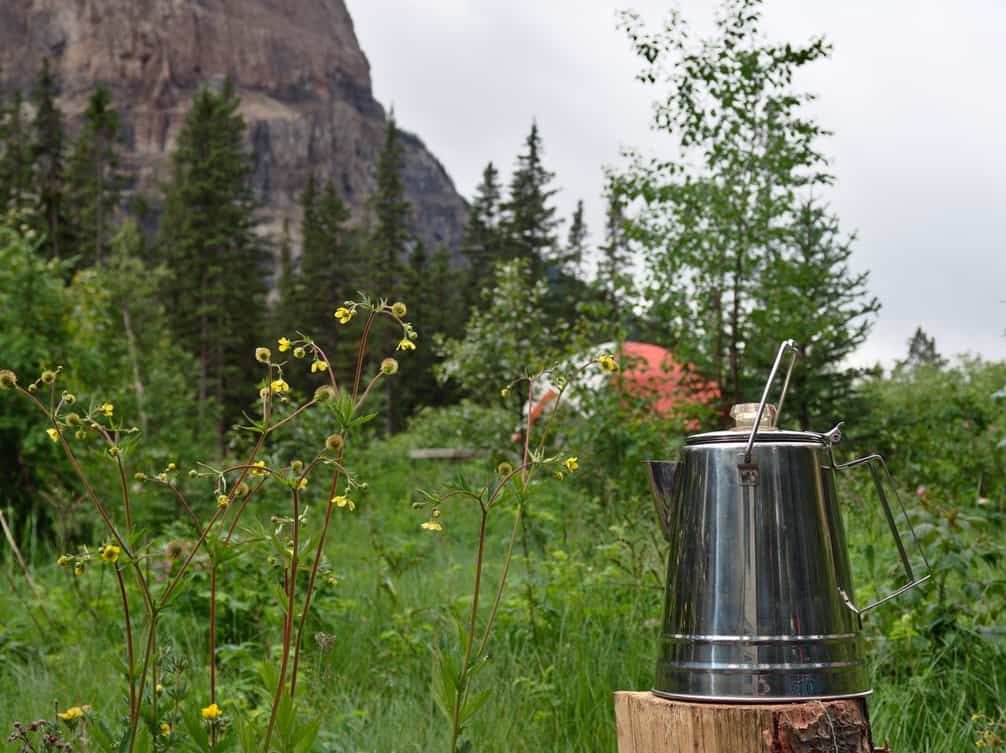 If you've never used a percolator before or want to refine your camp coffee skills, our guide on using a camping percolator is here to help. With step-by-step instructions and essential tips, we'll ensure that you can effortlessly create the perfect cup of joe amidst the beauty of nature.
Key Takeaways
Choose a durable percolator pot made of sturdy materials like stainless steel or enamel-coated cast iron that can withstand outdoor use.
Use coarse coffee grounds for the best-tasting campfire coffee, as finer grinds can lead to over-extraction and bitter flavor.
Adjust brewing time based on personal preference and altitude. Generally, brew times range from 7-10 minutes. Longer brew times may be necessary for those who prefer a more robust cup of coffee.
Parts Of A Camping Percolator
The camping percolator is a coffee maker which consists of a pot for holding the water, a siphon that transports hot water from the bottom to the brew basket at the top, a grounds basket that holds coffee grounds, and a lid for enclosing everything securely during brewing.
Pot
The pot serves as the foundational component of a camping percolator, providing an ideal vessel for brewing your favorite cup of coffee in the great outdoors.
When selecting your camping percolator, it's essential to consider factors like the size and durability of the pot. For instance, if you plan on making coffee for larger groups, opting for a more significant capacity pot will ensure everyone gets their daily caffeine fix without having to fuss with multiple brewing sessions.
Siphon
The siphon, or the pump tube or stem, is a crucial component of a camping percolator. This long, slender pipe connects the bottom of the pot to the grounds basket and is responsible for transporting boiling water up into the coffee grounds to create that perfect cup of camp coffee.
It's essential to properly install and maintain your siphon to ensure proper function and optimal brewing quality with your camping coffee percolator. While assembling your percolator, be sure to align any hooks or clips that may be present on either end of the siphon so that they firmly attach within both the pot and grounds basket.
A well-attached siphon ensures the even distribution of hot water throughout all ground coffee particles during brewing.
Grounds Basket
The grounds basket plays a crucial role in the coffee brewing process when using a percolator. It's designed to hold your coarse coffee grounds, separating them from the boiling water to prevent unwanted residue in your final cup of coffee. The use of a paper coffee filter in the grounds basket is optional.
When preparing your coffee pot, it's essential to ensure that the grounds basket is filled evenly with fresh ground coffee. Doing this helps promote even extraction and reduces the risk of clogs in the siphon tube.
Grounds Basket Lid
The grounds basket lid is an essential part of a percolator. It sits on top of the grounds basket and prevents coffee grounds from escaping into the pot while allowing water to flow through.
This ensures that your coffee is free from any unwanted debris or particles.
It's essential to ensure that you securely attach the grounds basket lid before brewing your coffee. Failure to do so can result in a messy and disappointing cup of coffee.
How To Use A Camping Percolator
Assemble And Fill the Percolator
To start making coffee in a percolator coffee pot, you'll need to assemble and fill the percolator. First, make sure all the parts are clean and dry, including the pot, siphon, grounds basket, and grounds basket lid.
Then insert the siphon into the bottom of the pot and place the grounds basket on top of it.
Next, add water to the pot until just below where the siphon is inserted. Avoid overfilling, as boiling water can cause it to overflow and make a mess.
Place Over Heat Source
The next step is placing it over a heat source, such as a camp stove, an open fire pit, or a wood stove if you're hot tent camping. It's important to note that the temperature of the heat source should not be too high as this can cause the coffee to taste burnt or bitter.
For those using an open flame, finding the proper distance from the fire and heating time for your percolator may take some trial and error.
By following these tips while placing your percolator over a heat source, you'll be well on your way to enjoying a hot cup of coffee while experiencing all that nature has to offer.
Monitor Brewing Process
During brewing, monitoring the percolator is essential to ensure that your coffee doesn't over-extract. Over-extraction can result in a bitter and unpleasant taste.
To prevent this from happening, keep an eye on the bubbles in the glass top of your pot – once they start to turn yellow or brown, it's time to stop brewing. Exactly when to stop depends on what you're aiming for – some campers prefer a stronger coffee, while others like it milder.
Another way to avoid over-extraction is by pouring your brewed coffee into a separate container as soon as possible rather than letting it sit in the percolator for too long.
Serve And Enjoy!
Once your percolator has completed the brewing process, it's time to serve and enjoy your steaming hot cup of coffee. Gently remove the percolator from the heat source and let it cool for a few minutes before pouring.
The taste of coffee brewed using a percolator will largely depend on personal preference. For those who prefer more robust coffee, adjust the brewing time accordingly or use more coffee grounds in each brew cycle.
Remember that using coarse-ground beans will yield better results when making campfire coffee with a percolator.
Tips For Perfect Coffee With A Camping Percolator
Use Coarse Coffee Grounds For the Best Results
For the best-tasting results from coffee percolators, it is essential to use coarse coffee grounds. Coarse grinds allow for a slower and more complete extraction process, resulting in a richer flavor with less bitterness.
Using fine coffee grounds can lead to over-extraction, which can cause the coffee to taste burnt and bitter.
Additionally, using freshly ground beans will enhance the overall quality of your cup of joe while camping. If possible, grind your beans just before brewing to ensure optimal freshness and flavor.
Taking care of your choice of coffee grounds is crucial when brewing with a percolator.
Adjust Brewing Time Based On Personal Preference
Finding the perfect brewing time is essential for producing a great-tasting cup of coffee. With a camping percolator, this process can vary depending on personal preference and the coffee used.
Generally, brewing times range from 7-10 minutes, but it's important to adjust accordingly based on taste preferences.
It's also important to note that altitude can also affect brewing time. Higher altitudes mean lower boiling points and slower extraction rates, which could result in weaker coffee if not adjusted properly.
Choose A Durable Percolator For Outdoor Use
When choosing a percolator for camping, prioritize durability over other factors. The best camping percolators use sturdy materials that can withstand the wear and tear of outdoor use.
Look for features such as double-walled stainless steel or enamel-coated construction that can prevent rust and corrosion. Additionally, consider the size and weight of the percolator, as you'll want something compact yet big enough to make multiple cups at once.
Investing in a durable camping percolator will ensure longevity and enhance your overall camping experience by providing hot coffee anytime, anywhere. A sturdy option will survive harsh weather conditions, rough handling, and even accidental drops without breaking apart easily. And it will serve as one of the Stockpiling Essentials, for emergency use at home.
Pour Coffee Into A Separate Container To Avoid Over-extraction.
To avoid over-extraction and a potentially bitter taste, pour the brewed coffee from your camping percolator into a separate container after the brewing process.
Leaving the coffee in the percolator for too long can cause it to become overly extracted and unpleasant to drink. This simple step ensures you are left with a perfectly brewed cup of coffee, free from any bitterness.
Conclusion
Congratulations! Now that you've learned about the parts and process of using a camping coffee percolator, you're ready to make delicious coffee when you roll out your sleeping bag in the morning.
Remember to choose a durable percolator, use coarse grounds, and adjust your brewing time for personal preference. Whether you prefer videos or written guides, plenty of resources are available to help you perfect your camp coffee game, especially our 8 best coffee percolators for camping post.
And be sure to check out our other great posts, including summer camping essentials and tent camping must-haves.
Bestseller No. 1
Eurolux Percolator Coffee Maker Pot – 9 Cups | Durable Stainless Steel Material | Brew Coffee On Fire, Grill or Stovetop | No Electricity, No Bad Plastic Taste | Ideal for Home, Camping & Travel
☕ ENJOY IRRESISTIBLE TASTE & AROMA – You deserve the best so ditch the rest – our Percolator has been designed to deliver a consistent richer fuller coffee flavor to delight your taste buds. An affordable but luxury coffee maker in your home or for travelling or camping trips. This is a must have for any coffee lover.
☕ NO MORE TOXIC CHEMICALS IN YOUR BODY – Made with 100% Teflon-free and BPA-free high-quality stainless steel. Stop using coffee machine makers that is tainted with hidden chemicals and questionable materials. Let's not talk about the disgusting plastic taste that ruins your morning coffee time and your health.
☕ QUALITY MATERIALS & DESIGN, SUITABLE FOR USE ON A STOVETOP – 100% Heavy Duty Stainless Steel, Dishwasher Safe – for the best brew ever. Styled and designed for your practical everyday use coffee pot percolator. With a comfortable Wooden Handle with solid brass rivets you'll have no trouble grasping and pouring your favorite coffee – burn free.
☕ NO CORDS + NO PLASTIC = NO FUSS – Makes it a great camping essential for coffee lovers. This 9 Cup percolator will make enough java for all to enjoy without the hassle of looking for an outlet. Made from solid stainless steel that can take drops and knocks whilst camping or while on vacation.
☕ INCLUDES STEP BY STEP USAGE INSTRUCTIONS + FILTER BASKET – We want you to get the most from our Percolator coffee Pot. We included an Instructions manual and coffee filters for added convenience. Filters are not necessary for operation, but it's useful to prevent the finely ground coffee from falling through the percolator basket.
Sale
Bestseller No. 2
Bestseller No. 3
GSI Outdoors Percolator Coffee Pot | Enamelware Campfire Coffee Boiler Kettle for Outdoor Camping Cookware, Cabin, RV, Kitchen, Hunting & Backpacking
STAY CAFFEINATED: Coffee? Always! The enamelware percolator makes your caffeine needs attainable for any campsite, cabin, RV, or even a retro farmhouse kitchen.
DURABLE CONSTRUCTION: Built from heavy-gauge steel with a classic, handsome speckled enamel finish, every piece of this campire coffee pot has been kiln-hardened twice at 1000 degrees F to stand up to scratches and chipping.
BREW THAT PERFECT CUP OF JOE: The Percolator's three-ply construction maximizes heat distribution for even cooking because you deserve nothing but the best cup of coffee.
A SIGHT TO SEE: An unbreakable resin cap in this coffee brewer allows you to view the joe as it perks.
LIFETIME PROMISE: GSI Outdoors spent over 30 years building quality, performance products and stands behind them 100%. GSI Outdoors warranties all products for the original owner against manufacturing defects for the lifetime of the product.
Sale
Bestseller No. 4