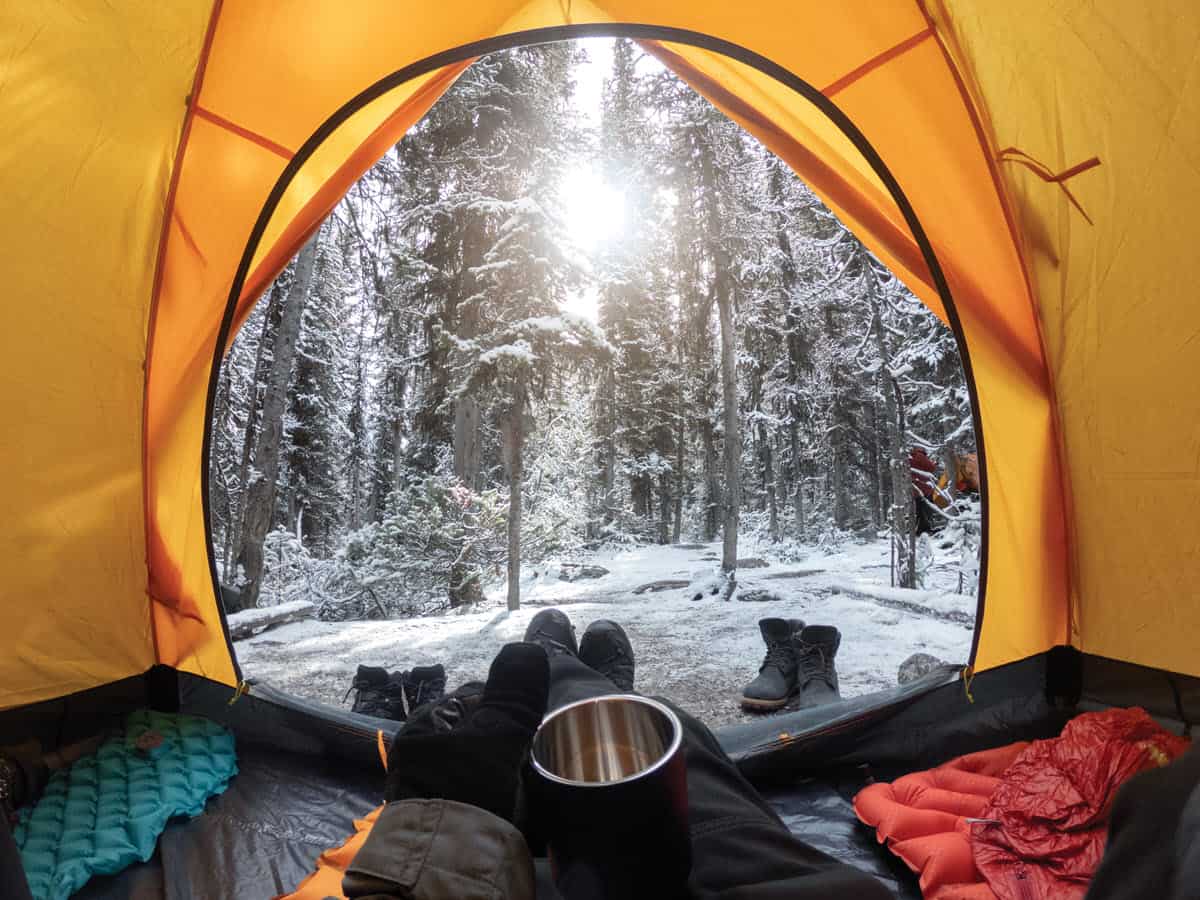 Here are 12 proven ways to heat your tent (or at least stay warm) without a heater:
Rocks Warmed By The Campfire
Place several medium-sized rocks near the edge of your campfire for a few hours to absorb the heat from the fire. And then when it's time for bed… very carefully (use heavy gloves so you don't burn yourself) wrap those heated rocks in an old blanket or towel and set them inside your tent… and they'll provide radiant heat for your tent for many hours.
I've even placed a few heated rocks in my sleeping bag to keep me toasty warm all night long.
However, be very, very careful not to burn yourself when handling or using heated rocks!
Mylar Blankets
Mylar blankets are great at reflecting heat and they can also be used in many different ways to help heat your tent. For example, you can use a mylar blanket (a.k.a. space blanket) as a liner for your tent floor, as a sleeping bag liner, or as insulation for your tent walls.
Tent Footprint
Use a tent footprint to help keep the floor of your tent dry, and we all know that it's much easier to stay warm when you are dry. A tent footprint is also good for providing a layer of insulation between your tent and the cold ground.
Electric Blanket
I know this sounds like cheating, but it's not. Electric blankets are designed to be used in your bed while you are sleeping, which seems a lot safer to me than using something like a heater in a tent surrounded by highly-flammable material.
And a lot of campsites offer electricity, so you can simply plug your electric blanket in using an extension cord.
Tip: Car camping is a great way to make sure that you always have quick and easy access to a power source (i.e., the outlets in your car).
Plus, electric blankets use significantly fewer watts than a typical electric heater, which means you may be able to use your portable power station with your electric blanket.
However, water and electricity don't mix, so make sure your tent and the surrounding area is dry when using an electric blanket.
Sleeping Pad
A sleeping pad helps provide extra insulation between you and the cold ground. Plus, a memory foam or closed-cell sleeping pad can also retain body heat and help keep you warmer in your tent.
Hot Water Bottle
A good old-fashioned water bottle (just like my Grandma used to use) is a very inexpensive way to help keep you toasty warm in your tent. Simply fill the water bottle with hot water before you go to bed and stick it in your sleeping bag with you. Just make sure it's watertight and doesn't leak before you sleep with it.
Insulate Your Tent
You can insulate the walls and floor of your tent with mylar blankets, tarps, or even polar fleece/wool blankets to help you retain heat in your tent. Tip: pack a few clothespins to use for hanging the blankets on your tent walls. Just be sure not to close off your tent's door… just in case you have to get out in a hurry.
If you're camping in an RV, check out How to Keep RV Pipes From Freezing While Camping.
Use An Insulated Tent
If you know that you'll be taking a lot of winter camping trips, then you should consider investing in an insulated tent to help keep the inside of your tent warmer on the coldest nights.
Sleeping Bag Liner
A sleeping bag liner, especially one designed for cold-weather camping, is a great way to help retain your body heat while you sleep.
Polar Fleece or Wool Blanket
Polar fleece and wool camping blankets are extremely versatile when it comes to keeping your tent warm… they can be used as liners for your tent floor, or as sleeping pads under your sleeping bag, they can be thrown on top of your sleeping bags and they can even be hung on the walls to help insulate your tent.
Rechargeable Hand Warmer
A battery-powered or rechargeable hand warmer isn't just for your hands… I've used them to keep me warm in my sleeping bag at night while I sleep.
Disposable Hand Warmers
I've also used disposable hand warmers in my sleeping bag to keep me warm in my tent during those brisk fall nights or during my winter camping trips. They are cheap, readily available online, and they are disposable.
If you'd like to learn more about staying warm while you're camping, then be sure to check out our Winter Camping Tips and Spring Camping Tips posts.