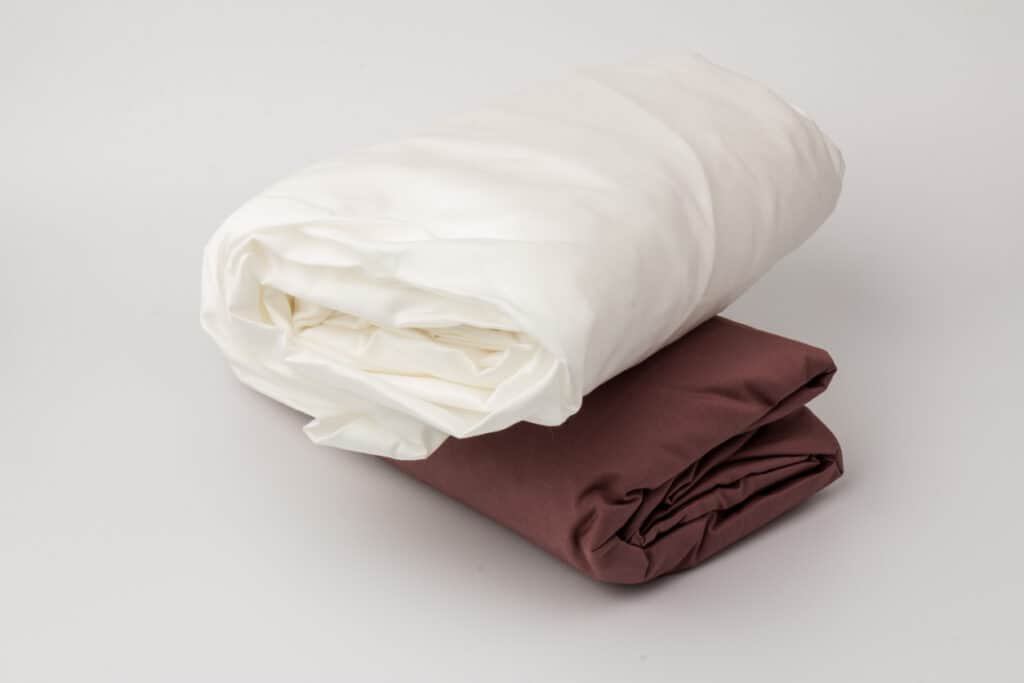 A sleeping bag liner is a lightweight fabric sack typically put inside a sleeping bag to give additional comfort and insulation. Sleeping bag liners also help keep the sleeping bag from getting dirty. They can be woven from various materials, including cotton, silk, wool, and synthetic fibers.
Bag liners are available in two primary varieties:
Sleeping liners in the shape of a mummy are designed to be slipped inside your sleeping bag.
Travel sheets, or rectangular liners, are made to fit inside a rectangular sleeping bag (including double sleeping bags) or can be used independently.
Why Use a Sleeping Bag Liner?
Bag liners are useful for keeping a backpacker's sleeping bag clean and odor-free. A clean bag doesn't need to be washed as often and will serve you longer. Meanwhile, a liner is relatively lightweight and can be laundered more easily and more frequently than a sleeping bag.
Depending on the material, a bag liner can increase your sleeping bag's temperature rating by 5 to 15 degrees Fahrenheit. An alternative to a full sleeping bag is a rectangular bag liner or lightweight travel sheet, especially in warmer climates.
For travelers, using a rectangular bag liner or travel sheet while you're on the road will help protect you against bedbugs and other pests that may be hiding in questionable lodgings. It is common practice at hostels and is sometimes even required, and it is also widely used by guests of cut-rate hotels.
Common Sleeping Bag Liner Materials
Silk is a lightweight, compact, and remarkably strong material. It is a good insulator when the temperature is cold, yet it is absorbent and breathable when the weather is warm. Price ranges from reasonable to costly.
Cotton is sturdy, long-lasting, and absorbent; nevertheless, it is neither the lightest nor the most compact. It's economically priced.
Fleece and microfleece are heavier and warmer (by up to 12°F). The mid and heavyweight forms of fleece are substantial but soft, moisture-wicking, and quick-drying. The price range is moderate.
Specialty synthetics specifically marketed as "moisture-wicking" and "breathable" are actually great for hot, sticky weather. Those who have trouble sleeping will appreciate the added flexibility these sheets provide. Their prices are reasonable, especially considering their durability.
Insulated liners provide an additional 25°F, allowing you to take a lightweight backpack (plus liner) on longer trips. Typically being insulated with hollow-core synthetic fiber, they can dry 50% more quickly than cotton. Cost ranges from mid-priced to expensive.
Be sure to check out our how to store a sleeping bag post to learn how to care for your camping gear properly.
Sleeping Bag Liner FAQs
What is a sleeping bag liner?
A sleeping bag liner is a lightweight fabric sack designed to be inserted into a sleeping bag for added comfort, insulation, and cleanliness. They come in two main shapes: mummy and rectangular. The liners can be made from various materials like silk, cotton, wool, and synthetic fibers. Using a liner can extend the life of your sleeping bag by keeping it clean and can also add 5 to 15 degrees Fahrenheit to the bag's temperature rating. They are especially useful in hostels or budget hotels to protect against bedbugs.
What is the Purpose of a Sleeping Bag Liner?
A sleeping bag liner serves multiple functions. Primarily, it adds an extra layer of insulation, increasing the warmth of your sleeping bag. Liners are particularly useful for enhancing the heat retention properties of your sleeping bag, making them a valuable addition for cold-weather camping. Additionally, they help keep the interior of your sleeping bag clean by acting as a barrier against sweat, dirt, and skin oils.
Is a Sleeping Bag Liner Essential?
While not strictly necessary, a sleeping bag liner offers several benefits that can significantly enhance your outdoor experience. It provides added comfort, as many liners are made from soft materials like silk or cotton that feel pleasant against the skin. Moreover, liners are easy to wash, helping to extend the lifespan of your sleeping bag by keeping it cleaner for longer periods.
Can You Sleep in Just a Sleeping Bag Liner?
Yes, you can sleep in just a sleeping bag liner, especially in hot or humid conditions. Some liners are designed to be used as standalone sleeping systems and are made from breathable materials like polyester or silk. These liners are lightweight and packable, making them a convenient option for summer camping or tropical climates.
Can You Use a Sheet as a Sleeping Bag Liner?
While it's possible to use a regular sheet as a makeshift sleeping bag liner, specialized liners offer advantages that a sheet cannot provide. For instance, mummy-shaped liners are designed to fit snugly inside mummy-style sleeping bags, optimizing heat retention. Furthermore, many liners come with features like bug-repellents, pockets, and pillow holders, enhancing your overall camping experience.
What Materials are Commonly Used for Sleeping Bag Liners?
Sleeping bag liners come in a variety of materials, each with its unique set of benefits. Silk liners are lightweight and offer excellent thermal insulation. Cotton liners are more absorbent but are also heavier. Synthetic liners, often made from polyester, are strong and do not absorb water, making them ideal for humid conditions.
How Do Sleeping Bag Liners Affect Temperature Ratings?
Most liners can add between 5 to 15 degrees of warmth to your sleeping bag. Thermal liners made from fleece or similar materials can even add up to 25 degrees, making them ideal for winter camping. It's essential to consider the temperature rating of both your sleeping bag and liner to ensure you stay warm in varying conditions.
Recommended Sleeping Bags