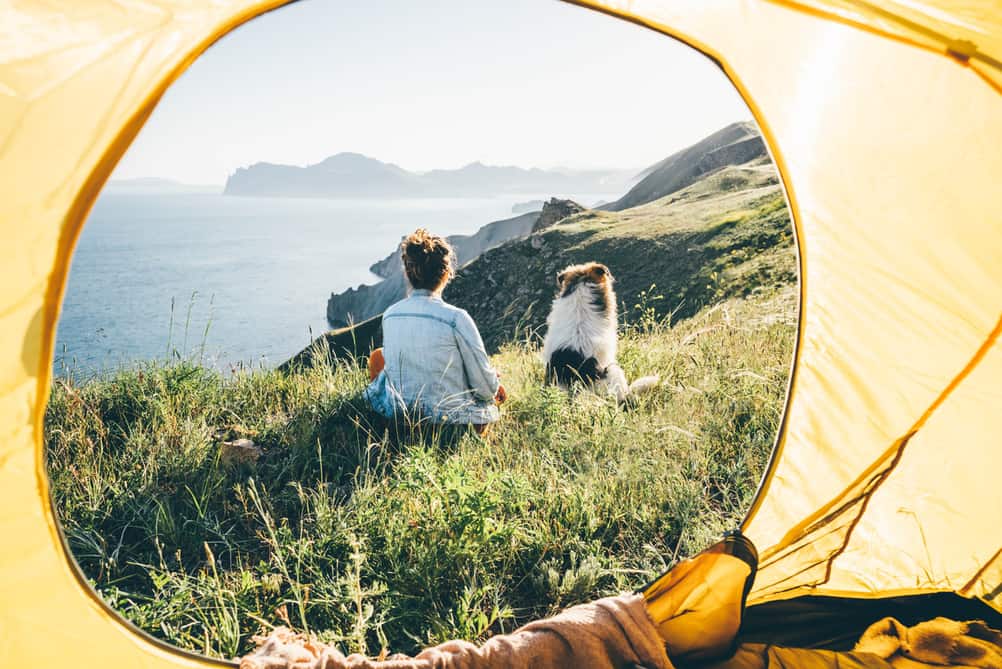 Discovering the great outdoors with your furry friend can be an incredible experience. We aim to help you find the perfect dog-friendly national park campsites for your next adventure. This guide will cover the criteria for choosing the best dog-friendly national parks, our top 10 picks, and tips for preparing for your camping trip.
Criteria for Choosing the Best Dog-Friendly National Park Campsites
Access to Pet-Friendly Amenities and Facilities
When choosing a national park that welcomes camping with dogs, look for campsites with pet-friendly amenities and facilities, such as waste stations, dog parks, and pet-friendly lodging options.
Availability of Dog-Friendly Trails and Activities
Ensure the national park has dog-friendly trails and activities, like hiking and water sports, to keep your dog entertained and engaged during your stay. You can do this by doing some research ahead of your visit. Here are some strategies:
Official National Park Websites: Start by visiting the official website of the national park you're considering. These sites typically have dedicated sections on pet policies, where you can find information about trails, activities, and areas that are open to dogs.
Online Maps: Interactive maps are often available online, showing the various trails and highlighting those that are pet-friendly.
Park Rangers and Information Centers: Don't hesitate to reach out directly to the park's rangers or information center. They are a wealth of knowledge and can provide up-to-date details on dog-friendly facilities and activities.
Online Reviews and Forums: Check out reviews and forums for firsthand experiences from other dog owners. Websites like BringFido and AllTrails can be excellent resources.
Social Media: National Parks often have active social media accounts where they share updates and answer questions. You could drop them a message or check their posts for relevant information.
By taking these steps, you'll gain a clearer picture of what to expect, helping you choose the best dog-friendly national park for you and your furry friend.
Rules and Regulations for Dog Ownership
Familiarize yourself with the park's rules and regulations regarding dog ownership, including leash laws, restricted areas, and pet waste disposal requirements. This is all in addition to standard canine camping etiquette.
Top 10 Dog-Friendly National Park Campsites in the U.S.
Now that we've explored the key criteria to consider when choosing a dog-friendly campsite, let's dive into our top 10 picks. These selections, ranked among the best national parks for camping with dogs, offer a range of unique experiences for you and your furry friend. From sun-kissed shores to majestic mountains, each of these destinations brings its own distinctive charm to your camping adventure.
Does your buddy like to hike? Check out the Best Hiking Trails in US National Parks.
Yosemite National Park, California
Yosemite offers a variety of dog-friendly trails and activities, making it a top choice for a dog-friendly national park. Be sure to check out the Wawona Meadow Loop and Hodgdon Meadow, two popular dog-friendly trails.
Acadia National Park, Maine
Acadia National Park boasts over 100 miles of dog-friendly trails and carriage roads. Take advantage of the Jordan Pond Path and Cadillac Mountain Summit Road for stunning views.
Grand Canyon National Park, Arizona
Although dogs are not allowed on most trails, the Grand Canyon National Park provides a dog-friendly experience with the South Rim's paved Rim Trail, perfect for leashed walks with breathtaking views.
Shenandoah National Park, Virginia
With over 480 miles of dog-friendly hiking trails, Shenandoah National Park is a dog lover's paradise. Popular trails include the Stony Man Trail and Rose River Loop.
Olympic National Park, Washington
Olympic National Park offers a variety of dog-friendly trails and beaches, such as the Spruce Railroad Trail and Rialto Beach, ensuring a memorable experience for you and your pup.
Great Smoky Mountains National Park, Tennessee
Though limited, the Great Smoky Mountains National Park provides two dog-friendly trails: the Gatlinburg Trail and the Oconaluftee River Trail.
Zion National Park, Utah
While dogs are restricted on most trails, Zion National Park's Pa'rus Trail is a dog-friendly, paved path that offers stunning views of the park's red cliffs.
Glacier National Park, Montana
Glacier National Park allows dogs on paved and gravel roads, picnic areas, and campgrounds. Be sure to explore the Apgar Bike Path and Fish Creek Campground for a dog-friendly experience.
Rocky Mountain National Park, Colorado
Dogs are welcome on the park's paved roads, campgrounds, and picnic areas. Enjoy a stroll around the Sprague Lake Loop or the Coyote Valley Trailhead.
Joshua Tree National Park, California
While dogs are limited to campgrounds, picnic areas, and roads, Joshua Tree National Park provides a unique desert landscape for you and your pup to explore.
Preparing for Your Dog-Friendly Camping Trip
Packing essentials for your pup
Ensure you pack essentials like a leash, collar, ID tags, food, water, bowls, waste bags, a pet first-aid kit, and a comfortable bed or blanket.
Following camping etiquette
Respect other campers by keeping your dog leashed, cleaning up after your pet, and ensuring your dog is well-behaved and quiet.
Respecting leash laws and other campers
Always keep your dog on a leash unless in designated off-leash areas, not only to respect park rules but also to protect your dog and wildlife in the park.
Providing proper hydration and rest
Ensure your dog stays hydrated, especially on hot days, and provide ample opportunities for rest to avoid overheating and exhaustion. Be informed beforehand about the signs of overheating and dehydration.
Conclusion
Finding the perfect dog-friendly national park campsites is easier than ever with our top picks and preparation tips. Remember, the key is understanding the park rules, packing the essentials, and respecting other campers and wildlife. Here's to your next adventure in a state park, national forest, or one of the spectacular dog-friendly national parks across the U.S.!
Next, please see Essential Camping Gear for Dogs