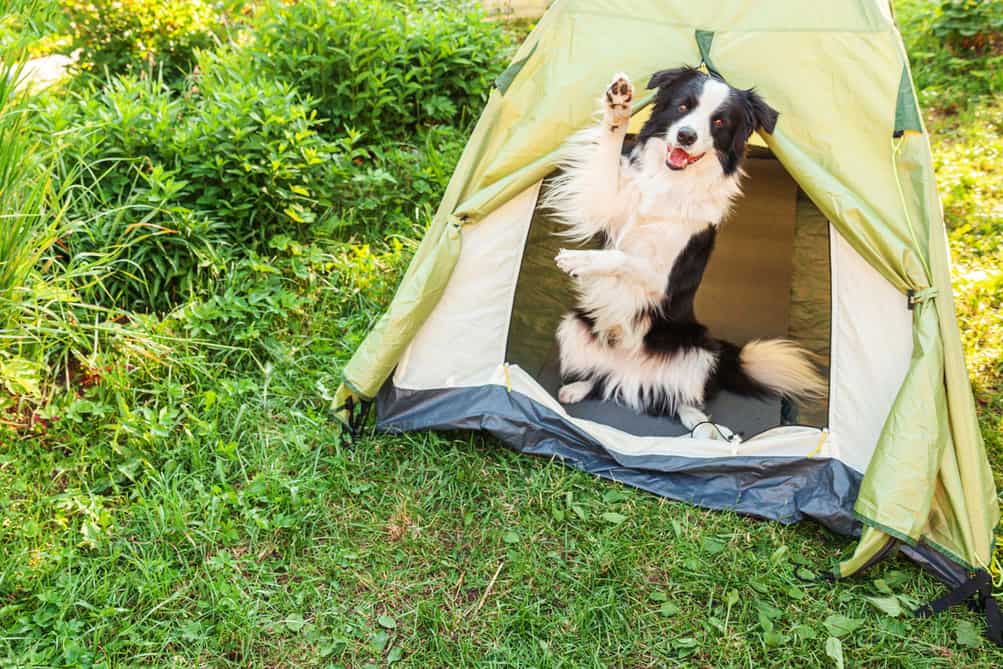 Camping trips are always fun, but have you ever thought about camping with dogs? Imagine the joy of having your furry friend by your side while you enjoy the great outdoors! If you're contemplating camping with your dog, ensure your canine companion is well-prepared for the adventure. This guide is designed to help you make the most of your outdoor escapades with your loyal four-legged companion.
Importance of Dog Training
Training your dog for camping goes beyond basic obedience and includes teaching your dog specific behaviors appropriate for the outdoors. Proper training will help you avoid potential problems and significantly enhance the quality of your trip, not to mention keep you on the right side of dog camping ettiquette.
Without training, your dog may be unruly, making it difficult for you and other campers to relax and enjoy the experience. They might bark excessively, bother other campers, or even run away, getting lost in unfamiliar terrain.
However, with adequate training, your dog will be well behaved, respectful of others, and safer around campfires and in the wilderness. You will have peace of mind knowing your dog can respond to your commands, reducing the likelihood of accidents or emergencies.
Furthermore, a trained dog is more relaxed, making your camping experience more pleasant and rewarding. As a result, camping with your dog becomes an enjoyable bonding time rather than a stressful ordeal, ensuring happy memories for you, your pet, and fellow campers.
Elements of Dog Training for Camping
Before setting out on your camping trip, it's crucial to train your dog effectively to make the experience smooth and enjoyable. Here are some critical elements of dog training for camping:
Basic Obedience Commands: teaching your dog basic commands like "sit," "stay," "come," and "leave it" is vital. It will ensure their safety and make them well-behaved campers.
Socializing with Other Campers and Pets: campgrounds often bustle with other campers and pets. Teaching your dog to be friendly and respectful to others is crucial. Socialization exercises at dog parks or local events can help.
Proper Waste Disposal Manners: be sure to teach your dog proper waste manners. Always clean up after your pet to keep the campground clean and respect other campers.
Wilderness Behavior Training: train your dog to be calm and controlled when they encounter wildlife. Teach your dog not to chase after squirrels, birds, or other animals they may meet during the camping trip.
If you decide you need some professional help, the American Kennel Club offers information about dog training programs .
Tips for Camping with Your Dog
Planning and preparation are essential for a successful camping trip. Here are some tips for camping with your dog:
Choosing Dog-Friendly Campsites: always check whether the campground allows pets and has appropriate facilities for them. Resources like Dog Friendly National Park Campsites provide comprehensive guides on dog-friendly campsites.
Emergency Preparation: be prepared for any possible emergencies. Have a pet first-aid kit ready and know the nearest veterinary clinics in your camping area.
Essential Gear: packing the right camping gear for your dog is crucial. This includes a leash, a collar with identification tags, a comfortable dog bed, and a crate for secure containment.
Comfortable Sleeping Arrangements: A tired dog is a good dog. Ensure your pet has a comfortable resting place, like a portable dog bed or crate, to help them recharge after a day's adventure.
Adequate Food and Water Supply: ensure you pack enough food and water for your dog. Remember a collapsible bowl for convenience during hikes and travel.
Fun Activities to Do with Your Dog While Camping
Hiking and Exploring: exploring the campground and nearby hiking trails can be exciting for you and your dog. Just remember to keep your dog on a leash to respect the local wildlife and other campers.
Swimming and Playing Fetch: swimming can be a refreshing activity if your campground has a lake or a river. Playing fetch is another great way to engage your dog while camping.
Training and Practicing Agility: camping trips provide an excellent opportunity to train your dog and practice agility. Make sure to bring a few training toys along.
Engaging in Interactive Games: interactive games like tug-of-war or hide-and-seek can keep your dog entertained and enhance your bonding time.
Conclusion: Happy Adventures with Your Furry Companion
Camping with your dog can be an exciting adventure with endless fun and bonding opportunities. Your dog can be the perfect camping companion with proper preparation and training. So why wait? Grab your camping gear, teach your dog the rules, and head out for a fun-filled camping trip. Safety and respect for nature and other campers should be your top priorities while enjoying the great outdoors. Happy camping!
For more tips on camping with dogs, visit campingessentialsandmore.com.