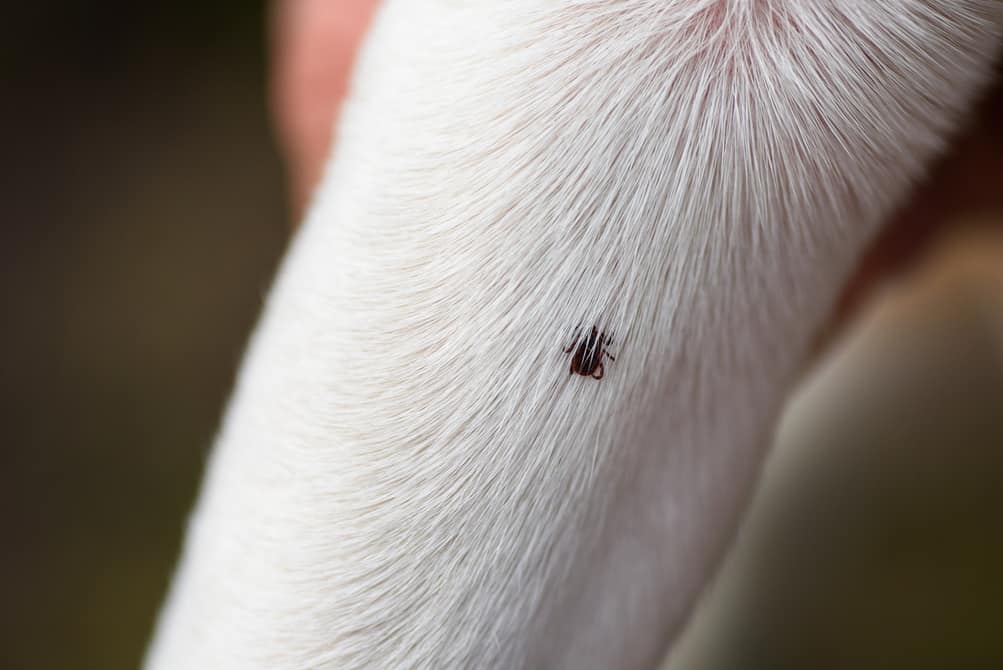 Camping with your furry friend can be a fantastic adventure. Still, it exposes them to potentially dangerous pests – ticks and fleas. These blood-sucking parasites pose serious health risks for dogs and humans, including transmitting illnesses like Lyme disease.
As responsible pet owners, we must take preventative measures to protect our canine companions during outdoor excursions. In this blog post, we'll explore the dangers of ticks and fleas while camping with your dog and offer valuable tips on prevention and protection so you can safely enjoy the great outdoors together.
Key Takeaways
Ticks and fleas pose serious health risks to dogs and humans during camping trips, as they can transmit Lyme disease, Rocky Mountain spotted fever, anaplasmosis, and babesiosis.
Prevention is key to protecting your dog from parasites while camping. This includes using preventatives recommended by your veterinarian, regularly checking for pests on your dog's coat, and avoiding areas with high populations of these parasites.
Proper tick/flea removal techniques are essential when dealing with infestations. Use tweezers or a tick removal tool to gently pull out the tick or flea from your dog's skin; wash the bite site thoroughly with soap and water; apply antiseptic cream; monitor for symptoms of illness like lethargy or fever. Seek medical attention if necessary.
Post-bite care is crucial in preventing further complications. After removing the pest from your pet's skin, continue preventive treatment and monitor them for any future issues that may arise after being bitten by ticks or fleas while camping.
Camping Dog Dangers: Ticks And Fleas
Ticks and fleas pose serious health risks to dogs and humans during camping trips as they are more prevalent in outdoor environments.
Health Risks For Your Dog And Humans
One of the primary concerns during camping trips is the potential health risks you and your dog face.
Parasites are not just annoying; they can transmit various harmful diseases that could lead to severe complications if left untreated. For instance, ticks are known carriers of Lyme disease, a potentially debilitating illness that affects humans and pets.
In addition to Lyme disease, fleas and ticks can spread illnesses like Rocky Mountain spotted fever (RMSF), anaplasmosis, and babesiosis. RMSF affects dogs and humans, causing severe fevers, muscle pain, vomiting, and neurological problems in extreme cases.
Anaplasmosis presents similarly in dogs but can result in joint pain in humans too.
Protecting yourself against these blood-sucking pests isn't just about keeping your dog healthy; it's about safeguarding your health too.
Increased Risk In Camping Environments
Camping environments present an increased risk for dogs of infestations, primarily due to the abundance of tall grasses, vegetation, and wildlife in these areas.
Ticks thrive in wooded areas with dense underbrush or long grass where they can easily latch onto passing animals, including your furry friend.
Given that pets tend to be more active while exploring nature during camping trips, the likelihood of them coming into contact with disease-carrying parasites is significantly higher.
For example, a simple walk along a trail or through a meadow puts your dog at risk of coming across tick-infested areas. Additionally, mosquitoes – which can transmit other parasites like heartworms – are rampant in camping sites near bodies of water.
Prevention And Protection
To prevent your dog from being bitten while camping, it's important to use tick and flea preventatives, regularly scan your dog for pests, and avoid areas with high populations of these parasites.
Use Tick And Flea Preventatives
Preventative measures are one of the most effective ways to protect your dog from ticks and fleas while camping. These come in various forms, such as oral medications, topical treatments, and collars that repel or kill these pesky parasites before they harm your pet.
For example, Simparica is an oral medication designed for tick prevention but may cause side effects like tremors in some dogs. On the other hand, pyrethroids are common insecticides used in many tick-repellent products; however, they can be toxic to cats and should be used cautiously on small dogs.
Another popular option is tick collars which release chemicals slowly over time to keep fleas and ticks at bay during camping adventures.
Here's a video that shows how to make an all-natural tick and flea spray:
Regularly Check Your Dog For Ticks And Fleas
It's essential to regularly inspect your dog for ticks and fleas while camping to ensure their safety. Here are some tips:
Check your dog daily, paying particular attention to areas such as the ears, armpits, and groin where ticks like to hide.
Use a fine-toothed or flea comb to detect fleas or tick bites on your dog's coat.
Run your hands over your dog's body, feeling for any bumps or lumps that may be ticks.
If you find a tick, use tweezers or a tick removal tool to carefully remove it from your pet's skin.
Dispose of the tick by putting it in alcohol or flushing it down the toilet.
Keep an eye out for symptoms of flea and tick-borne diseases such as fever, lethargy, and loss of appetite.
Regularly checking your dog for signs of infestation while camping can catch any issues early on and prevent them from becoming more serious.
Here's a video that show you how to check your dog for ticks:
Avoiding Areas With High Tick And Flea Populations
One of the simplest ways to protect your dog while camping is to avoid areas where pests are prevalent. This means steering clear of tall grasses, heavily wooded areas, and brushy spots where bugs tend to congregate.
Try sticking to well-maintained trails when hiking with your furry companion instead of wandering off into unkempt or overgrown terrain. If you're camping in an RV or tent, set up camp on a level surface free from dense vegetation that might harbor pesky parasites.
Remember that even if you stick to low-risk areas when camping with your dog, taking steps like using tick preventatives and regularly checking for ticks throughout the trip is essential.
What To Do If Your Dog Has Been Bitten
If you find a tick or flea on your dog while camping, removing it as soon as possible is important. Use a pair of tweezers and grasp the tick by its head, pulling straight out with gentle pressure.
Remove fleas using a flea comb or bath with a flea shampoo. If your dog begins exhibiting symptoms such as lethargy or loss of appetite after being bitten, seek medical attention from a veterinarian immediately to prevent further complications.
Symptoms To Look Out For
It's essential to know the symptoms of a flea or tick bite on your dog while camping. Here are some signs to look out for:
Excessive scratching and biting at the affected area
Redness, inflammation, and swelling at the site of the bite
Loss of hair in the bitten spot
Scabs or crusts caused by an allergic reaction to the bite
Lethargy, loss of appetite, and fever if your dog has contracted a tick-borne illness like Lyme disease
Remember to keep your dog up-to-date with their flea and tick preventatives, and regularly check them for bites while camping. Seek veterinary attention to ensure your furry friend is safe from blood-sucking pests.
How To Remove The Tick Or Flea
Ticks and fleas can cause severe irritation and illness in your furry friend. If you've spotted a tick or flea on your dog while camping, here's how to safely remove them:
Use tweezers or tick removal tools: Grasp the tick or flea as close to your dog's skin as possible with fine-tip tweezers or a tick removal tool.
Pull straight out: Using steady, even pressure, pull the tick or flea straight out from your dog's skin, avoiding twisting or jerking motions.
Clean the bite area: After removing the pest, clean the bite area with rubbing alcohol or mild soap and warm water.
Dispose of the pest properly: Put the tick or flea in a sealed container and dispose of it in an outdoor trash bin.
Monitor for symptoms: Keep an eye on your pet for any signs of infection, such as redness, swelling, fever, lethargy, and loss of appetite.
Remember that prevention is always better than cure. Use preventative medications recommended by your veterinarian, and regularly check your dog during camping trips to keep it safe from harmful bites and illnesses like Lyme disease, Rocky Mountain Spotted Fever, babesiosis, and anaplasmosis.
Here's a video that shows you how to remove a tick from your dog:
When To Seek Medical Attention
If a tick or flea has bitten your dog, it's essential to monitor them for any symptoms of illness. Symptoms of tick-borne illnesses such as Lyme disease, Rocky Mountain spotted fever, anaplasmosis, and babesiosis can include fever, lethargy, joint pain or swelling, and loss of appetite.
Suppose you notice any of these symptoms in your dog after they have been bitten by a tick or flea while camping. In that case, it's best to seek medical attention from a veterinarian immediately.
Additionally, medical attention may be warranted if you are having difficulty removing the tick or flea from your dog's skin or if you see signs of infection at the bite site, such as redness and swelling.
Post-bite Care For Your Dog
After a tick or flea bite, taking proper care of your dog is essential to prevent any further issues. Here are some steps you can take:
Remove the tick/flea: Use tweezers to gently pull out the tick or flea from your dog's skin. Don't twist or squeeze the tick, as that may cause parts of it to remain in the skin.
Clean the area: Wash the bite site with soap and water to reduce the risk of infection.
Apply antiseptic cream: Apply an antiseptic cream, such as Polysporin, to help reduce inflammation and prevent infection.
Monitor for symptoms: Monitor your dog for any signs of illness, such as fever, lethargy, loss of appetite, or vomiting.
Consult a veterinarian: If you notice any unusual symptoms in your dog after a tick or flea bite, immediately consult a veterinarian.
Continue preventive treatment: Continue using flea and tick preventatives on your dog regularly to avoid future infestations and bites.
By taking these steps, you can ensure that your furry friend stays healthy and happy while camping in the great outdoors!
Conclusion
In conclusion, keeping your dog safe from ticks and fleas while camping is essential for their health. These pests can cause severe illnesses and skin problems for your furry friend.
It's important to use preventative measures such as tick collars, regularly checking for ticks and fleas, and avoiding areas with high populations of these pests.
Should your dog be bitten, always look out for symptoms and seek medical attention if necessary.
Bestseller No. 1
Bug-Off Clip for Dogs, Repels Flea, Tick & Mosquito for 60 Days, Natural Flea and Tick Repellent Collar [Made in Korea] Aegis by KN FLAX (Daisy)
🐾NO HARMFUL CHEMICALS: Stop applying dangerous and harmful chemicals to your dog! Our bug-off clip contains plant-based, 100% natural essential oils, including peppermint, citronella, and white mineral oils that are safe for your dog's health and well-being. Provides a better, more affordable, and safer alternative in comparison to other flea and tick sprays, collars, and oily topical applications.
🐾EASY CLIP & GO! Our new, modern, and patent-pending clip design allows for a quick and easy way to attach it to dogs. It only takes 1 second to install with secured attachment on harnesses, collars, and clothes. Save time from applying topicals and putting collars on. No more oily hairs from topical treatments!
🐾UNIVERSAL INDOOR & OUTDOOR USE: No more uncomfortable collars or sprays with limited coverage and efficiency! Our waterproof clip lets your dog to enjoy swimming and playing in the rain without losing any protection. Have a peace of mind!
🐾ONE SIZE FITS ALL: Our clip is compatible with all dog sizes from small to large! No need to check the size charts. If you need stronger protection, add one more clip. Our new, cute, stylish clip designs accent your dog's fashion look.
🐾LONG-LASTING & EFFECTIVE BUG DEFENSE: Our bug-off clip with all-natural, enhanced bug-repellent formula wards off fleas, ticks and mosquitos, minimizing common indicators of restlessness, excessive scratching, and biting caused by the bugs. Keep your furry friend safe and comfortable.
Bestseller No. 2
Dog Whisperer Tick + Flea Repellent, All-Natural, Extra Strength, Effective on Dogs and Their People (4 Ounce Spray)
Proven Effective: Our maximum strength repellent works naturally and effectively to keep ticks and fleas off of your dog, and you! Proven effective and independently lab tested for efficacy so you and your furry friend can roam freely
Easy Application: Simply spray our natural flea and tick prevention spray directly on your dog from head to tail, focusing on legs, underbelly, and neck. Safe for use on skin, apparel, gear, and hair too. Reapply as needed to ensure effectiveness
Fresh, Herbal Scent: Pleasant, uplifting herbal scent to keep your dog smelling fresh! Non-irritating, non-greasy, 100% plant-based, vegan, and cruelty-free. Deet free and no permethrin, clove, eugenol, alcohol, chemicals or synthetics. Made in the USA
All Natural Formula: Our extra strength bug spray formula contains therapeutic grade essential oils of cedarwood, peppermint, rosemary, geranium, lemongrass and thyme, and certified organic castor and soybean oils
Safe for Dogs and Their People: A safe essential oil insect repellent for all dog breeds, adults, kids, and puppies over 12 weeks. Works to repel ticks, fleas, black flies, mosquitoes and other bugs while you're out and about with your dog
Bestseller No. 3
Wondercide – Flea, Tick & Mosquito Spray for Dogs, Cats, and Home – Tick Killer, Control, Prevention, Treatment – with Natural Essential Oils – Pet and Family Safe – Cedarwood 16 oz
KILLS & REPELS. Using natural essential oils, this spray is proven to kill by contact, repel, and prevent 98-100% of fleas, ticks and mosquitoes in laboratory testing. It breaks the flea life cycle by eliminating eggs, larvae, and adults.
TREAT NATURE WITH NATURE. When used as directed, a safe and effective alternative to collars, pills, chewables, and drops harnesses the power of nature. Holistic vet approved. Enjoy peace of mind knowing your pets and home are protected with our non-harsh formula.
SAFE FOR DOGS, CATS OF ALL AGES WHEN USED AS DIRECTED. Gentle enough to use on puppies, kittens, and senior pets when used as directed. Powerful enough to fully eliminate pests on the skin and fur. Safe to use around the entire family, and kid-safe, when used as directed. Mom owned, Mom approved.
3-IN-1 PLANT POWERED SOLUTION. For dogs, cats, and home! A home remedy that kills fleas throughout the house on carpet, furniture, bedding, and flooring. Also a repellent in pet environments like dog kennels or cat condos. Invigorating Cedar scent freshens homes.
POWERFULLY EFFECTIVE. Powered by nature and proven to work. Give your pet the advantage in protection against fleas and ticks with our non-harsh formula. Cruelty free and USA Made with U.S. and global components. Read entire label prior to use. Do not soak pet. Test a small area on the back of the neck 1 hour prior to full body application.
Sale
Bestseller No. 4
Vet's Best Flea and Tick Home Spray | Flea Treatment for Dogs and Home | Plant-Based Formula | 32 Ounces, 2 Pack
GENTLE PROTECTION: Vet's Best Flea & Tick Home Spray uses certified natural ingredients to kill fleas, flea eggs, and ticks on contact.
PROVEN EFFECTIVE – Whether facing an active infestation or are applying for routine prevention, our spray is scientifically proven effective against pests but gentle enough to use around the whole family.
CERTIFIED NATURAL OILS – Each steam-distilled essential oil is selected for its potent pest-fighting properties and is 100% Certified Natural.
TOTAL HOME DEFENSE – Applies easily on surfaces, indoors and out, including dog bedding, crates, furniture, blankets, upholstery, carpets, outdoor surfaces, and more. Also gentle enough to be applied directly on dogs and puppies 12 weeks or older.
MADE IN THE USA: Our products are proudly manufactured in the USA with quality domestic and internationally sourced ingredients.
Bestseller No. 5
Vet's Best Flea and Tick Home Spray – Dog Flea and Tick Treatment for Home – Plant-Based Formula – Certified Natural Oils – 14 oz
FLEA & TICK FIGHTER: Say goodbye to fleas, flea larvae, flea eggs, ticks, and mosquitoes with our natural flea and tick spray; it not only eliminates existing infestations, it also protects against future afflictions, keeping your dog and home pest-free
FLEA & TICK SPRAY FOR HOME & DOG: Our flea and tick spray for dogs is gentle enough to use on dogs 12 weeks or older and can be applied directly to their skin; it's also the perfect flea spray for carpet and furniture as it will not leave any stains or residue
CERTIFIED NATURAL: Our flea & tick spray for dogs uses certified natural plant-based ingredients like peppermint oil and eugenol, keeping your dog safe from harsh chemicals; this flea spray leaves a pleasant scent that will have your dog feeling refreshed
PROVEN EFFECTIVE: Our flea and tick spray is scientifically proven to be effective in killing and repelling fleas, ticks, and mosquitoes; with its powerful formulation, you can trust it to provide reliable and long-lasting protection for your furry friend
MADE IN THE USA: Our flea and tick spray is proudly manufactured in the USA with quality domestic and internationally sourced ingredients; made with the highest level of efficacy and safety with your beloved pet in mind