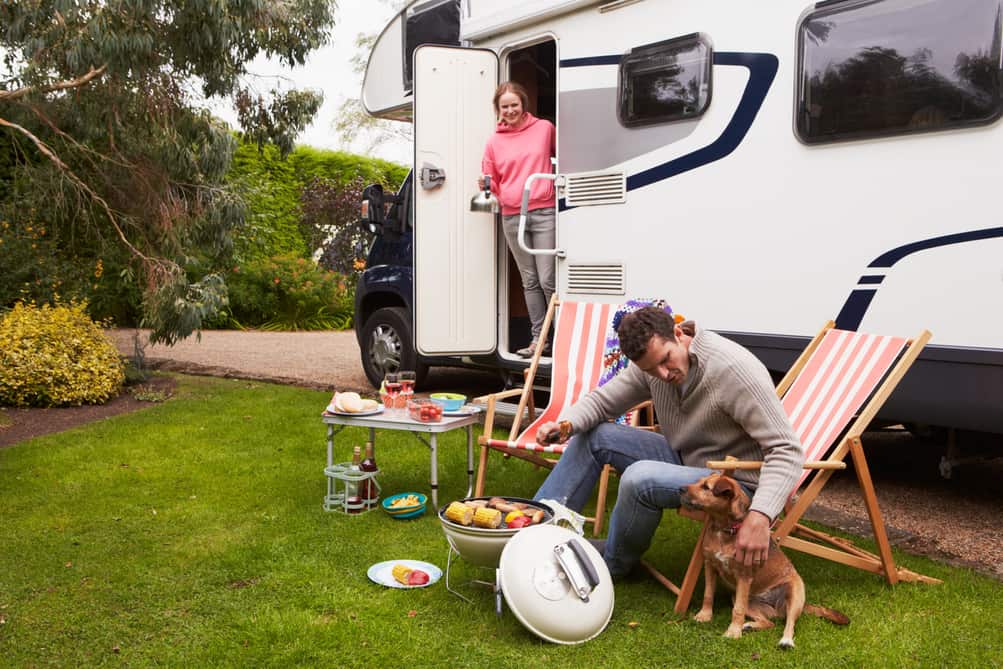 This blog post is about delicious and nutritious camping recipes for dogs, ensuring they receive proper nourishment as they accompany you on your journey.
From homemade dog food to DIY treats and campfire meals, these delightful concoctions will keep your pet satisfied and become a fun addition to your bonding experience in nature.
Key Takeaways
Homemade dog food, DIY treats, and campfire meals can all be nutritious options for feeding your dog while camping.
It's essential to consider your dog's dietary restrictions and allergies when preparing rations for them and to pack enough water and food ahead of time.
Portable collapsible bowls, reusable water bottles, and bone broth are great options for keeping dogs hydrated during outdoor adventures.
Preparing meals ahead of time and packing necessary utensils like collapsible bowls can help make mealtime at the campsite easier for both you and your pup.
Easy And Nutritious Camping Recipes For Dogs
Homemade Dog Food
Preparing homemade dog food for your trip with your furry companion can ensure they receive healthy and nutritious fare while saving you money. Here are some easy and delicious homemade dog food ideas to try:
Chicken and Rice: Combine cooked chicken, rice, and a mix of steamed or boiled veggies such as carrots or green beans. Add a dollop of plain yogurt for extra probiotics.
Beef Stew: Cook lean ground beef with diced potatoes, carrots, and peas in low-sodium beef broth until tender. Ensure that the ingredients are well-cooked before serving to your dog.
Turkey and Quinoa: Mix cooked turkey with quinoa, pumpkin puree, and lightly steamed spinach for a protein-packed meal.
Fish Medley: Blend canned sardines in water with cooked brown rice, green beans, and a spoonful of organic coconut oil for a nutritious treat.
Slow Cooker Doggie Casserole: In a slow cooker, combine cubed chicken breast or lean beef chunks with vegetables like sweet potatoes, carrots, peas, and green beans. Add enough water or low-sodium broth to cover the ingredients halfway up. However, do not submerge completely, allowing space for cooking steam.
Bone Broth Popsicles: Freeze homemade bone broth in ice cube trays or popsicle molds for a cool treat your pup will love during hot outdoor adventures.
When making homemade dog food, consult your veterinarian to ensure it meets your dog's dietary needs. Avoid using potentially toxic ingredients such as garlic or onions. Remember to portion out the meals ahead of time in containers so you can easily serve them throughout your camping holiday.
DIY Dog Treats
Introducing DIY dog treats is a fantastic way to satisfy and nourish your furry companion while camping. Here are some simple yet delicious homemade treat options for your pet:
Three-Ingredient Dog Treats: As recommended by the KOA Camping Blog, mix peanut butter, oats, and mashed bananas to create easy-to-make treats that dogs will love.
Chicken Jerky: Using lean chicken breast, slice into thin strips and bake in the oven until crispy – this high-protein snack is perfect for dogs during outdoor adventures.
Pumpkin Sardine Bites: Combine canned sardines with pumpkin puree and coconut flour for a tasty, nutrient-rich treat that's also great for your dog's digestion.
Bone Broth Popsicles: For hot days at the campground, freeze bone broth in ice cube trays or small containers to provide your pet with a cool and nutritious snack.
Dog-Safe BBQ Sauce: Create an organic BBQ sauce without harmful ingredients like garlic or onions – coat grilled meats or vegetables to enjoy a flavorful meal with your four-legged friend.
Grilled Peppers & Pulled Pork Hot Dogs (dog-friendly version): Remove spices from the original recipe and make sure all ingredients are dog-safe before sharing this delicious camping dish with your canine companion.
Bulldog Hot Dog (modified for pets): Replace potentially harmful ingredients like mustard or relish with healthy alternatives such as plain Greek yogurt or mashed avocado.
Remember to consider your pets' dietary restrictions and allergies when preparing these DIY dog treats for an enjoyable camping experience!
Campfire Dog Meal
Preparing a delicious and nutritious campfire dog meal for your furry companion during outdoor adventures is essential in keeping them healthy and satisfied. Here are some ideas for creating the perfect campfire repast for your canine friend:
Grilled Chicken and Veggies: Marinate boneless chicken breast pieces in dog-safe BBQ sauce (see important fact 10) and grill them alongside pet-friendly vegetables like green beans, peas, and carrots; serve when cooked through.
Beef Stew: Combine lean ground beef, pumpkin puree (rich in fiber), diced sweet potatoes or yams, and peas; cook over the campfire until meat is browned and veggies are soft.
Salmon and Brown Rice: Grill fresh salmon fillet or canned sardines alongside cooked brown rice; top with bone broth (see keyword "bone broth") to boost the nutritious value of this dish.
Dehydrated Dog Food: To save time on prepping fresh ingredients, bring high-quality dehydrated dog food that can be rehydrated with water at the campground, adding variety to your dog's meals.
Keeping their meals balanced with proteins, carbohydrates, and fiber content by including various organic ingredients will make their camping excursion enjoyable for you and your pet!
Factors To Consider For Camping Recipes For Dogs
Consider your dog's dietary restrictions and allergies before preparing any food for them. Make sure to pack ingredients that are safe for their consumption. Also, keep in mind the portability, storage, and preparation of the food at the campsite.
Dietary Restrictions And Allergies
It's important to consider any dietary restrictions or allergies your dog may have when planning camping recipes. Like humans, dogs can have sensitivities and intolerances to certain ingredients, which could result in digestive issues or even severe health problems.
For example, some dogs are lactose intolerant and cannot digest dairy products. In contrast, others may be allergic to common proteins like chicken or beef. When preparing food for your furry companion on a camping trip, it's recommended to stick with simple recipes that use fresh and organic ingredients whenever possible.
You should consult your veterinarian if you need clarification on what foods are safe for your dog.
Portability, Storage, And Preparation Tips
When camping with your furry friend, it's important to consider portability, storage, and preparation tips for their food. Make sure to pack enough food for the entirety of the trip in an airtight container or resealable bags to keep it fresh.
Opt for dry or freeze-dried as an alternative to fresh food if you have limited space, as they're lightweight and don't require refrigeration.
To save time on-site, pre-cook some meals ahead of time, such as homemade dog food or bone broth that can easily be reheated over a campfire or portable stove.
Quick Tip: check out How to Keep Food Cold While Camping for tips on keeping your buddy's food safe.
Pack necessary utensils such as collapsible bowls and water bottles with built-in filters so your pup has clean drinking water throughout the trip.
Hydration And Water Availability
Keeping your furry friend hydrated during a camping trip is crucial to their health and well-being. Dogs require plenty of fresh water to be available at all times, especially when active and exposed to the elements.
There are several options to ensure your dog stays hydrated while on a camping trip. Portable collapsible bowls can be filled with water upon arrival at the campsite and easily transported on hikes or excursions throughout the day.
Additionally, bringing along a reusable water bottle designed for dogs can make it easy to provide constantly accessible hydration without taking up too much space in your pack.
Preparing bone broth ahead of time is another way to keep your pup hydrated, as it provides essential nutrients while also being palatable enough that even picky eaters will enjoy it.
Conclusion
Camping with your furry friend can be a lot of fun and bonding experience. With these easy and nutritious camping recipes for dogs, you can ensure that your pup stays happy and healthy during your outdoor adventures.
For more about your dog's health and happiness, learn how to keep them safe from ticks and fleas.
Bestseller No. 1
rezip Large Pet Food Storage Bag (40-Cup) | BPA-Free, Food Grade, Pet Safe | Keeps Food Fresh for Camping, Dog Boarding, Travel, and Everyday | Machine Washable
ROLL TOP DESIGN: Secures contents and easily adjusts to the amount of kibble in the container, reducing the bag's volume as kibble is consumed. The hook and loop serve as a handle and easily attaches to another bag.
COMPRESSES FLAT WHEN EMPTY: Ideal for roadtrips in cars and RV's where storage is limited.
MACHINE WASHABLE: Turn the bag inside out before placing in the washer using cold or warm water. For best results, hand wash and air dry are recommended.
THE ECO FRIENDLY CHOICE: Made from 100% BPA-free, lead-free, PVC-free, oil-resistant and food-safe PEVA.
SIZE: 12″ L x 7.25″ D x 16″ H, and holds 40 cups | 320 fl oz | 9.5 liters.
Bestseller No. 2
Awakelion Dog Food Travel Bag Kit, 5L Large Dog Food Storage Container+Travel Collapsible Dog Bowls for Food & Water, BPA Free, Leakproof, Pet Safe,Dog Camping Gear for Camping Hiking
🐶ESSENTIAL FOR OUTDOOR: ★Not for Long-term Water Storage★ Collapsible, cleans easily and dries fast. Designed with the outdoor travelers in mind, it upgrades your dog's camping gear with a more rugged, practical option. Package includes: 1* Travel Food Container, 2*Collapsible Dog Bowl.
🐶5L LARGE CAPACITY FOOD BAG: The bag keeps food dry and contains a hook & loop strap as an easy-carrying handle and a sturdy closure for the bag to roll up. Food bag size: 8″x19″(up to 40 cups of food), Dog bowl size: 7.5″ x 4.5″deep(2000 ML), big enough for one week's travel, and easy to adjust any amount of food!
🐶DURABLE & LIGHTWEIGHT: We used oxford cloth and waterproof, tear-resistant lining to provide a rugged travel option for you and your dog. Made with high-quality materials while remaining lightweight.
🐶ECO-FRIENDLY & NON-TOXIC: Constructed with 900D oxford cloth and waterproof lining, this travel bag kit is made of food-grade materials to ensure your pet's safety. And the grease-resistant fabric is to keep your dog's food fresh outdoors.
🐶EASY TO PACK AND STORE: The food bag and collapsible bowls can be folded and fit in your pocket to save space. We stand behind the quality of our products.
Bestseller No. 3
Sale
Bestseller No. 4
Collapsible Dog Water Bowl, Portable Dog Bowl for Traveling, 2-in-1 Pet Food and Water Feeder – Travel Dog Bowls with Lid for Walking, Traveling, Camping and Hiking
2 in 1 Portable Design: The leak-proof, snap-on lid and divided bowl make for practical, convenient storage of two servings of dog food. Ideal for camping, hiking, travel, and outdoor adventures!
Easy to Clean: Rinse, wipe, and dry this practical collapsible dog water bowl with ease! Keep your pet healthy and happy by cleaning the portable dog bowl after every use
Safe Materials: This collapsible dog water bowl is made from food-grade PP+TPR materials that are BPA-free, thickened and durable, ensuring your dog's safety while they eat
Moderate Capacity: This collapsible dog water bowl has a fitting capacity, suitable for pets of all sizes, including cats and other small animals
Portability: The lightweight design allows for easy carrying, whether in a backpack or attached to a belt. Enjoy boundless adventures with your furry friend!
Bestseller No. 5
Leashboss Portable Dog Food Travel Bag, Pet Travel Food Storage Container, Large Capacity Kibble Carrier Pet Food Bin, Cat Food Container, Dog Accessories for Camping
KEEP YOUR DOG FOOD FRESH, DRY & BUG-FREE: This travel dog food container has a fully waterproof interior, water-resistant exterior, and airtight secure roll-top to lock in freshness when you're on the road. Constructed with durable 600D polyester and waterproof food-safe lining to prevent leaks no matter what you bring on your trip, this dog food travel container will withstand the rough and tumble of pet life and keep your dog cereal fresh. No more stale kibble for your pup!
EASY TRAVELING AND OUTDOOR USE: This portable dog food travel bag is built for easy use. A fully adjustable carry shoulder strap or roll top handle gives you options whether you want to carry it in your hand or on your shoulder. Features a detachable buckle to attach the food bag onto a backpack, carrier, or other objects like a tree branch at the campsite. The main compartment is spacious and super easy for you to scoop food in or out.
ALL-IN-ONE PET TRAVEL: Not only does this portable dog food bag carry pet food, it also has a built-in convenient poop bag dispenser that fits 3 standard size or 2 oversized rolls of bags. A roomy front pocket can securely store essentials like medicines, dog treats, keys or more!. The front bungee webbing gives you a place to store water bottles, plastic bags, tie out cables or other camping accessories!
CARRY UP TO 30 CUPS/10 LBS OF FOOD: Modeled on traditional dry bags, this compact roll-down modern gray bag is super lightweight and durable. This travel bag's extra large capacity is ideal for travel, vacation, and the outdoors. Whether you are on a road trip, camping, backpacking, in an RV or on a weekend getaway where you don't want to travel with a bulky bag of dog food. This dog food storage bag can hold up to 7 days worth of food depending on the size of your dog.
BUY WITH CONFIDENCE WITH THE BOSS PROMISE: As a leading US-based Pet brand, we take pride in our products and stand strongly behind them. While we're confident your dog food travel bag will stand up to the most rigorous wear and tear, we're glad to maintain the Boss Promise – a 1 year manufacturer's warranty that protects you against defects, chewed straps, and other product issues.
Bestseller No. 6
Ruffwear, Kibble Kaddie 42 Cup Dog Food Storage System for Camping, Travel, and Everyday, Slate Blue
Dog food storage: A travel-friendly dog food storage system; Compact, convenient design that's perfect for camping, traveling, dog day care, or just at home; 10 L (42 cup) volume
Easy to use: Simplified internal spout that folds in and out and grab handle at bottom make it easy to pour kibble; Kibble Kaddie stands up on its own for easy refilling
Food grade material: Main compartment is made from waterproof material that's oil-resistant, safe for food and seals off odor; Separate internal pocket for stashing bowls and other essentials
Made for travel: Roll-down closure keeps the food secure and adjusts to the volume level; Side buckles clip together to form a carrying handle
Trail tested promise: All our products are rigorously field tested and we proudly guarantee against defects in materials and craftsmanship
Bestseller No. 7
PetAmi Travel Dog Food Bag Pet Collapsible Dog Bowls Set, Dog Kibble Bag, Pet Food Water Bowls for Dogs Cats, Foldable Waterproof Dog Camping Bowls Cup Dish Accessories for Hiking, Sea Blue & Gray
DOG FOOD TRAVEL BAG WITH COLLAPSIBLE DOG BOWLS: PetAmi Travel dog food container bag pouch holds up to 23 cups of food and kibbles, measuring 13 x 6 inch. The dog food bag comes with 2 travel dog bowls set can contain up to 8.5 cups of water and treats, with dimensions of 7 x 4.5 inch. Our compact, lightweight dog food container is designed for traveling or camping in addition to your backpacking hiking gear, dog camping accessories, or training pouches alongside your pet supplies.
PORTABLE WATERPROOF DOG BOWLS TRAVEL: Our dog food collapsible bowls and travel food storage bag are constructed from durable 600D polyester, ensures long-lasting resilience for outdoor activities. Whether it's camping, road trips, beach, or dog walking and training in the park with your puppy or doggies, this travel dog food container holds up well. Featuring a waterproof, food-safe interior lining, the dog travel bowl set prevents leaks and spills, ensuring your belongings dry and clean.
THREE WAYS TO CARRY DOG FOOD BAG: This foldable dog food container offers versatile carrying options, with a fully adjustable carrying strap for handheld or shoulder transport. PetAmi dog food holder includes a detachable buckle that allows you to attach the dog food travel bag onto a backpack, carrier, or even a tree branch at your campsite. When paired with our collapsible water bowl for dogs and cats, it creates the perfect travel kit, whether for your car or any outdoor adventure.
PACKABLE DOG TRAVEL FOOD CONTAINER: Our blue dog food container bag, along with the pet water bowl is easily packable, allowing you to save space by simply folding and stowing them in your backpack. The dog portable water bowl is compact and foldable, making it easy to fit into your pocket, purse, training pouch, or travel bag. Enjoy the convenience of having essential dog training treats and a collapsible dog bowl set, ensuring you stay organized on the go.
IDEAL DOG GIFT FOR TRAVEL: Whether it's a birthday, Christmas, or any special occasion, this practical and stylish dog food collapsible bowls with travel food storage bag is designed to bring joy to dog parents, dog mom, dog dad, pet lover and their beloved furry friends. This dog travel food bag and dog bowl set is perfect for both big and small dogs, making it an excellent choice for hiking, camping, and road trips. PACKAGE INCLUDES – 1x Food Bag (13 x 6 inch) and 2x Dog Bowls (7 x 4.5 inch).
Bestseller No. 8
NEECONG Dog Food Travel Bag with Collapsible Dog Travel Bowls, 42 Cup Dog Food Storage System for Camping, Travel and Everyday-10L Dog Food Dry Bag
【10L LARGE DOG FOOD BAG】The bag keeps food dry and shoulder straps & loop strap as an easy-carrying handle. Food bag capacity: 42 cup dog food(10L).Big enough for one week's travel, and easy to adjust any amount of food! Dog bowl size: 5.2″ x 2.2″deep(450ml). Universal size, just enough capacity to avoid waste.
【DURABLE & LIGHTWEIGHT】We used harmless PVC waterproof, tear-resistant mesh fabric to provide a rugged travel option for you and your dog. Three layer structure and two waterproof layers keep the dog's food dry all the time.
【EASY TO PACK AND STORE】Travel dog food container and collapsible bowls can be folded and fit in your pocket or hang on the bag to save space.
【COMPACT, CONVENIENT DESIGN】Perfect for camping, traveling, dog day care, or just at home. Roll-down closure keeps the food secure and adjusts to the volume level; Side buckles clip together to form a carrying handle.
【Best service】Provides a true satisfaction guarantee and don't hesitate to contact us if there is any problem.
Bestseller No. 9
Bestseller No. 10
FXW Dog Food Travel Bag,42 Cups Large Capacity for Travel Kibble Storage Perfect for RV Road Trips, Camping, Longterm Dog Boarding Gear Accessories Gray
🐶【Large Capacity】 This large-capacity, collapsible dog food bag is designed for users who take their dogs on multi-day RV trips, camping, road trips, extended trips. The bag's roll-down top means it takes up less space as you use up the kibble. Note: The number of cups is an experimental test value. The actual number of cups may vary depending on the packing method.
🐶【Reusable & Eco-friendly Kibble Storage】 The outer material is 420D Nylon Ripstop, and the inner is 70D Polyester Taffeta, which is water- and moisture-proof to keep the dog food fresh and dry and will not become permeated by oil from the kibble. The roll-down buckle seals the pouch so that any odors from the food are not be released.
🐶【Extra Storage Pockets】 The interior pocket is perfect for storing treats, travel collapsible bowls, leashs, poop bags, medications etc. The Velcro ensures the small items do not fall out when pouring the dog food.
🐶【Easy to Use】The opening is large enough to make filling quite easy and the fold out fabric pour spout is helpful in pouring kibble. The roll-top closure can be used as a handle for easy carrying once it buckled up.
🐶【Special Design】There is a cartoon form printed on the front of the bag, you can put contact information in case the bag is misplaced. Or you can put provide feeding instructions in case someone is minding your dog. Nylon Ripstop fabric is durable and easy to clean, we recommend cleaning with a mild detergent.