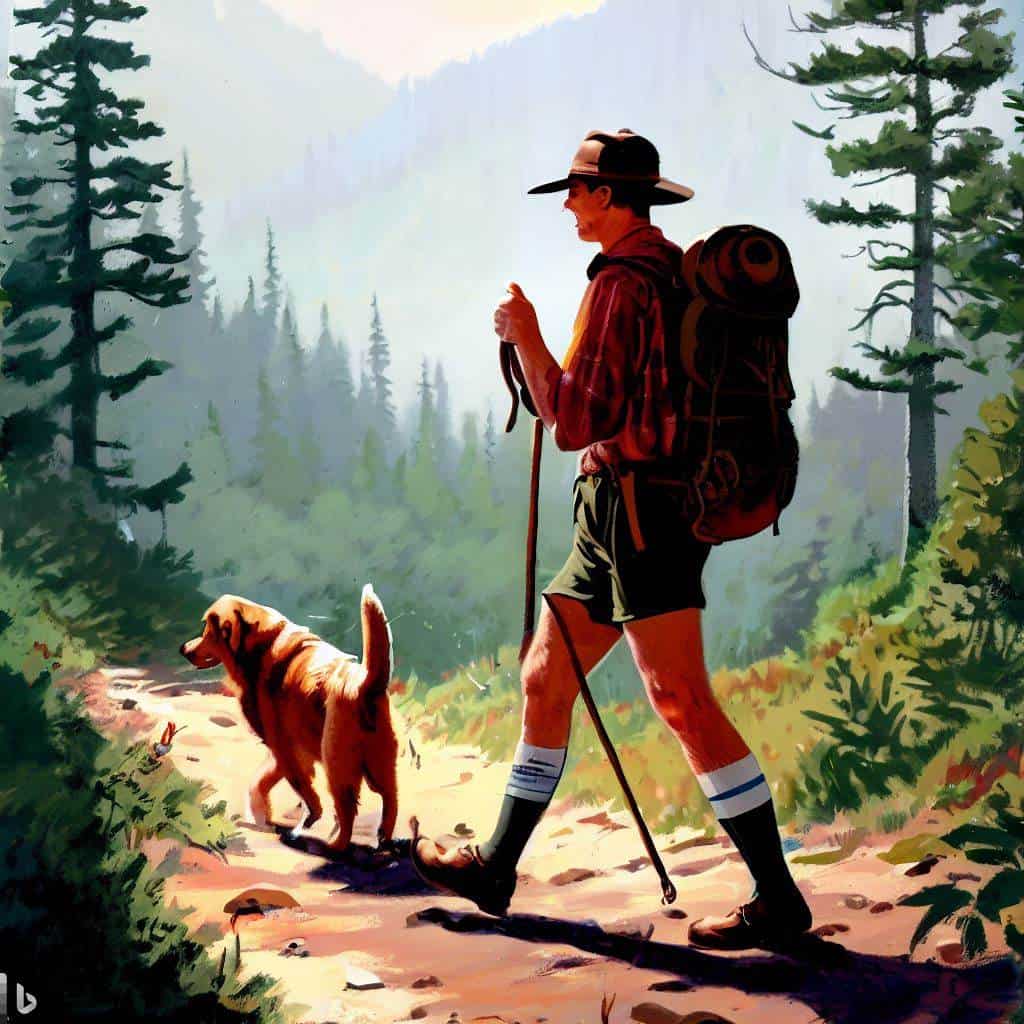 As dog-friendly hiking trails become increasingly popular, embarking on these adventures is simpler than ever. Let's dive into the numerous benefits of hitting the trails with your pup, starting with how hiking improves your physical and mental well-being.
Key Takeaways
Hiking with your dog offers numerous benefits including improved physical and mental health, a stronger bond with your pet, exploration and adventure, and socializing opportunities.
Choosing a dog-friendly hiking trail involves considering factors like trail length and difficulty, water sources, rules and regulations regarding dogs, safety precautions, and your dog's breed and size suitability.
Safety and etiquette on the trail are essential. This includes packing enough food and water, keeping your dog on a leash, being alert to potential hazards, cleaning up after your dog, and respecting other hikers and their dogs.
Preparing for hiking or camping trips with your dog involves specific gear and training.
There are many resources available online to guide you in finding dog-friendly trails, training your dog for hiking, and choosing the right camping gear for your dog.
Most importantly, hiking with your dog should be a fun and rewarding experience that strengthens your bond with your pet and allows both of you to enjoy the great outdoors.
Benefits of Hiking with Your Dog
Taking your dog along on your hiking trips benefits you and your pet. Let's look at the many perks of hiking with your dog.
Improved Physical and Mental Health
Regular exercise is crucial for maintaining a healthy weight for humans and dogs. A good hike can burn off excess energy and help your pup stay fit and agile. Meanwhile, you can enjoy an excellent low-impact cardio workout that can help lower stress levels and improve heart health. Exposure to nature also provides mental benefits. A serene environment can reduce stress levels and promote a positive mood.
Stronger Bond with Your Furry Friend
There's nothing like shared experiences to strengthen a bond, which also holds for our relationships with our dogs. On the hiking trail, you and your pup get to spend quality time together away from the distractions of home. This enhanced bonding time improves trust and communication between you and your dog.
Opportunity for Exploration and Adventure
With thousands of miles of trails waiting to be discovered, every hike is an adventure. Exploring scenic landscapes, chasing after squirrels, sniffing new smells, or even taking a dip in a refreshing waterfall, every dog-friendly trail offers your pup an exciting sensory experience.
Opportunity for Socializing with Other Dog Owners
Fellow dog owners often frequent hiking trails. This gives both you and your dog the chance to socialize. You can share tips and stories with other dog lovers while your pup plays with their dogs. Remember to keep your dog on a leash to ensure everyone's safety.
How to Choose the Perfect Dog-Friendly Trail
Choosing the right hiking trail for you and your furry companion is essential for an enjoyable and safe experience. Several factors come into play here.
Suitable Length and Difficulty Level
First and foremost, consider the length and difficulty of the trail. Your dog's age, size, breed, and overall health will determine the trail's suitability. Smaller breeds or older dogs might not handle strenuous hikes as well as young, active dogs. Familiarize yourself with the terrain. A flat, easy trail can be a good starting point for beginners or testing your dog's endurance.
Availability of Water Sources
On hot days, water sources along the trail can be a lifesaver. They provide spots for your pup to cool off, and you can refill your water bottles. However, not all paths have water sources, so it's essential to pack enough water for you and your dog.
Trail Conditions and Restrictions on Dogs
Some trails may restrict dogs due to local wildlife or sensitive vegetation. Check for any rules and regulations about dogs before you hit the trail.
Safe Precautions
Look for potential hazards on the trail, such as cliffs, slippery rocks, or dangerous wildlife. Research beforehand is crucial if you're planning a hiking trip in a new area. Also, consider possible exposure to ticks and fleas.
Suitability for Your Dog's Breed and Size
Some breeds are more suited to hiking than others. Larger, active breeds like retrievers or shepherds are typically good hikers. In contrast, smaller dogs or breeds with short noses can struggle. Tailor your hike to suit your pup's needs.
Safety and Etiquette Tips for Hiking with Your Dog
To ensure a positive experience for everyone on the trail, here are some safety and etiquette tips to remember when hiking with your dog.
Packing Enough Water and Food for Both You and Your Dog
Always pack more water and food than you think you'll need. Dogs can get dehydrated quickly, especially in hot weather, so regular hydration stops are necessary. Treats can help keep your pup's energy levels up during a long hike. You might want to consider special Camping Recipes for Dogs.
Keeping Your Dog on a Leash
Even if your dog is well-trained, keeping them on a leash is a good idea. It keeps your dog safe from wildlife, prevents them from straying too far, and shows respect for other hikers on the trail.
Watching Out for Wildlife, Poisonous Plants, and Steep Cliffs
Keep a close eye on your surroundings. Avoid encounters with wildlife, steer clear of poisonous plants, and be careful near cliffs. Getting a guidebook or app that can help you identify potential hazards is recommended.
Cleaning Up After Your Dog
No one likes to step in a surprise left behind by a dog. Always carry waste bags and clean up after your pup. Leave no trace behind!
Respecting Other Hikers and Their Dogs
Respect other hikers' space. Not everyone is comfortable around dogs, especially if they're off-leash. Always keep your dog under control and avoid allowing them to approach other hikers or dogs without permission.
With these tips in mind, you can ensure everyone a fun, safe, and respectful hiking experience.
Conclusion
Going for a hike with your dog can be a mutually rewarding experience. It's an opportunity for both of you to explore nature, enjoy physical activity, and strengthen your bond. Choosing the right dog-friendly hiking trail and adhering to safety measures and hiking etiquette ensures that each hike will be a fantastic adventure.
Whether you are a seasoned hiker or a beginner, always remember to respect nature and fellow hikers. And most importantly, have fun! After all, nothing beats the joy of witnessing your pup's excitement as they explore the great outdoors.
For tips on camping with dogs, see Tent Camping with Dogs.