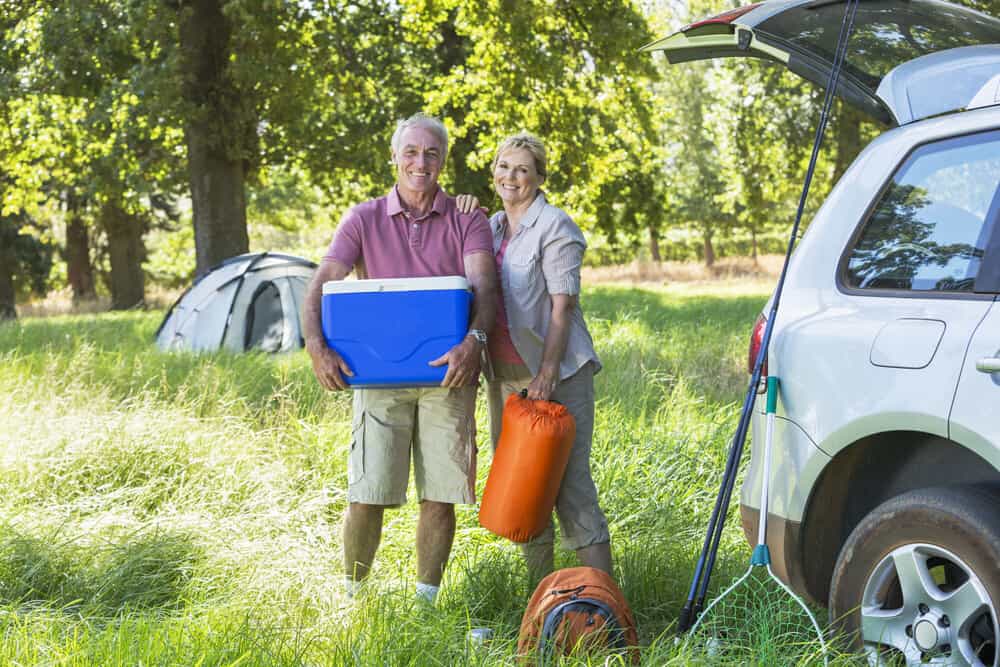 When it comes to camping, one of the most critical pieces of equipment you'll need is a cooler. You don't want a cooler that's too small to fit all your essentials, but you also don't want one that's unnecessarily large and heavy. In this blog, you'll learn about the process of choosing the best cooler for car camping.
Key Takeaways:
Assessing Cooler Size for Camping: The article emphasizes the importance of selecting the right cooler size for camping, balancing the need to fit all essentials without opting for an excessively large and cumbersome option.
Trip Duration Consideration: The length of your camping trip is a critical determinant of cooler size. Short trips may only need a small cooler, while extended stays require larger capacities to store perishables.
Group Size Matters: The number of campers influences cooler size selection; solo campers can manage with a small cooler, couples may opt for a medium-sized one, and larger groups will likely need a substantial cooler to accommodate everyone's needs.
Food and Beverage Storage: The type of food and drinks you plan to bring along—whether perishable items like meats and vegetables or primarily canned beverages—will dictate the necessary cooler size and ice retention capabilities.
Climate and Insulation: In warmer climates, a cooler with superior insulation and more space may be necessary to maintain a cold temperature for food safety and beverage enjoyment.
Transportation and Storage Constraints: Your vehicle's storage capacity and the nature of your journey to the campsite (car camping versus backpacking) should influence the cooler's size and portability.
Cooler Dimensions and Weight: Beyond volume, the physical dimensions and weight of the cooler are crucial, especially considering the material and whether the cooler is eco-friendly and sustainable.
Versatility for Future Use: Consider if the cooler will serve multiple purposes beyond camping, such as home use, and factor in ease of cleaning with features like removable drain plugs and smooth surfaces.
Informed Cooler Selection: The article guides readers through a thoughtful process to choose the best cooler for car camping, ensuring an enjoyable and well-equipped outdoor experience.
Consider the Duration of Your Trip
The first factor to consider when selecting a cooler size for camping is the duration of your trip. Short weekend getaways require smaller coolers, while longer adventures call for larger ones.
Think About Group Size
The number of people you're camping with directly impacts the cooler size you should choose. If you're solo camping, a small cooler might suffice.
For a couple's camping trip, a medium-sized cooler, around 30 to 40 quarts, should do the trick. But if you're camping with a family or a large group, you'll need a larger cooler to accommodate all the food and drinks you'll require.
Determine Your Food and Beverage Needs
If you're mainly bringing canned drinks and perishable food, a smaller cooler will be enough. However, if you plan to bring fresh camping foods that require refrigeration, such as meat, dairy, and vegetables, you'll need a larger cooler with enough ice retention and space to organize and keep everything cool.
High-quality coolers use thick walls and lid seals to keep the cold air in and the warm air out. Coolers with good insulation ensure your ice lasts longer, making them a summer camping essential item.
It's also crucial to consider the climate. In hot weather, you may need more room and better insulation to keep items cold.
Evaluate Your Transport and Storage Options
Your mode of transportation to the campsite and the storage space you have available should also guide your cooler size choice. If you have a spacious car with a lot of room for storage, a larger cooler might not be a problem.
However, if you're backpacking to your campsite, you'll want a smaller, more portable cooler or consider alternative options like soft-sided coolers or cooler backpacks.
Consider the Dimensions and Weight
When choosing a cooler, don't just think about the volume but also the dimensions and weight. The material makes a difference too. Some eco-friendly coolers use lightweight, sustainable materials.
A large, heavy cooler might hold more, but it could be cumbersome to carry and might not fit in your vehicle (see The Ultimate Car Camping Checklist).
Think About Future Use
Lastly, consider whether you'll use your cooler for other purposes beyond camping. Camping coolers don't need to be as portable as those for backpacking, but they can be useful at home in the backyard.
Also, consider how often you'll clean it. After a few days in the great outdoors, your camping cooler can get messy. Look for models with features that make cleaning a breeze, like removable drain plugs for easy water drainage and smooth, wipe-clean surfaces.
Choosing the Best Cooler for Car Camping
Choosing the best cooler for car camping requires careful consideration of trip duration, group size, food needs, transportation needs, dimensions, and future use. By taking these factors into account, you can make an informed decision and ensure that you are well-equipped with the perfect cooler.
Sale
Bestseller No. 1
Sale
Bestseller No. 2
Bestseller No. 3
Bestseller No. 4
Bestseller No. 5
Bestseller No. 6
Sale
Bestseller No. 7
RTIC Soft Cooler 12 Can, Insulated Bag Portable Ice Chest Box for Lunch, Beach, Drink, Beverage, Travel, Camping, Picnic, Car, Trips, Floating Cooler Leak-Proof with Zipper, Blue/Grey
UP TO 24 HOURS OF COOLING – The RTIC soft insulated cooler is the perfect insulated cooler bag to keep your food and drinks cool wherever needed for up to 24 hours.
IT'S A FLOATING COOLER – Not to mention it's a floating cooler, it floats, so your drinks and snacks can go wherever you go. Ideal for a day at the pool or lake, no matter where the adventure takes.
LIGHTWEIGHT AND DURABLE – The soft cooler is lightweight yet tough to take on any terrain with its heavy-duty nylon shell. The portable cooler measures 11 x 9.5 x 11 inches.
MULTIPLE USES – It's the perfect ice cooler, drink cooler, travel cooler, beer cooler, lunch cooler, camping cooler, beach cooler. Features ​​2 inches of closed-cell foam.
LEAK-PROOF WITH ZIPPER – This outdoor cooler is a 100% leak-proof cooler thanks to a durable zipper that prevents spills and leaks. Comes in a 12 can cooler bag, 20 can cooler, 30 can cooler, and 40 can cooler size.
Bestseller No. 8
Arctic Zone Titan Deep Freeze Cooler – 16 Can Zipperless Hardbody Cooler – Moss Green Cooler with Deep Freeze Insulation, HardBody Liner, and SmartShelf
TITAN DEEP FREEZE ZIPPERLESS HARDBODY COOLER: Zipperless cooler features a patented, "flip-open" Zipperless lid for quick access to food and drinks; Keeps ice for up to two days and holds up to 16 cans
DEEP FREEZE PERFORMANCE INSULATION: Features Deep Freeze Performance Insulation with an integrated radiant heat barrier; Perfect for keeping food and beverages cold during travel, tailgates, picnics, and more
HARDBODY LINER WITH SMARTSHELF: Includes a removable HardBody liner with SmartShelf that allows you to separate hard items from soft so sandwiches and other soft foods don't get crushed; SmartShelf easily removes for extra space
DESIGNED FOR CONVENIENCE AND USABILITY: Cooler features an adjustable Backsaver shoulder strap with an anti-slip shoulder pad for carrying comfort and rugged exterior material that is water- and stain-repellent and easy to wipe clean
EASY TO CLEAN: Our products are meant to last no matter how dirty they get; Most food residues on the interior and exterior of the cooler can be wiped clean with mild soapy water and a damp cloth; We recommend air-drying to protect cooler insulation
Bestseller No. 9
Hydro Flask 12L Carry Out Soft Cooler – Insulated Travel Bag – Baltic
Lightweight insulation keeps contents chilled for up to 24 hours
Large, accessible opening for loading, unloading and cleaning
Food grade BPA-free liner with welded seams keep spills and splashes contained
Webbing loops easily attach Dry Storage accessories
Exterior stash pocket
Sale
Bestseller No. 10
TOURIT Cooler Bag 48-Can Insulated Soft Cooler Large Collapsible Cooler Bag 32L Lunch Coolers for Picnic, Beach, Work, Trip, Grey
Large Capacity: Cooler bag can hold a volume of 32L (8.4 Gallons). Make you can bring 48 cans(355ml)of your favorite drink. Overall dimensions approximately 16 ½ x 11 ½ x 10 ¼ inch / 42 x 26 x 29 cm and weight 700g. It is perfect for beaches, camping, hiking, etc
Long-term Cooling Time: The main compartment uses high-density insulating materials and waterproof materials to work together to ensure that the food or drinks stay cool for up to 12 hours! Keeps your food and beverages cool longer.
100 % Leak-proof: The inner lining is made of waterproof high-frequency material PEVA, which is high-density and waterproof. Easy to clean. The exterior is made of high-density Oxford cloth and checked cloth, which is firm and wear-resistant, not easy to tear.
Multiple Carrying: Designed with a padded handle and a detachable shoulder strap, provide various ways of carrying methods, free to choose to carry by hand or with a shoulder strap. Equipped with a front pocket and two mesh pockets for easy storage of items. With a bottle opener, allowing you to enjoy a cool drink anywhere!
Collapsible Cooler Bag & Versatile Use: An elastic rope on the top of the cover, which can put towels and other daily necessities or you can use it to fold the bag up easily to save space when not in use. Large capacity with a longer time insulated, and can also be filled with various snacks and lunches. It is an ideal companion for you to travel or go to work.
FAQs
How do I determine the right size cooler for my camping trip?
Choosing the correct cooler size depends on the duration of your trip and the size of your group. For short trips or solo camping, a small cooler may suffice. For longer trips or larger groups, you'll need a cooler with a greater capacity to store all necessary food and beverages.
What should I consider regarding food and beverage storage when selecting a cooler?
When selecting a cooler, consider the types of food and drinks you'll be bringing. For canned drinks and less perishable items, a smaller cooler may be adequate. If you're bringing fresh foods that require refrigeration, opt for a larger cooler with robust ice retention to keep everything chilled.
Does the climate affect which cooler I should choose for camping?
Yes, the climate plays a significant role in cooler selection. In hotter weather, you'll need a cooler with better insulation and possibly more space to maintain the necessary coolness for your perishables.
What are the transport and storage considerations for a camping cooler?
Your mode of transportation and available storage space are important factors. If you're driving to your campsite with ample space in your vehicle, a larger cooler may be suitable. For those backpacking or with limited space, a smaller, more portable cooler, like a soft-sided cooler or backpack cooler, would be more appropriate.
Why are the dimensions and weight of a cooler important?
The dimensions and weight are crucial because they affect portability and storage. Even if a cooler has a large volume, it may be too heavy or too large to fit in your vehicle comfortably. Lightweight and sustainable materials can offer a balance between size and manageability.
Should I consider future uses for my camping cooler?
Absolutely. If you plan to use the cooler for other activities beyond camping, such as backyard gatherings, you may want a versatile cooler that doesn't need to be as portable as one used exclusively for backpacking.
What features should I look for in a cooler to make it easy to clean after camping?
Look for coolers with features that simplify cleaning, such as removable drain plugs for draining water and smooth interior surfaces that are easy to wipe down.
How can I ensure I choose the best cooler for car camping?
To ensure you choose the best cooler for car camping, consider the trip's duration, group size, food and beverage needs, transportation and storage options, cooler dimensions and weight, and potential future uses. By evaluating these factors, you can select a cooler that meets all your camping needs and preferences.