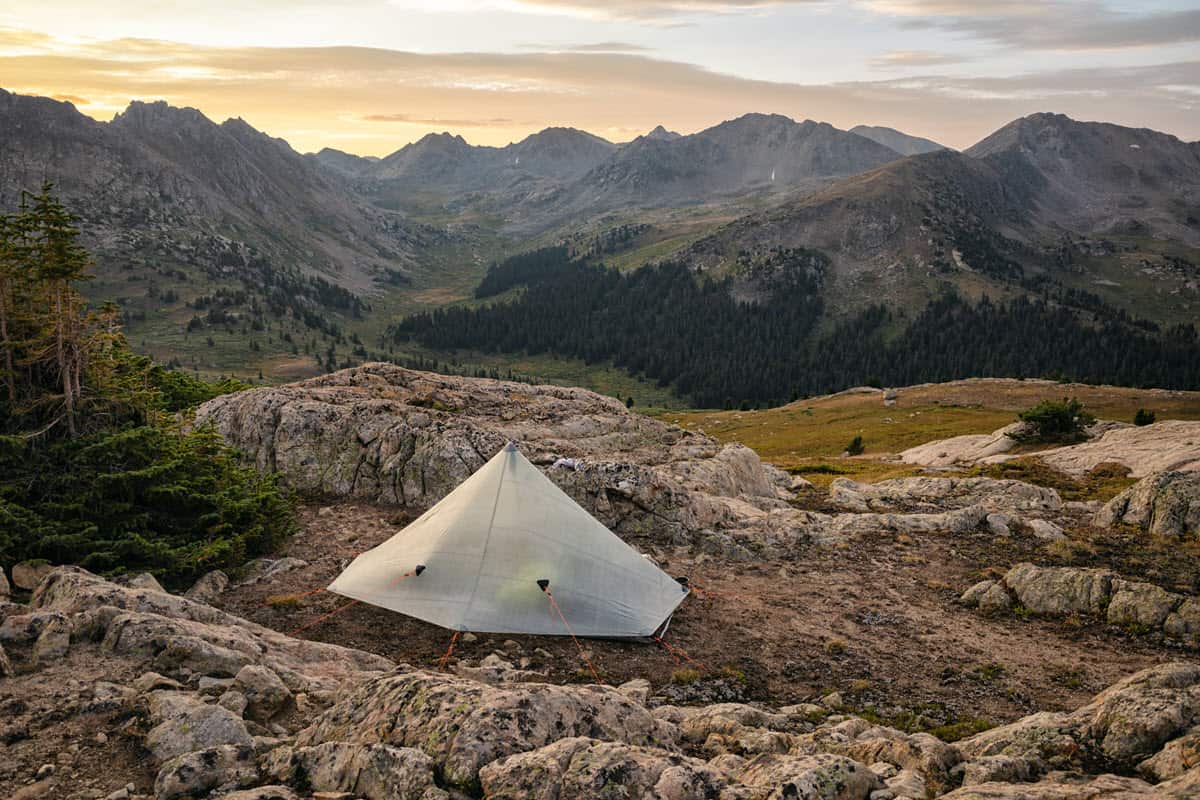 In this post, you'll learn how to find free dispersed camping in national forests, from understanding regulations and guidelines to utilizing online resources, we have all the tips for your next budget-friendly camping expedition.
So grab your tent and hiking boots because we're about to help you uncover some amazing spots for your dream campsite in America's breathtaking national forests.
Key Takeaways
Dispersed camping offers a more secluded and peaceful camping experience away from the crowds that traditional campsites can attract, usually for free, and with greater flexibility as there are no required reservations.
To find free dispersed campsites in national parks, utilize park websites and maps, check regulations and guidelines for dispersed camping, ask park rangers or visitor centers for recommendations, explore off-the-beaten-path areas, or look for designated dispersed campsites.
Understanding Dispersed Camping In National Forests
First, it's important to understand that dispersed camping in national forests refers to camping outside a designated campground without amenities like water or restrooms. However, it is generally allowed on most public lands except for highly developed areas.
Definition And Where It's Allowed
Dispersed camping, commonly called free camping, is the practice of setting up camp on public lands outside designated campgrounds or recreation facilities. It's a fantastic option for outdoor enthusiasts who prefer solitude and want to immerse themselves in nature without the hustle and bustle of crowded campsites.
However, it's important to remember that not all areas within national forests are open for dispersed camping. Some regions may have specific restrictions or closures due to safety concerns or environmental protection reasons.
To ensure you're following proper guidelines and regulations while enjoying this amenity, it's crucial to check with local forest service offices or ranger stations before heading out on your adventure.
Regulations And Guidelines for Dispersed Campsites
Adhering to the regulations and guidelines associated with dispersed camping is essential for protecting the environment and fellow campers. Each national forest has specific rules, so it's important to familiarize yourself with them before setting out on your adventure.
Some common rules you'll likely encounter include practicing Leave No Trace principles – packing out all trash, minimizing the impact on vegetation, and respecting wildlife.
Campsites should be set up at least 100-200 feet away from lakes or streams to protect delicate ecosystems.
In some cases, certain areas may require permits or adhere to fire restrictions during high-risk seasons. These rules can usually be found through National Forest websites or local ranger stations.
Moreover, pets are often allowed in backcountry locations but should always remain under control and follow leash requirements if applicable.
Tips On How To Find Free Dispersed Camping
To find free dispersed campsites, utilize online resources and apps like Campendium or FreeRoam, check national forest maps and ranger stations for camping areas that allow dispersed camping, and pack a paper map in case of no cell service.
Utilize Online Resources And Apps
Utilizing online resources and apps can be instrumental in locating free dispersed campsites in national forests. These tools offer valuable information on available camping areas, allowing campers and outdoor enthusiasts to plan their trips accordingly. Some helpful resources include:
Campendium: This popular app provides detailed information about free camping spots in every state, including national forests.
Boondocking Apps: For those with RVs or vans, boondocking apps offer a wealth of information on free overnight parking locations across the country.
Forest Service Websites: The United States Forest Service and Parks Canada websites often have maps and guidelines on where dispersed camping is allowed within their jurisdictions.
Facebook Groups: Joining dedicated camping or van life Facebook groups can provide useful tips from experienced campers who may share their favorite dispersed camping locations.
Google Earth: This invaluable tool allows users to scout potential camping spots from above, helping identify accessible forest service roads and clearings suitable for setting up camp.
AllTrails App: With comprehensive trail information for thousands of parks, this app includes user reviews and insights into less-traveled areas where dispersed camping might be allowed.
Bureau of Land Management (BLM): The U.S. Department of the Interior's BLM is a fantastic resource for locating free dispersed camping locations in the United States.
Check out our article How To Find BLM Land Near Me.
Always consult with local ranger stations or park services to ensure that the area you've found through these online resources is open for dispersed camping before embarking on your trip.
Check National Forest Maps And Ranger Stations
When looking for free dispersed campsites in national forests, utilizing all available resources is important. Checking national forest maps and speaking with ranger stations are great ways to find the perfect campsite.
Here are some tips on how to effectively use maps and ranger stations:
Obtain a paper map of the area you wish to camp in. These maps can often be found at ranger stations or online. Maps will show you where developed campgrounds are located and where dispersed camping is allowed.
Look for specific symbols on the map that indicate dispersed camping areas. These may include tent icons or other symbols that denote primitive camping areas.
When speaking with rangers, ask about any current regulations or restrictions for dispersed camping. They may also have insider knowledge of lesser-known spots not marked on maps.
Ranger stations can also provide important information regarding amenities such as water sources and restroom facilities in nearby areas.
Always respect the environment and leave no trace when camping in national forests. Utilizing resources like maps and ranger stations can ensure a safe and enjoyable camping experience while preserving these beautiful natural spaces for future generations.
Final Thoughts on Free Dispersed Camping
Dispersed campsites in national forests can be a wonderful way to experience the beauty of nature without breaking the bank. You can enjoy a more private and secluded outdoor adventure by using online resources and maps, checking with ranger stations for regulations and guidelines, and being prepared for self-sufficient camping.
Remember to always pack out your trash, follow established rules and guidelines, track weather conditions, and be aware of potential wildlife encounters. With these tips in mind, you'll have no trouble finding the perfect campsite on public lands across America.
And be sure to check out our posts about the Best National Parks for Camping in the U.S.A. and summer camping essentials to help make the most of your adventure.
Bestseller No. 1
Sale
Bestseller No. 2
Coleman Outdoor Folding Table | Ultra Compact Aluminum Camping Table, White
Ultra-compact aluminum folding table ideal for camping and outdoor cookouts
Aluminum slat top and strong steel frame offer ample support and surface area
Snap-together design assembles and folds up with ease
Fits into an included lightweight carrying bag for easy carrying and storage
Offers enough seating room for 4 people
Bestseller No. 3
Bestseller No. 4
Bestseller No. 5
Frequently Asked Questions About Dispersed Camping
What is dispersed camping?
Dispersed camping is camping that takes place on public lands outside of a designated campground. It allows for free camping where camping is otherwise allowed, as long as you follow certain guidelines and are mindful of the environment.
What are the benefits of dispersed camping?
Dispersed camping offers many benefits, including the ability to camp for free, escape crowded campgrounds, enjoy remote and beautiful locations, and experience a greater sense of freedom and connection with nature.
What are the rules for dispersed camping?
The rules for dispersed camping vary depending on the location and the land management agency overseeing the area. However, generally speaking, you should camp in designated areas if available, pack out all trash, and minimize your impact on the environment.
Where can I find dispersed camping?
You can find dispersed camping on public lands managed by agencies such as the Bureau of Land Management (BLM), National Forest Service, and National Park Service. It is important to research the specific area you are interested in camping in to make sure dispersed camping is allowed.
How do I find free campsites?
There are several ways to find free campsites, including using apps such as Campendium or Free Roam, checking with the local BLM or National Forest Service office, and researching online forums and resources.
What is BLM camping?
BLM camping refers to camping on public lands managed by the Bureau of Land Management. This type of camping allows for dispersed camping and is a popular option for those looking to camp for free in remote locations.
What is the best app for finding free campsites?
There are several apps that can help you find free campsites, including Campendium, Free Roam, and iOverlander. It is important to research which app works best for your needs and the specific location you are camping in.
Are there any camping rules I should be aware of?
Yes, there are several camping rules you should be aware of when dispersed camping. These include respecting the environment, camping in designated areas if possible, and minimizing your impact on natural resources.
Can I camp for free in National Parks?
No, camping for free is generally not allowed in National Parks. However, some parks may allow for dispersed camping in designated areas. It is important to research the specific park you are interested in camping in to see what options are available.
What are some common places to find free camping?
Some common places to find free camping include BLM land, national forests, truck stops, and parking lots of certain businesses such as Walmart. It is important to research the specific location you are interested in camping in to ensure free camping is allowed.