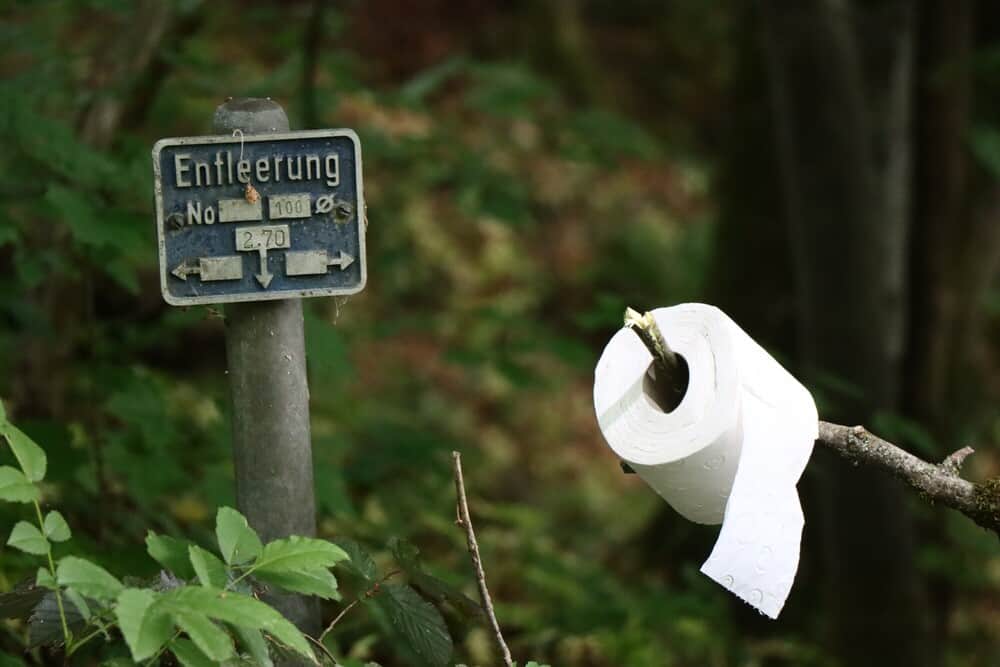 Embarking on an outdoor adventure, whether it's a serene weekend getaway in the wilderness or an epic journey into the heart of nature, is a thrilling experience.
However, amidst the excitement of exploring the great outdoors, one essential aspect that often gets overlooked is maintaining personal hygiene and sanitation. Enter the usefulness of knowing how to make a toilet for camping – a simple yet crucial solution that ensures you can answer nature's call comfortably and responsibly, even when miles away from the nearest restroom.
In this quick guide, we'll give an overview of the art of crafting your very own camping toilet, using easy-to-find materials and ingenious DIY techniques.
Whether you're a seasoned camper or a novice explorer, this article will equip you with the knowledge and skills to make your outdoor excursions more comfortable and environmentally conscious. So, let's dive in and discover how to make a toilet for camping that's practical, efficient, and eco-friendly.
Key Takeaways:
DIY Camping Toilet Essentials: To create a practical and eco-friendly camping toilet, you'll need a 5-gallon bucket, a toilet lid, compostable garbage bags, sawdust or cat litter, toilet paper or biodegradable wipes, and duct tape.
Hygiene and Preparation: Start by thoroughly cleaning and sanitizing the bucket with warm water and soap or disinfectant. This step is crucial for maintaining hygiene throughout your camping trip.
Assembly Instructions: Securely attach a toilet seat to the bucket and line it with a heavy-duty bag, using duct tape for added stability. Add a layer of sawdust or cat litter to absorb odors and liquids.
Waste Management: After use, sprinkle additional sawdust or litter to cover waste and control odors. Seal the bag when full and dispose of it responsibly, adhering to local regulations and environmental practices.
Post-Trip Maintenance: Clean and sanitize the bucket after each trip to ensure safety and extend the life of your DIY camping toilet.
What Materials Do You Need for Building Camping Toilets?
For sturdy yet lightweight toilets, gather the following equipment:
A 5-gallon bucket
Toilet Lid
Heavy-duty, compostable garbage bags
Sawdust, cat litter, or other organic materials
Toilet paper or biodegradable wipes
Duct tape
These tools are everything you need to build one of the summer camping essentials. They will save you some hard-earned cash and get you ready to commune with nature.
What Are the Steps for Creating the Best Camping Toilet?
Once you get your camping supplies, it's time to assemble them into a portable bathroom. Since the average person uses the toilet five times daily, it's one of the most crucial tools for your trip.
Below are four steps to create your portable camping toilet.
1. Prepare Your Bucket
Hygiene is paramount in every aspect of life, especially when traveling outdoors. It all begins with cleaning your bucket and future DIY toilet.
Ensure your bucket is properly sanitized by cleaning it with a mix of warm water and dish soap. You can also use disinfectant or alcohol-based cleaning products.
2. Attach Your Toilet Seat
If you're using a separate toilet seat, measure and mark the distance from the edge of the bucket. Next, attach it securely using screws or other fasteners.
If you're using a toilet seat cover designed for your 5-gallon bucket, snap it onto the top.
3. Line Your Bucket
Begin by putting heavy-duty bags inside the bucket. The bag should hang over the edge to ensure it doesn't fall in and make it hard to remove in the future. Apply duct tape around the rim of the bucket for extra security.
Don't forget to add sawdust or litter to your bag to absorb smells and odors.
4. Cleaning and Disposing of Waste
Everyone has different toilet habits, but most people produce up to 500 grams of feces daily. To keep your camping toilets in working condition, you must clean and dispose of your waste.
After doing your business, add more sawdust or litter to the pile. Once the bag is full, seal and dispose of the waste responsibly. When camping in a designated area, you will likely have to follow rules and regulations.
After every camping trip, repeat step one and sanitize your empty bucket with soap and water. In return, these camping tips will ensure safety and a long lifespan.
Create the Best Camping Toilet for Your Upcoming Trip
The best camping toilet doesn't have liquids, fancy containers, and a stylish look. It should be lightweight, functional, and compact. After reading our extensive guide, you know how to build a DIY toilet with all those qualities.
If you're searching for inspiration to use your newest member of the camping family, you're in luck. You can discover the best places to camp handpicked by CampingEssentialsAndMore this year!
Sale
Bestseller No. 1
Portable Toilet for Camping, Potty Adults, Porta Travel Commode Bucket Car, Travel, Outdoor, Hiking, Backpack, Trips, Tent, Boat, Beach, Traffic Jam, Home
Comfortable and Sturdy: The newly designed elongated-shape toilet is just like the one in your home. It is higher, wider and the seat has more sitting room than the small and older round portable toilet. It makes you feel more comfortable. The portable toilet is sturdy and can hold up to 400 lbs. It is suitable for adults, kids, male, female, women and all family use.
Easy to Carry: The portable toilet is foldable and it is perfect for camping, hiking, backpacking, beach, riding, fishing, boating, marine, traffic jam, hunting, outdoor living, construction site, long road trips and anywhere for emergencies of needing a bathroom/restroom at any time.
Simple to Use and Keep Hygiene: The collapsible toilet can be easily set up and fold down in seconds. There are 12 plastic bags come with the package. And it is compatible with any 6-8 gallon bags for easy clean up and keep hygiene.
Multiple Functions: The portable folding toilet kit can be use not only as a toilet for outdoors, camping toilet, travel toilet, commode bucket, porta potty, or indoor toilet for elder people, and vomiting bucket for pregnant women; but also, as a storage and seat combination, such as trash can, small tool and storage box.
What Is Included: 1 x Portable Toilet; 12 x Toilet Bag; 1 x Waterproof Carry Bag; 1 x User Manual.
Sale
Bestseller No. 2
FUN ESSENTIALS Portable Toilet Kit For Adults, Pop Up Privacy Tent, X Large Camping Folding Toilet, 12 Toilet bags, 12 pack Liquid Waste Gel, Washable Foldable For Travel,RV,Outdoor
✅ FUN ESSENTIALS All In 1 Portable Toilet kit for Adults- A Large portable folding toilet, privacy pop up tent, 12 trash bags, 12 liquid waste gel chemicals. Foldable design and set-up quickly. The all in one kit folds down to just 22″ storage bag which you carry in your back. It little space while transporting or storing it. Designed for field use and emergencies.
✅ More Comfort With Large Portable folding Toilet- Higher and bigger size, more comfortable. We increased the height of this toilet to 15.75inch instead of the normal 11.8 inches products on the market, which is very suitable even for man use. In addition to this, We widened the seat cover, making you feel more comfortable when sitting
✅ Most Privacy and Sanitation For Your Next Adventures-Full Size Privacy Pop up Tent. The FUN ESSENTIALS 6 feet 2 inches instant privacy tent offers you instant privacy for camping, outdoor shower, changing cloth, bathroom and potty use! Easy installation with instructions.
✅ Enjoy More and Pay Less- Our goal is to provide quality products with the best value, so you don't have to pay more than you have to.
✅ The Best Value With Premium Quality-FUN ESSENTIALS All IN 1 portable toilet kit is truly the most valuable toilet kit on the market. It can be used on all your outdoor adventures including camping, fishing, beach, hiking and traveling. We work hard to provide the most convenient products so you and your family can keep enjoying live an adventurous life.
Sale
Bestseller No. 3
PAHTTO Portable Camping Toilet, Foldable Toilet for Adults with Detachable Phone Shelf and Toilet Paper Holder, Waterproof Porta Potty with Lid for Camping, Hiking, Long Road Trips, Car, Black
【With Detachable Phone Shelf and Toilet Paper Holder】This portable potty is specially designed with phone shelf and toilet paper holder, which spares enough space to fit for most of the phones and paper rolls in the market. It's convenient for use both at home and outsides.
【Sturdy and Comfortable】Our portable toilet for camping is more comfortable with a higher and wider seat compared with those round ones in the market. Made of premium ABS plastic, it is washable and sturdy to bear up to 400lbs, suitable for both adults and kids.
【Easier to Use and Portable】PAHTTO folding camping toilet is further updated to be easier to set up or fold down in seconds, particularly as it has only 7 side support sheets, while others on the market have 12. Coming with a water-proof storage bag, it can be conveniently packed into your bag without taking much space. Wrap any 6-8 gallon bag then you can use it anywhere and anytime.
【Multifunctional and Widely Applicable】With lid, it can not only be used as an outdoor toilet, but also as a trash can, a storage box, a stool, a vomiting bucket, etc. to satisfy your different needs when taking outdoor activities. Perfect for backpacking, traveling, camping, fishing, hiking, long road trip, and more.
【Package and Warranty】Package includes 1x Folding Camping Toilet, 1x Detachabke Phone Shelf& Paper Holder, 1x Water-proof Storage bag and 12x Toilet Bags. We also provide 1-year warranty for free replacement or full refund for non-human damage. Please feel free to contact us if there's any problem and we promise to give you a satisfying solution.
Bestseller No. 4
VINGLI Portable Toilet | Indoor Outdoor Commode w/Detachable Inner Bucket & Removable Paper Holder, Lightweight & Compact for Camping, Boat, Van, Emergency Use (Grey)
✔ PORTABLE & DETACHABLE: Can be detached to two and nested in one. Compact design and lightweight PP material makes transportation and storage more easier. Weight: 5.5 lbs. Ready for your trips anywhere in comfort and easily
✔ EASY CLEANUP & LESS ODOR: Dual lid seal and reduce the odor. Removable inner bucket allows easy and decent empty. Moreover, no cleaning is needed when you use a toilet bag in the barrel.
✔ HIGHER SEAT HEIGHT: Features more comfort for an adult at average height. Suggested for adults under 300 lbs. Measures 18" L x 15.5″ W x 15.7" H when stands up and lid closed.
✔ STABLE & HUMANIZED: Features sturdy construction with nested connection and bottom anti-slip line. There contains a detachable toilet paper holder, which also is a mobile phone seat. What's more, it's also a nice seat when lid closed.
✔ VARIOUS APPLICATION: Not only ideal for outdoor events like camping, hiking, boating, fishing, road trip etc., but also for indoor temporary use like healthcare or festival parties. Space-saving design allows you to store one in your vehicles for emergency use. Decent look may you prepare one in home basement or hunting shed.
Sale
Bestseller No. 5
Camco Portable Toilet Bucket | Features 3 Bag Liners for Easy Clean Up & Attached Carry Handle | Includes Seat and Lid Attachment (41549)
Portable Travel Toilet: This portable camping bucket is designed for camping, RVing, boating, or any other recreational activity; the 5-gallon camping toilet comes with a seat and lid attachment that snaps securely onto the rim of the bucket
Sturdy Construction: This bucket toilet is made of durable and lightweight UV-resistant polypropylene
Easy Handling: Portable toilet features an attached carry handle that ensures easy transport; it comes with 3 bag liners
Easy to Clean: This portable toilet for camping has a smooth interior, making it easy to empty and clean; the label on the bucket is Camco's branding and has the instruction on it, it is not designed to be removed
Quality Products: Camco makes quality products for RVing, boating, camping, towing, tailgating, and grilling that help take your passion for the outdoors to the next level
Bestseller No. 6
AOKE Portable Toilet Powder, 25 Pack Poo Gel for Camping Eco Absorbent Gel Liquid Waste Gelling and Deodorizing Powder, Emergency Toilet Waste Treatment for Outdoor Camping Hiking
[WIDE APPLICATION] Poo absorbent powder is widely used for camping toilet bags,portable potty bags, and other liquid waste in compost bags, portable potty bags, wag bags, urine bags, toilet bags, luggable loo bags, nursing emergency bag. Aslo be used for portable toiletet bucket, porta potty, camping toilet, and emergency toilet, etc. Also for camping, hiking, boating, fishing, beach, RV trip, long road trips, outdoor shower tents, camping showers, home care, school, hospital, nursing homes,etc
[PREMIUM ECO-FRIENDLY & Degradable Gel] Our portable toilet chemical gel powder is mainly made of a super absorbent polymer, which can absorb and retain a significantly large amount of liquid relative to its own mass while emitting a light lemon fragrance, allowing you to always maintain an elegant environment. This absorbent gel can naturally degrade in soil composting within 7 days or in just 5 days when exposed to sunlight. It's an ideal choice for environmentally conscious travelers.
[How to Use] Make sure you have already placed the portable toilet bags in the bucket. There are two methods available: either add the liquid waste first and then sprinkle the portable camping potty gel powder into it, or add the porta-potty chemicals first and then the liquid waste. Finally, wait for 1-2 minutes for the liquid waste to solidify.
[VALUE PACK] You will receive a package containing 100 sticks, each conveniently packed with 10g of product. Each stick can treat 2000ml of pure water or 650ml of urine. They are all neatly packed in an attractive gift-ready packaging box. The product features a pleasant lemongrass scent to help eliminate odors without the use of harsh chemicals.
【A huge surprise】This products are guaranteed .If any problem when arrive or during use, please feel free to contact us. Our customer service executive will be there at your service. We ensure you can get the complete service and true value of your money.
Bestseller No. 7
Portable Toilet for Camping, Folding with Lid, Waterproof Porta Potty Car Bucket Adults, Travel Camping Hiking Boat Trips Beach
New Update – New foldable portable toilet for adults, the larger size and wider portable toilet seat brings a more relax experience. Our camping toilet is made of premium quality ABS plastic and unique fastener design, it weighs only 3.19 pounds and has a load capacity of up to 400 pounds, sturdy and washable
Easy to Carry – This portable toilet for car is foldable for convenient storage, space-saving. It has the characteristics of excellent load-bearing capacity and light weight. This is a perfect portable folding toilet for traffic jam, camping, traveling, riding, hiking, backpacking, fishing, boating, marine, long road trips, beach, outdoor living, construction sites and anywhere anytime for emergencies, etc
Multi-Functions – Functional cover design, makes you free to switch various modes of use, very practical. Our portable toilet for car can be used not only as a toilet for outdoors, but also a portable seat with storage function, trash can, small stool, storage box, indoor toilet for the elderly, vomit bucket for pregnant women, etc
Easy to Use & Clean – This porta potty for camping can be easily set up and fold down in seconds. Super easy and quick. Our portable camping toilet is compatible with any 6-8 gallon bag for easier clean up to make doing your business on the road a breeze. Before use, please put on the included plastic garbage bag to keep the toilet clean and tidy
Package & Service – Included 1 x portable toilet bucket with lid, 1 x carry bag, 1 x exquisite packaging box, 20 x garbage bags(10 per roll, 2 rolls total). The extra thick and black odor-free toilet bags keep you away from embarrassment. If there are any problems with our products, contact us and you will get a satisfactory solution
Bestseller No. 8
Ann Katy Upgrade XL Portable Toilet for Adults, Extra Large Portable Travel Floding Toilet, Camping Tall Toilets with Lid for Adults and Kids Compact Potty for Car,Hiking,Beach -Leather,Density board
【XL Portable Toilet】Many portable camping toilets on the market are only 11 inches, which is very difficult for people over 5 feet. Our upgraded toilet is 16.1 inches, which is 40% higher than many toilets. It is an perfect outdoor emergency toilet for adults and the famlies.
【New Upgrade】The newly upgraded outdoor toilet is made of sturdy density board and high-quality leather, which is skin-friendly and soft . The new upgraded version comes with two convenient handles for easy mobility, and it also includes a large pocket for storage or for keeping your phone handy.Compared with the cold plastic, it is softer and more comfortable, giving you the comfort of home.It holds up to 440 lbs,suitable for the whole family!
【Portable Folding Size】Innovative folding design, the folding size is only 3.15*15*11.8inch, the compact size saves space for your outdoor backpack. At the same time, we provide a waterproof storage bag, you can easily put it in the car, luggage and backpack!
【Easy to use】Simple structure, it can set up and fold in seconds, with the provided garbage bag (also compatible with any 6-8 gallon garbage bag), when nature is calling, you and your family will get a good take care, no longer have to teach kids to squat in holes and bury poo!
【Multifunctional】Our camping potty can be used for outdoor, truck, hiking, long travel, boating and camping, freely switch various usage modes, as storage box, trash can, bar bucket, small dining table, retractable stool and indoor toilet.
Bestseller No. 9
JISSBON Portable Camping Toilet Water-Proof, Foldable, & Supports up to 700lbs. Portable potty for adults travel car Fishing, Long Trips, Tents…
【Sturdy & Durable】Made with high-quality ABS material, this portable camping toilet is built to last with a waterproof and drop-resistant design. Boasting a load capacity of up to 700 lbs, this toilet provides stability on any flat surface.
【Foldable Toilet】Designed for convenience, this collapsible toilet has a compact size of only 4 inches when folded and easily expands up to a max height of 12.5 inches. It's easy to install and carry with you on the go.
【Lightweight and Portable】This camping toilet is an excellent multi-purpose accessory that can be used as a toilet, storage box, small stool, or indoor toilet for the elderly. It is light and easy to transport making it perfect for camping, hiking, fishing, road trips, and construction sites.
【Clean and Hygienic】The toilet comes with a complete package that includes folding toilet, storage bag, disposable trash bags, and toilet pads. This makes it easy to use and dispose of waste, ensuring maximum cleanliness and hygiene even in the great outdoors.
【Easy to Carry】This portable toilet is designed for convenience and portability, with a foldable design that makes it easy to store and transport. It can accommodate a significant load and is perfect for any outdoor activity, including traffic jams, camping, traveling, horseback riding, backpacking, boating, and any emergency situation you may encounter.
Bestseller No. 10
SereneLife Portable Toilet with Carry Bag – Indoor Outdoor Toilet with CHH Piston Pump & Level Indicator – 5.3 Gallon Large Waste Tank – 100-120 Flushes for RV, Camping, Hiking & Boating
CONVENIENT, COMPACT, AND PORTABLE – The SereneLife portable toilet is small enough to fit in the trunk of your car but large enough to sit on comfortably. Its 37x41x35cm size means you can take it with you wherever you need to go, in a tent or on the road.
LARGE CAPACITY OF UP TO 120 FLUSHES – Our extra-large tank of 5.3 gallons holds more sewage than ever before, saving you the hassle of changing it often. Flush it up to 120 times with confidence – the waste tank level indicator will let you know when to empty it.
LEAK-PROOF AND ODORLESS DESIGN – To prevent unnecessary messes or spills, our design features a rotating emptying spout, allowing you to quickly and discreetly empty it when full. And it has a double-sealed drain valve to keep any nasty smells in.
STURDY AND EASY TO CLEAN – This leak-proof cassette toilet for RV travel is crafted from high-density, premium quality polyethylene for a corrosion-resistant travel toilet. It is an easy-to-clean material that is highly durable, making it perfect for your adventures.
DO YOUR BUSINESS ANYWHERE – Take our small, portable toilet anywhere you need to go. From camping, caravan, or trailer vacations with your family to boating trips with friends, use this portable bathroom both inside and outside with ease.
FAQs
What are the essential components needed to construct a DIY camping toilet?
To assemble a functional DIY camping toilet, you'll need a 5-gallon bucket, a snap-on toilet seat lid, biodegradable garbage bags, organic absorbent materials like sawdust or cat litter, biodegradable wipes or toilet paper, and duct tape for secure bag placement.
How do you ensure hygiene when making a portable camping toilet?
Hygiene is paramount when creating a portable camping toilet. Begin by thoroughly cleaning the bucket with warm soapy water or a disinfectant solution. After each use, cover the waste with sawdust or cat litter to manage odors and maintain cleanliness.
Can you explain the step-by-step process of assembling a camping toilet?
Certainly. Start by sanitizing the 5-gallon bucket. Then, attach the toilet seat lid securely. Line the bucket with a heavy-duty, compostable bag, and secure it with duct tape. Add a layer of sawdust or cat litter to the bottom to absorb liquids and odors. After use, add more absorbent material and seal the bag for disposal when it's full.
What is the best way to manage waste in a DIY camping toilet?
After using the camping toilet, sprinkle a generous amount of sawdust or cat litter over the waste to absorb moisture and minimize smells. Once the bag is full, seal it tightly and dispose of it according to local regulations, ensuring responsible waste management.
Are there any eco-friendly tips for maintaining a camping toilet?
Yes, using eco-friendly materials is key. Opt for compostable bags and natural absorbents like sawdust or biodegradable cat litter. Always dispose of waste responsibly, and consider using a solar-powered UV light waste sanitizer if available.
What should be done with a DIY camping toilet after the trip?
Post-trip, empty and clean the bucket with a disinfectant, and prepare it for storage or the next use. This ensures the longevity of your camping toilet and maintains hygiene for future camping adventures.