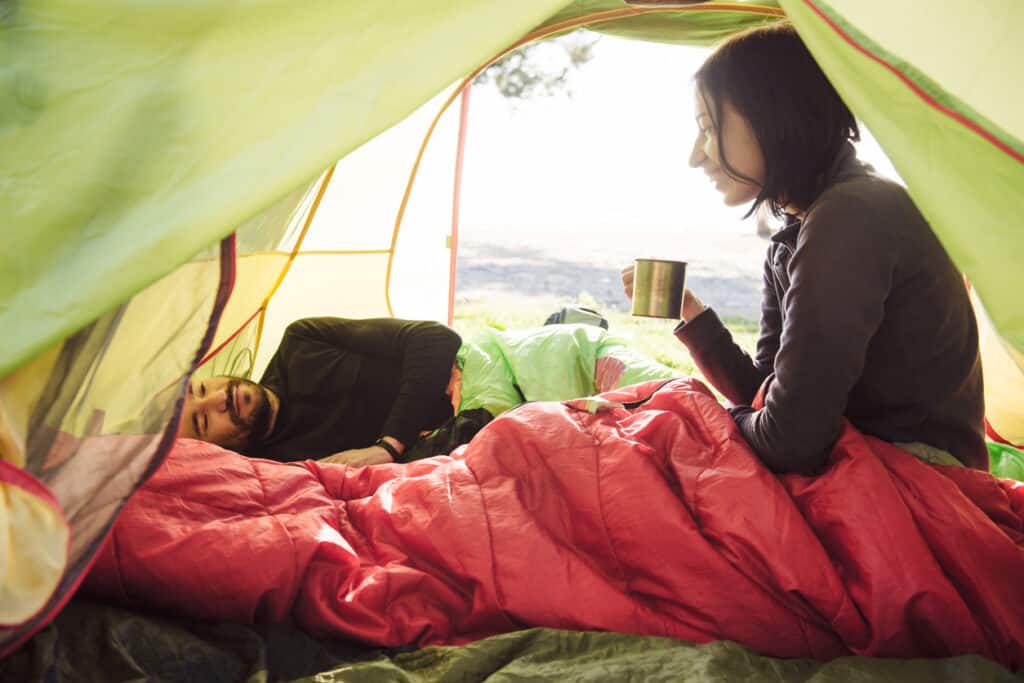 The best coleman sleeping bags are good quality bags designed to withstand years of heavy use.
Coleman is easily one of the most recognized brands in outdoor camping gear. Even people who don't go camping know about them because of popular Coleman products like coolers. My Dad had a green and white steel-belted Coleman cooler that we took on family camping trips for decades… it was built like a tank.
Coleman also makes tents, sleeping bags, coolers, camp cookware and gas stoves, camping lanterns, and furniture – Coleman makes everything you need for your outdoor adventures.
But this article is about sleeping bags, so we've chosen a few that are worth checking out.
Best Coleman Sleeping Bags
Coleman Big Basin 15 Big and Tall
Looking for a sleeping bag that will keep you comfortable in chilly temperatures down to 15 degrees? Consider the Coleman Big Basin 15 Big and Tall Sleeping Bag. With its hybrid shape, mummy-style insulation, and extra space, this bag is perfect for anyone who wants to be warm and comfortable on cold nights.
The adjustable hood and two-way zipper also allow you to customize ventilation, making it ideal for use in a variety of temperatures. And when things start to cool down, the lightweight Coletherm insulation will help retain heat, while the Thermolock draft tube keeps the warmth from escaping through the zipper. The fleece-lined footbox and unique quilting construction make this bag even more comfortable. The ZipPlow zipper ensures snag-free opening and closing every time.
Durable and ripstop-reinforced, this sleeping bag is sure to last season after season.
Find the Coleman Big Basin 15 Big and Tall Sleeping Bag at Amazon, or check it out on eBay.
Coleman Dunnock Cold Weather Sleeping Bag
If you're looking for an affordable and reliable cold-weather sleeping bag, the Coleman Dunnock sleeping bag might be perfect for you. It's designed to keep you cozy and comfortable down to temperatures as low as 20 degrees Fahrenheit, making it ideal for winter camping trips.
The machine washable cotton cover and cozy cotton flannel liner are soft and comfortable, while the Thermolock™ System prevents heat loss through the zipper. For added convenience, the sleeping bag can be zipped together with another Coleman Dunnock Cold Weather sleeping bag to create double the room.
The two-way no-snag patented zipper plows fabric away from the zipper, making it easy to get in and out of the bag. And if it gets a little too warm on a summer night, unzip the bottom for extra ventilation. The Roll Control™ Design makes folding quick and easy, and the convenient Wrap 'N' Roll™ integrated packing system makes storage a cinch. Plus, the 5-year limited warranty gives you peace of mind.
As always, a good place to get a baseline on prices is Amazon, and you should check out eBay.
Coleman Big Game Sleeping Bag
The Coleman Big Game™ 0°F Cold-Weather Big and Tall sleeping bag is a great option if you're looking for a warm and roomy sleeping bag for your camping trips. With a big and tall design that can accommodate campers up to 6 ft. 5 inches, this sleeping bag is perfect for those colder temperatures. The full-length Thermolock™ draft tube helps to keep your body heat from escaping, while the Coletherm® hollow polyester insulation helps to retain heat better with less weight.
When things start to warm up, the 2-way zipper allows you to open the sleeping bag from the bottom for more ventilation. And when it's time for bed, the soft ComfortCuff™ fabric trim around the opening will surround your face with comfort, while the cozy cotton flannel lining provides the same for the rest of your body. To top it all off, the machine-washable construction makes cleaning less of a chore.
Get a Coleman Big Game™ 0°F Cold-Weather Big and Tall at Amazon, or have a look at eBay.
Quick Tip: Going car camping? See our article about Choosing The Best Suv Air Mattress
Coleman Tandem Sleeping Bag (Big and Tall)
The Coleman Tandem sleeping bag is a 3-in-1 Double Sleeping Bag designed for big and tall people and is the perfect sleep solution for people up to 6 ft. 4 in. tall. It offers a 3-in-1 design, allowing you to choose between using it as a double-sized bag or unzip the bag so you can use it as two separate sleeping bags. And the integrated lightweight sheet opens up more options.
The bag is made of lightweight Coletherm hollow polyester insulation that provides comfort and warmth down to 45 degrees Fahrenheit. Plus, the ZipPlow zipper assures you of snag-free opening and closing every time. Packing up is a breeze with the Roll Control system to keep your bag lined up while rolling and the no-tie Quick Cord system to keep things locked in place. Finally, extra storage protection is provided by an included stuff sack.
Amazon always has competitive prices, or check it out on eBay.
Bestseller No. 1
Coleman Sleeping Bag | Cold-Weather 20°F Brazos Sleeping Bag, Navy, 10″ x 17.8″ x 10.4″
KEEPS YOU COZY: Stay warm in temperatures as low as 20°F
LIGHTWEIGHT: Hollow polyester insulation for better heat retention with less weight
PREVENTS HEAT LOSS: A draft tube along the zipper keeps body heat from escaping
BUILT TO LAST: Durable construction keeps insulation from shifting
DIMENSIONS: 75 x 33 inch. Fiberlock Construction prevents insulation from shifting, extending life of your sleeping bag
Sale
Bestseller No. 2
Bestseller No. 3
Bestseller No. 4
FAQs for Coleman Sleeping Bags
What is the best Coleman sleeping bag for warmth?
The best Coleman sleeping bag for warmth would be one that has a high-temperature rating. For example, the Coleman North Rim Adult Mummy Sleeping Bag is rated for temperatures as low as 0°F, making it an excellent choice for cold-weather camping.
Can Coleman sleeping bags be machine washed?
Yes, many Coleman sleeping bags are machine washable. However, it's always a good idea to check the care instructions on your specific bag before washing. Check out our how to wash a sleeping bag post for more detailed information about washing a sleeping bag.
How do you properly store a Coleman sleeping bag?
Coleman sleeping bags should be stored loosely to maintain their insulation properties. Many come with a stuff sack for easy storage and transport. Please read how to store a sleeping bag for additional information.
What is a good weight for a Coleman sleeping bag?
The ideal weight for a Coleman sleeping bag depends on your specific needs. If you're backpacking, you'll want a lighter bag, while car campers might opt for a heavier, more luxurious bag.
What types of Coleman sleeping bags are available?
Coleman offers a variety of sleeping bags, including mummy, rectangular, and children's sleeping bags. They also offer bags designed specifically for women.
Are Coleman sleeping bags water-resistant?
Some Coleman sleeping bags are water-resistant, which can be useful when camping in damp conditions.
What is the temperature rating on Coleman sleeping bags?
Coleman sleeping bags come with different temperature ratings to accommodate various weather conditions. Some are rated for temperatures as low as 0°F, while others are suitable for milder weather.
Are there Coleman sleeping bags designed for children?
Yes, Coleman offers sleeping bags designed specifically for children. These bags are typically smaller and may have additional features to ensure comfort and safety.
What features should I look for in a Coleman sleeping bag?
When choosing a Coleman sleeping bag, consider features like temperature rating, shape (mummy or rectangular), size (adult, women's, or children's), and whether it's water-resistant.
Where can I buy Coleman sleeping bags?
Coleman sleeping bags can be purchased from a variety of retailers, including the Coleman website and Amazon. Prices and availability may vary.
Are Coleman sleeping bags good quality?
Yes, Coleman sleeping bags are good quality bags designed to withstand years of heavy use. I should know; I've been buying and using quality Coleman products for over 50 years, and I've always been very happy with their quality and price.
Top-Rated Sleeping Bag Brands