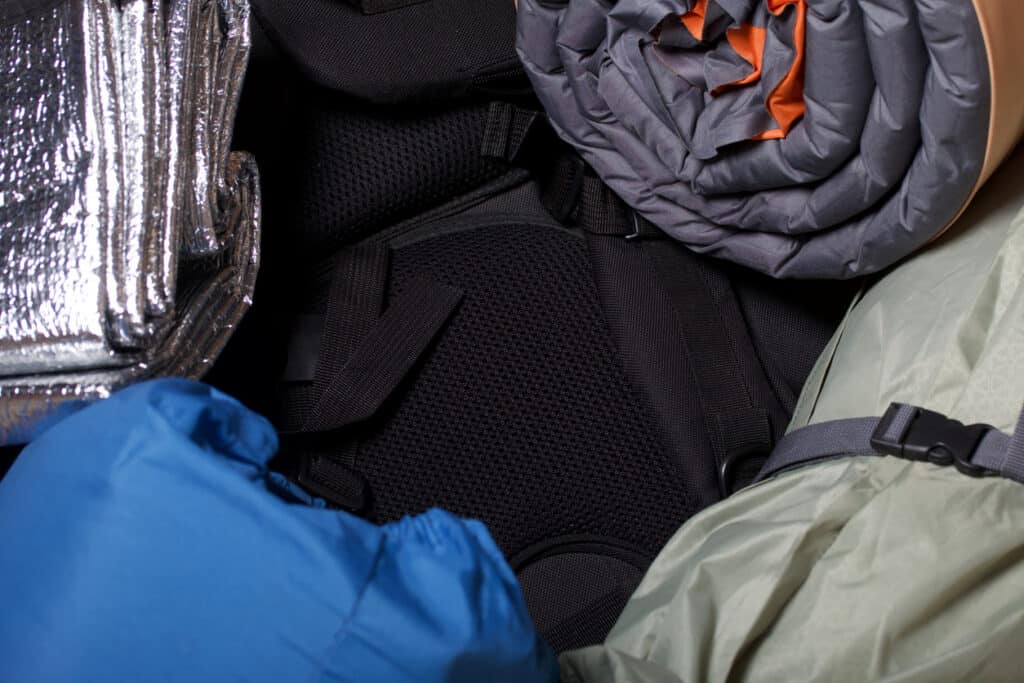 For most of us, our sleeping bags will spend more time in storage than they will in use.
Properly storing a sleeping bag is key to extending its lifespan. It helps maintain insulation, reduce the growth of bacteria and prevent other wear and tear caused by exposure to sunlight and moisture.
Sleeping bags should be stored in a loose, unpacked state in a dry, dark place that is not subject to extremes in temperature or high humidity.
Now, let's dive deeper into answering the question, "How to store a sleeping bag?"…
How To Store A Sleeping Bag Properly
Avoid storing it in its stuff sack to prevent compression.
Remove and wash liners separately.
Air out the bag to eliminate odors and moisture.
Ensure the bag is dry to prevent mold growth.
Fluff the fill to redistribute insulation evenly.
Hang the bag in a dry, temperature-stable area, avoiding basements and attics.
Use a large, ventilated sack for long-term storage. Avoid car trunks due to temperature fluctuations.
Remove It From Its Stuff Sack
It can be tempting to tuck your sleeping bag back into its stuff sack after using it each night at camp. The more time your sleeping bag spends compressed inside its stuff sack, the less useful it will become. This is because the down feathers or other fill inside the bag can get crushed during compacted storage, reducing the insulating value of the bag.
Because of this, it's not a good idea to store your sleeping bag inside its stuff sack for an extended time at home or on the trail.
Remove Sleeping Bag Liner
If you use a sleeping bag liner, then be sure to remove the liner and store it separately from the bag. And don't forget to wash your liner before storing it.
Air Your Sleeping Bag Out
Airing out your bag after a journey, or even during the day on a multi-day excursion, is an excellent practice, even if your bag didn't get wet. This step will allow the down feathers or synthetic fill to recover their loft and eliminate any musty odors that may have accumulated over time.
Air out your bag by opening the zipper before putting it away. If you want to reduce odors further, spray your bag with Febreze, but don't forget to ensure it's dry before putting it away.
Keep the Bag Dry
Dry bags are a must for any trip, regardless of the weather. To ensure your comfort and safety, and the longevity of your gear, you should always make keeping your sleeping bag dry a major priority.
There are two main problems with storing your sleeping bag when wet. Firstly, it can cause mold to grow on the fabric, which is bad for both the fabric and your health. Coughing, sneezing, wheezing, and even fever are the most common mold-induced health complaints.
And moisture promotes compression of the sleeping bag's insulating fill, lowering its loft and decreasing its insulation value.
Fluff the Fill
When you sleep in your sleeping bags, the weight of your body can pack the feathers (or other fill) into little bundles inside the baffles. The same thing happens when you stuff them into compression sacks. This clumping leads to uneven distribution of insulation, which can cause cold spots caused by chilly air seeping through while you sleep.
Before putting your bag away, shake it a bit to redistribute the down and remove any remaining clumps from the feathers. Then, spend a few minutes kneading and massaging the material to ensure that the down or other insulating materia is well distributed throughout.
Hanging Your Sleeping Bag Best
Like your favorite down jacket, sleeping bags fare best when hung; keeping them in any other way poses a risk of damaging the feathers that provide their loft and, in turn, their insulating power. The same things holds for synthetic insulation. If you hang your bag up when you're not using it, the down feathers or fill can spread out and breathe, which helps them stay fluffy, springy, and dry.
Your bag should be hung in a high cabinet so it can swing freely without touching the floor. Basements and lofts, in particular, are not recommended because of the high humidity and potential for mold growth that they would pose.
The Ideal Places To Store Your Bag
You may wonder what the ideal place to store your sleeping bags is, considering things such as humidity and temperature. Avoid exposing your bag to high moisture levels and severe temperatures, such as those found in wet basements and unheated (and uncooled) places like garages and attics.
Because of their susceptibility to temperature fluctuations, car trunks are not a good storage option. Find a good spot in the corner of one of your closets instead.
Also, you can choose to place your sleeping bag in a large, ventilated sack. You'll want to locate a spacious nook in the closet. That's because the oversized cotton storage bag included with most bags nowadays is the most realistic option for long-term storage.
The air can flow through the bag while yet keeping the contents manageably contained. You might be able to get away with using a king-size pillowcase instead of a large storage bag if the bag you purchased did not come with one. But really, you'd be better off investing in a cotton or mesh sack (90 liters is a nice size) than a smaller pillowcase.
Quick Tip: you may also be interested in our article How to Store Camping Chairs.
FAQs
Is it OK to Store a Down Sleeping Bag Compressed?
No, it's not advisable to store a down sleeping bag in a compressed state for an extended period. Compressing a down sleeping bag can cause the feathers to clump together, reducing the bag's loft and insulating properties. For long-term storage, it's better to use a breathable storage sack or hang the bag in a closet to maintain its loft and warmth.
Why Shouldn't You Store a Sleeping Bag in a Stuff Sack?
Storing a sleeping bag in a stuff sack for an extended period can lead to insulation damage and reduced loft. This is particularly true for sleeping bags with down insulation. A stuff sack compresses the bag, which can affect its ability to trap air and provide warmth. For long-term storage, it's recommended to use a breathable sack or hang the bag to preserve its insulating properties.
Is it Better to Roll or Stuff a Sleeping Bag for Storage?
For short-term storage or while on a camping trip, stuffing a sleeping bag into a stuff sack is generally fine. However, for long-term storage, it's better to either hang the sleeping bag or store it in a large, breathable sack. Rolling the sleeping bag tightly can also compress the insulation, so it's best to store it in a way that allows it to maintain its loft.
How Long Can a Sleeping Bag Stay Compressed?
It's not recommended to keep a sleeping bag compressed for more than a few days, especially if it has down insulation. Extended compression can damage the fibers and reduce the bag's ability to provide adequate warmth. If you must keep it compressed, try to limit this to as short a time as possible and always ensure it's completely dry before doing so.
How Do You Pack a Sleeping Bag for Storage?
To pack a sleeping bag for storage, first ensure it is clean and completely dry. If you're using a storage sack, loosely place the sleeping bag inside without compressing it too much. If you're hanging it, find a cool, dry place away from direct sunlight and moisture. Some people also opt to store their sleeping bags in large cotton pillowcases or breathable mesh bags to allow for better air circulation.
What is the Correct Way to Store a Sleeping Bag?
The correct way to store a sleeping bag involves several crucial steps. First, make sure to wash and thoroughly dry your sleeping bag to remove any moisture, as this can lead to mold and mildew. Once dry, it's best to hang the sleeping bag in a cool, dry space like a closet. If hanging isn't an option, use a breathable cotton or mesh sack for storage. Avoid using compression sacks for long-term storage as they can damage the insulation and reduce the bag's effectiveness.
Recommended Sleeping Bags