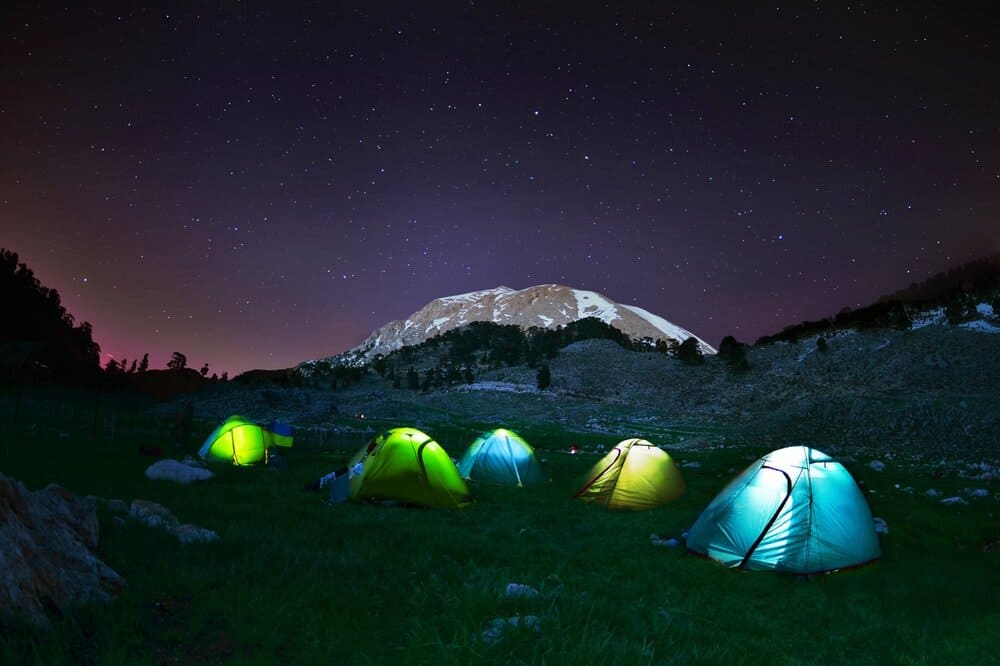 Did you know the human body can only survive about 100 hours without water? This essential liquid ensures a comfortable and safe camping experience. But what happens if you don't know how much water to bring camping?
This ignorance can lead to dehydration, discomfort, or potential health risks. Understanding how much water to bring helps to make sure you keep hydrated during your outdoor adventures. Keep reading and learn more about water containers for camping and the amount to bring.
Key Takeaways:
Essential Hydration Needs: An average person requires about 2 liters of water per day for drinking, which can double during active pursuits like hiking or in hot and dry climates.
Versatile Water Containers: For camping, water storage options range from collapsible bladders for lightweight packing to rigid jerry cans for durability, with size depending on the number of campers.
Beyond Drinking: Water is crucial for cleanliness (handwashing, dishwashing) and first aid (wound cleaning), emphasizing its multifunctional role in camping.
Cooking and Cleaning Calculations: Cooking and cleaning can consume an additional 2-4 liters of water per person per day, with the exact amount varying based on meal preparation methods.
Natural Water Sources: While natural sources like streams and lakes can supplement water supplies, it's vital to purify this water through boiling or purification tablets to ensure safety.
Preparation is Key: Understanding and preparing for your water needs is essential for a safe and enjoyable camping experience, highlighting the unpredictability of nature and the necessity of adequate preparation.
The Importance of Water During Camping
Water is one of the most vital resources you must consider when you head out into the great outdoors. Adequate supply can distinguish between an enjoyable experience and a dangerous one. Camping in different terrains and climates requires varying amounts of water.
Besides drinking, you will need it for cooking, cleaning (see Do I Need Biodegradable Soap for Camping?), and first aid. Without a proper supply, dehydration can lead to dizziness and fatigue.
How Much Drinking Water to Carry
An average person requires about 2L of water per day for drinking. This number can vary based on several factors. You will need about 4L per day if you're hiking or climbing.
Hot and dry climates make you sweat more, increasing your water intake needs. You might not feel as thirsty in colder climates.
Water Containers for Camping
The market contains various water containers for camping. There are collapsible bladders, rigid jerry cans, and much more. Collapsible containers are lightweight and great for backpacking trips.
Rigid ones are durable and perfect for car camping. If you're camping with a group, choose larger containers. If you're solo, smaller bottles or bladders would suffice.
Water Benefits Beyond Hydration
Water is essential for maintaining cleanliness. You'll need it to
Washing your hands before a meal
Take a refreshing splash on your face
Water can also play a pivotal role in first aid. For instance, clean water can help clean the wound in case of cuts or burns. Also, in survival situations, the reflective surface of water can help with signaling.
Calculating Water for Cooking and Cleaning
Cooking meals and cleaning dishes consume a significant amount. An extra 2-4 L per person daily helps ensure there's enough water for these tasks.
Don't forget about coffee! See 8 Best Coffee Percolators For Camping 2023.
Always consider the type of meals you're planning. Dehydrated meals need more water, whereas pre-cooked or canned food will need less.
Sources of Natural Water
Relying on carried water can be cumbersome, especially for longer trips. Many campers use natural sources like streams, lakes, or rivers. It's essential to treat this water before consumption.
There are several methods to purify water. Boiling is the most traditional way, but water purification tablets are more convenient. Always ensure you're sourcing water from a clean spot; high-altitude sources are safer, as a general rule.
Insight on Water for Camping
Water is more than a thirst quencher; it's an essential camping lifeline. Equipping ourselves with the proper knowledge can lead to an enjoyable experience. Nature is unpredictable, and while she offers a chance for a bit of serenity, she also demands adequate preparation.
If you're passionate about camping and wish to experience nature at its best, we can help. Why not explore some off-grid camping essentials today?
Bestseller No. 1
WaterStorageCube BPA-Free Collapsible Water Container with Spigot, Food-Grade Camping Water Storage Carrier Jug for Outdoors Hiking Hurricane Emergency, Foldable Portable Water Canteen (5.3 Gallon)
FOOD-GRADE ODORLESS GREAT TASTE: PE plastic made with highest quality USA raw material. Environmentally friendly non-toxic, No BPA PVC or DEHP, No plastic PVC odor and water taste will not be affected, Transparent.
LIGHT, COMPACT, PORTABLE AND REUSABLE Foldable space saving design store away easily. Remains soft and flexible even when cold yet retains shape and is easy to fill, dry, drain and reuse. Soft molded handles make holding and transport easy. Perfect for outdoor activities like camping, RV, hunting, hiking, backpacking, fishing, picnics, BBQs, sports, festivals, parties and beach.
WORRY-FREE AND LEAK-PROOF Custom made lid and spigot with gasketless design means no leaks or parts to replace. Good spigot water-flow. Thicker lid to withstand heavy pressure. Easy on/off spigot with controllable flow. Our premium collapsible container is 1-piece design with no seams to leak or handles to break. Durable and dependable.
EMERGENCY PREPAREDNESS AND DAILY USE Enables you quickly and safely store all the water your family needs in the event of an emergency or natural disaster like hurricane, tornado, earthquake, fire, flood or drought. Include in your Emergency / Survival Kit. Also great for daily use. Dispense right out of refrigerator. Automobile emergency water. Hand-washing stations at events and festivals. Transport large amounts of water easily.
SATISFACTION GUARANTEE AND EBOOK INCLUDED If for any reason within 30 days you're not satisfied, simply return for a refund or replacement. THANK-YOU BONUS: Cubey wants you and your family to Be Prepared and includes our 30pg eBook Camping and Emergency Preparedness Survival Guide with each order.
Sale
Bestseller No. 2
Membrane Solutions Gravity Water Filter Pro 6L, 0.1-Micron Versatile Water Purifier Camping with Adjustable Tree Strap Storage Bag, Survival Gear and Equipment for Group Camping Emergency Preparedness
Extra-Large Capacity: After the survey, 6L capacity is the most appropriate solution for group water needs. Our water filter camping can provide you with enough reliable sources of pure drinking water at any time and anywhere. SGS certificated, Test Report NBF21-004693-01
4-Stage Filtration: Our camping water filter is made up of 0.1-micron hollow fiber ultrafiltration membrane, coconut shell GAC filter, and double PP fiber filter. Removes minimum 99.99999% of escherichia coli, odor, iodine, chlorine, heavy metals, filters up to 5,000 liters outdoors water
Superior Backwash Solution: Detachable mouthpiece connects with the common bottle for backwashing, no need for an extra syringe. No cumbersome fittings and lightweight. Easy carrying gravity water filter when putting all the parts in the storage bag
Versatile Use Ways: More ways you can find besides the gravity water filter system, like using as a water filter straw direct, or adding an extension tube on water straw for more distance using, even connecting with water bottles. Backpacking water filter offers you clean drinking water anywhere, anytime
Easy to Hang on Trees: Adjustable tree strap fits the most trunks, minimum length: 22.5 inches and maximum length: 41.5 inches. No worry about losing, thanks for the one-piece design. Besides, our water filtration system camping meets with food-grade, BPA-free
Bestseller No. 3
Bestseller No. 4
Digury Camping Water Jug, 2.6 Gallnon Water Containers BPA Free Water Storage with Spigot No Leakage Portable Emergency Water Tank Canteens for Outdoor Hiking Camping Picnic Supplies Green
THICKEN FOOD-GRADE WATER JUG: PE plastic made with the highest quality material providing you with fresh and contaminant-free water, environmentally friendly No BPA PVC or DEHP. Upgraded water storage has thickened walls anti-slip, scratch, impact, and corrosion resistance, solid and durable, built to withstand rough outdoor conditions and rough handling.
LEAK-PROOF SEALING COVER & SPIGOT: Our 2.6 Gallon Water container has a sealing cover and leak-proof faucet that ensures secure storage, making it easy to transport without leaks or spills. Extension Pipe is Convenient for guiding water flow. The stepless knob can freely control the water volume. You can put the extension pipe in the storage slot on the side when you are not using it.
PORTABLE & LIGHTWEIGHT: Convenient dual-carrying handle design allows you to keep hydrated anywhere. Weighing only 1.9 lbs making it is effortlessly portable for all your outdoor activities where need fresh drinking water.
EASY TO CLEAN: Large water spout supports your hand to reach every position inside the bucket, you do not worry about the stains kept in the water container. We recommend washing the walls twice after receiving the product, opening the lid, and leaving the container in a well-ventilated area for 1-2 days.
DAILY USE AND EMERGENCY PREPAREDNESS: Store 2.6 gallons of fresh water for outdoor activities, camping trips, tailgate parties, picnics, hiking, traveling, backyard barbecues, or other outdoor events. Also Enables you quickly and safely store all the water your family needs in the event of an emergency or natural disaster.
FAQs
What is the daily recommended amount of water for an individual while camping?
For a typical camping day, an average person should carry about 2 liters of water for drinking purposes. However, this can increase to approximately 4 liters if engaging in strenuous activities like hiking or climbing, especially in hot and dry climates.
How do different climates affect my water needs when camping?
Climates that are hot and dry will cause you to sweat more, necessitating a higher intake of water to stay hydrated. In contrast, you might not feel as thirsty in colder climates, but it's still crucial to maintain hydration.
Can you suggest types of water containers suitable for camping?
Certainly! For backpacking trips, collapsible bladders are ideal due to their lightweight and space-saving design. For car camping, rigid jerry cans are recommended for their durability. The choice of container size should be based on the number of people in your camping group.
Why is water important beyond just hydration during camping?
Water plays a vital role in maintaining cleanliness and hygiene. It is needed for washing hands, cleaning dishes, and can be crucial for first aid purposes, such as cleaning wounds. It also serves as a means for cooling off and can be used for signaling in survival situations.
How much extra water should I carry for cooking and cleaning?
It's advisable to carry an additional 2 to 4 liters of water per person per day for cooking and cleaning purposes. The exact amount may vary depending on the type of meals you plan to prepare, with dehydrated meals requiring more water.
Is it safe to use natural water sources for camping needs?
While natural water sources like streams, lakes, and rivers can be used, it is imperative to treat the water before consumption to avoid contaminants. Boiling is a traditional method, but water purification tablets offer a more convenient solution. Always source water from clean, preferably high-altitude, spots.
What are some off-grid camping essentials related to water?
Off-grid camping essentials include a reliable water purification system, adequate storage containers, and possibly a portable water filtration device to ensure access to clean water throughout your trip.