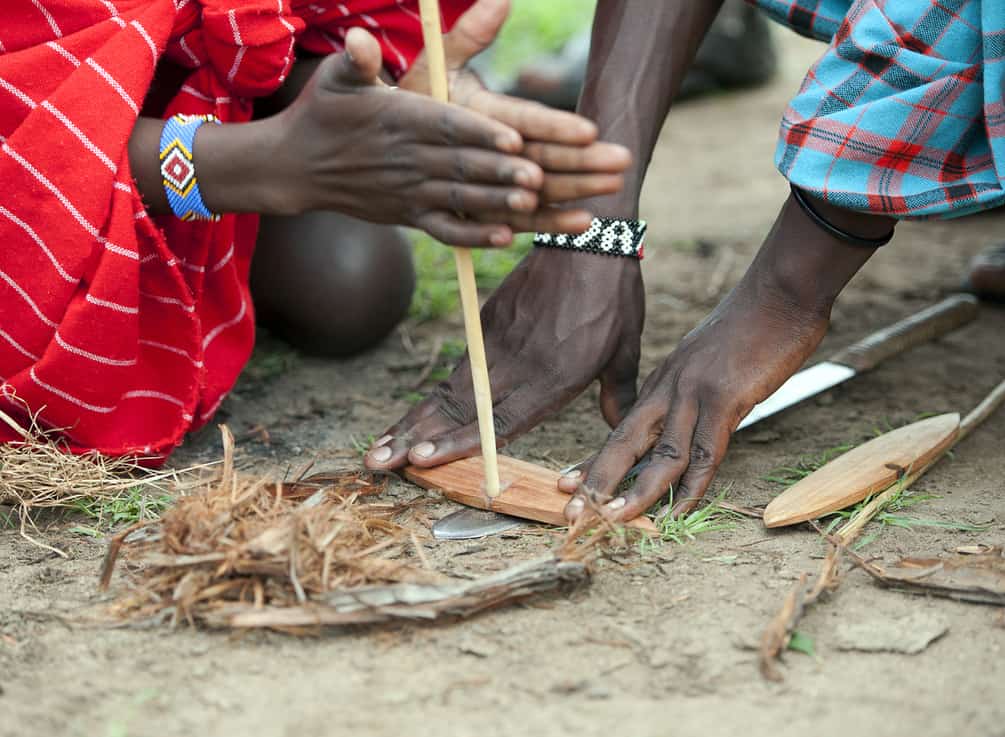 Have you ever been on a camping trip and misplaced your lighter or matches? Going back to our primitive roots, starting a fire with sticks is an essential survival skill mankind has relied upon for thousands of years.
In this comprehensive guide, we will walk you through easy-to-follow steps on how to create a fire using nothing but two sticks and some readily available materials from Mother Nature herself.
Ready to light up your wilderness survival skills? Read on!
Key Takeaways
Learning how to make fire with sticks is a crucial survival skill that can be invaluable in outdoor adventures or emergency situations when you don't have access to matches or lighters.
Friction is an essential factor in creating fire with sticks and selecting the right type of wood for friction methods like the Hand Drill method, Fire Bow method, and Fire Plow method is important for success.
Gathering suitable tinder and firewood is key to starting a successful fire. Dry, flammable materials make good tinder, while kindling should include small pieces of varying sizes. Opt for drier varieties of firewood as they burn more efficiently.
Additional techniques, such as using a lighter along with sticks or incorporating string into your fire-starting process, can expand your options and improve your skills in starting fires outdoors.
The Importance of Learning to Make Fire with Sticks
Learning how to make fire with sticks is not just an impressive party trick. It's a survival skill that can prove invaluable during outdoor adventures such as camping or hiking, especially when you find yourself without matches or other modern fire-starting tools.
Mastering this primitive technology can mean the difference between comfort and hardship or even life and death in extreme wilderness survival situations. It allows you to cook food, ward off wild animals, signal for help if lost, and stay warm during cold nights – all crucial elements for surviving in the great outdoors.
Furthermore, it hones your understanding of nature's resources and basic physics principles like friction, which is pivotal in generating heat necessary for starting fires. Also, getting hands-on experience with selecting the right kindling materials from naturally available resources around you enhances your bushcraft techniques; staying focused under pressure while continually attempting to generate a hot ember with patience helps develop mental resilience.
Thus, learning how to start a fire with sticks equips you not only with essential camping skills but also contributes towards personal development by enhancing your outdoor living experiences significantly.
Key Factors in Fire-Making
Understanding friction is crucial in fire-making. The right amount of friction between the drill and the fireboard creates heat, which ignites the tinder bundle. Additionally, selecting suitable firewood and tinder is essential for a successful fire. See our article Where to Buy Firewood for Camping?
Remember to choose dry and flammable materials for optimal results.
Understanding Friction
Friction is an essential force in the process of creating fire with sticks. This power comes into play when two objects, in this case, a drill and the fireboard, rub against each other.
The friction between them generates heat that can be harnessed to ignite a spark. Successful friction fires depend on both speed and pressure; swift action increases the temperature while proper weight helps retain it.
The type of wood used significantly affects how much friction is produced – dry and seasoned woods are ideal as they generate more friction than freshly cut or moist ones. Notably, the spindle should be harder than your hearth board for better efficiency.
Embracing these bushcraft techniques enhances successful fire starting with sticks, bridging primitive technology with modern survival skills.
Importance of Firewood and Tinder Selection
Choosing the right firewood and tinder is key for successful firemaking. Dry, flammable materials like pocket lint, dried mosses, or shredded plant fibers excel as tinder. For kindling and larger firewood, opt for dry wood pieces of varying sizes; thin sticks can quickly catch flame from your hot ember, while thicker ones sustain it over time.
Picking suitable resources is a crucial step in ensuring a robust and long-lasting campfire when using primitive technology, such as creating friction with sticks to start a fire – an essential outdoor survival skill.
Tools and Materials Needed
To start a fire with sticks, you will need specific tools and materials, such as suitable sticks for firemaking, tinder, and firewood.
Type of Sticks Suitable for FireMaking
When it comes to making fire with sticks, the type of sticks you choose plays a crucial role in your success. Hardwoods like sycamore, ash, or hazel are ideal for friction fire-starting methods such as the Hand Drill, Fire Plow, and Bow Drill.
These woods are durable and dense enough to create enough friction against the fireboard to generate heat and produce an ember. It's important to note that the spindle used for friction fire-starting should be harder than the fireboard.
So, when gathering your sticks for fire-making, prioritize finding these hardwood options that will give you the best chance of starting a successful campfire or survival fire.
Tinder and Firewood
To successfully start a fire with sticks, it's crucial to understand the importance of tinder and firewood selection. Tinder refers to small, dry, and highly flammable materials that will catch fire easily.
This can include things like pocket lint, feather down, dried mosses, or shredded plant fibers. The key is to gather anything that is fibrous and easily ignites.
On the other hand, firewood plays a vital role in sustaining your fire once it's lit. It's important to select the right kind of wood for your needs. Kindling should be small pieces of wood in various sizes, including thin sticks as well as pencil-sized sticks.
These help ignite larger pieces of wood effectively.
When it comes to choosing firewood logs for your established fire, opt for dry, well-aged logs whenever possible. Dry wood burns more efficiently and produces less smoke compared to wet or green wood.
Additionally, different types of wood burn at varying rates – hardwoods such as oak tend to burn slower than softwoods like pine.
Quick Tip: If you like roughing it, you should check out our Cowboy Camping article.
Methods of Starting a Fire with Sticks
In this section, we will explore three effective methods for starting a fire with sticks: the Hand Drill method, the Fire Bow method, and the Fire Plow method.
The Hand Drill Method
To start a fire using the hand drill method, you will need a fireboard, a handhold, and a pointed stick. The idea behind this technique is to create friction by twirling the stick with downward pressure on the fireboard.
As you repeatedly rub the stick against the board, it generates heat that eventually creates a hot ember. This requires determination and practice as it can be physically challenging and may cause sore hands or blisters.
Lubricating the handhold with lip balm or resin can help improve performance. Once you have achieved an ember using this method, transfer it to a tinder bundle and blow gently to ignite it.
The Fire Bow Method
The fire bow method is a tried and true technique for starting a fire with sticks. It involves using a bow-shaped stick, a bowstring, a spindle or bow drill, and a hearth board. To begin, you'll need to create friction by rapidly moving the bow back and forth along the spindle.
This action generates heat, which in turn creates an ember on the hearth board. Once the ember forms, carefully transfer it to your tinder bundle to ignite it into flames. The fire bow method requires some preparation but is relatively easier to execute once set up properly.
Remember to choose wood that is suitable for creating friction and ensure that your spindle is harder than the hearth board for optimal results. With practice, this method can be an effective way to start fires in wilderness survival situations.
The Fire Plow Method
To start a fire using the Fire Plow method, you'll need to create friction through a sliding back-and-forth motion instead of rotational movement. This method involves crafting a trough in the fireboard where the tip of a foot-long stick will slide along.
To make this groove, you'll require a sharp rock or knife. As you push and pull the stick along the trough with pressure, it creates enough friction to generate a hot ember that can ignite your tinder bundle.
Proper preparation, practice, and understanding of each method are crucial for successfully starting fires using sticks.
Additional Tips and Techniques
In addition to the hand drill and bow drill methods, there are several other techniques you can explore to start a fire with sticks. Discover how to start a fire with sticks and a lighter, or learn how to use string or paper as additional aids.
These tips and techniques will expand your skills and give you more options when it comes to starting a fire in the great outdoors. Keep reading for expert advice on mastering these techniques!
How to Start a Fire with Sticks and a Lighter
To start a fire with sticks and a lighter, you'll need to gather the essential materials: tinder, kindling, and wood logs. Tinder refers to small, easily ignitable materials like dry grass or shredded bark.
Kindling consists of slightly larger pieces of wood that will catch fire easily once the tinder is burning. Finally, you'll need wood logs that can sustain the fire for a longer period.
Begin by creating a small nest of tinder in your desired location. This could be made from crumpled paper or dried leaves if natural tinder isn't available. Arrange your kindling over the top of the tinder nest in a tepee-like structure.
Next, use your lighter to ignite the tinder at various spots within the nest. While using sticks as an additional method may seem redundant now that you have a lighter, it serves as great practice for honing your fire-starting skills.
Once you've got your fire started, be sure to follow the rules for Campfire Safety & Etiquette
How to Start a Fire with Sticks and String
To start a fire with sticks and string, you will need a fire bow. A fire bow consists of a moist branch and a cord tied to both ends of the bow. Find a longer stick as your baseboard and carve it flat.
Secure the baseboard on the ground with rocks or other stable objects. Carve out an indentation near one end of the baseboard and place some tinder directly underneath it. Take another stick, known as the drill, and create a small notch at one end.
Attach one end of your string to each tip of the bow, making sure it's taut when pulled back into position.
Now, place your notched drill in the indentation on top of your tinder bundle. Position your foot firmly against the board for leverage as you begin moving back and forth with steady pressure on the drill using your palms-rolling technique; this motion should make friction between stick seeds fast enough for combustion.
How to Start a Fire with Sticks and Paper
If you find yourself without matches or a lighter but have access to sticks and paper, you can still start a fire. One method is by using the bow drill technique with a slight twist.
Begin by preparing your fireboard and spindle as usual, ensuring they are dry and suitable for friction-based fire-making. Instead of using natural cordage or string for the bow, use strips of paper torn from your notebook or any other flammable paper material available.
The process remains the same—place the fireboard on the ground and hold it steady with your foot or another object. Make a small depression on one end of the board to catch the ember created by friction.
Next, position your spindle vertically in that depression and start rotating it rapidly between your palms.
Here's where things differ slightly: take one end of the torn paper strip and wrap it around both ends of the spindle tightly, creating tension against both sides simultaneously. This will allow better contact between your hands and increase friction on the spindle.
Continue rotating the spindle vigorously until heat builds up through friction, causing fine wood particles to collect in the notch area. Once you spot smoke rising from these particles, stop rotating immediately, but do not remove pressure entirely from either side.
Camping with your best four-legged buddy? Be sure to check out our Campfire Safety with Dogs post.
Potential Challenges and Solutions
Starting a fire without kindling can pose a challenge, but you can overcome it by carefully selecting tinder and using smaller sticks instead.
How to Start a Fire without Kindling?
Starting a fire without kindling can be a challenge, but it's not impossible. In this situation, you'll need to rely on other readily available materials to get your fire going. Look for small, dry twigs and branches that you can use as fuel.
These can be found on the ground or broken off from larger trees. Additionally, consider using natural fire starters like dried leaves, pine needles, or even birch bark if it's accessible.
By gathering these alternative materials and layering them properly with your tinder and larger pieces of firewood, you can still create a sustainable fire without traditional kindling.
Starting a Fire with Damp Firewood
Starting a fire with damp firewood can be quite challenging due to the moisture content in the wood. Wet or damp wood takes longer to ignite and requires more heat to dry out before it can catch fire.
It's important to gather as much dry tinder and kindling as possible before attempting to start a fire to increase your chances of success. Look for small twigs, leaves, or even paper that is dry and easily combustible.
Additionally, using smaller pieces of firewood that have been split open can help expose drier interior wood. By having a good supply of dry tinder and kindling on hand, you'll have a better chance of successfully starting a fire, even with damp firewood.
Making a Fire When It's Raining
Making a fire when it's raining can be challenging, but with the right techniques and materials, it is still possible. Start by clearing the ground of vegetation to create a dry area where you can build your fire.
Look for natural shelters such as rock formations or fallen trees to protect the fire from rain and wind. Collect dry tinder, such as dead leaves or grass, that will catch fire easily, even in damp conditions.
Next, gather small sticks and branches that are dry on the inside. Split them open to expose the dry inner wood. This will help them catch fire more quickly. It's also important to use smaller pieces of wood initially so they can ignite easier.
To get your fire started, consider using a bow drill method or a hand drill method instead of relying solely on friction between sticks in wet conditions. These methods allow you to generate enough heat without having to rely completely on friction alone.
Choosing the Right Fire Stick
To successfully start a fire with sticks, it's important to choose the right type of stick. Look for hardwood sticks that are dry and straight, as they will produce more friction and generate heat faster.
Avoid using softwood or green sticks, as they tend to be too moist and won't create enough friction to ignite the fire. Additionally, make sure your fire stick is longer than your hand drill or bow drill components, allowing for better leverage and control during the fire-making process.
By selecting the right fire stick, you'll increase your chances of successfully starting a fire in any outdoor scenario.
Safety Precautions When Making Fire
To ensure your safety while making fire with sticks, it is crucial to take certain precautions. First and foremost, always have a fire extinguisher nearby in case the fire gets out of control or spreads unexpectedly.
Additionally, make sure you are working in a well-ventilated area to prevent smoke inhalation.
When creating friction between the sticks, there is a risk of burns due to heat buildup. To protect yourself, wear thick gloves and avoid touching any hot surfaces. Also, be cautious when handling flammable materials like tinder and kindling; keep them away from open flames to prevent accidental ignition.
Another important safety measure is to work on a stable surface that won't easily shift or move during the process. This will reduce the chances of tripping or knocking over equipment and potentially causing injuries.
Lastly, once you have successfully started a fire, remember to never leave it unattended and always monitor its progress closely. When you're finished using the fire, fully extinguish it by pouring water over the embers and stirring them until everything is cool to the touch.
By following these safety precautions, you can enjoy the thrill of making fire with sticks while minimizing potential hazards and ensuring everyone's well-being.
Practice Makes Perfect: Encouraging Regular Fire-Making Exercises
Regular fire-making exercises are essential for mastering the skill of starting a fire with sticks. By practicing these techniques regularly, you can become more proficient and confident in your ability to ignite a flame when needed.
Here are some ways to encourage regular fire-making exercises:
– Set aside dedicated practice sessions: Schedule regular practice sessions where you can focus solely on improving your fire-starting skills. This will allow you to concentrate without distractions and track your progress over time.
– Start small and gradually increase difficulty: Begin by practicing with easier methods, such as the hand drill method or using tinder bundles. As you gain experience, challenge yourself by trying more advanced techniques like the bow drill or starting a fire under different weather conditions.
– Experiment with different materials: Gather various types of sticks, tinder, and firewood to experiment with during your practice sessions. Try different combinations of materials to see how they affect the ease and speed of ignition.
– Learn from experienced practitioners: Seek guidance from experienced outdoorsmen or survival experts who have mastered the art of starting fires with sticks. They can provide valuable tips, tricks, and demonstrations that will accelerate your learning process.
– Practice in different environments: Conduct your fire-making exercises in various settings such as open fields, wooded areas, or near bodies of water. Different landscapes present unique challenges that will help expand your skills and adaptability.
– Time yourself: Set goals for how quickly you want to start a successful fire using each method. Use a stopwatch or timer to measure your progress and continually strive for improvement.
– Understand safety precautions: Always prioritize safety while practicing fire-making exercises. Familiarize yourself with proper handling techniques for tools like knives or axes used in gathering materials.
Keep water nearby to extinguish any unintended flames.
Practicing regularly is key to developing confidence in this vital survival skill. By dedicating time and effort towards honing your abilities, you'll be well-prepared should you ever find yourself in a situation where starting a fire with sticks is necessary.
Are you going off the grid? You should read our Off-grid Camping Essentials post.
Conclusion
Learning how to make fire with sticks is not only a valuable survival skill but also an exciting adventure in itself. By understanding the key factors like friction, firewood selection, and proper tools, you can master techniques such as the hand drill method and the bow drill method.
Remember to gather tinder, kindling, and larger firewood for a successful fire-starting experience. With practice and determination, you'll become proficient in starting fires without matches or lighters while enjoying the beauty of nature's primitive technology.
So go ahead and embark on this thrilling journey of mastering fire-making skills!
Another important survival skill you'll want to know is Building Temporary Shelters.
Bestseller No. 1
bayite 4 Inch Survival Ferrocerium Drilled Flint Fire Starter, Ferro Rod Kit with Paracord Landyard Handle and Striker, 4″(Long) x 3/8″(Diameter)
5ft Paracord included, gives you a good grip and never comes off. Comes with a bayite Striker-Pro striker attached to the paracord, always be prepared to start a fire
bayite 6 Striking Edges Striker-Pro striker is made from TOOL GRADE HSS STEEL and has a distinct hardness, maximizes a shower of hot sparks, no matter whether you prefer to use your left hand or right hand to scrape. Don't use bad quality Knife as striker. Otherwise it will not produce enough sparks due to insufficient hardness of blade
Ferrocerium Rod Length:4″(10cm). Diameter: 3/8″(10mm). Large enough for a shower of sparks and small enough to carry
Made of high effective ferrocerium rod. Waterproof & Weatherproof, fits all weather, works in any weather condition
Sparks shower at 5,500 F (3,000 C) to ignite a fire in any weather (even wet), at any altitude. Perfect emergency fire starter for Bushcraft, Hiking, Hunting, Fishing, EDC, Emergency, BBQ, Gas Camp Stoves, etc
Bestseller No. 2
Black Beard Fire Plugs (50 Plugs) | 100% Weatherproof Fire Starter for Campfires | Can Light 50+ Fires | Extra Long Burn Time | 30 Yr Shelf Life for Emergency Survival Kits | Made in USA, Yellow
🔥 Quick & Reliable Ignition: Start fires effortlessly, anytime, anywhere, even in wet conditions.
🌧️ Waterproof & Windproof: Designed to withstand challenging weather, ensuring dependable fire-starting in all situations.
⏱️ Extended Burn Time: Each Fire Plug burns long, providing ample time to ignite your campfire, grill, or fireplace.
🛡️ Compact & Lightweight: Easy to carry; ideal for campers, hikers, hunters, and outdoor adventurers.
♻️ Environmentally Friendly: Made from Non-toxic and odorless materials; leaves no trace behind in nature.
Sale
Bestseller No. 3
AOFAR Fire Starter AF-381 Fire Steel 5-in-1 for Camping, Hiking, Hunting, Backpacking, Boating, Outdoor Magnesium Survival Rod with Fire Paracord, Compass and Whistle, Waterproof (2-Pack)…
👍ALL WEATHER FIRE STARTERS: Rugged flint fire starter works in any weather conditions – rain, snow, high-altitude.
👍FIRE STRIKER : Each box includes 2 Fire Starters can be used thousands of times.
👍MULTI-PURPOSE FLINT FIRE STEEL:3″Unique design scraper, 5″Rod,Match Survival Ropes,Compass,Emergency Whistle.
👍HELPFUL:The red waxed flax in Paracord waterproof fire tinder can make instant fire even in heavy rain.
👍100% SATISFACTION PROMISE: AOFAR provide 2 years limited warranty and lifetime customer support.
Sale
Bestseller No. 4
Bestseller No. 5
Fire Starter Survival Tool – All-in-One Flint and Steel Fire Starter Kit – Ferro Rod Fire Starter with 36″ Waterproof Tinder Wick Rope and Steel Fire Striker – Patented Firestarter | Prepared4X
LIGHT A FIRE ANYWHERE INSTANTLY – Patented Survival Torch produces a shower of sparks guided directly to the wick so your fire ignites fast even in the wind and pouring rain. Start your fire regardless of what nature is throwing at you.
ULTIMATE FIRE-STARTER TOOL – No need to buy a separate ferrocerium rod, striker, tinder wick, and bellow because this fire kit includes everything you need to create a safe, controlled fire.
EASY TO USE FLINT FIRE STARTER – With the premium quality ferrocerium and unique curved striker directing sparks straight to the wick, you can ditch hard to hold and difficult to use ferro rods and easily make your fire.
WILL NOT FAIL YOU – You get 3+ hours of continuous burn time or thousands of single-strike uses, and the fire starter tool is highly effective even if it's been soaking in water.
PREPARED FOR ANYTHING – You never know when you are going to be in an emergency especially in the wilderness so make sure to tuck this all-in-one survival fire starter tool into your bug out bag. Perfect for Bushcraft, Survival, Hiking, and Camping.
Bestseller No. 6
Qujior Fire Blanket for Emergency Survival, 39 x 39 inches Reusable Fiberglass Fire Emergency Blanket Fire Shelter Safety Cover for Kitchen, Car, Camping, Grilling, Office, Warehouse (1 Pack)
🚒 𝐇𝐢𝐠𝐡-𝐪𝐮𝐚𝐥𝐢𝐭𝐲 𝐌𝐚𝐭𝐞𝐫𝐢𝐚𝐥𝐬 – Fire emergency blankets are made of glass fiber cloth and can withstand temperatures of up to 1022 °F (550 °C). It extinguishes fires by isolating the air, making it suitable for both liquid and grease fires.
🚒 𝐄𝐚𝐬𝐲 𝐓𝐨 𝐔𝐬𝐞 – Simply pull down the fire blanket, spread it completely to cover the fire source, and hold for a second to ensure that the fire is completely extinguished. It is simple to use and suitable for everyone, including the elderly and teenagers.
🚒 𝐒𝐮𝐫𝐯𝐢𝐯𝐚𝐥 𝐄𝐦𝐞𝐫𝐠𝐞𝐧𝐜𝐲 𝐁𝐥𝐚𝐧𝐤𝐞𝐭 – The fire blanket is designed to extinguish small-scale fires and can also be used as a safety cover to escape large-scale fires. A must have survival kit for your home and car. We sincerely hope you never need it.
🚒 𝐈𝐝𝐞𝐚𝐥 𝐑𝐞𝐬𝐜𝐮𝐞 – For rescue, this fire suppression sheet works great. It is harmless and secure for use on people, kids, and animals. is highly useful and never expires. In case of emergencies, it is simple to store on kitchen counters. I highly recommend keeping one close by for use in a kitchen, fireplace, tent, office, grill, and other situations.
🚒 𝐌𝐨𝐫𝐞 𝐂𝐨𝐧𝐯𝐞𝐧𝐢𝐞𝐧𝐭 – Compared to conventional fire extinguishers, the fire blanket is simpler to use, lighter to carry, and capable of preserving the environment after a fire has been put out. Please replace it with a new one after use to ensure your and your family's safety.
Bestseller No. 7
Bestseller No. 8
FOSTAR Ferrocerium Alloy Rod Fire Starter, 5/16 Inch Thick Waterproof Fire Steel, Bushcraft Ferro Rod with Easy Grip Handle, Multi-Tool Striker and Paracord Lanyard (2PCS, Black and Orange)
HIGH QUALITY FERROCERIUM RODS: The fire steel rod is the perfect balance between softness & durability, consistently outperforming the leading fire starters. Will ignite a 5,500º F shower of sparks, light a fire instantly when you need.
START FIRE ANYWHERE: This ultra-durable flint fire starter works in any weather conditions – rain, snow, high-altitude. With the rust-free ultra-strong ferro rod those fire lighters are suitable for camping, survival, bushcraft and other outdoor activities.
EASILY GRIP: Ergonomic handles on the fire starter allow use by even the most frozen of fingers! This fire starter kit is easy to hold. Easy to produce showers of sparks.
COMPACT & LIGHTWEIGHT: More reliable than matches or lighter, weighs less than 2 ounces, only 4″ long. Included is a strong 550 paracord lanyard that is long enough to carry around your neck.
WHAT YOU GET: 2 5/16 Inch thick ferro rod, 2 multi-purpose steel striker, 2 23 inches long 7-core paracode lanyard.
Bestseller No. 9
Emergency Fire Blanket for Home and Kitchen – 2 Pack 3.3×3.3ft Fiberglass Suppression Flame Retardant Safety Camping Fire Blanket Emergency Survival Kit for Home House Office Fireplace Car Kitchen
🔥A SURVIVAL EMERGENCY FIRE BLANKET: Designed as an essential home-safety device in emergency. Ideal for kitchen, fireplace, grill, car, office, camping and so on. ( Warm tips: NEVER use WATER on cooking fire.)
🔥EASY TO USE: Pull down the fire blanket, slowly cover the fire, (don't pull back it right away), turn off the heat source, throw away it after the temperature is down. The fire cover is just for one-time use. Can be used simply without training.
🔥HIGH QUALITY: Emergency blankets isolate heat, heat sources and flames. Innocuous and safe, made of 100% glass fabric, in accordance with EN-1869:1997 for culinary fire suppression.
🔥[BETTER PERFORMANCE THAN DOMESTIC FIRE EXTINGUISHER] Domestic fire extinguishers often lead to a messy scene after use. Now the emergency fire blanket will be the answer to this problem! It extinguishes flames at the earliest stage quickly and keep the scene clean and tidy.
🔥A GREAT GIFT TO YOUR FRIDENDS AND FAMILY. It can easily be stored in kitchen counters in case of emergency. Highly recommend to keep one nearby kitchen, fireplace, camping, office, grill etc.
Sale
Bestseller No. 10
Nexfinity One Survival Paracord Bracelet – Tactical Emergency Gear Kit with SOS LED Light, 550 Grade, Adjustable, Multitools, Fire Starter, Compass, and Whistle – Set of 2 (Red)
SOS LED Light – This emergency survival bracelet has an LED light that can be used to help rescuers find you at night!
550 ADJUSTABLE PARACORD BRACELET – 10 feet of tactical paracord for women or men with different size wrists to be used in a variety of ways in the wilderness
MULTITOOLS – This survival bracelet set includes a pair of compact multi tools that fits neatly inside the buckle. The tool has screwdriver, scrapper, saw, wrench and more!
RESCUE WHISTLE – Built into this edc survivor wristband is a very loud whistle that can help signal rescuers from a great distance
FIRESTARTER – In the outdoor using the multi tool kit, you can strike the built-in flint to make life saving fire
FAQ
What is the best type of wood for starting a fire with sticks?
Dry, dead wood from hardwood trees like oak, hickory, or maple is ideal for creating friction and generating heat. Softwoods like pine can also be used in a pinch, but they burn faster and may not produce as much heat.
How long does it take to start a fire using the hand drill method?
The time it takes to start a fire with the hand drill method can vary depending on your skill level and the conditions. It can take anywhere from several minutes to an hour or more.
Can I use synthetic cordage instead of natural materials for the bowstring?
While traditionalists prefer natural materials like paracord or plant fibers for the bowstring, synthetic cordage such as nylon can also be used effectively.
Is there anything else besides wood that I could use as tinder?
Yes! If you don't have access to dry leaves or other natural tinder, you can use items like dryer lint, shredded newspaper, or even cotton balls coated in petroleum jelly.
Can I make my own fire-starting kit?
Absolutely! You can create your own portable fire-starting kit by gathering essential tools like a knife, magnifying glass or lens, waterproof matches/lighter/firestarter rod, and compact tinder bundles.
Do I need any special training before attempting to make a fire with sticks?
No formal training is required; however, it's crucial to familiarize yourself with proper techniques through books/videos and practice in safe environments beforehand.
How do I know if my tinder bundle is properly prepared?
Your tinder bundle should be fine enough that when held up vertically by one end and gently blown into at its base, it produces an ember without bursting into flames immediately.
How do I protect myself from smoke inhalation while making fire with sticks indoors?
When starting a fire indoors, ensure proper ventilation by opening windows or using a fan to blow smoke outside. It's also advisable to wear a mask designed for smoke protection.
Can I reuse the same pieces of wood for multiple fire-making attempts?
Yes, you can reuse both the drill and the fireboard, but it's essential to inspect them after each attempt and replace them if they become damaged.